Kitchen & Cooking
18 kitchen gadgets with more than 1,000 reviews on Amazon
Tools you will use.
Credit: Kitchen Gizmo / Instant Pot
New wacky kitchen gadgets are always appearing whether it's something practical like an avocado cutter or something whimsical like a loch ness monster ladle. But, let's be honest—some of these products are complete trash and not worth your money. Luckily, tons of shoppers on Amazon have tried and reviewed these kitchen gadgets so you don't have to. Here are the best ones with more than 1,000 reviews.
1. A sous de vide for the perfect meat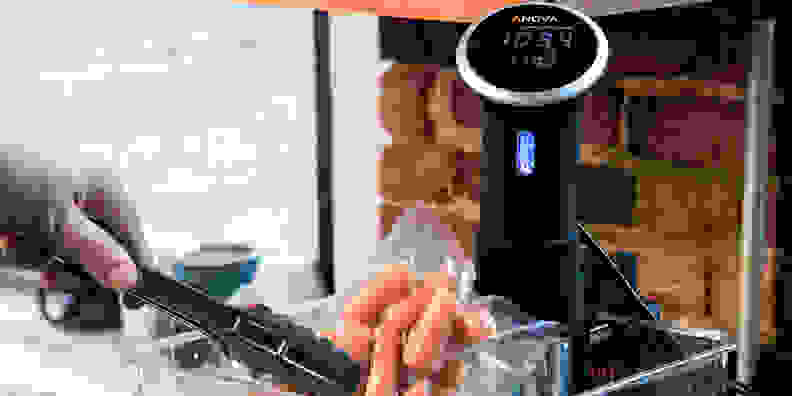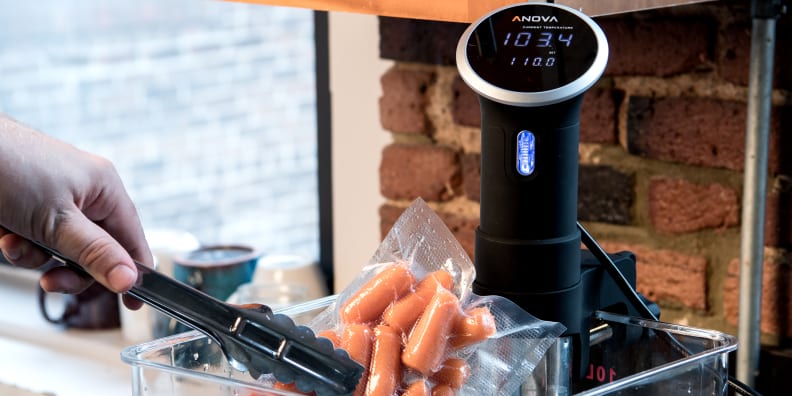 An immersion circulator is the kitchen product you never knew you needed. It allows you to sous de vide, a style of cooking where food is vacuum sealed and submerged in a temperature-controlled water bath. This one from Anova is the best we've ever tested and shoppers agree.
Reviews: 3,755
Average rating: 4.2 stars
Get the Anova Bluetooth Precision Cooker for $139
2. An egg cooker for every way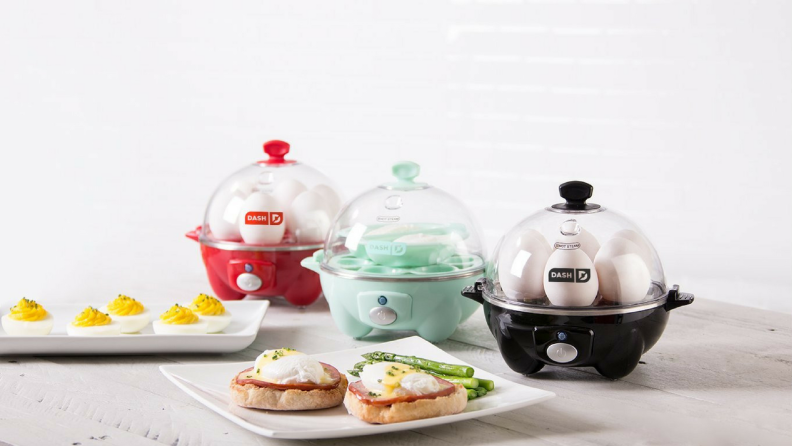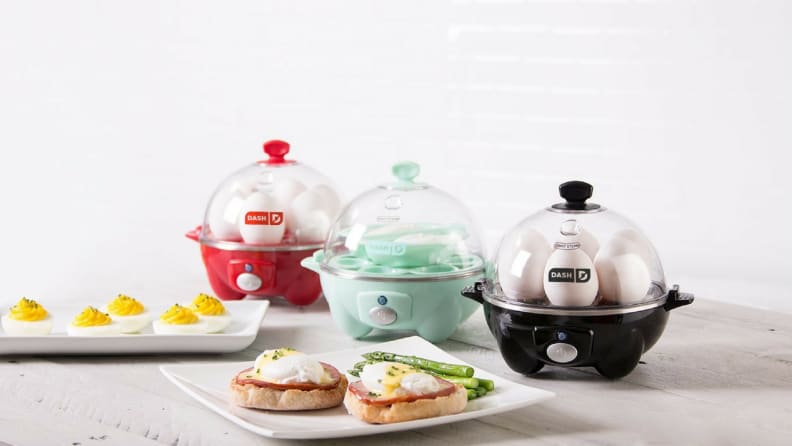 Cooking eggs can be hard. There are so many ways to cook them and it's really easy to overcook or undercook them, ruining your breakfast. This rapid egg cooker makes perfect hard boiled eggs, soft boiled eggs, poached eggs, scrambled eggs, and individual omelets every time, and reviewers say it actually works.
Reviews: 6,182
Average rating: 4.4 stars
Get the Dash Rapid Egg Cooker for $19.79
3. A multi-cooker for basically everything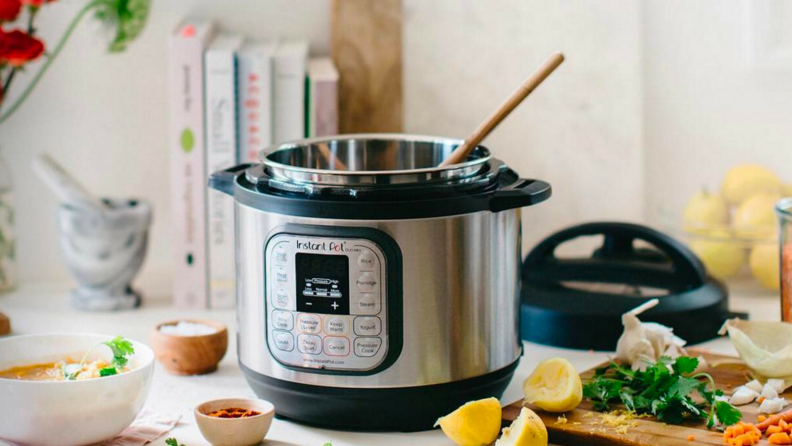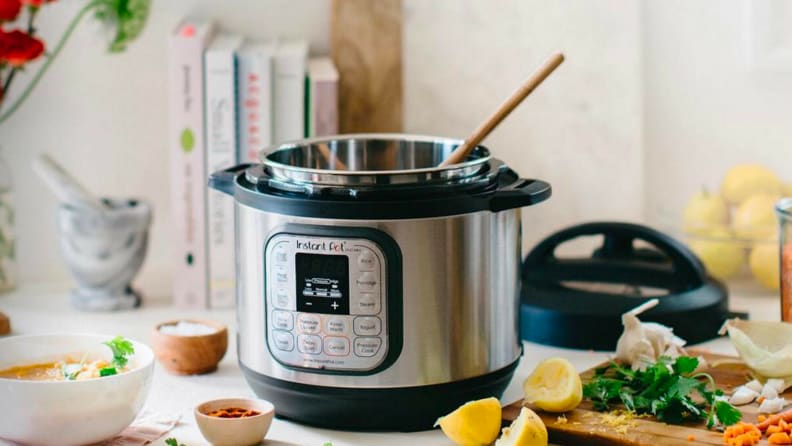 You've definitely heard of the Instant Pot, but we still had to include it. This gadget is magic. With all the functions of a slow cooker, rice cooker, pressure cooker, and more, you literally don't need any other device to make dinner.
Reviews: 27,963
Average rating: 4.6 stars
Get the Instant Pot DUO 6 Quart 7-in-1 for $99.99
4. Claws to pull pork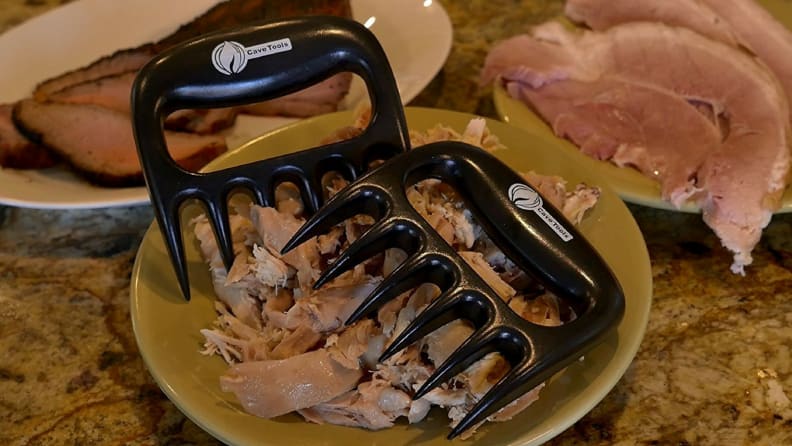 Making pulled pork at home is so much easier with these plastic claws. This pulled pork shredder is no-slip so you can pick up typically slippery hunks of meat like a greasy roast before tearing them apart with the claw.
Reviews: 1,132
Average rating: 4.7 stars
Get the Cave Tools Pulled Pork Shredder Claws for $12.99
5. A handheld spiralizer for perfect zoodles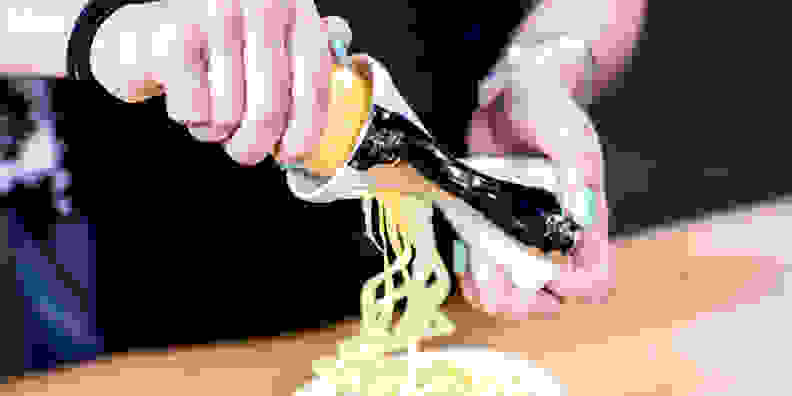 Countertop spiralizers can be overwhelming, especially for a novice vegetable noodle maker. Luckily, this handheld one from Veggetti is easy-to-use and perfect for spiralizing veggies like zucchini. Plus, it's the best spiralizer we've ever tested.
Reviews: 3,370
Average rating: 3.7 stars
Get the Veggetti for $9.99
6. Rubber stoppers to keep your wine fresh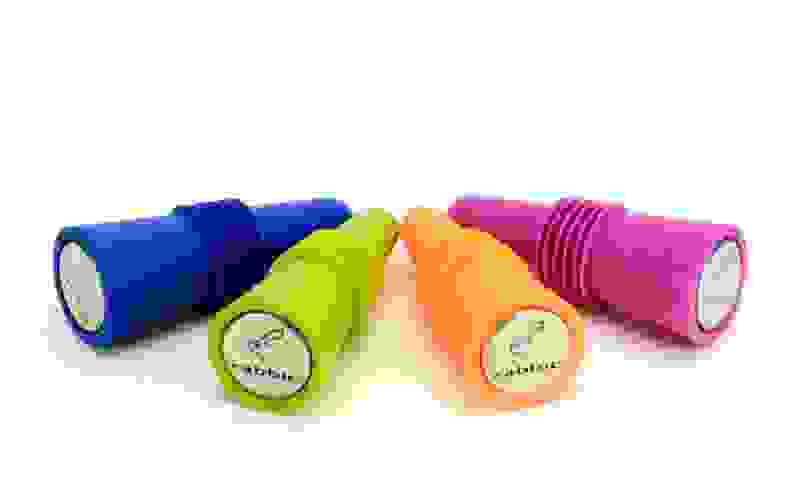 A rubber wine stopper is the best replacement when you lose that pesky cork. These ones have grooved rings to hold the stopper in place as well as prevent leaking and oxygen from entering the bottle. Bonus: they're also relatively inexpensive.
Reviews: 1,269
Average rating: 4.7 stars
Get the Rabbit Wine Stoppers for $6.99
7. A huller for strawberry greens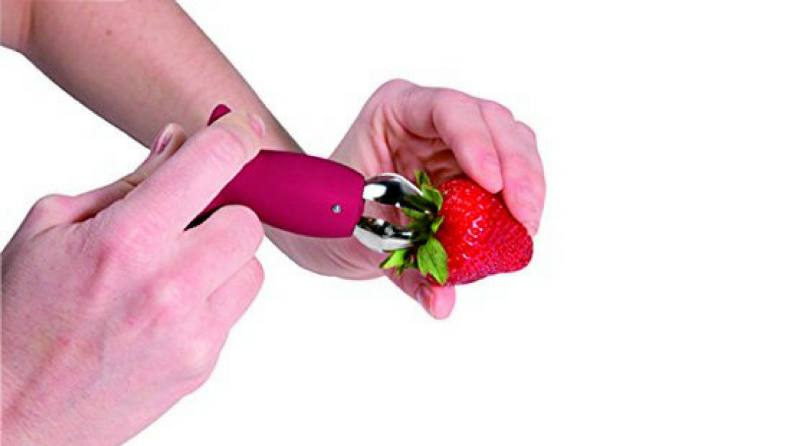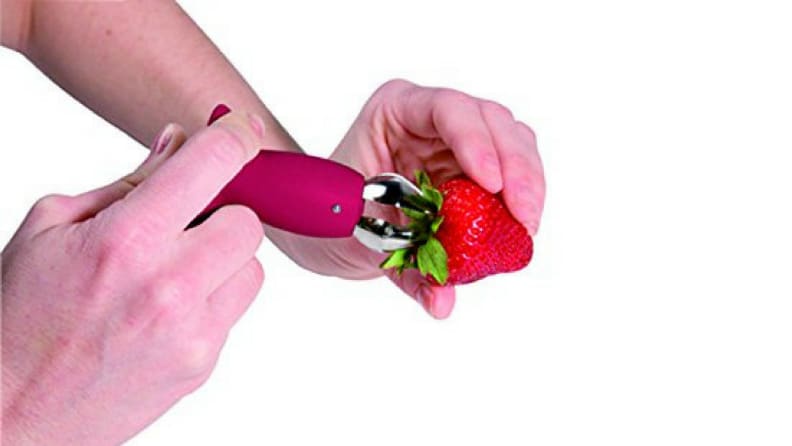 Get more bang for your buck during strawberry season. Instead of chopping off the top and removing valuable strawberry bits, use this cute strawberry huller to remove the greens and enjoy more fruit.
Reviews: 2,788
Average rating: 4.5 stars
Get the Chef'n StemGem Strawberry Huller for $6.95
8. A multi-tool for all your avocado needs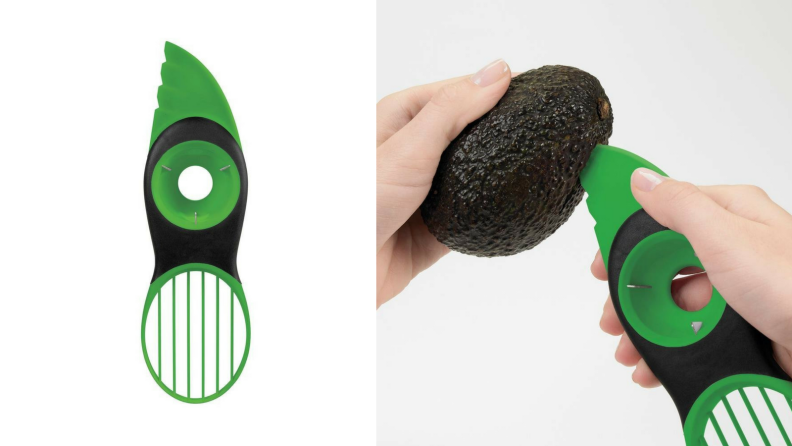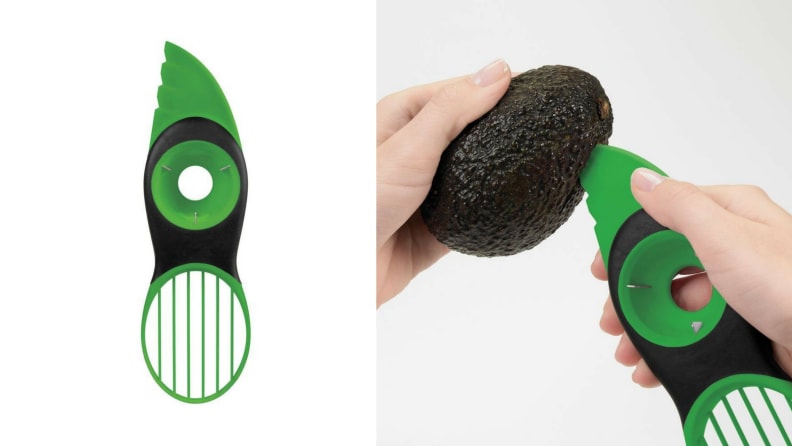 Avocado lovers worried about accidentally cutting their fingers while slicing through the skin or removing the pit, fret not, there's a tool for that. This 3-in-1 avocado slicer does it all and makes preparing guacamole and avocado toast a breeze.
Reviews: 2,518
Average rating: 4.5 stars
Get the OXO Good Grips 3-in-1 Avocado Slicer for $9.99
9. A safe and effective pizza slicer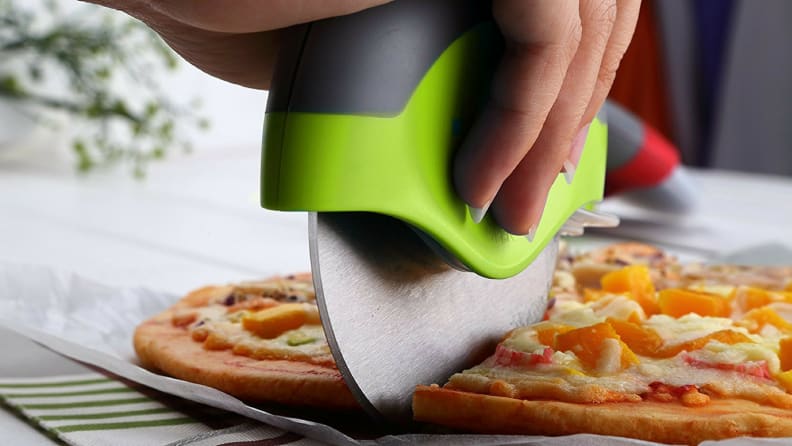 A pizza slicer is one of those things you don't think about until you take a frozen pizza out of the oven and have to resort to using a standard kitchen knife to cut out slices. This one from Kitchy is small enough to store and has a blade guard to protect your precious digits.
Reviews: 1,949
Average rating: 4.8 stars
Get the Kitchy Pizza Cutter Wheel for $12.95
10. An affordable meat thermometer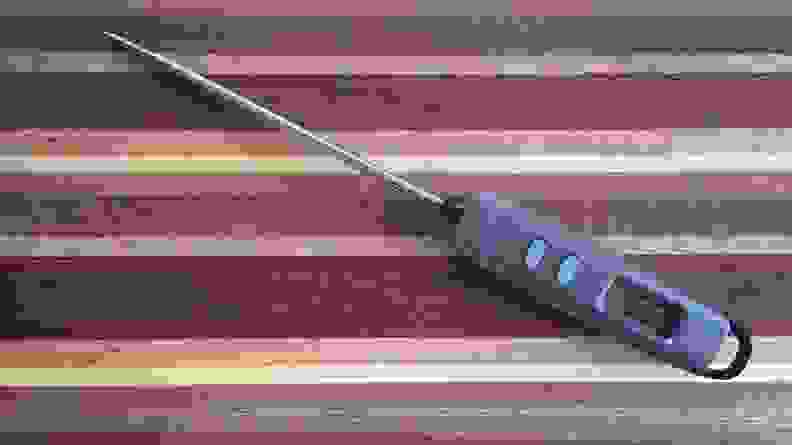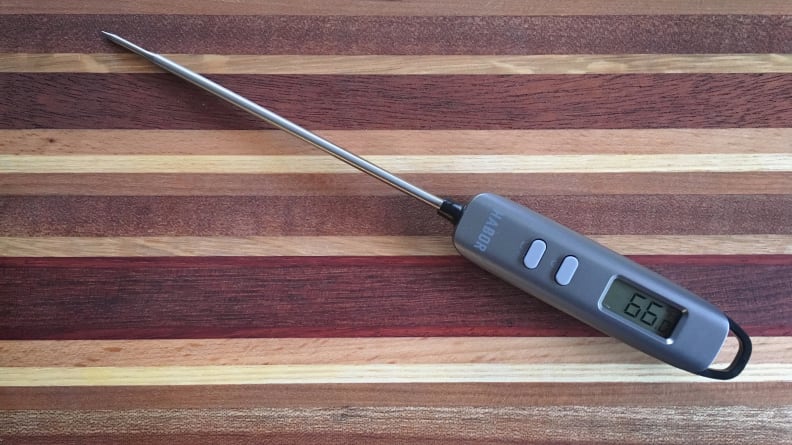 Nobody wants to cut into a piece of undercooked (or worse, overcooked) meat. That's why you need a meat thermometer. This one from Habor is the best affordable one we've ever tested because it performed just as well as the more expensive models.
Reviews: 1,426
Average rating: 4.6 stars
Get the Habor Meat Thermometer for $8.99
11. A hamburger press for barbecues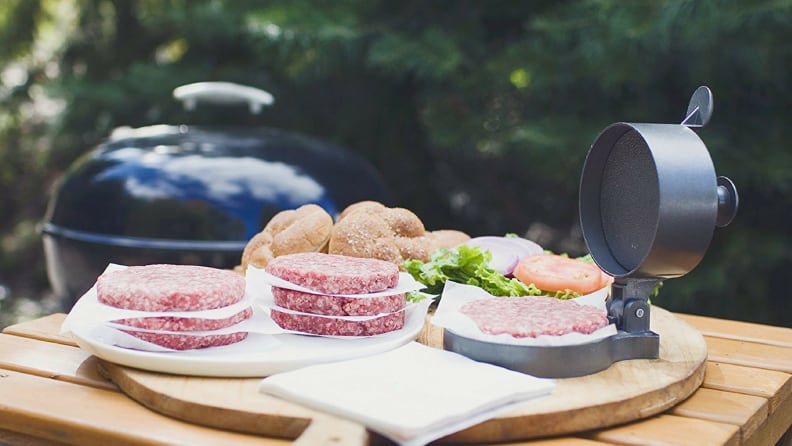 You could get your hands messy shaping burgers—or you could have a press do it for you. This one from Weston allows you to adjust the weight from 1/4 b to 3/4 lb for even patties for more consistent grilling and fast prep.
Reviews: 1,248
Average rating: 4.4 stars
Get the Weston Burger Hamburger Press for $14.39
12. A cheese slicer for sandwiches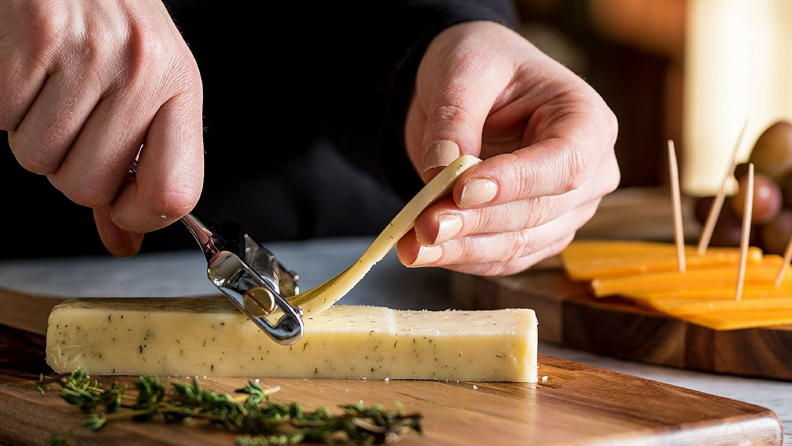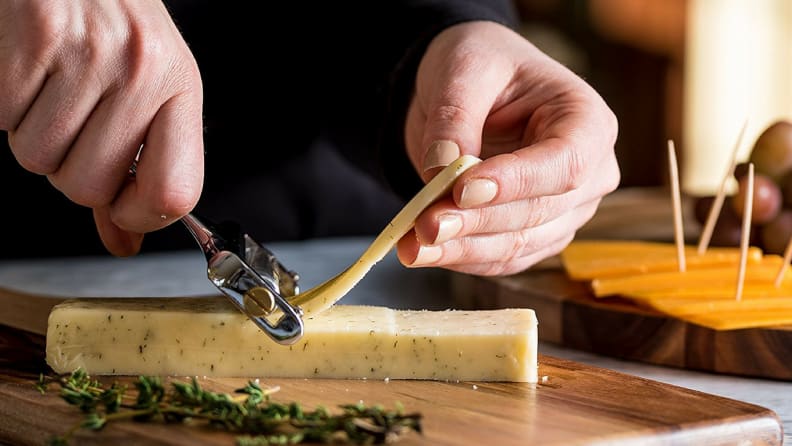 Trying to make the perfect charcuterie board or just want even slices for sandwiches? You need a cheese slicer. This one is stainless steel and allows you to adjust the thickness up 1/4 inches thick.
Reviews: 2,537
Average rating: 4.5 stars
Get the Bellemain Adjustable Thickness Cheese Slicer for $10
13. A cheesecloth with many purposes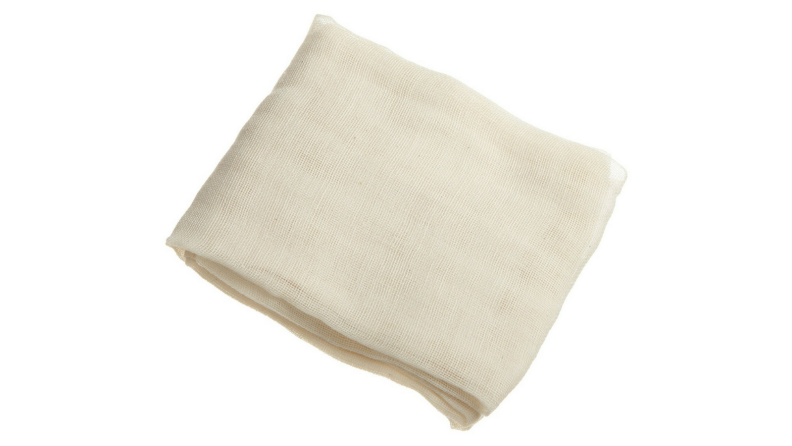 A cheesecloth is a nice product to have lying around. You can use it to make, well, cheese as well as basting, straining, and steaming basically anything. Get one made of unbleached cotton to assure you won't get any chemicals in your food.
Reviews: 1,211
Average rating: 4.4 stars
Get the Regency Natural Cotton Cheesecloth for $3.49
14. A nice mist of olive oil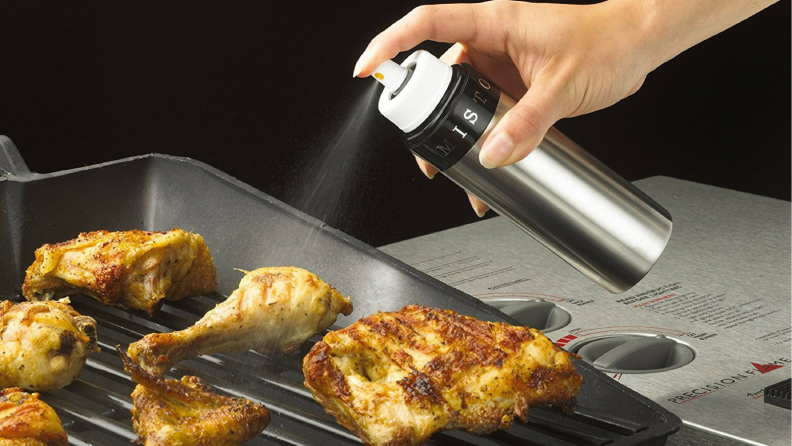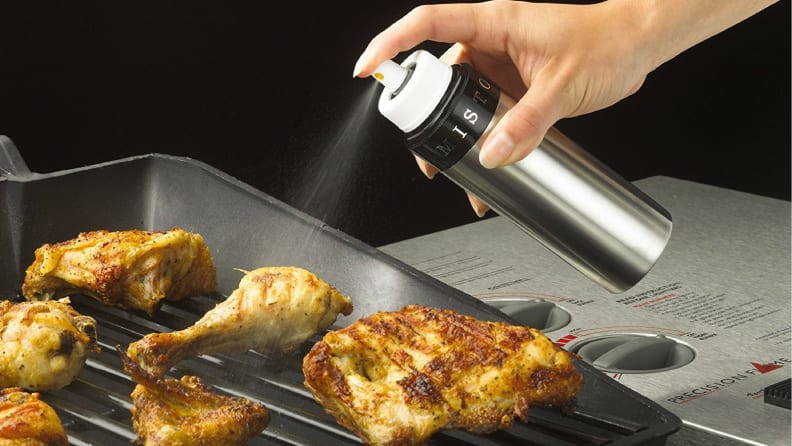 If you're like me, you have the terrible habit of accidentally pouring way too much olive oil in the pan or on food. An olive oil mister allows for even coats of oil, though reviews warn that it can get clogged within two years, which isn't terrible considering the low price point.
Reviews: 4,746
Average rating: 3.4 stars
Get the Misto Brushed Aluminum Olive Oil Sprayer for $8.01
15. A colander that makes life easier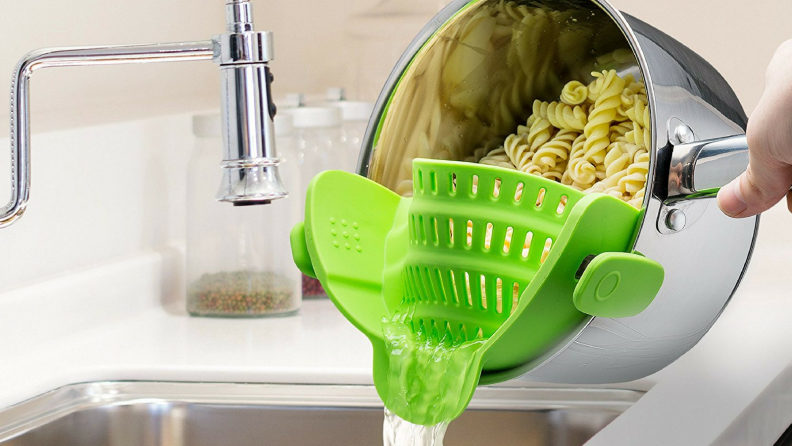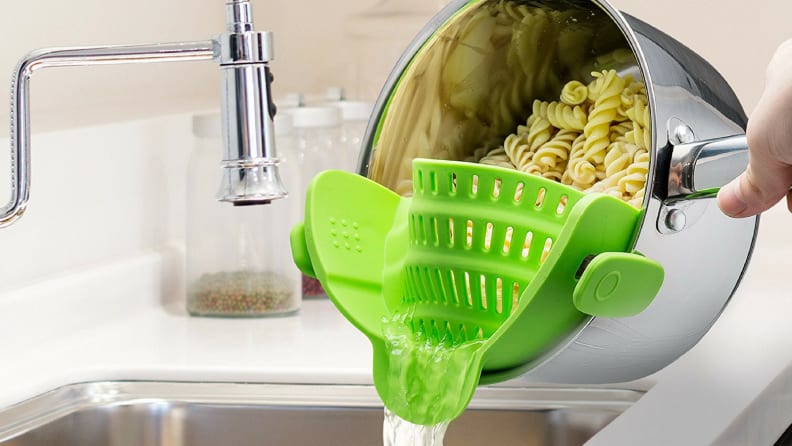 It's really quite a nuisance to remove pasta from a pot into a colander and back into the pot to coat it in sauce and seasoning. Luckily, this one snaps onto pots and pans and makes dumping water easier and less time-consuming.
Reviews: 1,317
Average rating: 4.5 stars
Get the Kitchen Gizmo Snap 'N Strain Strainer for $11.99
16. A chainmail scrubber for cast iron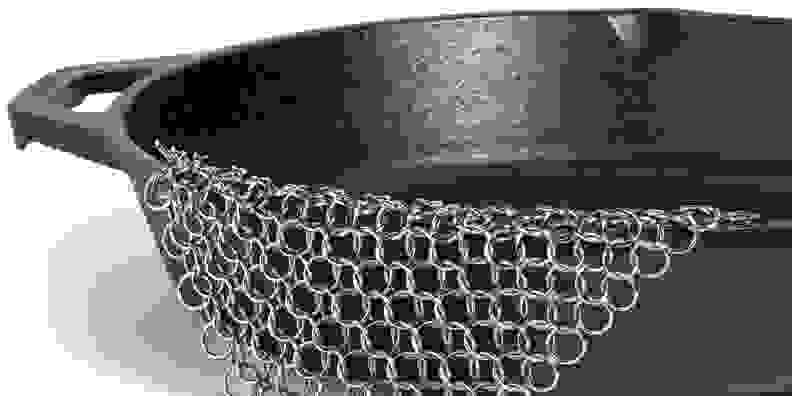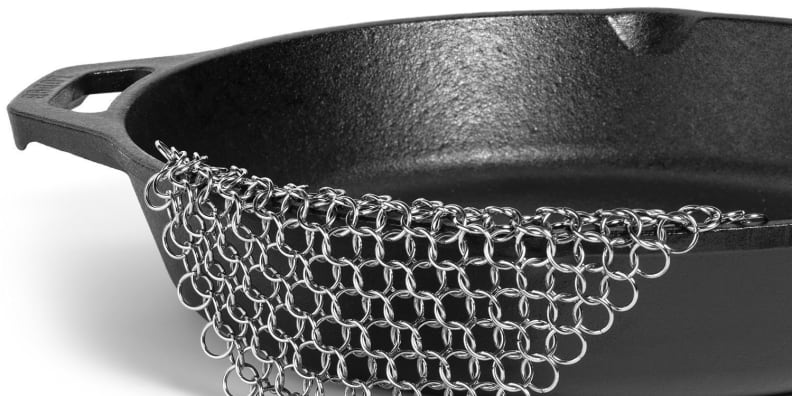 Scrubbing a cast iron skillet with coated on grease or food is both time-consuming and exhausting. If you don't like using your elbow grease to clean the thing, it might be wise to invest in an inexpensive chainmail scrubber that won't scratch the pan.
Reviews: 1,409
Average rating: 4.7 stars
Get the Amagabeli Cast Iron Chainmail Scrubber for $11.99
17. A mat for non-stick baking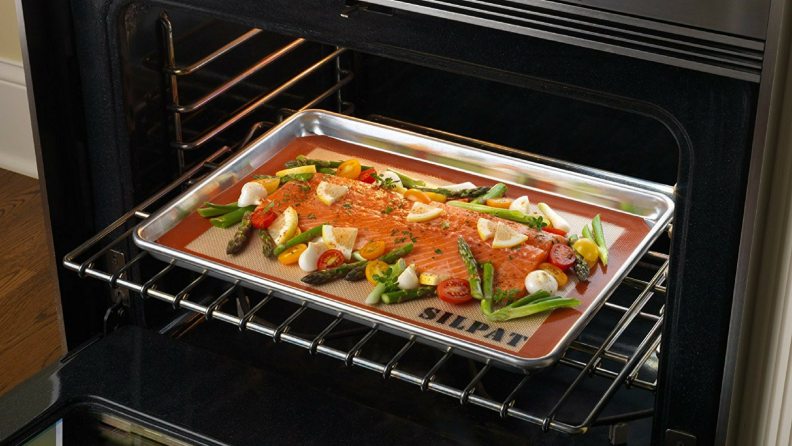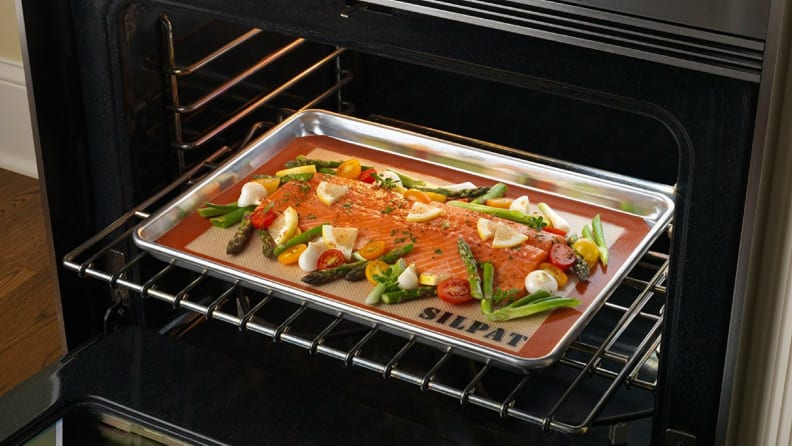 Silpat mats are incredible because they let you bake without using oil or cooking spray and food won't stick to the pan. Plus, they're reusable unlike all that parchment paper you're throwing away.
Reviews: 2,582
Average rating: 4.7 stars
Get the Silpat Non-Stick Silicone Baking Mat for $16.09
18. A soap bar that removes stinky garlic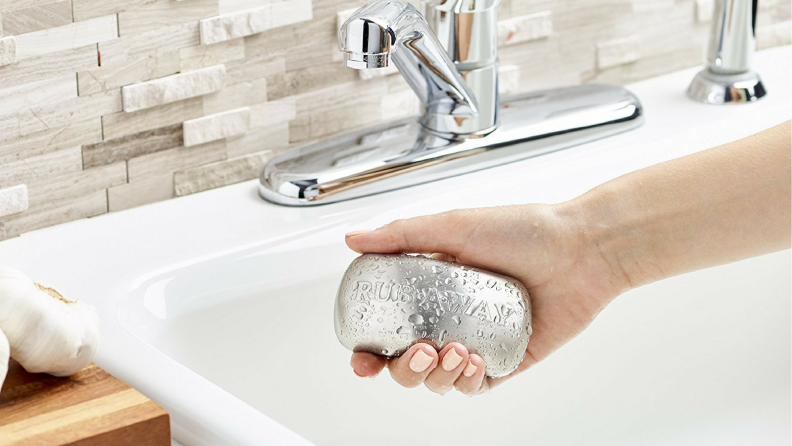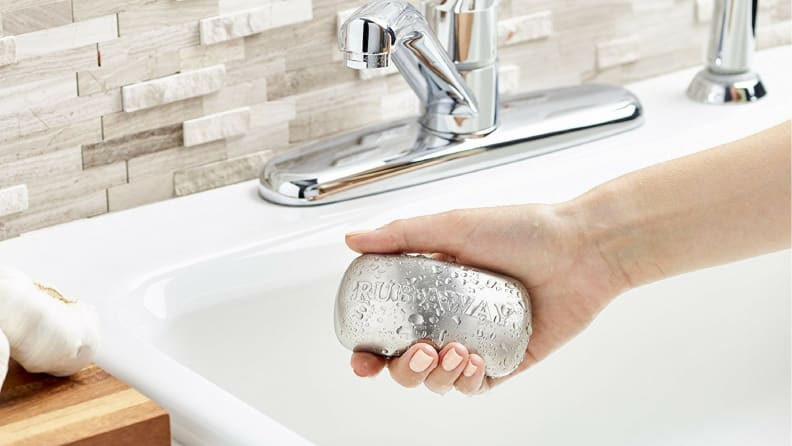 Garlic, onions, and fish have amazing flavor, but leave a terrible smell on your hands. This soap bar is actually made of stainless steel, which will neutralize these stinky smells, so you can keep cooking in peace.
Reviews: 1,365
Average rating: 4.3 stars
Get the Amco Rub-a-Way Bar for $11.47
Prices are accurate at the time this article was published, but may change over time.