Kitchen & Cooking
We tried the internet's favorite 3-in-1 breakfast maker—was it worth the hype?
It's stylish and it seems practical, but it's not all it's cracked up to be.
I love a good gadget, and when it matches the retro aesthetic I am drawn to when it comes to everything from my home decor to my closet and my hair, I innately desire it. So when I came across the Nostalgia Retro Series, I fell in love. With everything. I picked up the Pop-Up Hot Dog Toaster ($19.49) first, and it actually does a fantastic job of cooking my hot dogs, though the bun toaster leaves a lot to be desired.
Then, the 3-in-1 breakfast station crossed my path. Not only did it have a toaster that would solve my bun problem, but it had a griddle, and a coffee maker, and it came in both red and the same light blue that adorns most of my kitchen! Color me intrigued. But, for $60-$70, could I really get three fully functioning appliances in one device?
Gosh, I hoped so. So, I picked one up, brought it to work, and put it through a test run.
The unveiling: A promising beginning
I gotta say, this breakfast station is even more charming in person. It's just so cute! Beyond that, it actually felt sturdy and well-made.
The 4-cup coffee maker comes with a reusable filter so you don't have to worry about tearing through paper filters, and I found a tiny plastic scoop in the water reservoir for scooping grounds. The coffee pot itself is pretty tiny, and four cups is a stretch unless you're using tiny teacups.
The toaster has a wire rack and a small baking tray, and there are four heating elements inside, 2 on the bottom, and two on top. The latter are designed to heat the toaster and the griddle at the same time, and I was pretty skeptical that it'd be effective.
With the griddle, you get a waffle-textured surface and a glass lid that fits snugly over the whole thing. And the entire griddle lifts right off the toaster for easy cleaning.
OK, so we're off the a good start, but does it work?
When it comes to morning caffeine, Nostalgia gets me
If I skip a morning cup of coffee or tea, I am not myself. And patience is not something I wake up with. So, I dumped a couple scoops of coffee into the filter, filled the water reservoir, flipped the switch to COFFEE / 3 in 1, and waited.
The coffee was brewed and steaming in no more than 4-5 minutes! OK, Nostalgia. Good on ya. Now I've got high hopes for the other two elements.
But, trying to wrestle the pot in and out of its place proved… less than easy. It was a bit stuck and I had to use more force than I'd like with hot liquid. Putting it back, I managed to slosh coffee all over the side of the machine. More to clean up later, I guess.
Quit fooling around, let's eat!
Coffee achieved, I moved on to breakfast! On the menu? Eggs, bacon, and buttered toast. Yum!
This was the first time I actually had to consult the instruction manual, because when I flipped the dial to TOAST/BAKE (assuming correctly that would let me use both at once), the light did not come on. I still had the master switch set to COFFEE/3-in-1, assuming I'd be able to operate everything at once. Isn't that the whole point?
There wasn't much in the instructions about how to preheat both the toaster and the griddle, so I wound the timer dial all the way up. It worked! The light went on and I waited. The book said it'd take 3-5 minutes, and that there might be some smoke and odor. And they were not kidding. After about 5 minutes, blue smoke and a decadent chemical stench rose from the griddle and poured out of the toaster. Concerning. But it stopped within literally 30 seconds.
Bacon: A heartbreakin' experience
The griddle was preheated, so I tossed some bacon strips on there and waited for the classic sizzle of meat meeting heat. Instead, there was a meager hiss. Pretty anticlimactic. It wound up taking about 40 minutes to get two slices thoroughly cooked, and when they were done, they were the wrong kind of crunchy and kind of flavorless. I cooked the rest bacon in a real oven, and it was delicious, so Oscar Meyer is not to blame here.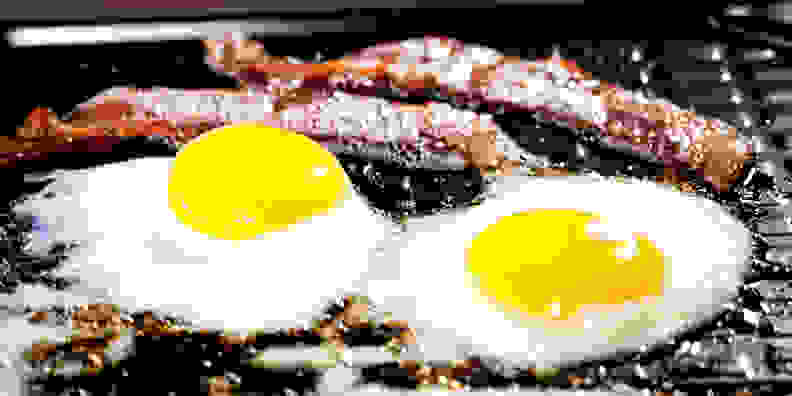 Toast: Watched bread always toasts better
While I willed my bacon to cook faster, I threw a few slices of bread in the toaster. They browned evenly and quickly, reaching that perfect "barely toasted" level that'll melt the butter and give a good crunch without being too hard.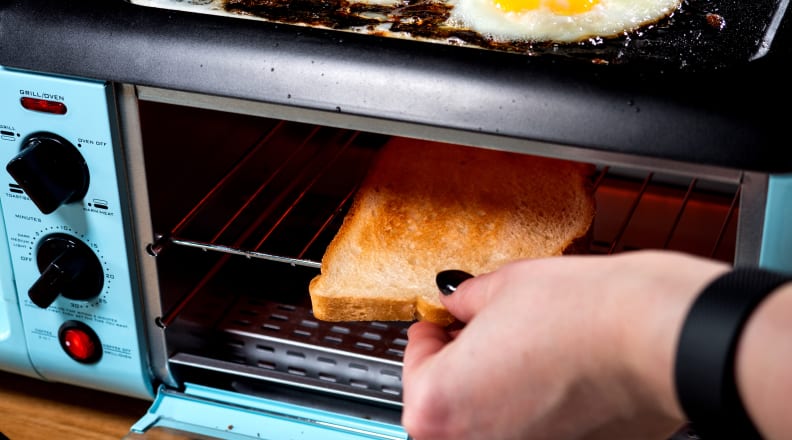 I threw a few more slices in to see what it'd be like to got for the extra toasty style some people like. Once they reached that perfect golden brown, things got ugly. The rear heating element scorched the back of the slices, and in the few moments I was preoccupied checking my bacon (again), they went from starting to scorch to completely charred.
Eggs: Not such a sunny outcome
After 20 minutes, I finally saw some crispiness on my bacon, so I immediately cracked two eggs into the extra bacon grease (use what you got!). The whites ran right into the outer ditch meant to hold the glass lid, and the yolks tried to follow. I had to coax the eggs back toward the center (and the heat) with my spatula and hold them in place until the whites solidified a bit. Kind of annoying if you don't have a perfectly level cooking surface.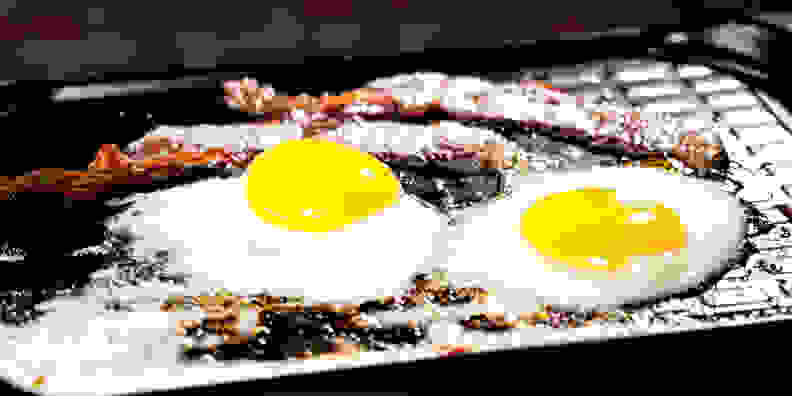 It took about 10 minutes for the eggs to finish cooking. It probably would have gone faster if I'd used the lid, but the bacon was finally sizzling so I didn't want to disrupt it. When I tried to scoot the spatula under the eggs, that "nonstick" coating proved its utter falsehood, likely due in part to the textured surface. I had to cajole the eggs onto the spatula, resulting in one rebelling and falling down the front of the toaster and onto the table. What a mess.
My verdict: Don't bother.
You know, at a base level, this thing actually does what it claims. You can cook breakfast on it, and you can use everything at the same time. But, the griddle leaves a lot to be desired, and it takes quite a bit longer to cook on this than it would with more traditional options. My recommendation? Skip the gimmick. If you're looking for ways to save space, a stovetop griddle and a french press are comparable in size and price, and they'll give you much better results much faster. And for toast, we think broilers are better anyway.
This AeroPress Coffee and Espresso Maker, for instance, fits right over a mug (and in a drawer) and weighs less than half a pound. Plus, it only costs $30 at Target.
What can you do if you're stuck with one?
The aesthetic appeal of the 3-in-1 breakfast station is hard to argue, and it's certainly the biggest draw of this strange little appliance. If you've been given one by a well-meaning relative or friend, and don't know what to do with it, I've got some ideas:
• a '50s photoshoot
• a kitchen set in a play
• a funky 'statement piece'
• anything but actually cooking!