Dishes after dark
Monogram is GE's luxury brand, and the ZDT870SSFSS fits in just fine. Like the Bosch SHE8PT55UC, it's equipped with a third rack for holding silverware, a dividable cutlery basket, and interior lights. The ZDT870SSFSS's interior lights are really bright, and strategically placed on the tub's ceiling and on the side walls. You could do your dishes in a dark room if you wanted to.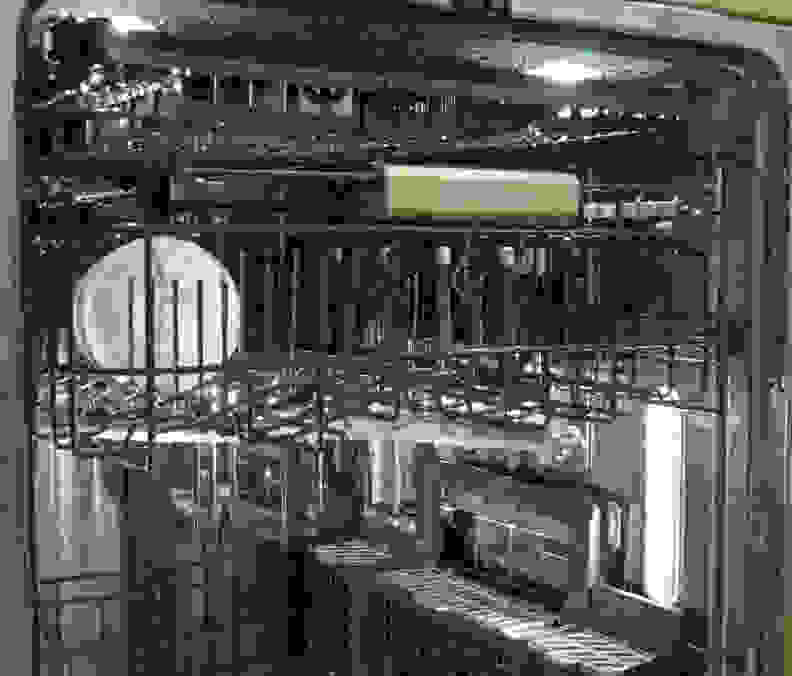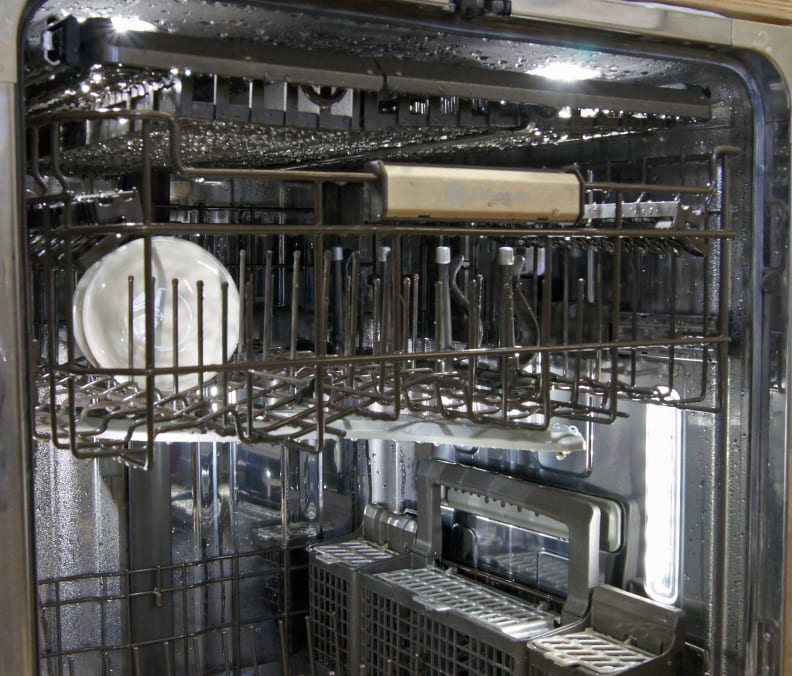 The ZDT870SSFSS dishwasher also brings in some of the features we appreciated on other GE products: The bottom of the tub has a reversing wash arm to help with coverage, and the sides of the tub are lined with more spray jets. Finally, embedded on the top rack, you'll find four nozzles pointing straight up. If you've been following GE's latest dishwashers, you'll instantly recognize these as bottle wash jets, designed specifically for cleaning inside containers.
You'll have no trouble with loading the ZDT870SSFSS or starting a wash. The control panel, hidden on the top of the door, houses a bright, full-color LCD screen and responsive mechanical buttons (as opposed to touch-controls). The interior is spacious enough to fit ten place settings and one serving setting. It also proved very flexible, with many rows of collapsible tines on the upper and lower racks and a silverware basket that can be split into three parts.
But wait! There's more!
If you are prone to decision paralysis, this might not be the dishwasher for you. The ZDT870SSFSS gives you a whopping seven cycles to choose from: the familiar Normal, Heavy, Light, Express, Rinse, and AutoSense cycles, and the not-so-common eWash—an efficiency-focused cycle that uses only about two gallons of water.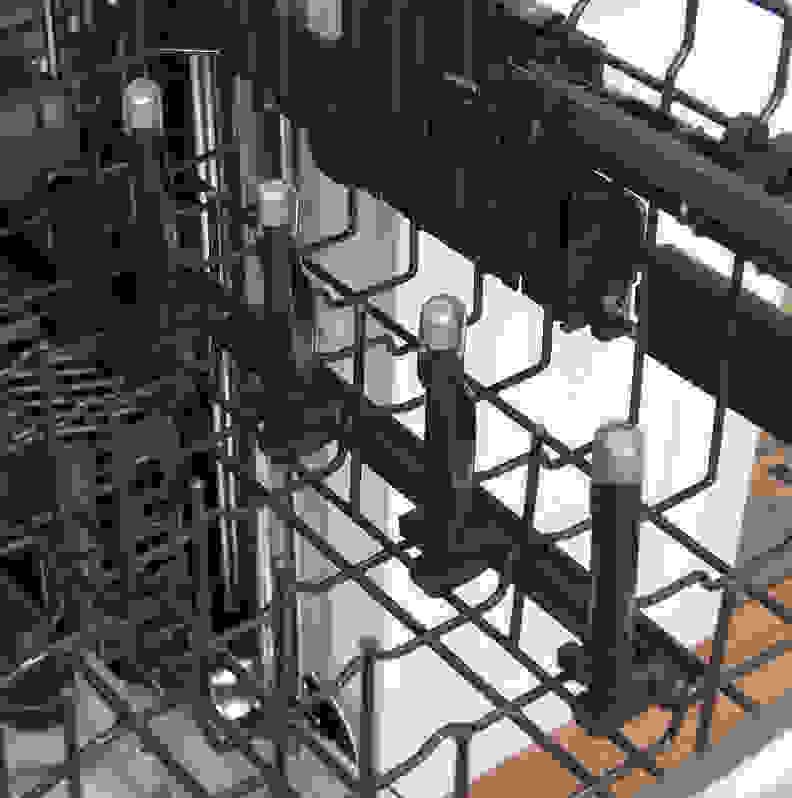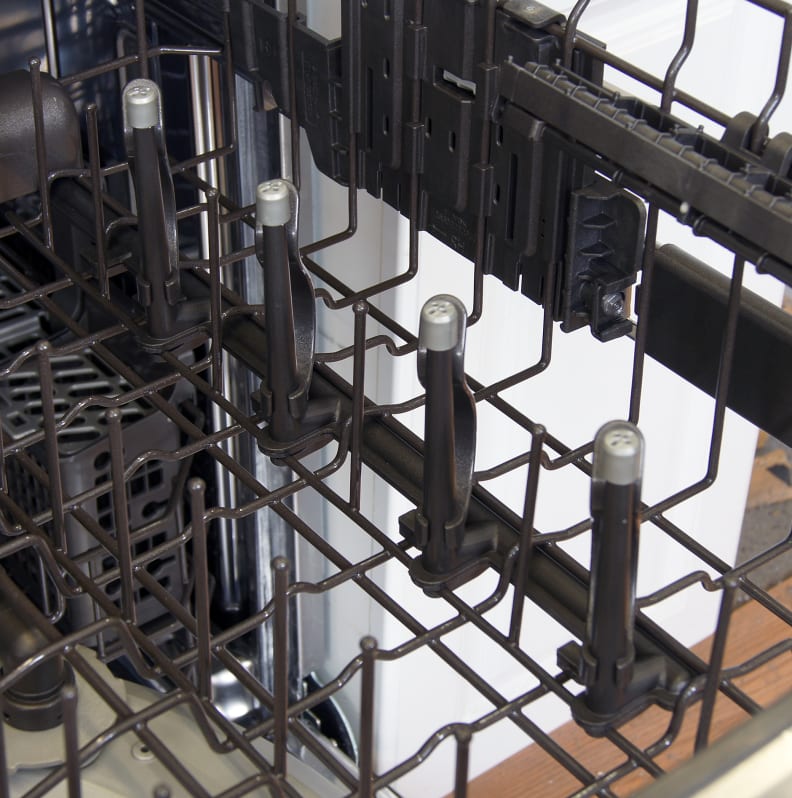 Once you've selected your cycle, it's time to customize. The ZDT870SSFSS lets you add a 30-minute PreSoak to break up tough stains, activate the Bottle Wash jets on the top rack, raise the temperature of the wash through Boost Temp or Sanitize Temp, or opt only to wash the upper or lower racks for half-loads. By default, the dishwasher shuts off the drying option and lets dishes air dry naturally, but you can engage Power Dry or Max Dry if you want to hurry things along.
Some staple features round out the list. A Control Lock blocks out inputs so you can clean and wipe the buttons without engaging any of them, and a Delay option lets you postpone the start of a cycle for 1-12 hours. The ZDT870SSFSS also has Energy Smart, a feature that automatically delays cycles until local energy demands are low. You need to be living in an area with smart meters from your electric company to use this, though.
Very little room for improvement

We were pleased to find that the ZDT870SSFSS had some substance to back up those features. The Normal cycle was thorough enough to remove every trace of meat, egg, and margarine, while leaving only minuscule amounts of oatmeal behind. More importantly, almost every item was completely devoid of spinach particles—lesser machines tend to pick up the baked-on, leafy bits and spray them to other dishes. The only flaw we spotted was the lack of coverage on the upper rack. Items placed near the corners tended not to be as clean as ones placed closer to the center.
The Heavy cycle delivered close to flawless results, doing even better than the Normal cycle's near-perfect results. It did more than just avoid spraying the spinach around—this cycle cleaned off over 98% of the green stuff entirely. Even baked-on lasagna and burnt sugar were no match for this cycle. It only faltered with burnt cheese, leaving visible chunks of the tough stain behind.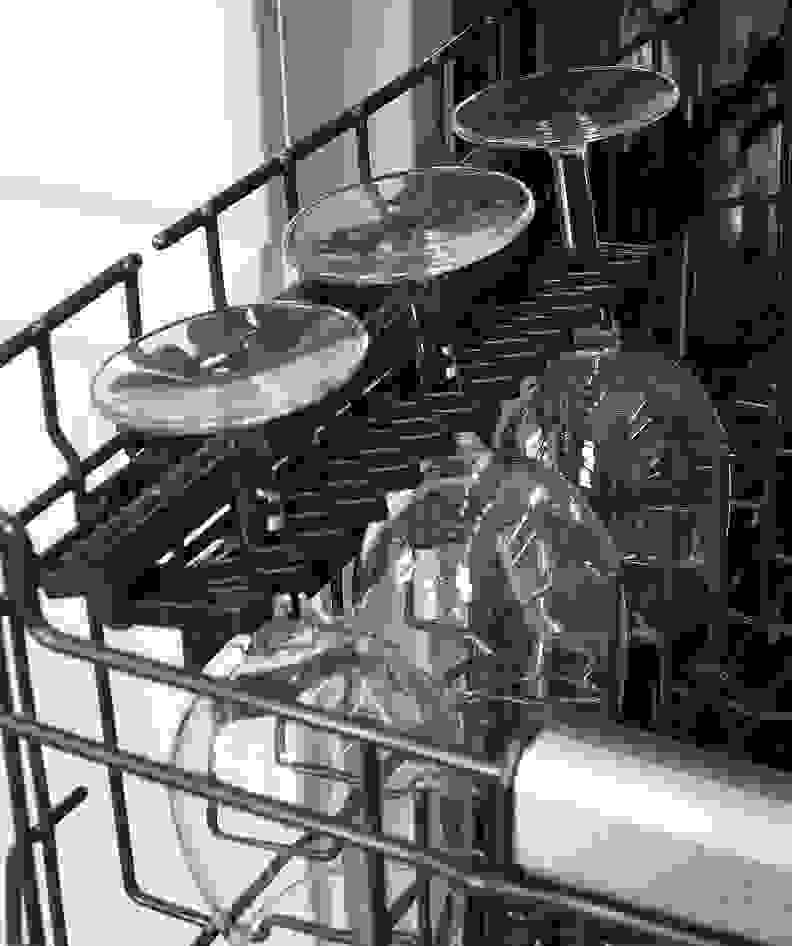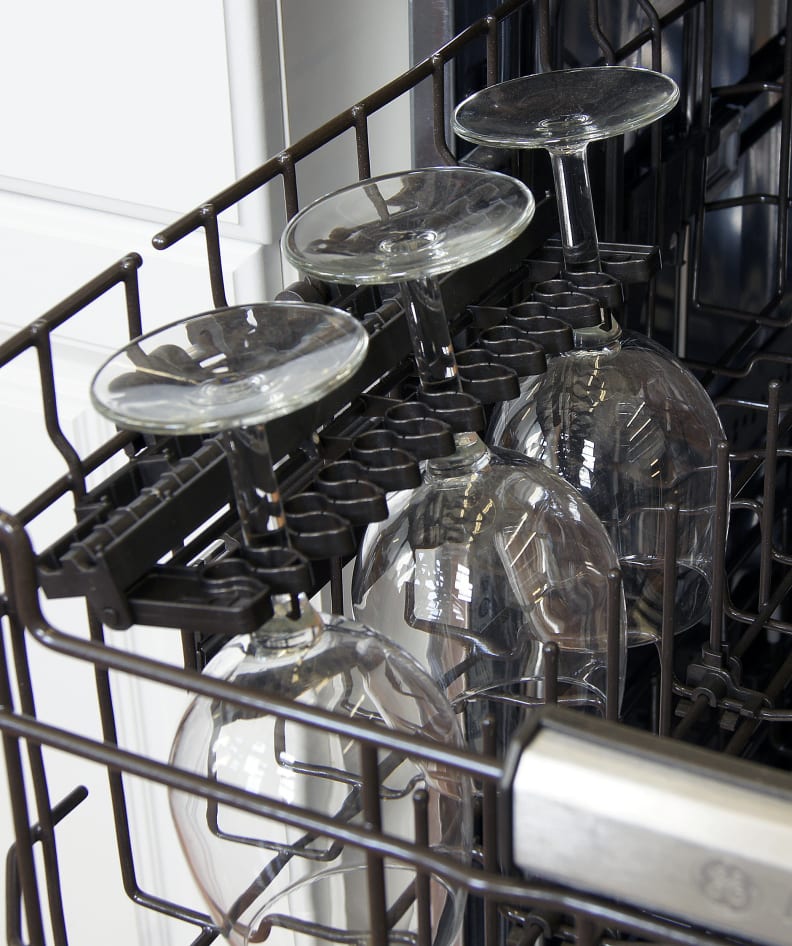 The Express cycle sacrificed everything for speed. Clocking in at 30 minutes, this cycle's cleaning results were similar to what we usually see from the Normal cycle of an entry-level machine. Many of the meat, egg, and margarine stains were gone, but the thicker, stickier stains such as oatmeal and dried milk were left behind. Still, we can't complain about that quick cycle time.
With an estimated yearly cost of $25.95, the ZDT870SSFSS is pretty light on the utilities. The dishwasher's fast cycle speeds may play a factor in the low costs: The Normal cycle took only 1 hour, 40 minutes, while the Heavy took was over in 2 hours, 20 minutes. The less time spent washing translates to fewer resources being used.
For in-depth performance information, please visit the Science Page.
It has everything.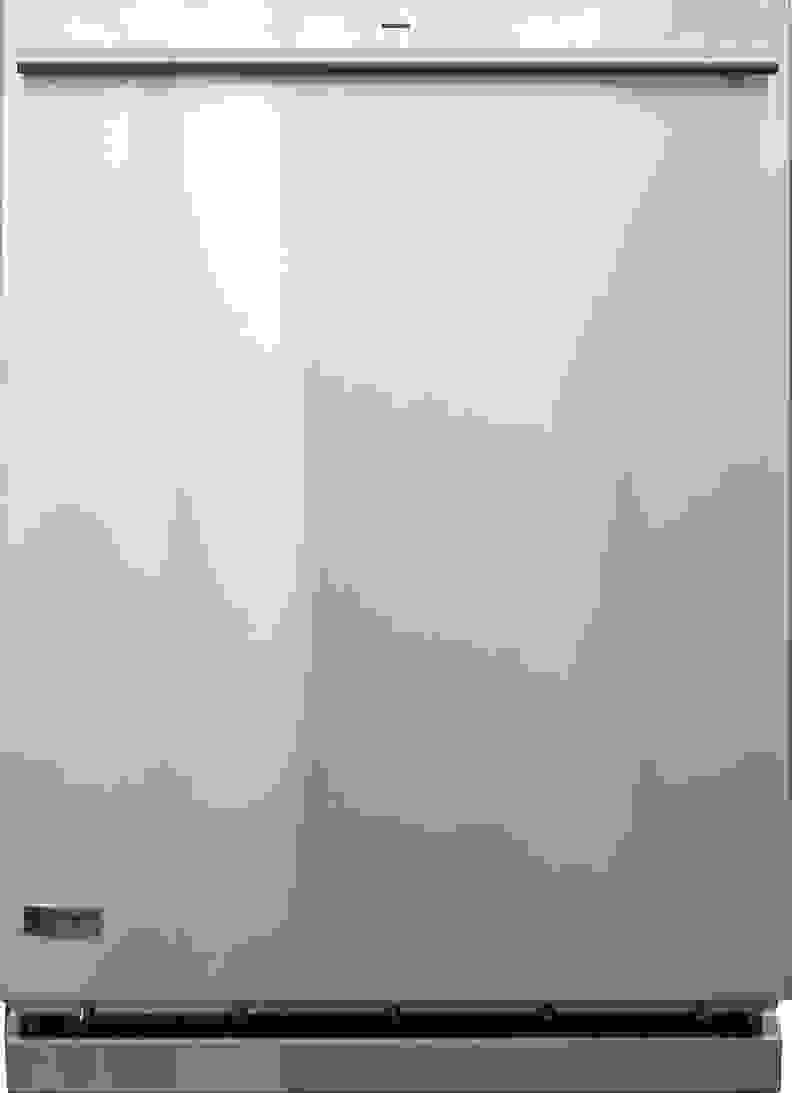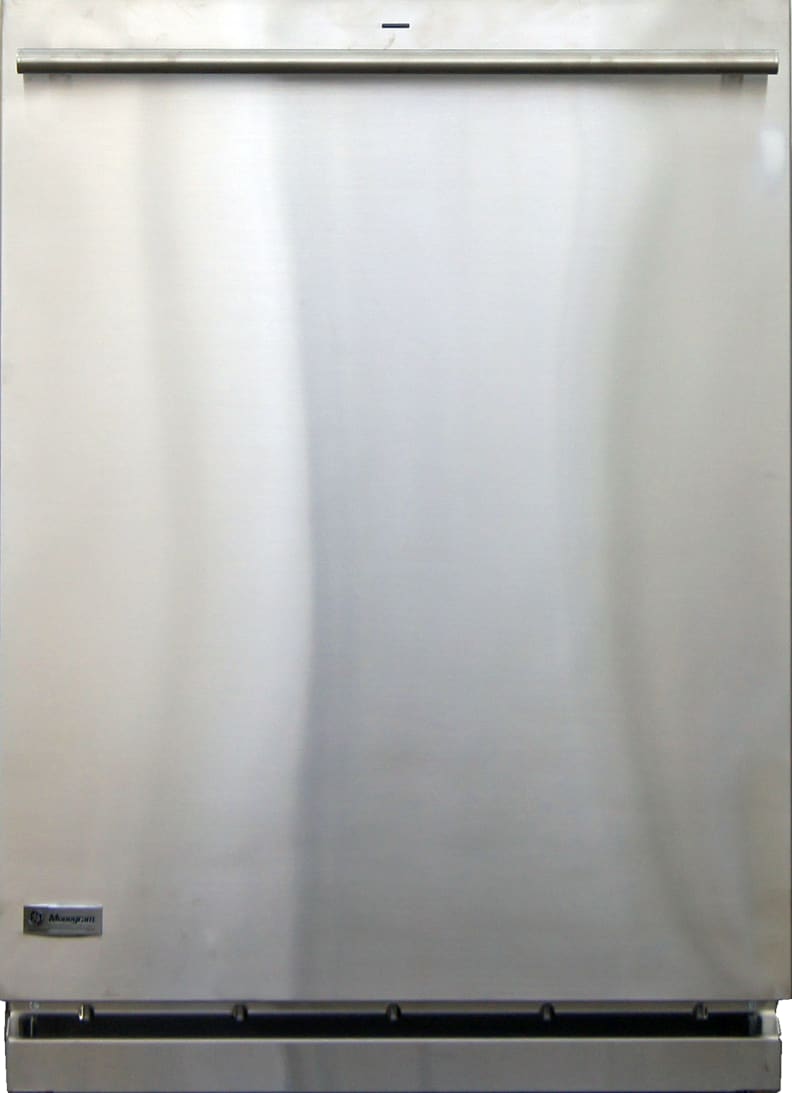 There's only one reason not to buy the GE Monogram ZDT870SSFSS: the $1,799 price tag. Clearly, this is a luxury item, and its price may be a barrier for most consumers. But if cost is no object for you, this machine has it all—even its own theme music.
A step below the Monogram would be the GE Profile PDT750SSFSS, which costs $500 less. Of course, being a trimmed-down version, it's missing some of the fancier stuff. For instance, you won't find a full-color LCD screen or bright interior lights on the Profile, and the Profile doesn't have a symphony orchestra backing it up. But both machines are equipped with GE's Bottle Wash jets, and they're both great at cleaning dishes. As shining examples of high-end dishwashers, you can't really go wrong with either choice.
The numbers don't lie, and they're telling us that the pricey GE Monogram ZDT870SSFSS is still one of the best dishwashers you can buy. Aside from the neat extra physical features and attractive looks, which we can't scientifically test, the ZDT870SSFSS also delivers in cleaning power and efficiency.
Definitely getting your money's worth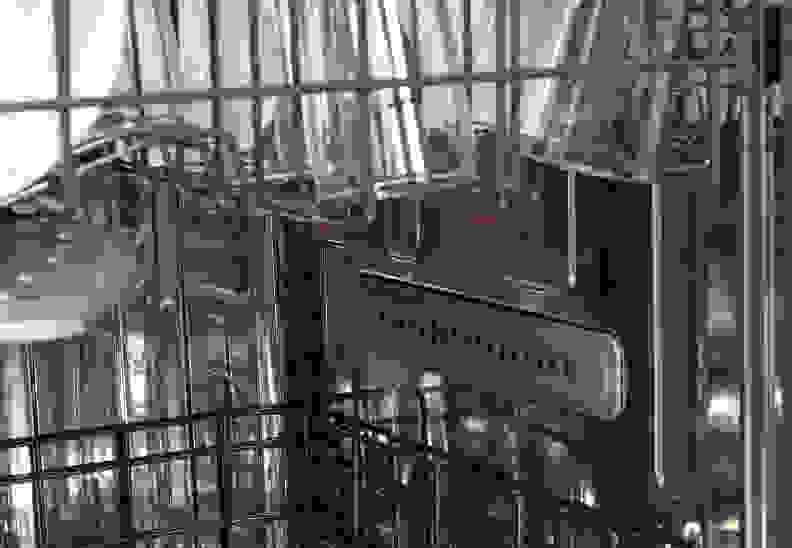 If you're going to spend close to $2,000 on a dishwasher, it sure better be good at washing dishes. Thankfully, the ZDT870SSFSS performed better than most other appliances on our stain tests, with a Normal cycle that removed every trace of meat, egg, and margarine we loaded in the tub. The Heavy cycle also did even better, removing over 98% of all the baked-on spinach stains as well as dominating the burnt sugar and lasagna tests.
In contrast to the Normal and Heavy cycles, the Express cycle performed poorly with the milk and oatmeal tests. This came as no surprise, as these sticky stains typically take more power to get rid of than a 30-minute cycle can muster. Still, with that cycle time, this cycle certainly earned its name.
Across all cycles except the Express, we found that redeposit wasn't an issue. This is when food particles get washed off of one dish and gets stuck to another, and it's usually a problem found in entry-level and some mid-range dishwashers. We also found that items loaded on the corners of the top rack ended up dirtier than ones that are loaded closer to the center, showing that those areas aren't getting as much water as they should.
Heavy drinker, but low power user
Despite the powerful clean that the ZDT870SSFSS's cycles provided, they were all very light on resources. The Normal cycle used 4.85 gallons of hot water, which is actually higher than average: Most dishwashers only use between 3 and 4 gallons on their Normals. However, all cycles consumed a below-average amount of electricity, which helps lower overall costs.
Broken down individually, each Normal cycle will cost you about 12 cents to run, an Express wash will cost only 7 cents, and a Heavy will cost you 19 cents. Assuming you use your Normal cycle twice a week on average while occasionally running the other two cycles, you're looking at an estimated annual utility cost around $25.95.
Very adjustable interior
We were able to fit ten place settings and a serving setting inside the ZDT870SSFSS. There were plenty of ways to arrange the racks so that everything fit. The cutlery basket could be split up and placed anywhere, or removed entirely. The height of the upper rack could be adjusted to fit taller items. We also appreciated the third rack for loading silverware.
Meet the tester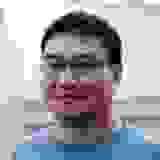 Johnny Yu
Staff Writer
@ReviewedHome
Johnny Yu writes news, features, and reviews for Reviewed.com. He graduated from U-Mass Boston with a Bachelor's in Social Psychology and spends much of his free time expanding his gaming horizons. Sometimes, he does his laundry at work.
Checking our work.
We use standardized and scientific testing methods to scrutinize every product and provide you with objectively accurate results. If you've found different results in your own research, email us and we'll compare notes. If it looks substantial, we'll gladly re-test a product to try and reproduce these results. After all, peer reviews are a critical part of any scientific process.
Shoot us an email