However, our tests found this dishwasher doesn't clean as well as many similarly-priced machines. In fact, it uses the same basic filtration system found on dishwashers that cost half as much, leading to less thorough cleanings and more food particles spread among the dishes.
KitchenAid does make many great dishwashers, like the KDTM354DSS. That dishwasher features a unique Clean Water Wash filter, however, which drastically improves cleaning performance. On sale, the 354 costs about $150 more than the 104, but we think it's money well spent.
Cold, hard numbers differentiate dishwashers from each other. After running our gauntlet of tests, the KitchenAid KDFE104DSS did not measure up against similarly-priced machines.
Lookin' good.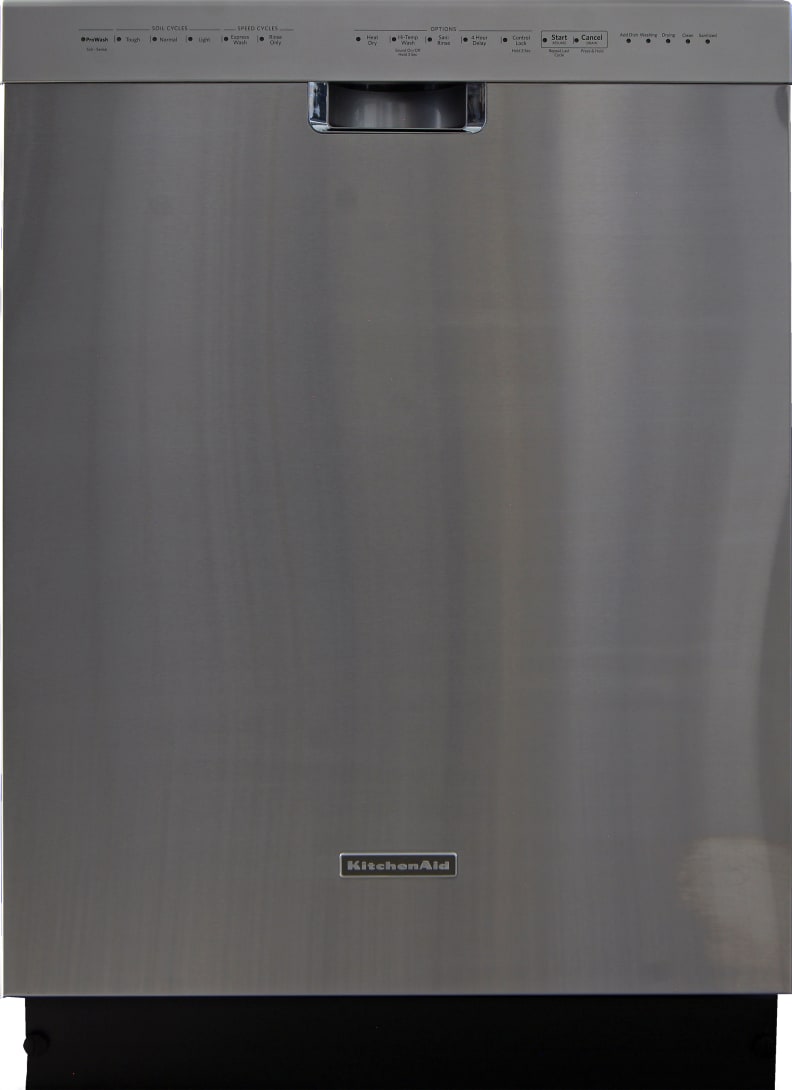 The KDFE104DSS's design fits right in with any kitchen. Nothing about this dishwasher protrudes into your space: Touch-sensitive buttons are located on its front-facing control panel, and the machine opens with a tug of its pocket handle. The result? It will line up perfectly flush with your kitchen's cabinetry. The stainless steel finish also makes it unobtrusive, matching kitchen designs both traditional and modern.
The control panel illuminates with bright white indicator lights and features simple, single-button selection for cycles and wash options. Although lacking the tactile feedback of traditional mechanical buttons, we found the touch-sensitive buttons work well most of the time, with rare moments of unresponsiveness.
When you open the KDFE104DSS's door to peek inside, that's where its weaknesses start to show. Despite a handful of foldable tines and a height adjustment mechanism for the upper rack, the KDFE104DSS lacks adjustments that could help fit larger dishes and cookware. The main culprit: A long, unadjustable cutlery basket that takes up much of the space on the lower rack. We were still able to fit 11 of our standardized place settings and one serving setting inside this dishwasher, but it wasn't pretty.
There were clear performance differences between the Normal, Tough, and Express Wash cycles, which is to be expected. However, all cycles suffered from redeposit, and they also suffered on the tea stain test.
The Normal cycle scored an average of 99% on the tea test and left a visible brown ring inside each mug. Most other dishwashers we've tested score 100% on this test. And although the Tough cycle fared better with all the other stains, its score on the tea stain was nearly identical to that earned by the Normal cycle. The Express Wash did the worst, but fulfilled its primary task of finishing in 55 minutes.
Burnt cheese is an extra-tough stain we use to test a dishwasher's heaviest cycle. It involves microwaving a slice of cheese in a small casserole dish, which forms a hard, flaky mess that many dishwashers have trouble removing. The KDFE104DSS's tough cycle scored an average of 87.99% on this test, which is fairly low.
The KDFE104DSS's annual water and energy consumption is slightly below average. Its Normal and Tough cycles use a little less power than some of the other dishwashers on the market today. The total estimated annual cost to run this KitchenAid is $28.67 a year. Most other machines are in the $29-30 range.
The Normal cycle used an average of 0.65 kWh, compared to the Express Wash and Tough cycles, which used 0.38 kWh and 0.82 kWh, respectively. Water usage was much closer to the average, if a little on the high side. The Normal cycle used 3.07 gallons, Express Wash used 6.48 gallons, and Tough used 8.39 gallons.
All the essentials
The KDFE104DSS's selection of wash cycles has you covered from every angle. The usual Normal, Tough, and Express Wash cycles are there, but there's also a ProWash cycle that uses the machine's soil sensors to determine the best number of washes and rinses a load should use: Light for delicate dishes that need lower heat and gentler spray, and Rinse Only for when you just want to get the plates wet sans detergent.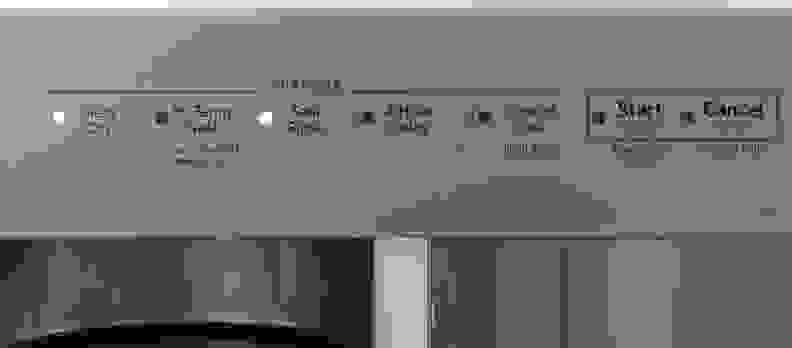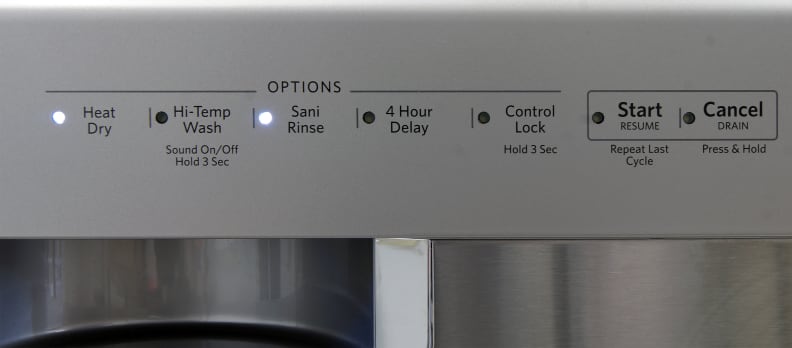 There's also a basic selection of wash customization options. Heat Dry, which is a default on most cycles, uses the KDFE104DSS's exposed heating element to dry the dishes at the end of the cycle. Hi-Temp Wash raises the water temperature during the wash, while Sani Rinse adds an extra-hot, bacteria-killing rinse to the end of a wash cycle. A simple Control Lock feature keeps housemates from accidentally interrupting a cycle—a vital option when the buttons are located on the front of the machine. Additionally, a 4 Hour Delay allows you to postpone the start of a wash.
Well behind other mid-range dishwashers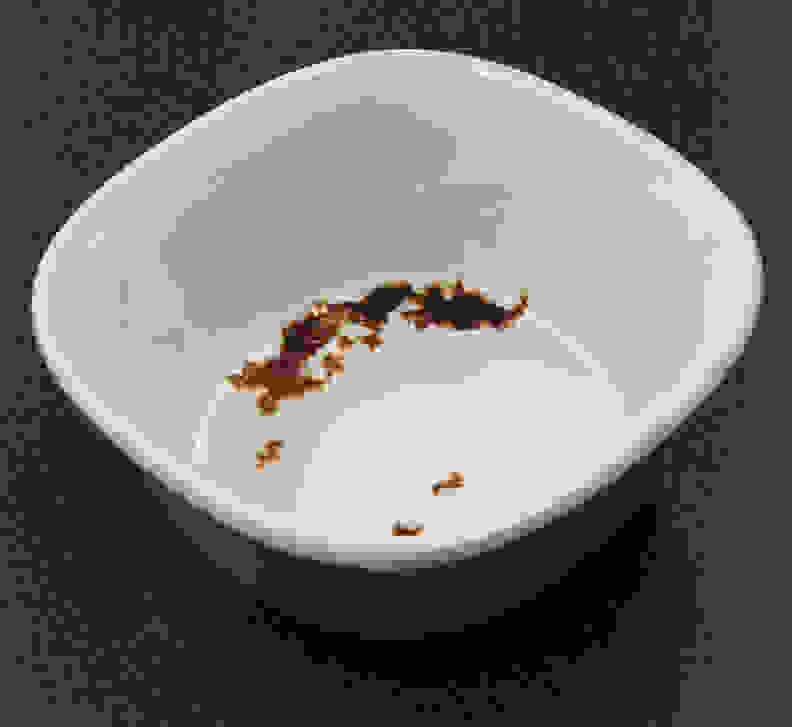 Performance is where the KDFE104DSS proved most disappointing. Two noticeable problems kept popping up in each of the cycles we tested with this machine: tea remnants and redeposit. One points to water coverage issues, while the other points to problems with filtration.
Redeposit is when food particles from one dish gets stuck to another during the wash, usually as a result of a weak or poorly-designed filtration system. We test for this using small bowls of baked-on spinach. With this KitchenAid, we found tiny particles of spinach transferred from the bowls to other items during the wash cycles, including mugs and glasses loaded on the upper rack.
In our tea test, we pour a small amount of tea into our mugs and leave it to dry overnight before loading it into our test cycles. Typically, this is an easy stain that many dishwashers can clean with 100% efficacy. But a large percentage of the cycles on the KDFE104DSS left a visible brown ring inside the mugs after washing. That points to coverage issues. After all, if water was reaching the mugs, they would get clean.
Perhaps the KDFE104DSS's only saving grace is its efficiency. With an estimated annual cost of $28.67 a year, this dishwasher is slightly below average in terms of water and power consumption. However, if you find yourself frequently running another cycle after your initial wash cycle spits out dirty dishes, that could run up your water and power bills regardless.
For in-depth performance information, please visit the Science Page.
We were able to fit 11 place settings and one serving setting inside the KDFE104DSS. The upper rack has a height adjustment mechanism and the lower rack has one row of foldable tines, but your adjustability options pretty much end there. Our biggest gripe when it came to loading this dishwasher was the long cutlery basket. We found its slide-out silverware slots to be inconvenient, and its large size takes up valuable space on the lower rack.
Move up the lineup.
All in all, the KDFE104DSS really doesn't feel like a mid-range dishwasher. Sure, it has a couple of features you won't find on a budget machine, such as an upper rack height adjustment option and a few extra cycle choices. However, lackluster cleaning performance and limited loading flexibility make it hard to justify this KitchenAid's price tag—especially when other machines do a better job.
The KitchenAid KDTM354DSS is a far superior machine, and has KitchenAid's unique new self-cleaning filter that proved itself in our lab tests.
For around $700, you can also get the straightforward Bosch Ascenta SHX4AT75UC, the feature-heavy Frigidaire Gallery FGID2474QS , or even the panel-ready Fagor LFA-75IT. All of these offer greater flexibility and performance for the same price.
Meet the tester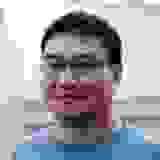 Johnny Yu
Staff Writer
@ReviewedHome
Johnny Yu writes news, features, and reviews for Reviewed.com. He graduated from U-Mass Boston with a Bachelor's in Social Psychology and spends much of his free time expanding his gaming horizons. Sometimes, he does his laundry at work.
Checking our work.
We use standardized and scientific testing methods to scrutinize every product and provide you with objectively accurate results. If you've found different results in your own research, email us and we'll compare notes. If it looks substantial, we'll gladly re-test a product to try and reproduce these results. After all, peer reviews are a critical part of any scientific process.
Shoot us an email