Pros
Good cleaning on the Normal and Express cycles

Knurled handlebar
Cons
Lackluster cleaning on the Tough cycle
But as the most expensive non-luxury dishwasher we've ever had in our lab, we were really hoping to find a scaled-back version that cleans away food stains without cleaning out our wallets.
Thankfully, that's exactly what the KitchenAid KDTM404ESS (MSRP $1,299.99) is. It shares many of the same features we love about the 704, including the motorized Dynamic Wash Arm and the Clean Water Wash filtration system. For improved drying, it has a recessed heating element and fan.
It also keeps the same design language that got our attention in the first place, which includes a thick, knurled handlebar. Its wash cycles even behaved similarly, both in terms of cycle duration, resource usage, and cleaning power. The bottle washing jets and the interior lights are the only things missing—but for $500 less, most consumers will probably consider that a worthwhile tradeoff.
It's rare to find a dishwasher that costs over $1,000 but can't clean your dishes, but we sure do try. The KitchenAid KDTM404ESS is, fortunately, is not an exception. Its main selling points are its style and flexibility, but this dishwasher is also no slouch when it comes to actually doing its job.
Straightforward exterior, flexible interior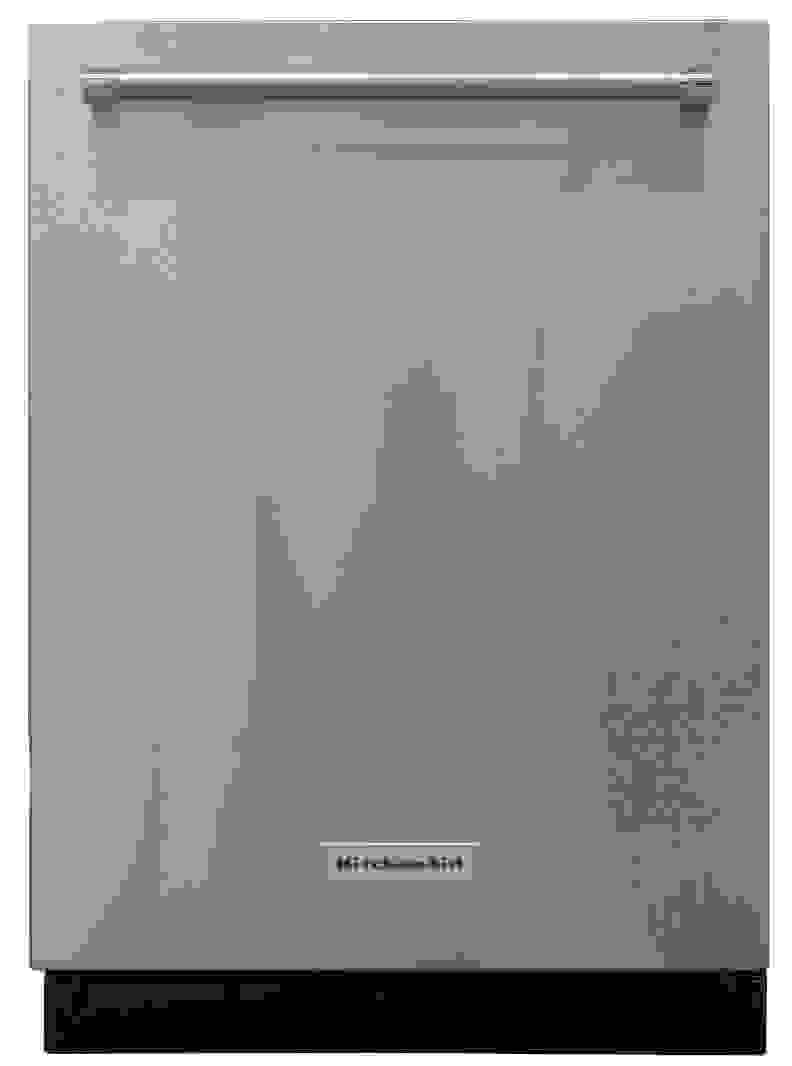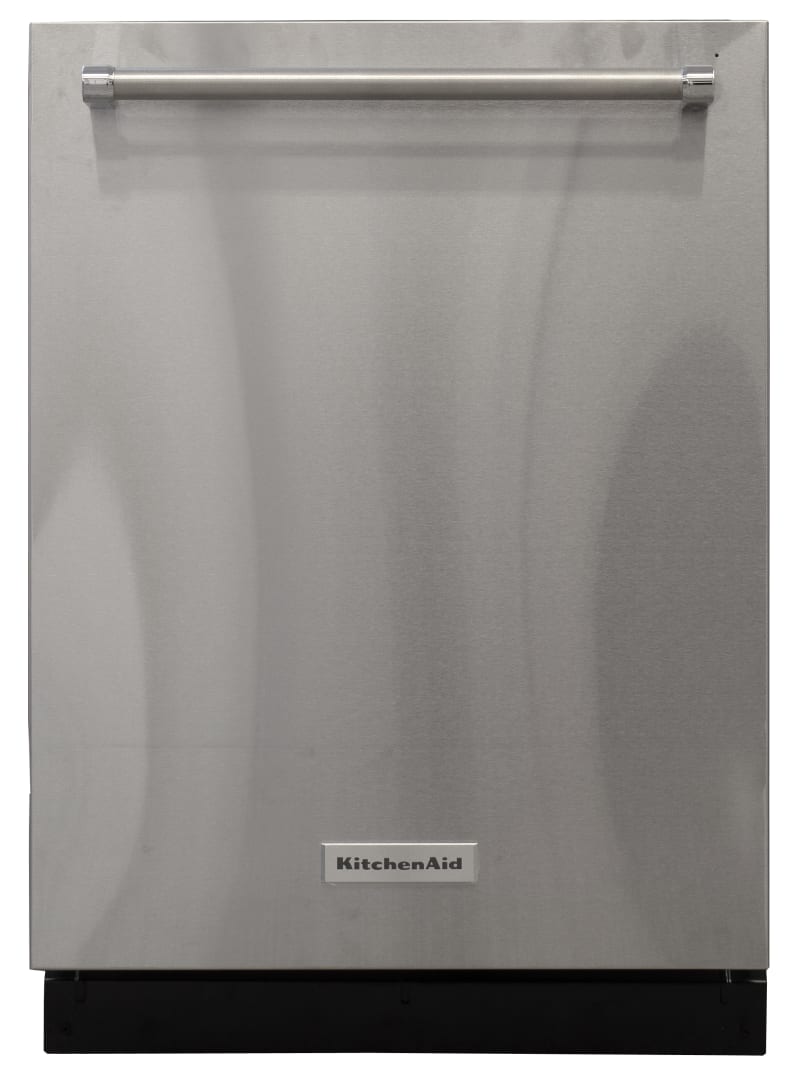 A purchase decision on this KitchenAid will most likely hinge on how much you enjoy handling it. In a word, this dishwasher feels solid. Its door is heavy, the handlebar is thick, and the bottom rack has its own set of rails—which is rather rare. Nothing about this dishwasher feels like it will fall apart on you. That said, the general sense of stiffness might be a little overboard for some buyers, and they might prefer something with a little more give—especially since removing the bottom rack can be a bit of a pain.
The solid and sturdy feeling doesn't take away from the KDTM404ESS's flexibility. In fact, between the height adjustment mechanism on the upper rack, the adjustable-width plate supports on the bottom rack, a handful of fold-down tines and shelves, and a mini-basket, there are actually plenty of ways to adjust the interior to your liking.
We found enough room to fit 11 standard place settings and a serving setting, and the adjustable parts mean even non-standard dishes will find a good place to perch inside the KDTM404ESS. Our only complaint is that the long, single-piece cutlery basket takes up a lot of room and doesn't sit very well on the bottom rack. Since this KitchenAid has a third rack for loading silverware, the cutlery basket feels even less useful.
The 404 doesn't share the 704's bottle washer jets, but it does have ProScrub Upper nozzles nestled in the top rack. These are basically lighter versions of the set of ProScrub high-intensity jets found in the rear of the tub. Since they're designed to shoot upwards and blast off tough stains, they can usually fulfill the same function as bottle washer jets.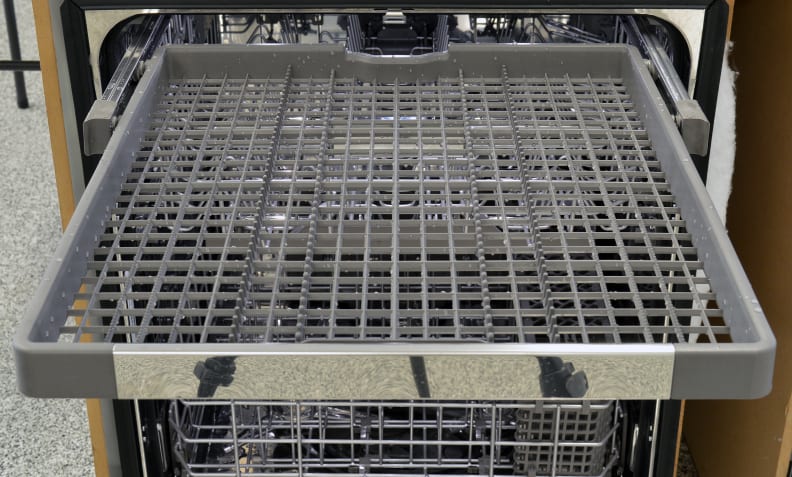 ×
Design Gallery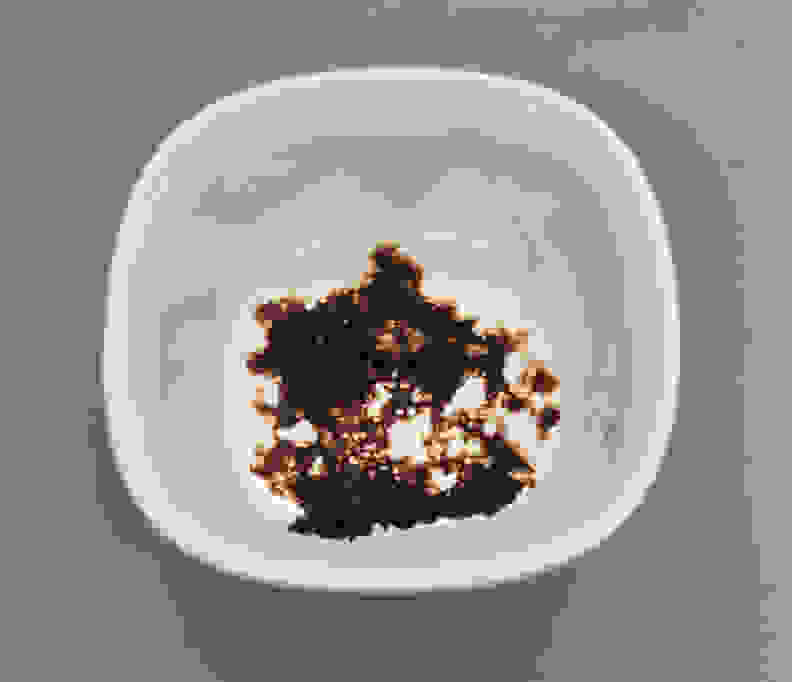 The most impressive feat that the KDTM404ESS accomplished on our tests is the complete absence of redeposit. No cycle did a perfect job with stain removal, but every cycle excelled at keeping stains from reappearing on cleaned dishes.
The Normal cycle struggled a bit against our meat stains, scoring an average stain removal rate of 96.68% on our tests where most dishwashers can get 98% to 99%. That might not seem like much on paper, but in practice, it's the difference between barely visible flecks and solid chunks. Most of the plates we smeared the meat on were actually cleaned, but the ones at the edges of the bottom rack weren't. Even though the manual instructs you to load plates there, you're better off loading as much of your dishes in the center of the rack as possible.
The Touch cycle did not have as much trouble against the meat stains as the Normal, but it scored a low 12.70% average removal rate against the burnt cheese stain. This is a difficult stain, to be sure, but many dishwashers can at least get 50% of it off. Thankfully, the KDTM404ESS is equipped with ProScrub as an extra wash option, which should be able to blast this stain off.
Overall, the KDTM404ESS's cycle durations were reasonable. Express Wash finished in a brisk 59 minutes, Normal only took between 2 and 2.5 hours, and Tough consistently finished well under 3 hours on all of our runs.
You can't even tell this is a scaled-back version.
One would expect that a cheaper, trimmed-down version of the flagship model would be missing a bunch of features, but the KDTM404ESS certainly doesn't feel that way. With six cycles and a boatload of wash options, there are many ways for you to take control of your wash. And for those who'd rather not micromanage, this KitchenAid has a button for each cycle, making it easy to just pick a cycle, hit Start, and call it a day.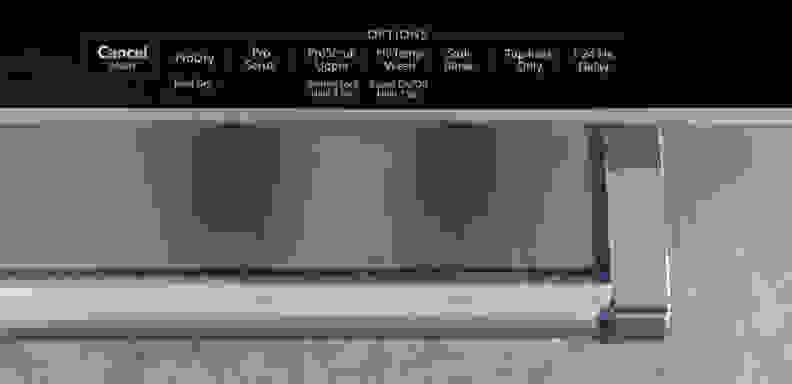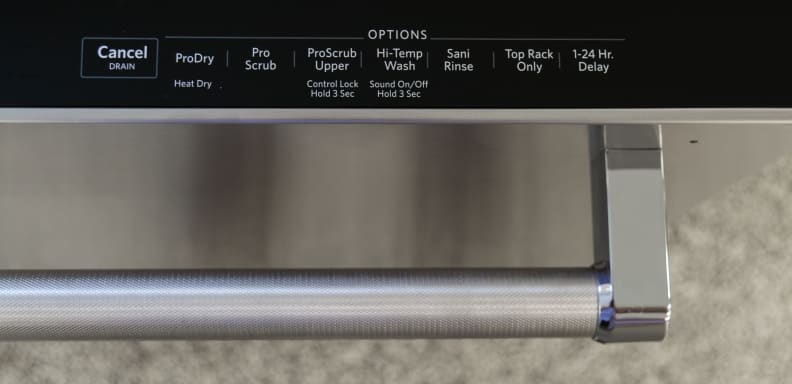 After picking the appropriate cycle for your load (or using ProWash to have the dishwasher's soil sensors decide), a bunch of other settings await you. This includes activating the ProScrub high-intensity spray jets, activating their counterparts on the upper rack with ProScrub Upper, and adding a wash temperature boost or extended drying time. There's also a robust 24-hour Start Delay setting and an option to shut the control sounds off.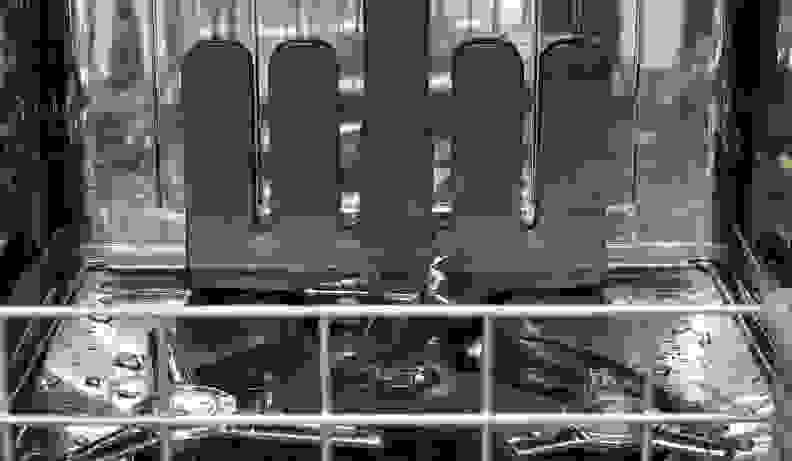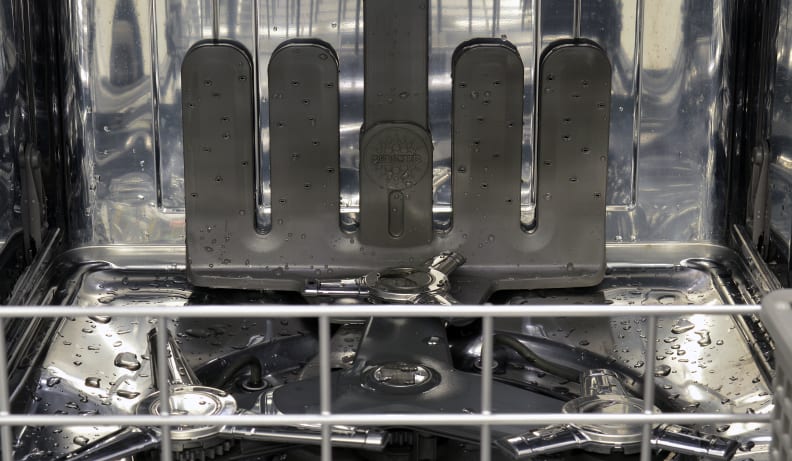 Assuming that the KDTM404ESS will be used roughly four times a week and that half of those times are on Normal, we've estimated that it will cost the average American consumer about $32.76 per year in water and electricity. This is a little higher than the $30 per year average that we've been seeing from all the dishwashers we've tested.
That extra cost comes from the KDTM404ESS's Normal cycle, which uses a little more water than equivalent cycles on other machines. We're used to seeing this cycle using no more than 3.5 gallons of water, but the KDTM404ESS's Normal cycle used 4.57 gallons on average. The Tough cycle used a similar 4.56 gallons and Express Wash used 5.66 gallons according to our meters.
The KDTM404ESS's Tough cycle used 1.39 kWh of electricity, which isn't too different from what we're used to seeing. Normal used 0.65 kWh and Express Wash used 0.80 kWh, which are also pretty average.
There's enough room in the KDTM404ESS to hold 11 of our standard place settings and a serving setting. More importantly, there are a lot of ways to adjust the interior for when your load isn't exactly standard. You can adjust the space between some of the supports on the lower rack for thick plates, raise or lower the upper rack to fit taller items, or use the fold-down shelves and mini-basket to create extra loading space. There's also a third rack in addition to the cutlery basket, so there's never not enough room for silverware.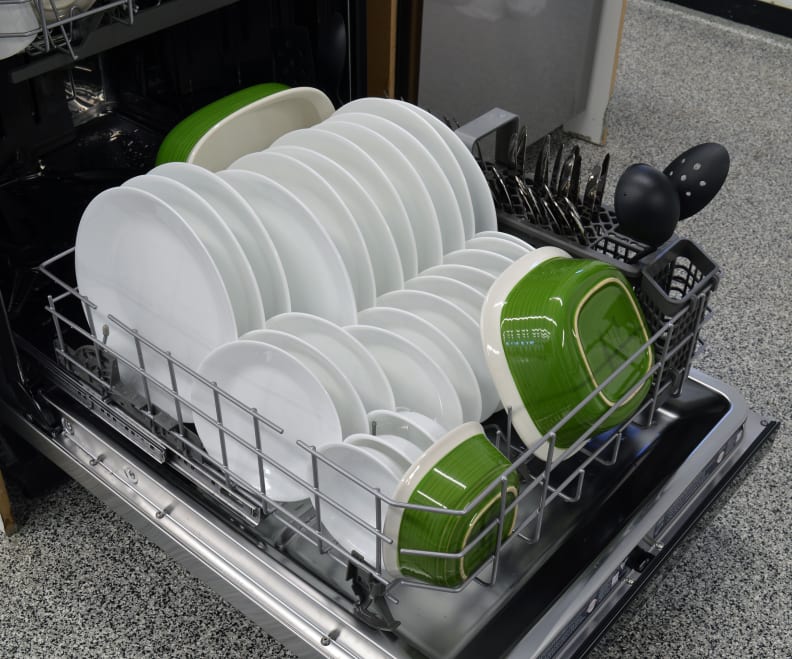 ×
Capacity Gallery
Clean Wash lives up to its name.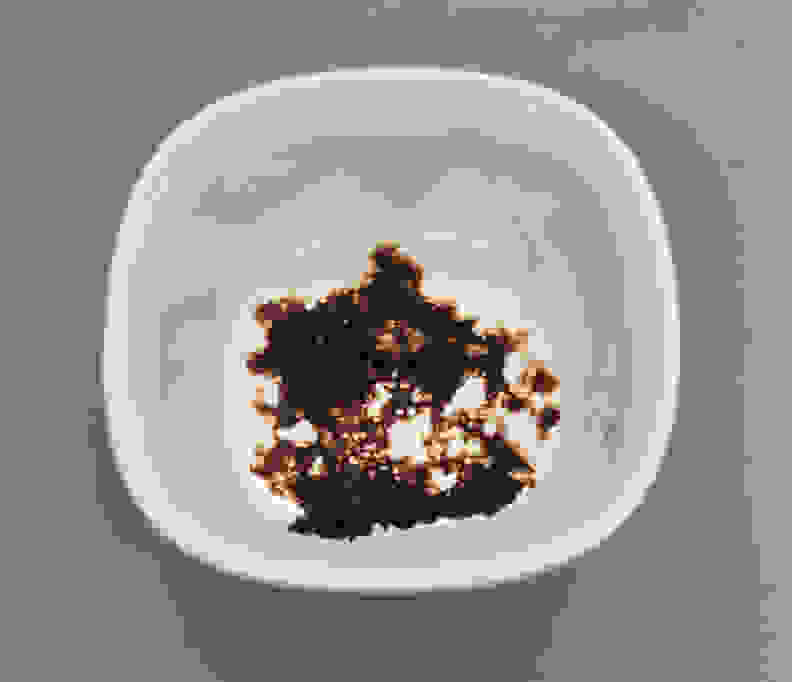 We've tested other dishwashers with the Clean Water Wash filtration system, so our expectations for the KDTM404ESS were already high before we even loaded the first dish. After our testing, the results, while expected, were nevertheless impressive.
We loaded up the Normal, Tough, and Express Wash cycles with stained dishes and found that each cycle did a remarkable job keeping washed-off stains from redepositing onto dishes. Faster cycles with fewer washes and rinses tend to be more prone to this, but the KDTM404ESS's Express Wash had no issues at all.
The KDTM404ESS's Tough cycle did not do so well against the burnt cheese stain on its default settings—which does not include ProScrub. We don't test using extra options in order to maintain consistent testing procedures across all the dishwashers that come into our labs, but we can assume that the Tough cycle will get even tougher with extra options engaged. Still, this cycle was largely responsible for the '404 not getting a higher score.
Although we didn't find that this KitchenAid's cycles took especially long or used an unreasonable amount of water, we calculated an annual utility cost of $32.76, which is a little above average. The reason for this is that there's some variation in how the Normal cycle behaves depending on what the soil sensors are picking up, so some Normal runs may take longer or include an extra wash and rinse.
For in-depth performance information, please visit the Science Page.
Like most dishwashers, the KDTM404ESS's warranty covers the costs of replacement parts and labor for the first year of ownership. Up to the fifth year, replacement parts for the nylon dish racks and control panel will be free of charge, but you'll have to pay for the cost of labor. And for the entire life of the dishwasher, replacement of the stainless steel tub and inner door liner is free, but once again, you'll be charged for the service.
An attractive alternative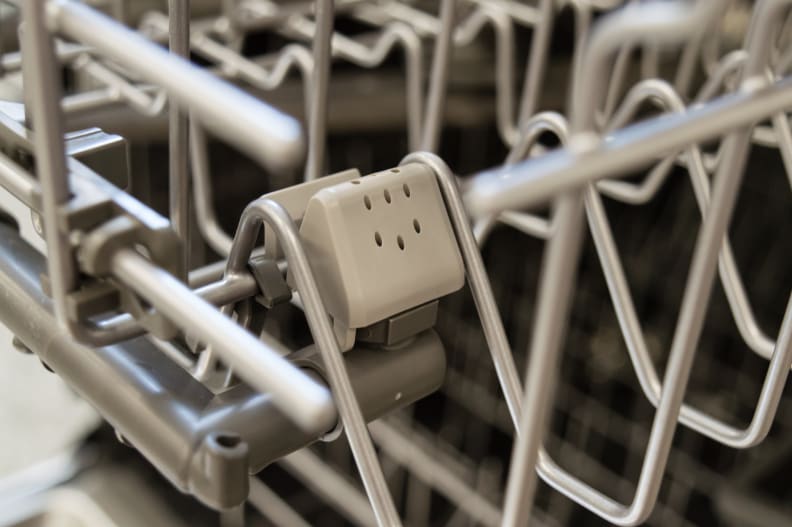 KitchenAid fans who think the expensive 704 is just too pricey don't have to "settle" for the KDTM404ESS. Since it shares the same look and many of the same features as the flagship model and costs around $500 less, it hardly feels like a compromise.
Taking all the other brands of dishwashers into account, however, the KDTM404ESS still isn't the greatest value around, especially when it comes to feature-laden, high-end models. Bosch and GE both have strong contenders in this category, so if you're not particularly attached to KitchenAid, you should investigate other brands. But so far, no other brand has a dishwasher with the same style of handle and number of wash options as the KDTM404ESS. If that's what's got your eye, stick with KitchenAid.
Meet the tester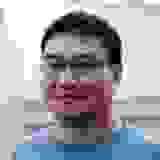 Johnny Yu
Staff Writer
@ReviewedHome
Johnny Yu writes news, features, and reviews for Reviewed.com. He graduated from U-Mass Boston with a Bachelor's in Social Psychology and spends much of his free time expanding his gaming horizons. Sometimes, he does his laundry at work.
Checking our work.
Our team is here for one purpose: to help you buy the best stuff and love what you own. Our writers, editors, and lab technicians obsess over the products we cover to make sure you're confident and satisfied. Have a different opinion about something we recommend? Email us and we'll compare notes.
Shoot us an email