With its VCR-like interface, stainless steel cutlery basket, hard food disposer, and high water usage, the Maytag MDB8969SDM (MSRP $849) is like a throwback to the golden age of dishwashing. It's also a reminder of why the past is in the past.
Even though the MDB8969SDM has a handful of perks, such as a quiet 47 dBA rating, a smooth-gliding upper rack, a stainless steel interior, and a healthy selection of wash cycles and customization options, it takes a long time—and uses a lot of water—to get dishes perfectly clean. Sale prices may fall as low as $719, but other dishwashers in the same price range offer a better value.
An old-school, industrial look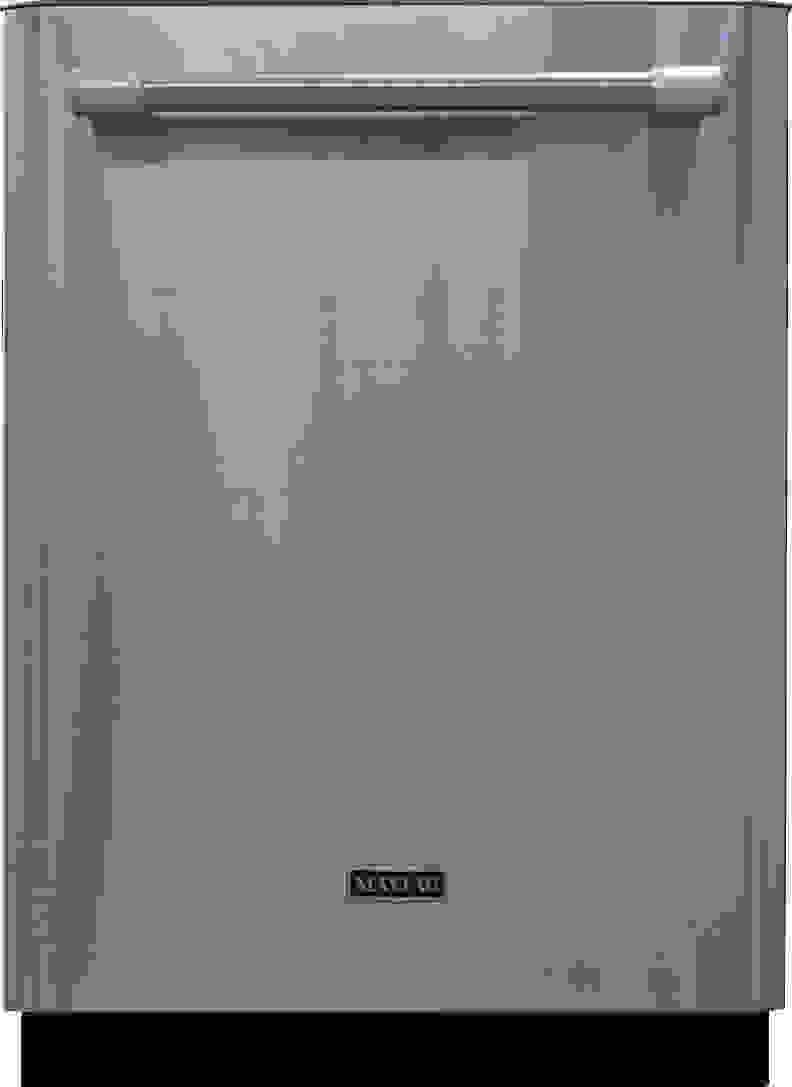 This Maytag hits some design high points with a stainless steel front and a bold, thick handle. While the handle's light-colored brackets do cheapen the look a bit, the appliance still gives the overall impression of a serious piece of equipment for serious kitchen warriors.
Speaking of arsenals, the MDB8969SDM has a steel-bladed hard food disposer at the bottom of the tub. It's instead of the more common cylindrical filter and screen setup found in most modern dishwashers. The disposer works much like the ones you'd find at the bottom of a sink, and uses fast-spinning grinders to pulverize food particles and drain them away. That prevents them from getting back into the wash, a nasty phenomenon known as redeposit.
The MDB8969SDM has a handful of neat interior features that help with loading. You can adjust the height of the upper rack, fold down a row of tines on the lower rack, and create extra loading spaces with some fold-down shelves on both racks. Unfortunately, the shelves on the lower rack have problems staying up and out of the way when you don't need them.
A stainless steel cutlery basket won't fall victim to sharp knives, but it does take up a lot of space in the bottom rack. Despite that issue, we were able to fit ten place settings and a serving setting inside the MDB8969SDM.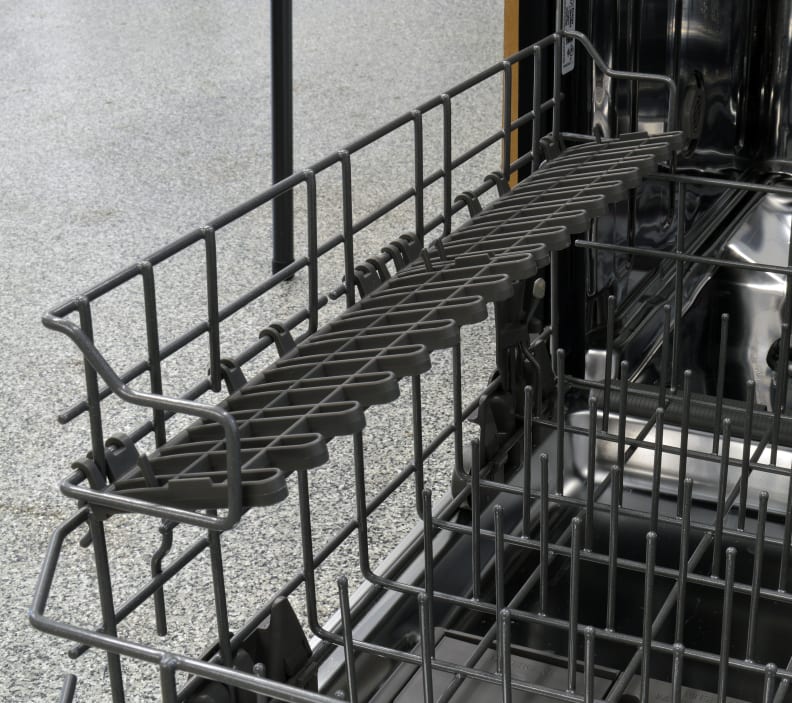 ×
Design Gallery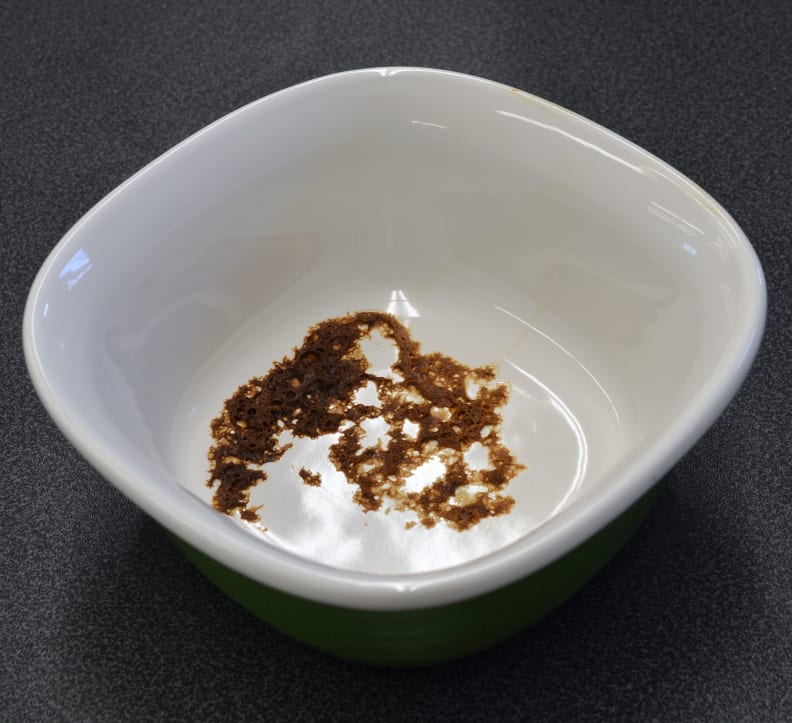 In general, the MDB8969SDM's cleaning scores were great. The Normal cycle had a stain removal rate of 99% on most food stain types—even difficult, baked-on ones such as spinach. We did find some redeposit, but that was kept to a minimum. We suspect that this cycle's high water usage blasted the original stains off, then multiple draws of fresh, clean water finished off most of the tiny particles that were spread around in the first pass.
The PowerBlast cycle did even better, with a removal rate of 100% on nearly every stain, with some minor imperfections caused by, once again, redeposit. All in all, this is great news for a heavy duty cycle, but PowerBlast highlights the major problem with this dishwasher: long cycle times. Clocking in at 3 hours and 39 minutes, the PowerBlast cycle uses a ton of electricity and water, and other dishwashers have shown that that's just not necessary.
The MDB8969SDM does have a Quick cycle, at least. This speedy cycle only took 58 minutes, and while it did poorly on our stain tests, it is well-suited for handling light stains. Out of all the cycles, this was the only one that felt like it didn't use an unreasonable amount of resources to do its job.
Nothing out of the ordinary
Sticking to its old-school theme, the MDB8969SDM doesn't have any newfangled high-intensity power jets or specialized energy-saving cycles. Instead, you get the usual Normal, Quick, and PowerBlast cycles, a soil-sensing Auto cycle, and a fast, detergent-free Rinse cycle. It may not be immediately obvious why you'd ever want a wash cycle that doesn't use detergent, but Rinse is good for refreshing dishes that have been stored away for awhile (detergent reacts to food, not dust).
The other wash options are pretty standard: Hi Temp, Sanitize, Heated Dry, and Control Lock all do exactly what they say, and you can set a Delay for up to 24 hours in case you want to run your dishwasher during off-peak hours. This dishwasher is quiet enough that running it at 3 AM isn't a bad idea if it saves you money.
According to our meters, the MDB8969SDM's Quick cycle used 0.68 kWh of electricity and 6.06 gallons of hot water, its Normal used 0.91 kWh and 5.65 gallons, and PowerBlast used 1.51 kWh and a whopping 10 gallons. The Quick cycle's numbers are the only ones that are "normal"—Every other figure is way higher than on equivalent cycles on other dishwashers.
How big of a difference does that make on the annual cost? With that figure estimated to be around $41.34 per year, the MDB8969SDM costs about $11-12 more each year to run than the average consumer dishwasher. Sure, that's not a lot of money in the grand scheme of things, but it's 33% higher than normal—And that's significant.
We were able to fit ten place settings and a serving setting inside the MDB8969SDM. Although there are a few adjustable parts and some shelves to create extra loading spaces, we found that we lost a lot of real estate to the long, metal cutlery basket. After fitting ten settings' worth of silverware, the basket still had plenty of empty space, and we found ourselves wishing we could chop it in half to make more room for dishes.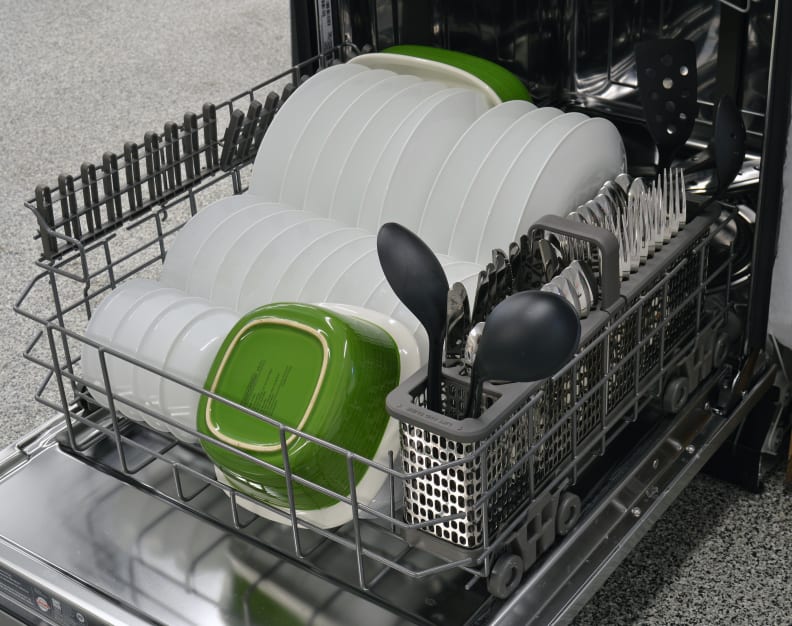 ×
Capacity Gallery
Wait for it…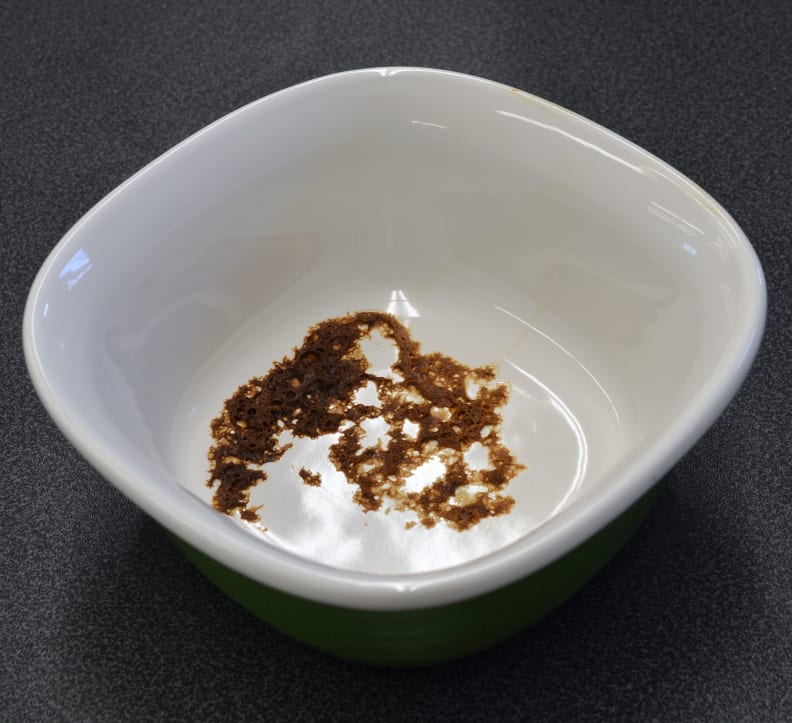 Some things are worth waiting for. Whether clean dishes fall into that category is a matter of opinion, but the MDB8969SDM will definitely make you wait.
This Maytag's Normal cycle takes close to two and a half hours, PowerBlast takes a bit under four hours, and adding the Sanitize option to any cycle tacks on about another hour. Long cycle times aren't a problem if you're doing daily loads, but you're out of luck if you do multiple loads a day. Better keep a good book handy.
This dishwasher also uses a lot of water. Our meters recorded that the Normal cycle used an average of 5.65 gallons of hot water per run—Equivalent cycles on other dishwashers use between 2 and 3 gallons, usually. The PowerBlast cycle used a whopping 10 gallons, which is a true anomaly. We rarely see water usage hit double digits when it comes to dishwashers.
Altogether, those extra resources will cost you around $41 a year—about $11 more than the most efficient machines we've tested.
At least all that water, electricity, and time are being put to good use. The Normal cycle was fairly thorough at removing stains during our tests, but there were some noticeable instances of redeposit. So while the 4-blade chopper did a good job keeping the larger chunks of food off of the dishes, it looks like it wasn't doing much against finer, grainier pieces.
PowerBlast had less of a redeposit problem, and even came close to perfectly removing every stain during one round of testing. We suspect that the ten gallons of water the cycle used might have had something to do with its performance.
For in-depth performance information, please visit the Science Page.
This Maytag comes with an industry-standard one-year warranty, where all repair and labor costs are covered by Whirlpool, provided it was due to a defect and not consumer misuse. Additionally, the upper and lower racks, chopper blade, and stainless steel tub and inner door liner are covered for up to ten years. After the first year, however, you're on your own for the labor to repair those parts.
It's time to move on.
There's a marked difference between dishwashers built decades ago and the ones built within the last two years, and this Maytag tries to find the balance between them. Unfortunately, there isn't enough here to please either crowd. Unless you love the Maytag look or the stainless steel accoutrements, you can comfortably skip the MDB8969SDM; plenty of other similarly priced dishwashers can do the same amount of work more quickly and more efficiently.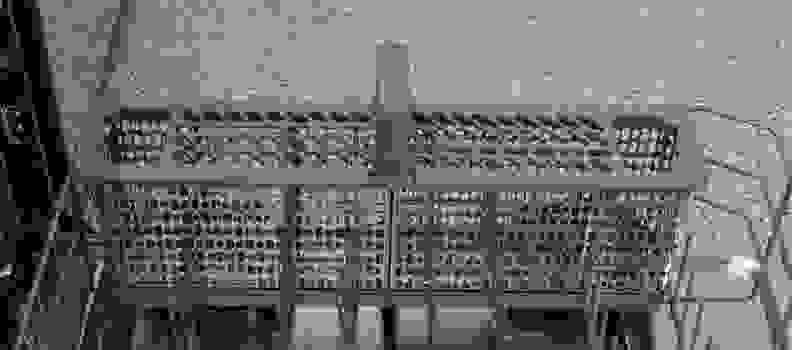 The Electrolux EI24ID30QS is just one example of the sheer number of extra cycles, wash options, and interior features that can be found on a dishwasher, many of which are missing from the MDB8969SDM. Both dishwashers can be found on sale for $719, but it's obvious that the Electrolux is a better value.
If you're resigned to long cycles, you might as well save some money and get the stainless steel Bosch SHX4AT75UC, which can be found for around $630 on sale. This dishwasher's interior is far more flexible, and it's efficient enough to save you about $15 per year in water and electricity costs compared to the Maytag.
Meet the tester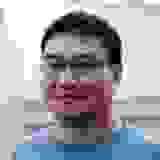 Johnny Yu
Staff Writer
@ReviewedHome
Johnny Yu writes news, features, and reviews for Reviewed.com. He graduated from U-Mass Boston with a Bachelor's in Social Psychology and spends much of his free time expanding his gaming horizons. Sometimes, he does his laundry at work.
Checking our work.
Our team is here for one purpose: to help you buy the best stuff and love what you own. Our writers, editors, and lab technicians obsess over the products we cover to make sure you're confident and satisfied. Have a different opinion about something we recommend? Email us and we'll compare notes.
Shoot us an email