The snow white front and curved handle are almost reminiscent of 1950s design, but it's important to consider how such a blindingly white machine will look in your kitchen. Many homeowners prefer stainless steel because it's a versatile look that requires little consideration of the surrounding environment, but the 's sleek design can update an all-white applianced kitchen, even if you don't upgrade to stainless.
The finish is a sturdy, durable metal that's very smooth to the touch. Its bright tone will likely obscure dents and general wear-and-tear, making the a solid option for young families with rambunctious children. The control lock only bolsters this point.
The control panel, located on the topside of the door, is separated by functions, with the wash cycles on the left and the options and on/off features on the right. The layout is simple enough, with a blue light to indicate button selections.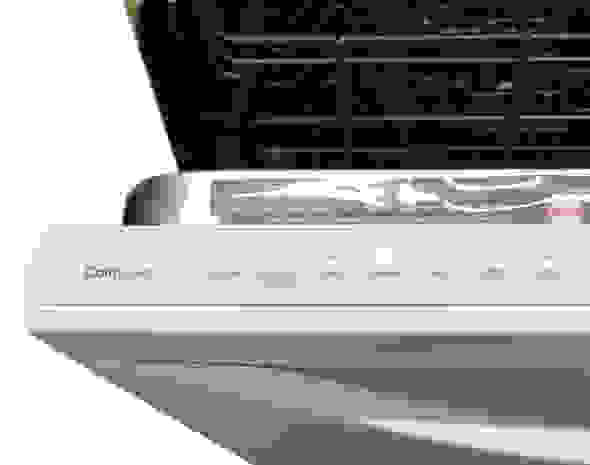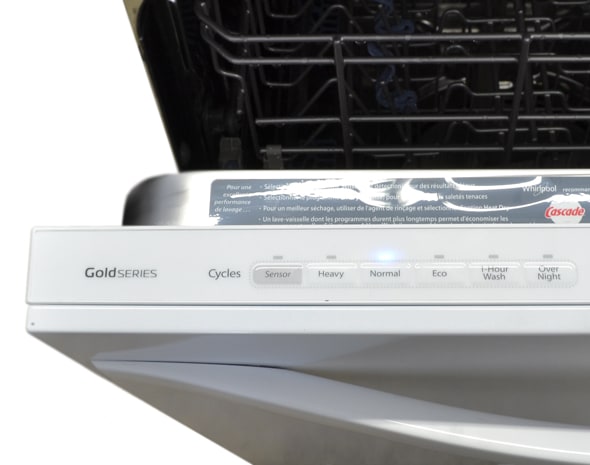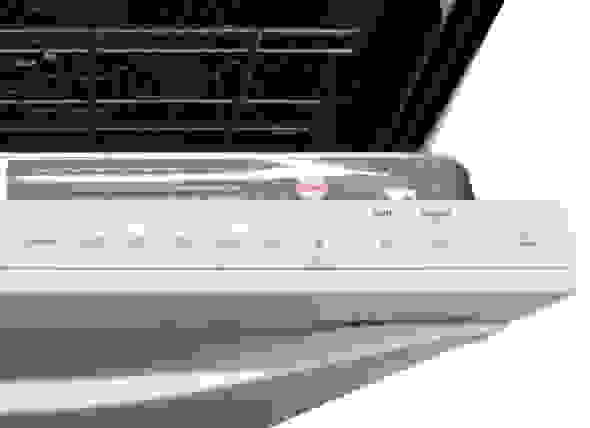 Unlike the exterior, the wash tub is stainless steel. From a design perspective this is pleasing, but in terms of function it's critical, as it aids in the drying process. Both racks boast a unique aesthetic; they include a series of light blue components that gives the interior a two-tone dynamic that's actually kind of cool.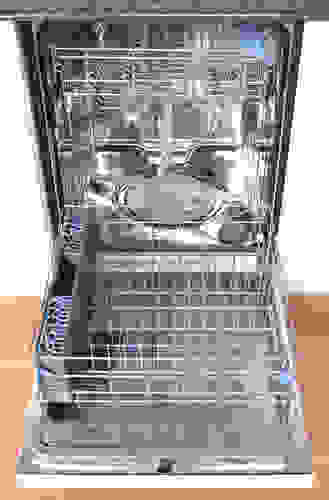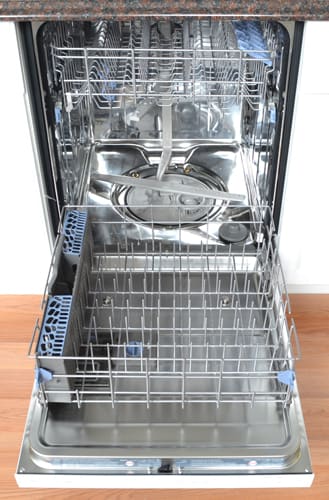 The upper rack has three rows of tines with plenty of angled threads to ensure flexibility in loading dishware, despite its lack of adjustability. Once again, we liked the light blue theme, if only for design purposes.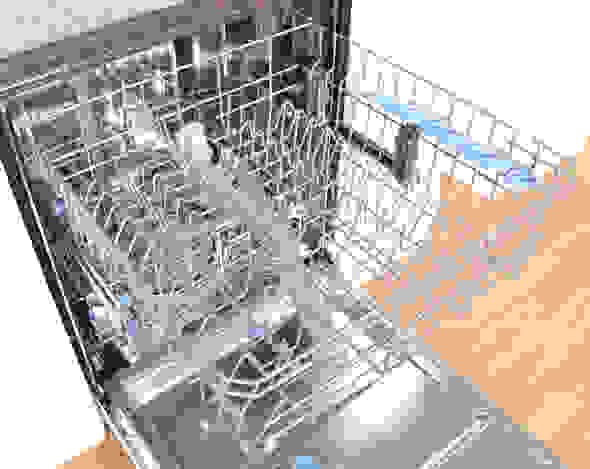 Like the top rack, the bottom offers no adjustability. The uniform, vertical tines give the appearance of a bed of nails, and their lack of an angle robs the machine of flexibility when loading larger dishware.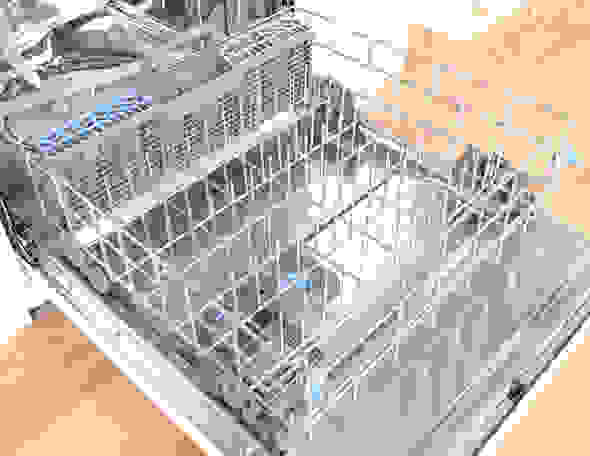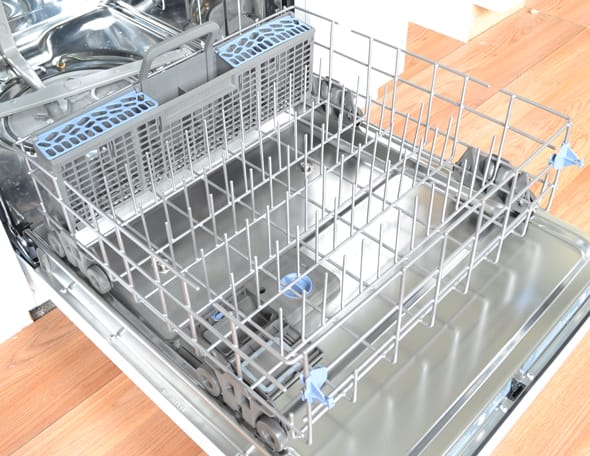 The tacky-looking cutlery basket just seems to take up space. It's excessively large, cannot be disassembled into smaller parts, and doesn't even have a high capacity. Furthermore, it can only been placed in one of three locations: the front, left, and rear of the bottom rack. It was a nuisance, really.
Much of the 's efficiency stems from its low energy consumption; with a hot water connection the machine spends less power heating water. Specifically, we found the used between 0.37 and 0.76 kWh per wash—depending on the cycle—marking an electricity cost of between 4 and 8 cents per wash.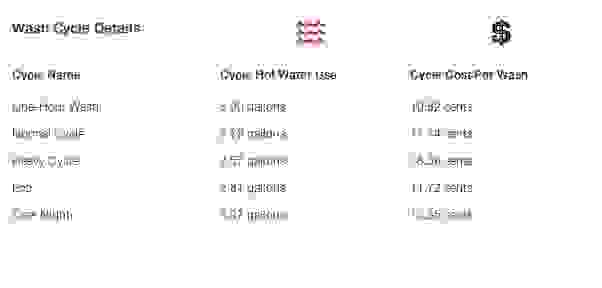 The compares with most other dishwashers when it comes to hot water consumption, in that it's pretty average. Interestingly, the One-Hour Cycle used more water than the Normal Cycle (5 gallons on the One-Hour, 2.78 on the Normal, and 7.57 on the Heavy). This made for an average water cost of 3 to 7 cents per wash. Given the One-Hour cycle's inferiority in both performance and efficiency, we suggest using the Normal or Heavy cycles more often.
Averaged over the course of a year—with the Normal cycle chosen 50 percent of the time—we calculated that the will cost roughly $27.40 to operate, which is pretty good by almost all industry standards.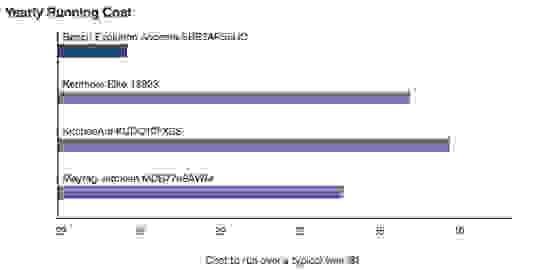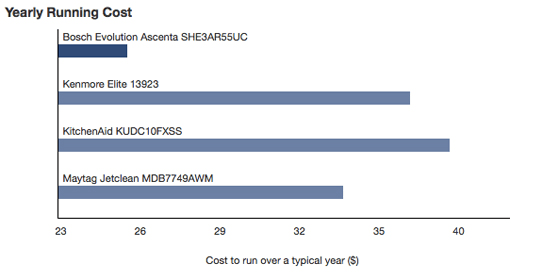 The Over-Night wash (which we hope is not just a gimmicky pitch at being unique) is probably the slowest cycle we've come across, having clocked in at just over six-and-a-half hours. While you may not plan to use this feature very often, we found it to be highly efficient, using a mere 0.48 kWh of energy and 5.97 gallons of water.
The Normal and Heavy cycles were also pretty slow, with the Normal demanding nearly two-and-a-half hours to complete and the Heavy a bit more than three hours.
Some slow dishwashers, such as the Asko D5434XLS, are justified by their top-notch performance, but the is not really one of those machines. It performed okay, but the slow speed led us to expect more.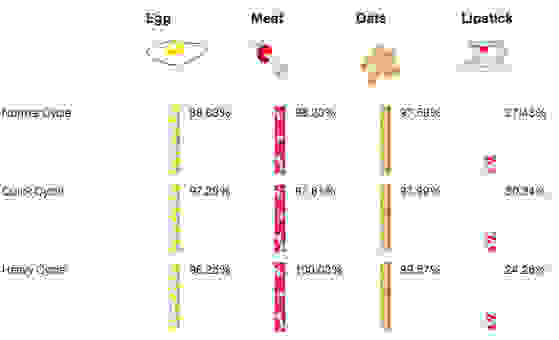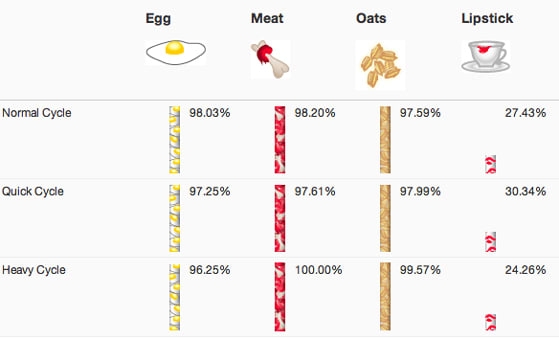 Surprisngly, the did well on our egg test (in which we stain a spoon with dried egg batter), but we wish we could say the same for the other tests. Given this cycle's poor efficiency we see no real reason to use it, unless you absolutely must clean your dishes in under an hour.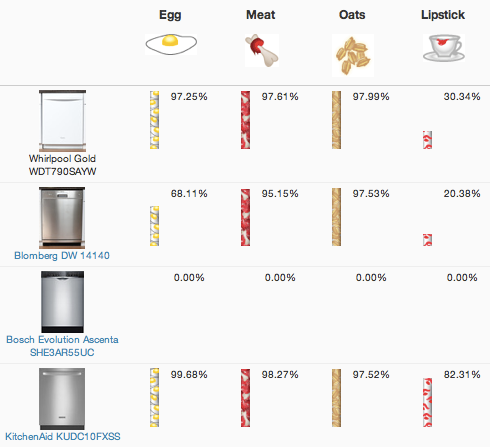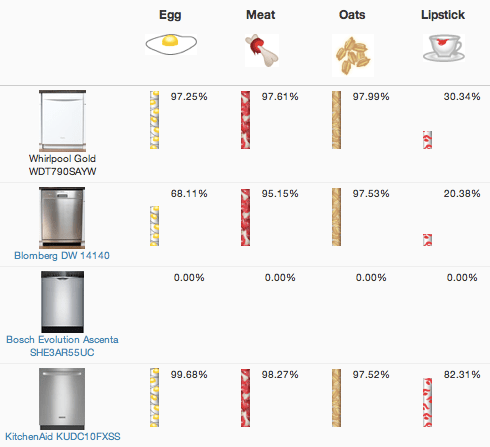 If you're the type of person who looks at their glass, sees a few flecks of lord-knows-what stuck at the bottom, and think to themselves, "good enough!" then you won't have a problem with this dishwasher, particularly this cycle. Everything was just mostly clean, while few dishes were thoroughly and completely clean. Once again, though, some consumers are not looking for a laboratory-quality wash.
Normal Cycle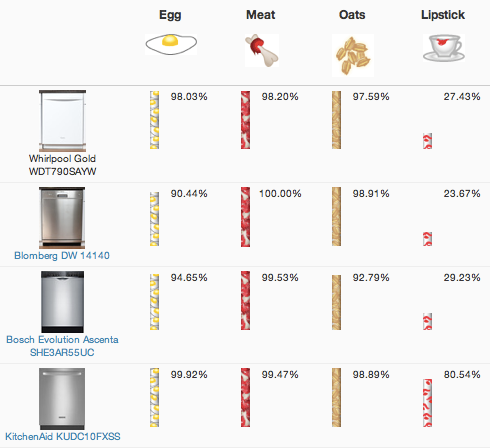 For the duration of the cycles, we'd expect the Normal to perform like the Heavy. If the results of the Heavy cycle were seen in the Normal we'd have few complaints, but we were left thinking, "Really? That's all you got Whirlpool?" It wasn't bad—it just wasn't… great. The cheese and lasagna tests were lackluster, and—unlike most other Heavy Cycles we've tested—it was fell short of satisfactory in our milk test (in which we burn milk to the bottom of a glass).
Pots & Pans Cycle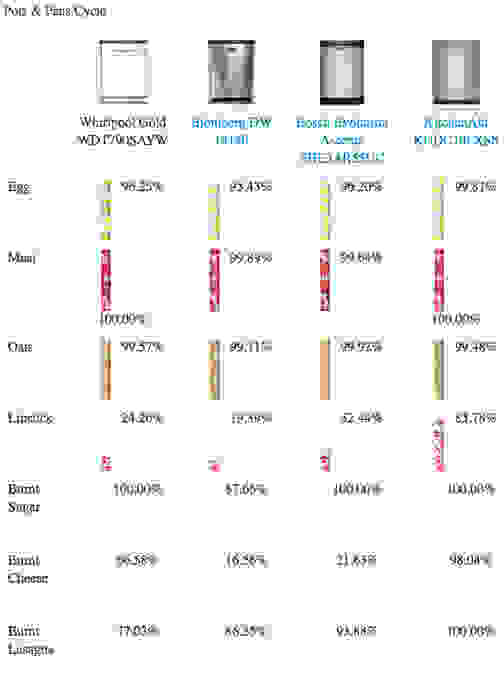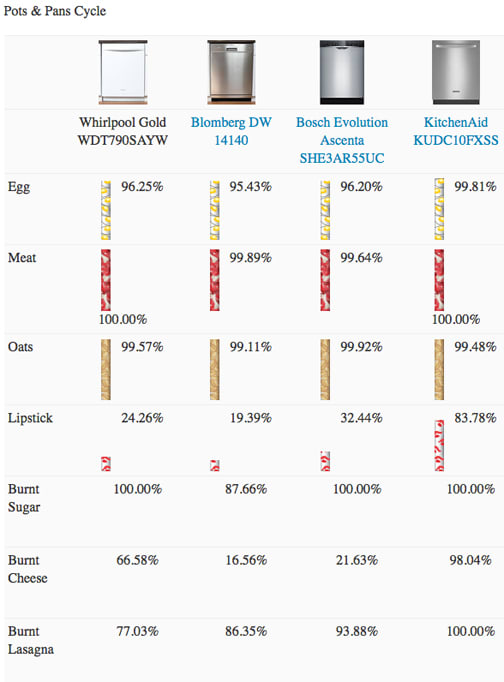 In addition to the three main cycles—Heavy, Normal, and One-Hour Wash—there is an Eco wash, an Over Night cycle, and a Sensor feature. We found the Normal cycle to be the most practical (and efficient), but consumers who prefer to run their dishwashers while they sleep will enjoy the 's Over Night wash. There's also a nifty Sensor cycle that detects soil levels and dish sizes, although we didn't test this feature because it assumes the functions of whichever standard cycle the machine deems most fit.
The offers a few customization options: The "PowerScour" feature, which is essentially an intensified water spray, can be added to any cycle. There's also a high-temperature rinse feature and a heat dry option, the latter of which includes one of two selections: "high" or "eco" dry.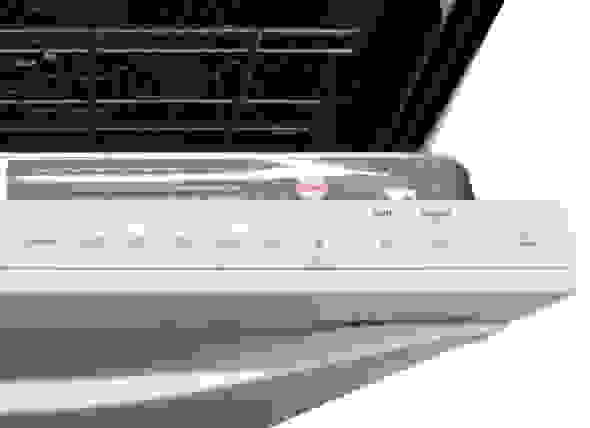 The includes a Sanitize feature, a four-hour delay, and a top rack wash. There is also a control lock that can be used to avoid accidentally starting or stopping a wash.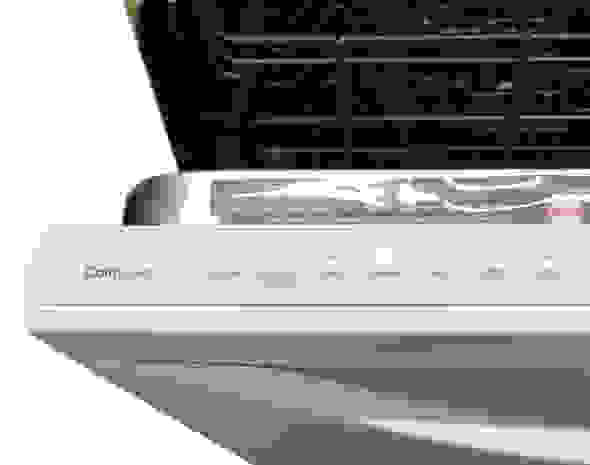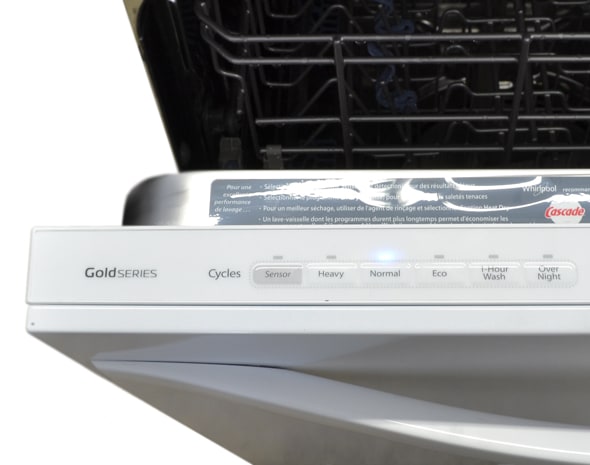 We were able to fit 10 place settings, including a serving setting. While this is short of the 14 claimed by Whirlpool, we found it sufficient for most uses, although the lack of adjustability certainly robs the machine of flexibility when loading.

Top Rack
Bottom Rack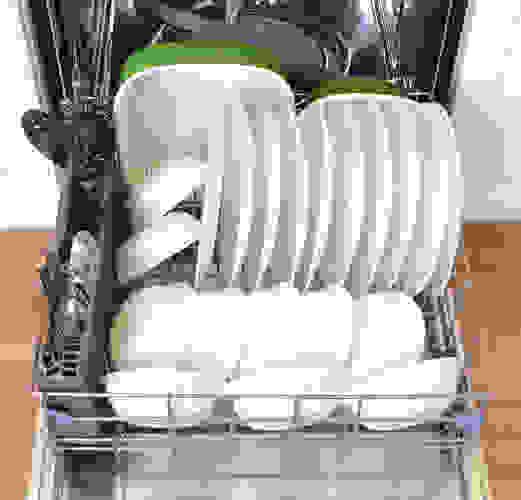 The wash arms are made of a flimsy plastic that feels a little cheap. While they seemed to deliver a consistent wash quality, it's possible that they won't hold up in the long term.
The filter contraption includes two removable parts: an upper fine filter assembly and a lower coarse filter shield. Cleaning the fine filter assembly was not as easy as some other devices we've tested, but it did not seem to have a problem straining food soils.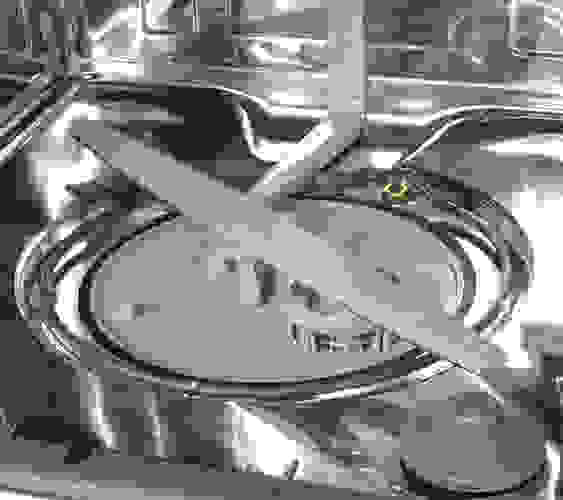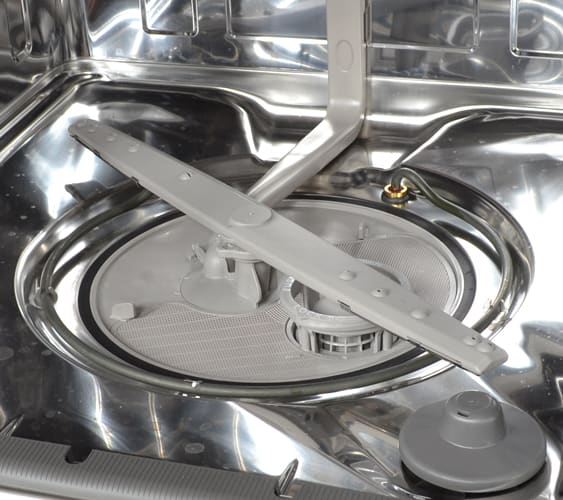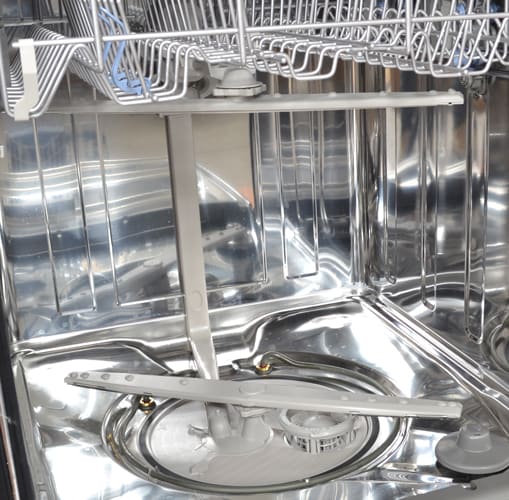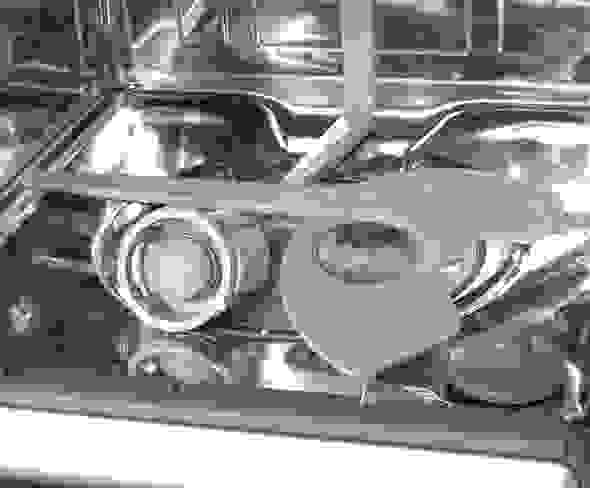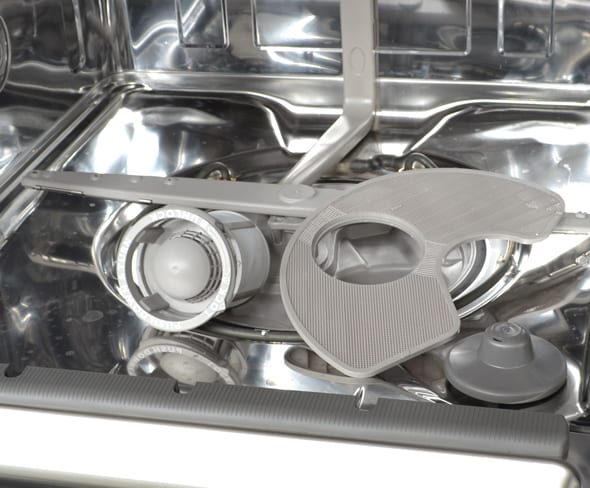 The bottom rack is completely devoid of adjustability, unless you include the bulky cutlery basket with its foldable lids. While the tines were evenly spaced and generally sufficient for most dish loads, we found their rigidity a bit frustrating.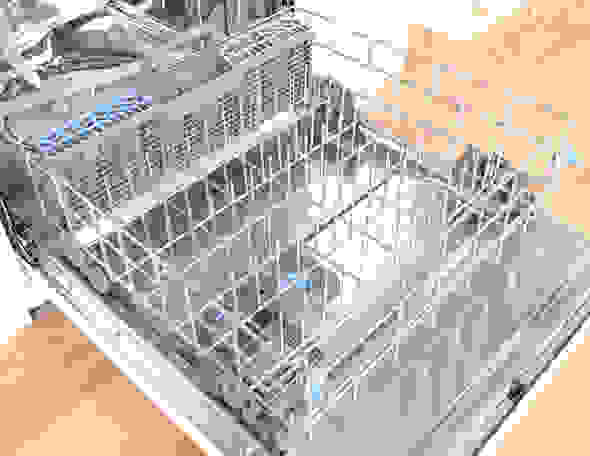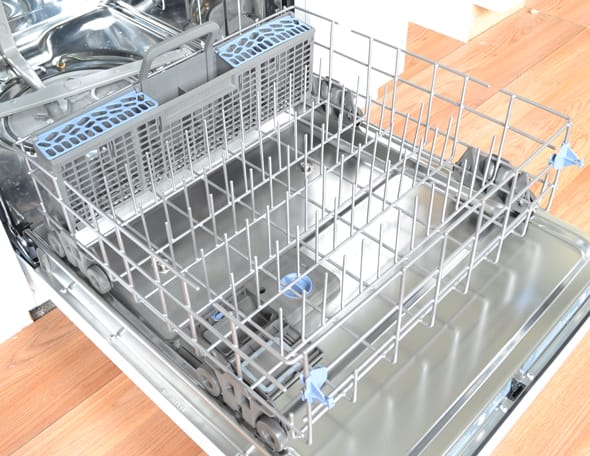 Once again, no adjustability in the upper rack (other than the foldable cutlery holder on the right). This added to our frustration, but it's worth noting that the layout of the upper rack makes for much greater flexibility than the lower rack. The threads are angled in such a way that plenty of oddly shaped dishes can be loaded with ease.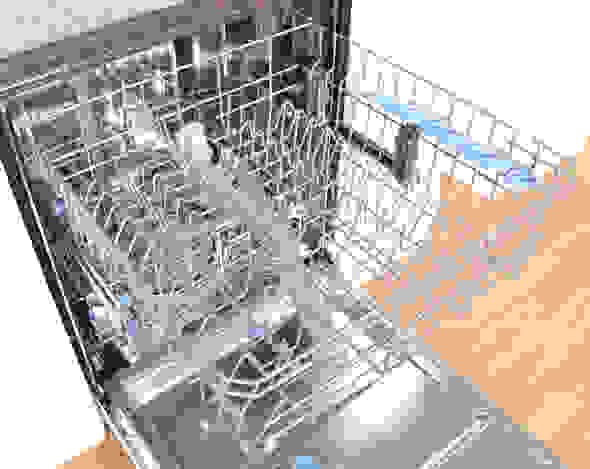 Ugh. What the heck is this thing? It's big, and silly-looking, and doesn't even seem to fit much. Sure, it fits in three different locations in the bottom rack, but it's shaped like a suitcase and just seems to take up space. The only thing we really liked about this cutlery basket was how you could fit your silverware into predestined holes; this helped angle forks, knives, and spoons in such a way that they were more receptive to water spray. Other than that, though, this was one of the most absurd cutlery baskets we've come across.
The detergent dispenser lid flips open and includes a single measuring line. The rinse aid dispenser is contained by a removable lid, which may be a slight nuisance for users with butterfingers.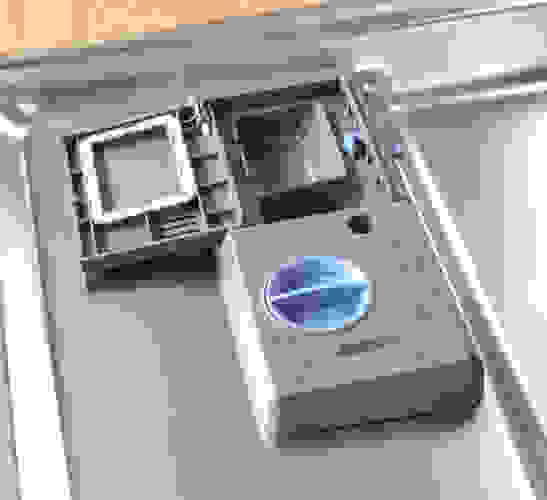 While it's not the prettiest or highest-performing machine on the market, the is certainly straightforward and easy to use. Really, we worry for folks who can't intuit how this machine operates. In terms of usability, though, our biggest beef was with the lack of adjustability in the racks—and the ridiculous little suitcase that is the cutlery basket.
It's a fairly quiet machine. Like most of its competitors, the won't be a problem for folks seeking some hush-hush from their dishwasher.
The interface (located on the topside of the door) is separated into two sections, with the cycles on the left and the options on the right. Selections are indicated via a small blue light, and the buttons are light enough for quick engagement but not too light to trip them accidentally. Also, every option is clearly labeled, thereby minimizing confusion for folks who find dishwashers to be "one of them new-fangled contraptions you keep hearin' about on the telebox."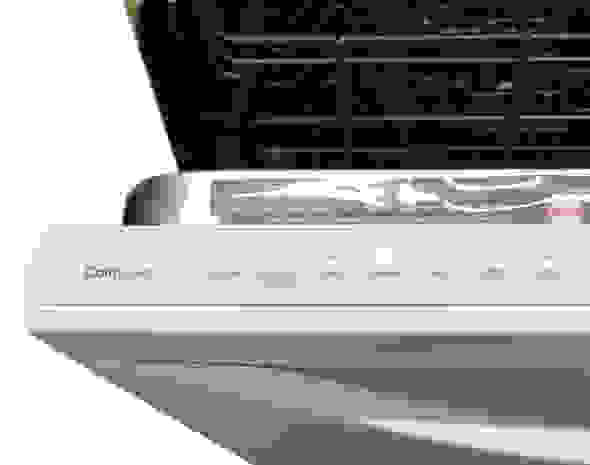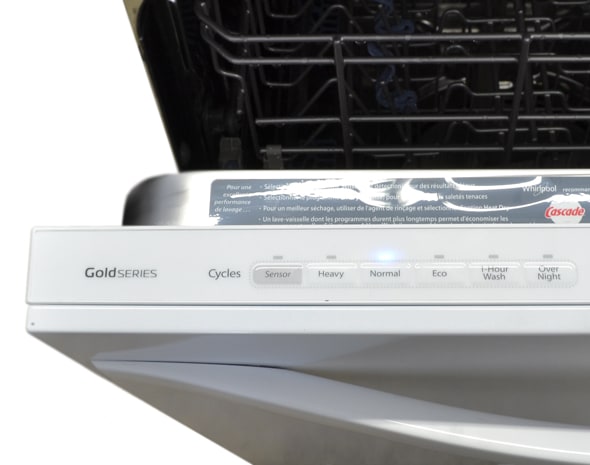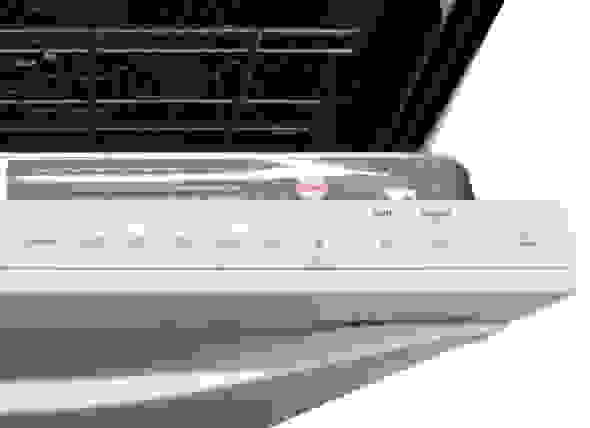 If you're looking for an inexpensive dishwasher—both in terms of initial cost and energy consumption—this machine is a good bet. At an average yearly operating cost of just $27.40, the beats much of the competition. But for some folks, this isn't enough; they're just looking for top-notch performance.
While it takes two-and-a-half hours to complete, the Normal cycle is the most efficient, but its performance is inferior to the Heavy cycle. Regardless of which option you choose, we agreed that the 's slow speed is not justified by its performance. If speed is not a priority, however, then this machine will hold up just fine.
The includes a number of extra wash options and customization features, even more than some high-end dishwashers. There's the "PowerScour" option, the sanitize feature, a four-hour delay, a heated dry option, and a high-temperature wash, although we don't really see how the high-temperature rinse is different from the sanitize feature.
Meet the tester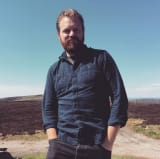 Tyler Wells Lynch
Contributor
@tylerwellslynch
Tyler Wells Lynch is a freelance writer and journalist whose work has appeared in Vice, Wirecutter, Gizmodo, The Rumpus, Yes!, and the Huffington Post, among others. He lives in Maine.
Checking our work.
We use standardized and scientific testing methods to scrutinize every product and provide you with objectively accurate results. If you've found different results in your own research, email us and we'll compare notes. If it looks substantial, we'll gladly re-test a product to try and reproduce these results. After all, peer reviews are a critical part of any scientific process.
Shoot us an email