Dishwashers
2012 Black Friday Dishwasher Deals
Dont ruin your Thanksgiving weekend chasing a bum deal on a dishwasher.

Credit:
It's almost Black Friday. You know the drill: Get up early, stand in line for hours, and hope for big savings! Before you spend your Thanksgiving weekend chasing a bum deal on a new dishwasher, check to see if the Black Friday doorbuster you've got your eye on is a winner or loser. Last updated: Nov. 16, 4:15 PM
So far we've only seen ads for a couple of dishwashers that we've reviewed: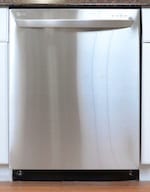 We reviewed this dishwasher a few weeks ago and thought it was quite good, but the price was just too high. This Black Friday, the cost will be much more reasonable.
• LG LDF8072ST, $799 at AJ Madison
The savings are part of a manufacturer's rebate, so you might see this same deal crop up at other retailers this holiday season.
---
This KitchenAid didn't earn great scores in our lab tests, but it does get hotter than most dishwashers, which is helpful if you need to be careful about sanitizing medical supplies or anything along those lines.
• KitchenAid KUDC10FXSS, $764 at AJ Madison
---
Odds and Ends
• Best Buy is advertising 10-40% off all appliances from most brands on Black Friday.

• AJ Madison has big deals on LG and Samsung appliances.
All the biggest Black Friday promotions have been revealed as far as we can tell, but we'll keep you posted on any new updates. In the meantime, check out some of our other Black Friday deal guides:
• OvenInfo.com 2012 Black Friday Range & Oven Deals

• DigitalCameraInfo.com 2012 Black Friday Digital Camera Deals

• TelevisionInfo.com 2012 Black Friday TV Deals

• CamcorderInfo.com 2012 Black Friday Camcorder Deals

• RefrigeratorInfo.com 2012 Black Friday Refrigerator Deals