Dishwashers
Wi-Fi on a dishwasher? More like, "Why buy?"
The GE app can monitor your dishwasher, but it can't control it.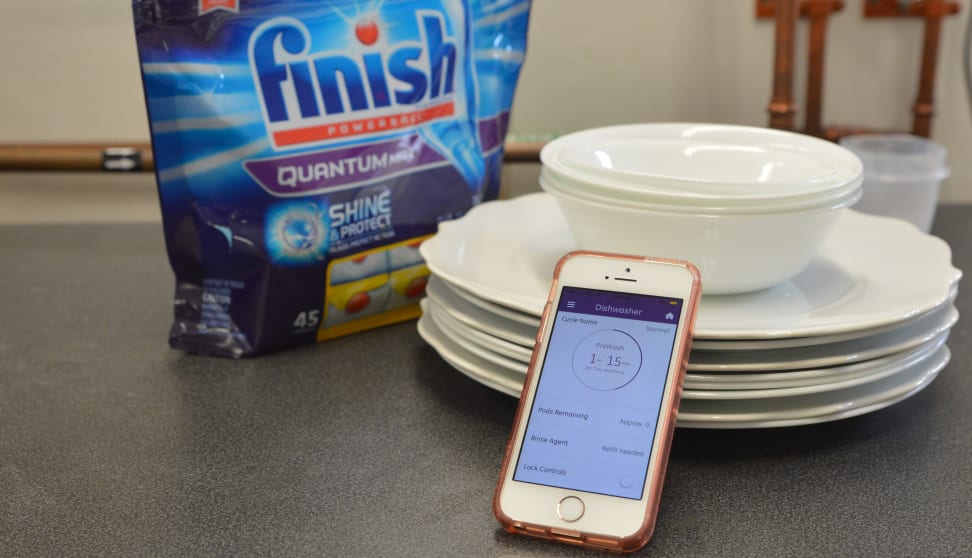 Credit: Reviewed.com / Kori Perten
GE's latest dishwasher has a secret. Yes, it can clean dishes, but it also comes with a Wi-Fi connection to a smartphone app.
You wouldn't know this from looking at the machine. When the dishwasher arrived in our test labs, there was no hint of its connected capabilities—nobody had slapped "smart" or "connected" badges on the box, and once installed, the dishwasher itself showed no outward sign of being anything more than an ordinary appliance.
In fact, the only mention of any smart functions is on the features section of the GE Profile's product page, where "WiFi Connect" is listed in a small font. Oddly, the link doesn't lead to much information.
Was GE trying to hide something? I decided to find out. After all, with seemingly every manufacturer jumping on the smart home bandwagon, GE's lack of promotion for this machine seemed... odd.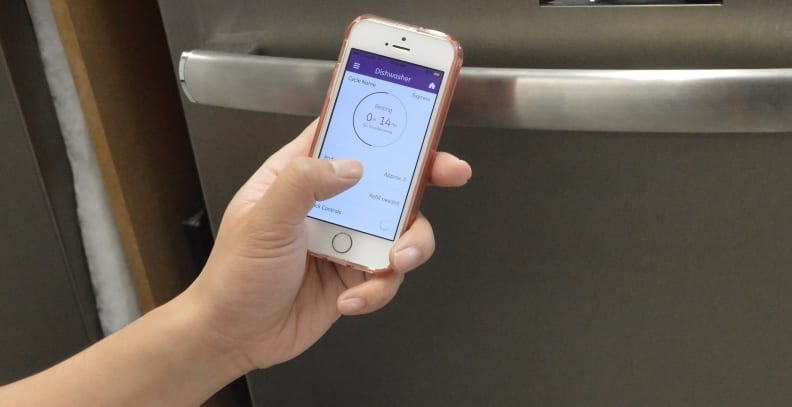 It took a few well-phrased searches to even find the name of the companion app. Clearly, GE hadn't spent any advertising dollars on SEO optimization. But the app itself impressed with how easy it was to connect to the machine. Once installed and opened, it walks users clearly through the set-up process.
I was excited to see what the Wi-Fi Connect app was capable of. Could I watch dishes getting clean? Would it at least let me choose when a cycle started and ended?
Unfortunately, it turns out that once your dishwasher and phone are connected, there's not much the app can actually do.
Don't be fooled by the misleading interface—despite what looks like a large toggle button, you can't actually control the dishwasher from your phone. What you can do is see which cycle you're (manually) running and how much time is left. The app also keeps you clued in if you're running low on pods or rinse agent. Additionally, you can set it to send notifications when the wash cycle is complete, if the appliance springs a leak, or if the filter needs cleaning.
Sort of helpful? Sure. Disappointing? You bet. If you're going to make me go to the trouble of installing an app, creating a GE Appliances account, and connecting my phone to my dishwasher, I want to be able to control the appliance from my phone.
However, the Wi-Fi Connect app isn't where the connectivity story ends. As it turns out, GE is touting future compatibility for its connected appliances with Amazon's Alexa personal assistant—a feature that would rely on the dishwasher's Wi-Fi connection. I suspect that future development is why GE hasn't started shouting from the rooftops about the Wi-Fi Connect app. Perhaps that future development could allow for a measure of remote control, too.
While I'm making suggestions… Could GE also add an option for the dishwasher to load and unload itself? I'd like that very much.
Hey, a girl can dream.
Related Video