UPDATE: July 18, 2019
We just updated this article to include our take on the Frigidaire FGIP2468UF dishwasher. We're testing lots of dishwashers right now, so stay tuned for more updates!
A thrifty shopper always knows that there's a balance between cost and performance: The sweet spot in between is where you get the most value. With a bigger budget, you can buy a dishwasher with all the bells and whistles, but having a smaller budget doesn't mean you have to put up with inferior stain removal. It is possible to get great cleaning power at an affordable price, even if it means passing on some higher-end features and finishes.
After testing hundreds of dishwashers, the LG LDF554ST (available at AppliancesConnection for $569.00) came out on top as of the best dishwashers for its price. The LDF554ST had a killer Heavy Duty cycle which blasted away stains and a solid warranty to give you peace of mind. It'll clean your dishes, but won't clean out your bank account.
Here are our rankings for best affordable dishwashers we tested, in order:
LG LDF5545ST

Bosch SHEM3AY52N
Whirlpool WDT730PAHZ
Whirlpool WDT710PAHZ
Frigidaire FGIP2468UF
GE GDT605PSMSS
Kenmore 14652
GE GDF630PGMWW
Whirlpool WDF330PAHW
Whirlpool WDTA50SAHZ
Amana ADB14000AGS
Advertisement - Continue Reading Below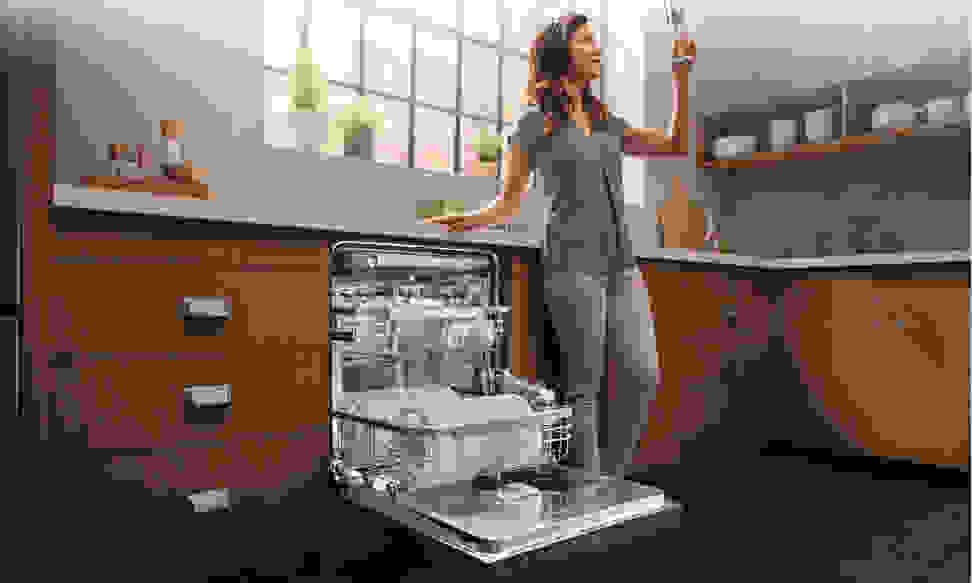 What To Look For When Buying A Dishwasher
If your dishwasher just died, chances are that you're in a hurry to replace it. When looking for a new or replacement dishwasher, consider the following topics carefully before buy.
Stain Removal
No one wants to spend hundreds of dollars on a dishwasher that can't get your dishes clean. Stain removal is the most important facet of our dishwasher testing methodology; we add different food and liquid stains onto a variety of dishes to see how well a dishwasher can clean. If you're out shopping for a dishwasher at a store, be sure to ask the sales associate about the dishwasher's cleaning performance. Additionally, you can look through our dishwasher reviews and our dishwasher roundups to see which dishwashers did the best when it comes to cleaning.
Cycles and Cycle Options
If you're just cooking for one or two people, you may not need a pricey dishwasher with a ton of extra options and features. However, if you have a big family or you often host parties, you might need more customizability in your dishwasher's cycles and cycle options. Extra cycles include China Crystal/Delicate for your more delicate dishes, or Sanitize for sports bottles and baby bottles.
When it comes to cycle options, they mostly relate to the location of the water (i.e. Bottle Jets or Half Load) and the water temperature (i.e. Hi Temp).
If none of these options sound useful to you, then you'd probably be happier with a more basic dishwasher with the three main cycles: Normal, Heavy, and Quick.
Drying
As you may have discovered, dishwashers don't always dry your dishes perfectly. If you have a lot of plastic dishes, like tupperware or sports bottles, then you may be really frustrated by the fact that you always have to towel dry these dishes. You can either check out our list of the dishwashers that do a great job of drying your dishes, or you can look for dishwashers that sport extra drying options. Typically, though, dishwashers that have heated drying options (versus just venting the hot air) are more expensive because heated drying requires additional hardware in the dishwasher itself.
Third Rack/Rack Customizability
The third rack is a relatively new development in dishwashers. This narrow tray resides above the top rack, and may or may not have its own wash arm. Depending on the third rack's depth, you can typically fit either just cutlery (that occupy individual tines, and aren't clumped together like they can be in your cutlery basket) or dishes with taller profiles, like ladles, pacifiers, or small bowls. While cleaning results on the third rack might not be as good as they are in the cutlery basket, some people find the convenience of a third rack very enticing.
Another thing to consider is the customizability of the racks themselves. Do all of the tines fold down, or are they rigid? Can you change the height of the racks? Can the cutlery basket be mounted on the door? All of these options give you flexibility when it comes to fitting large or awkwardly-shaped dishes into your dishwasher. If you're mostly washing plates and glasses, though, you might not need to spend the money on this kind of adjustibility.
Efficiency
If you're environmentally- or money-conscious, the prospect of using less water and energy may be appealing to you. Be sure to check out the Energy Star rating for a dishwasher to give you an idea of what you can expect your utility bills to look like. We also talk about energy efficiency in our dishwasher reviews.
Noise
If you have an open-concept floorplan, you might want to look for a dishwasher that has a lower sound rating. These days, dishwashers can go as low as 37 dBA, which is akin to the noise you hear in a library. One thing to note with the sound rating: the value reported is an average. So while lower dBA values are definitely better, you might still experience the occasional loud swishing noise during a cycle.
Additionally, generally speaking, dishwashers with stainless steel tubs are typically quieter than those with plastic tubs. There are pros and cons to both types of dishwasher tubs, though, so noise might not be the only consideration.
Control Panel
Do you prefer buttons or a touch panel? While touch panels definitely look sleeker, some dishwasher touch panels are so sensitive that you (or your kids) can accidentally start cycles by brushing against it. Conversely, some touch panels are so insensitive that you have to jab at them a few times before they work correctly. If you're trying one out in the store, be sure to try out the touch panel before-hand so that you can get a feel for how hard you'll have to press down to get a cycle going.
Fit and Finish
Dishwashers often come in a variety of finishes, from regular white or black to black stainless steel or panel-ready (the ability to install a dishwasher cover that matches your cabinetry). While you should be able to find a dishwasher that matches your kitchen setup and your other appliances, be ready to pay more money for any finish more sophisticated than black/white/stainless steel.
Price
Don't worry: whether you're on a budget or have a blank check, you can find a dishwasher that gets your dishes clean. While some high-end dishwashers do a really stellar job of removing food stains, more affordable dishwashers won't let you down. Mostly, the price difference between dishwashers is usually down to more or fewer features and options.
---
How We Tested
The Testers
Hi there! We're Reviewed's appliance testing team. Between the three of us (Jon Chan, Kyle Hamilton, and Julia MacDougall), we've spent many years testing major appliances including washers, dryers, refrigerators, dishwashers, vacuum cleaners, and robot vacuum cleaners.
We have plenty of experience testing these products in the lab, but we've also used them like normal people would in the course of their daily lives, which means that we have a great sense for what appliances are bargains at their price points, and which appliances have really useful extra features (as opposed to the kitchen-sink approach to features).
With all this in mind, you can feel confident that when we recommend a product, we're giving it our Reviewed stamp of approval, which means two things: firstly, this appliance performs well, and secondly, this appliance is easy to use. We're always reviewing new products, so stay tuned for our reviews and roundups of the latest products in laundry, refrigerators, dishwashers, and vacuum cleaners.
The Tests
Testing dishwashers is a dirty job, and we're happy to do it. We assess each dishwasher on the three major parts of the dishwasher experience — Performance, Features, and Usability.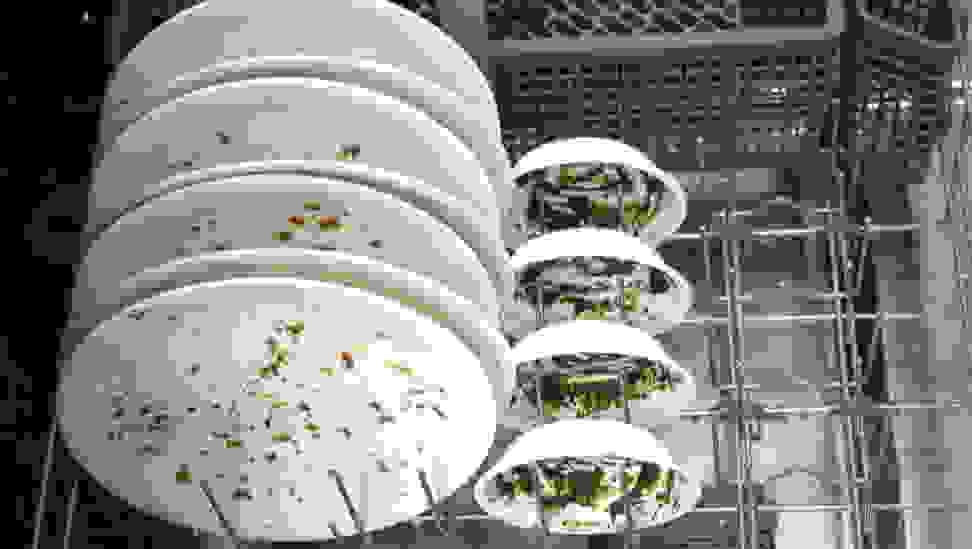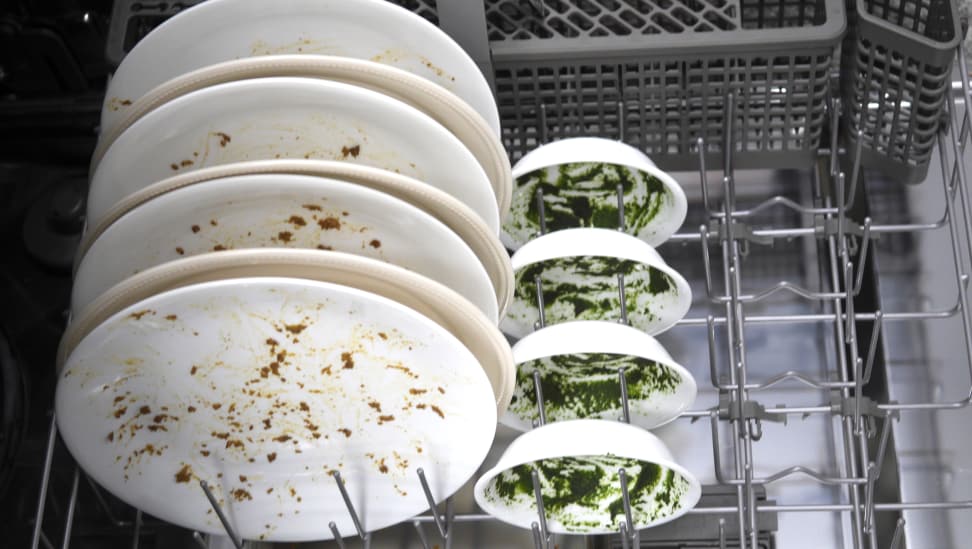 Performance
Stain removal —We put the three major cycles on a dishwasher (Quick, Heavy, and Normal) to the test by baking food and beverage stains—milk, spinach, egg, oatmeal, meat, and more—onto 15 to 20 dishes that are then loaded into the dishwasher per the manufacturer's loading directions. At the end of each cycle, we determine how much stain has been removed from each dish. Ideally, each dish is 100 percent clean, but that level of cleaning perfection can be harder to achieve in real life.
Redeposit —Redeposit is the term for when, during the course of a dishwasher cycle, water jets remove bits of food from one dish, only to accidentally get it stuck on a second dish. Any dishwasher that shows little to no evidence of redeposit is a winner in our book.
Number of dirty dishes —After a dishwasher cycle has finished, we count the number of dishes that are not 100 percent clean; if your dishwasher can't clean most of your dishes the first time, it's not doing its job correctly.
Cycle time —Dishwasher cycles can run the gamut from 30 minutes to four hours. Shorter cycle times are much more convenient, especially when it comes to large dinner parties, where you may need to reuse dishes from dinner when it's time for dessert.
Drying —Whether it's accomplished with rinse aid, a built-in heater, or a built-in fan, customers expect their dishes to be dry as well as clean. We penalize the dishwasher every time a dish comes out wet, whether it's sopping wet or just covered in a few water droplets.
Features and Usability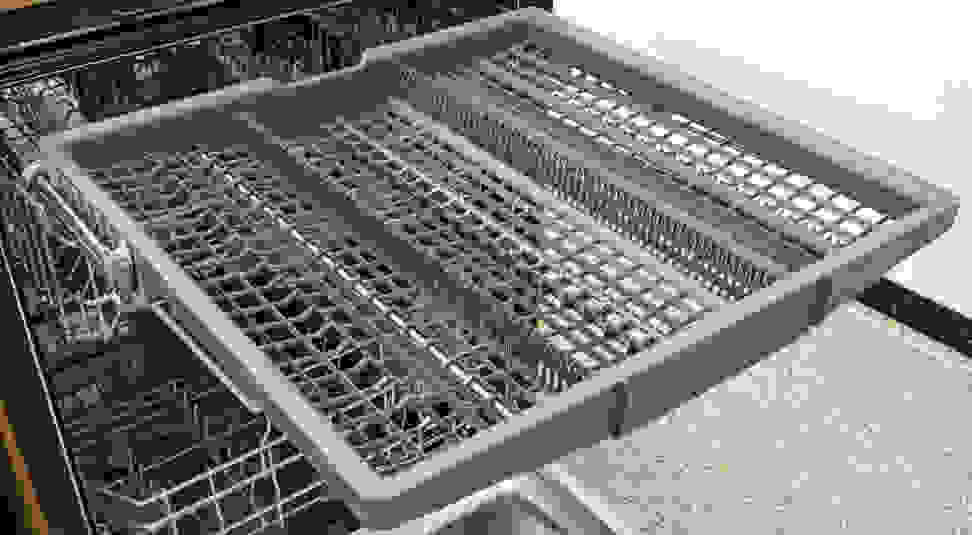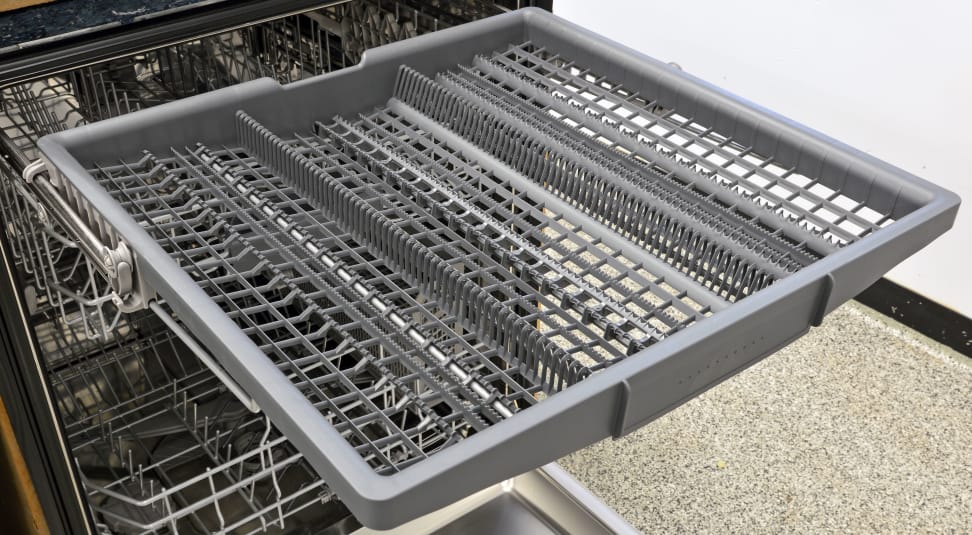 While all of the features in the world can't make a bad dishwasher better, they can really add the finishing touch to a dishwasher that does a killer cleaning job. We look at the various cycles, cycle options, and dishwasher specs and assess both how useful the features are, and how easy it is to actually use those features.
For example, a third rack that primarily holds cutlery can often be a game-changer when it comes to freeing up valuable real estate in the bottom rack. However, if the third rack is rickety, doesn't slide smoothly, or prevents the dishwasher from actually cleaning the cutlery, we would penalize the dishwasher, rather than reward it just for having a third rack. The whole point of a dishwasher is to save you from having to spend time scrubbing every dirty dish by hand; if a particular feature isn't going to make the process of using a dishwasher better or easier, then we don't want it.
The best dishwashers have short cycles, superior stain removal and drying power, and features that make the experience of using a dishwasher a painless one.
---
What Does dBA Mean?
The dBA abbreviation refers to "A-weighted decibels," which is the unit that dishwasher manufacturers use to measure how loud a dishwasher is during its operation. You've probably heard of decibels as a measure of loudness before, but the "A-weighting" refers to the fact that certain frequencies are more easily perceived by the human ear than others; for instance, a flute solo sounds louder than a bass solo played at the same volume because the human ear is naturally more attuned to mid- and high-range frequencies than it is to bass-range frequencies. As a result, when manufacturers report how loud a dishwasher actually sounds to someone in the same room of the dishwasher while it's turned on, they report that number in terms of A-weighted decibels (dBA), rather than just decibels (dB).
---
Other Affordable Dishwashers We Tested
Also Tested
Kenmore 13473 — The Kenmore 13473 dishwasher performs well on the Normal cycle, but the cycle times for both the Normal and the Heavy clock in at over two hours, which is a bit too long for our tastes.
Kenmore 14573 — The Heavy cycle on the Kenmore 14573 does an amazing cleaning job, but all of the cycles we tested had difficulty cleaning tougher stains, like spinach and milk.
Kenmore 13803 — One of the cheapest dishwashers on the market, the Kenmore 13803 really surprised us with its powerful Heavy cycle. Its bare-bones feature set and low price point make it an ideal dishwasher for a rental space, or for the budget-conscious among us who just can't do without a dishwasher.
Frigidaire FFCD2413US — This workhorse Frigidaire dishwasher does a consistently solid stain removal job on the Normal, Heavy, and Quick cycles. However, on those same cycles, its spray patterns resulted in noticeable spinach redeposit.
---
Other Articles You Might Enjoy
• The Best Portable Dishwashers
Advertisement - Continue Reading Below