Dishwashers
Bosch Emphasizes Testing, Consumer Trends at IFA 2013
Bosch gets philosophical.
Credit:
German appliance giant Bosch took a break from product introductions at its IFA press conference this year, instead focusing on an entirely new way of developing and marketing home appliances.
Amidst eye-catching displays, company execs talked about regrouping their products based on consumer interest. A recent Bosch focus group indicated that consumers don't think about types of appliances (i.e. refrigeration or laundry); rather, they shop for products based on performance categories like energy efficiency or quiet operation.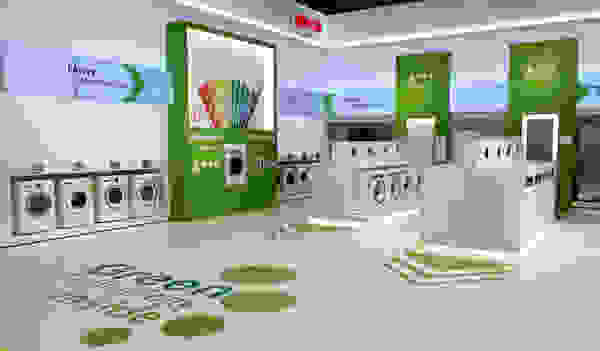 Bosch is trying to tackle product innovation by focusing on these consumer priorities in both traditional and nontraditional ways. For instance, there was some ample self-congratulating going on with respect to the number of A+++ products (Europe's highest level of energy efficiency ratings), followed up by espousing the belief that minimizing necessary usage is another avenue for improved efficiency.
Essentially, the less often you have to use your appliance, the less energy it's going to use in the long run. If a washing machine does a better job removing pet dander for a consumer with an animal-based allergy, that consumer might not have to wash clothes on a less-efficient Sanitize cycle. Appliance durability also came up: if an appliance lasts longer, it's not replaced as often, meaning there's a potentially smaller environmental impact.
This focus on need over type was apparent throughout Bosch's showroom. Colorful displays categorized by the umbrellas of sound reduction, energy efficiency, and durability dwarfed the actual appliances. It was an unexpected and striking contrast compared to most of the other exhibitions on display.
As far as new products are concerned, Bosch unveiled only one at the press conference: a dishwasher-safe tree-like rack designed to hold up to four wine glasses. Using this rack for something that's usually washed—rather inefficiently—by hand cuts down on time spent in the kitchen doing chores.
Certain Bosch dishwashers can hold up to four racks at a time, making this a nifty doodad for an oenophile or frequent party host. There's no word if it will go on sale in the US, but many of Bosch's European and US dishwashers share the same platform, so there's a good chance we may see it in a few years.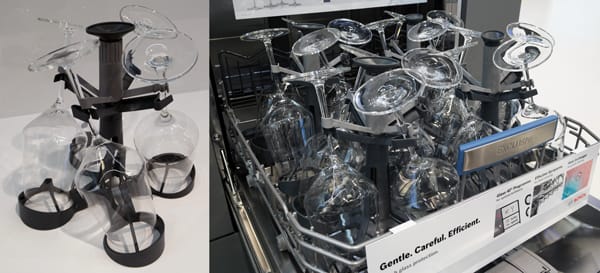 Bosch's IFA press conference may have been rather disappointing as far as product debuts, but the company's new approach to home appliances makes for an interesting approach to consumer concerns. We'll have to wait and see if it catches on, which may determine whether or not Bosch decides to poll its American consumers as well.