Dishwashers
Samsung Revolutionizes Dishwasher Spray Jets
Because the spinning wash arm is so 2013.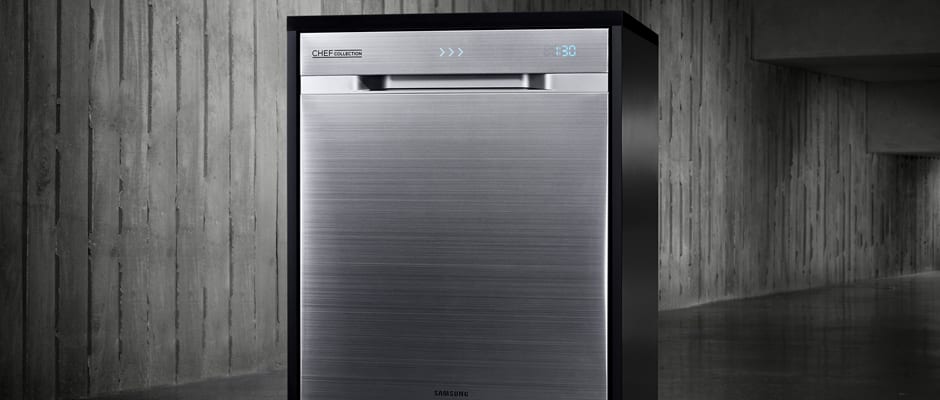 Credit:
You may not expect to find groundbreaking innovation in your dishwasher, but that's just what Samsung brought to CES this year.
The DW80H9970, which debuted today, features new WaterWall technology. Instead of a rotary sprayer that spins at the bottom of your dishwasher, WaterWall uses a sprayer that moves from back to front across the bottom of the tub. That gives it increased coverage in corners, with a wall of water (hence the name) that sweeps the entire interior, including the corners.
Other dishwashers have attempted to take on the coverage problem with wall-mounted spray jets like KitchenAid's ProScrub, dedicated extra-strength high-pressure jets like GE's Bottle Wash, or redesigns of the rotating spray arm like Frigidaire's OrbitClean. But we've never seen anything like this.
The DW80H9970 isn't only a showcase for WaterWall. It's also the first dishwasher on an all-new platform from Samsung. Following Bosch and GE, it'll be the third new platform we've seen in 12 months. We're excited to see what else gets built using the technology.
If WaterWall works as well as it does in practice as it does on paper, then we can expect other brands to follow suit with their own versions of this technology. But Samsung gets bragging rights for being first.
For the best home appliance coverage at CES, be sure to look at Reviewed.com for news and updates, including the official Editors' Choice awards of CES.