The technology to control appliances, lights, and locks with a mobile device while also getting real-time sensor data is not new—it's just been a tough sell.
Overzealous use of the word "smart" may have contributed to the unenthusiastic consumer response the smart home market has seen thus far, as well as general inconsistency among manufacturers and journalists as to what exactly "smart" means.
At CES 2014, it appears manufacturers have learned from past mistakes. Gone is the idea of simply gluing an iPad to a fridge and calling it "smart."
At CES 2014, though, it appears manufacturers have learned from past mistakes. Gone is the idea of simply gluing an iPad to the front of a fridge and calling it "smart."
Also gone is the idea that an appliance must have direct access to the internet in order to be considered smart. Your fridge doesn't need apps, it just needs to be able to communicate with you—and the other devices your home.
The message from manufacturers this year is much more clear: "smart" means connected and secure, practical and useful, simple and affordable. Smart is something you want.
Control in Your Pocket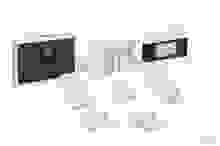 A smart home fits in your pocket and goes where you go, figuratively speaking.
The Lowe's Iris Home Management System, for instance, lets homeowners monitor and control various aspects of their homes through a cloud-based remote interface. A user can log in to the system through a web browser or a connected smartphone app.
Lowes' system originally included cameras, thermostats, and motion sensors, but for CES 2014 the company has introduced a garage door opener and a connected water shut-off valve. All of these can be monitored and controlled from your pocket.
We've seen similar systems from other startups, like Revolv. Whereas Iris requires you to essentially build an entire ecosystem around Lowe's own accessories, Revolv integrates all kinds of popular third-party smart devices, including Philips Hue LEDs, the Nest thermostat, Sonos wireless speakers, and Yale locks.
Both approaches have their admirers, but the industry definitely seems to be embracing the open platform employed by companies like Revolv. That's a marked shift from what we saw at CES 2013.
Safe and Secure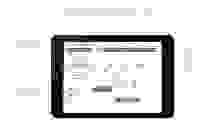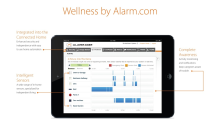 A smart home has the eyes and ears to monitor every door and window, as well as the mouth to tell you when something changes. This translates to real, practical applications when it comes to safety, security, and surveillance.
Alarm.com had that thought back in 2013, when it showcased a flexible plug-and-play home security system consisting of motion sensors, webcams, and window locks. Returning for this year's CES, the company showed us an expansion of its security suite: the Wellness program. It's designed to assist the elderly, monitoring changes in routine and contacting loved ones when the system suspects something has gone wrong.
A more broadly appealing kind of smart security comes in the form of smart locks. There are dozens of companies innovating in this field, but one of the hottest is lock-maker Kwikset, whose Kevo system incorporates regular metal keys, car-style key fobs, and smartphone control.
Kevo is interesting because it can be used like a traditional lock, but also allows you to control access to your home, no matter where you are. The smartphone functionality works through encrypted eKeys, which have assignable user levels and can be shared between users.
Easy to Talk To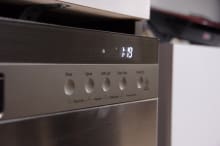 Smart can be simple, too. LG previewed HomeChat in a press release before CES 2014, but we got to see it in action during the show. Appliances equipped with HomeChat can communicate via text, using natural speech for commands and notifications.
For example, you can send a text asking, "What are you doing?" to your dishwasher, and it will reply, telling you what stage of the wash cycle it's in. You can text your fridge, "I'm going on vacation," and it will enter an energy saving mode until you let it know you're back.
Everyone with a phone knows how to text. With HomeChat, LG's goal is to introduce additional functionality to appliances without introducing an additional learning curve.
---
Manufacturers at the 2014 International CES are making a more compelling case for the connected home by focusing on practical applications of the technology. That's a major step forward in the market's development, and a major change in messaging over previous years.
A smart home doesn't simply give users the novelty of listening to music on a fridge or opening doors and turning on lights remotely—there are clear benefits in the areas of security, safety, simplicity, and convenience.
Hero image: Flickr user "samsungtomorrow" (CC BY-NC-SA 2.0)
Our editors review and recommend products to help you buy the stuff you need. If you make a purchase by clicking one of our links, we may earn a small share of the revenue. Our picks and opinions are independent from any business incentives.