The Best High-End, 36-Inch Gas Cooktops of 2019
By Julia MacDougall, Updated May 21, 2019
UPDATE: April 29, 2019
We updated this roundup to include the GE Café CGP9536SLSS and the Thermador SGSX365TS 36-inch gas cooktops.
While most kitchens have a range—that is, a cooktop and an oven built into one unit, it is possible to buy and install a cooktop and an oven separately. Typically, it's more expensive than just buying a range, but it may make sense if you have a kitchen island where your cooktop can live, or if you prefer to mount your oven (or ovens) at waist height.
If you decide to go this route, chances are that your kitchen will need some work to accommodate the new arrangement, but having the cooktop and the oven live in different places can be freeing—you can more easily use one without blocking access to the other. On the other hand, having a separate cooktop and oven can also make them both more visible to guests, so it might make sense to invest a bit more in these appliances so that they look good and match your kitchen's design aesthetic.
When it comes to cooktops, some cooks prefer electric or induction cooktops, but there are definitely those who prefer gas cooktops because of the ability to control the flame and the fact that the heat turns on quickly.
Models from upscale brands like Thermador, Wolf, and Viking promise neat features, better temperature control, and a sturdier build quality than their more affordable counterparts. Our tests show that high-end cooktops actually do perform better—which can't be said for many other luxury appliances. Our favorite high-end, 36-inch gas cooktop is the GE Café CGP9536SLSS (available at Home Depot for $1,466.10) because of its fast water-boiling, wide-open arrangement that can accommodate large pots and pans, and convenient features like a dual-ring burner and an included griddle.
Here are our picks for the best high-end gas cooktop models you can buy today:
GE Café CGP9536SLSS
Thermador SGSX365TS
Viking Professional VGSU5366BSS
Wolf SRT366X
Miele KM3475GSS
Advertisement - Continue Reading Below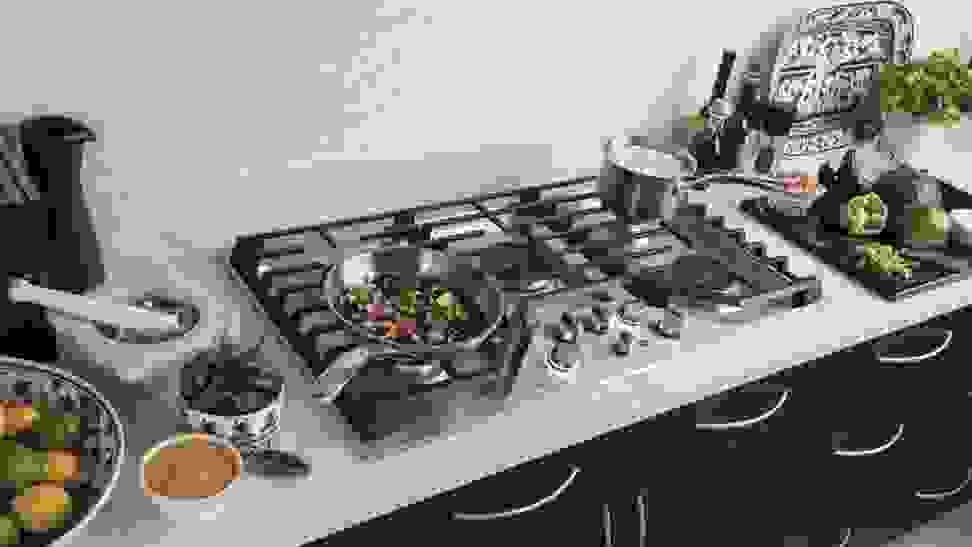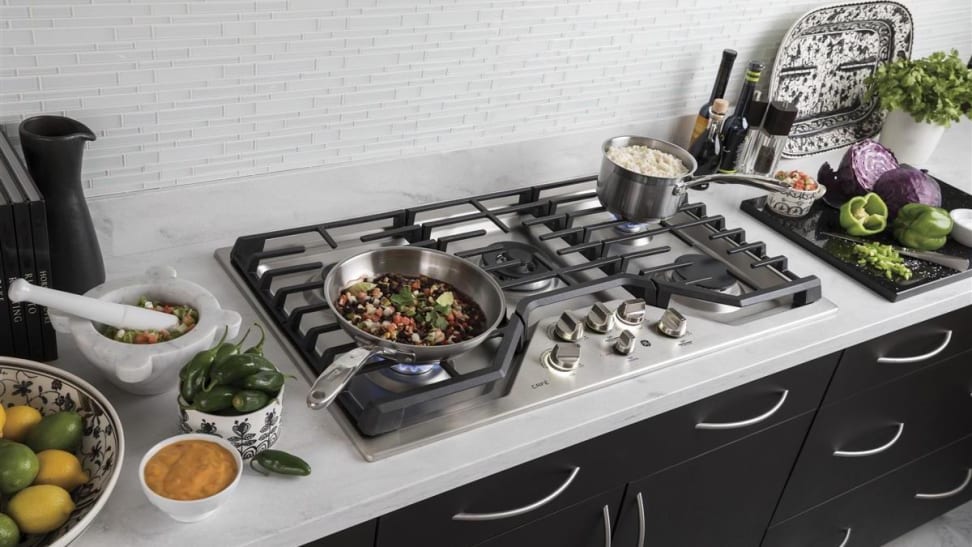 How We Test
The Tester
Hi there, my name is Julia MacDougall, and I'm the Senior Scientist here at Reviewed. I've tested a wide variety of products, including rakes, shredders, backpacks, smart thermostats, and coding toys for kids. I'm also part of the team that tests kitchen and cooking appliances. When it comes to cooking products, we focused on two major metrics: performance and features.
Performance
Because cooking appliances are versatile products that can help you to prepare your food in a number of ways, we have multiple tests that that help us to determine how well-rounded any given range, cooktop, or oven is when it comes to getting dinner (or dessert) on the table.
• Maximum/minimum temperature — What is the maximum and minimum temperature of each cooktop burner? Cooktop burners need to be relatively flexible, temperature-wise; the best burners can both provide a nice sear (high temperature) on a steak and gently simmer (low temperature) a pasta sauce.
• Cornbread — How even is the heating on the most powerful cooktop burner? By measuring the temperatures across a cast iron pot full of cornbread mix, we can determine how evenly the heat is applied across the most powerful burner. Burner evenness is important because it means that you don't have to worry about hot spots in a burner that may overcook one pancake while the others are still puddles of batter.
• Water boil — How long does it take for the cooktop's burners to bring a pot of water to a boil? We put appropriately-sized pots of water on every cooktop burner and see how fast each burner heats up the water in the pot to a gentle boil. Cooktops are rewarded for having more fast, hot burners.
Features
While little things like cooktop knobs quality and grate quality might not affect your meal's edibility, it definitely affects your overall cooking experience. We look at the cooktop's features to try to identify any features that would really enhance or complicate the food preparation process. We love cooktops that have features that are especially useful, or that solve common cooking problems.
Overall
A cooktop's primary purpose is to help you prepare your food in a safe and timely manner; as such, the results of the performance tests are given the most weight when it comes time to decide whether we should recommend a particular range or not. For example, a range may have a beautiful finish and lots of neat accessories, but if it takes 10 minutes to boil a pot of water, we may not recommend that product to our readers. Features and usability are definitely incorporated into a product's final score (as mentioned above), but the performance testing is what really makes or breaks a cooktop, in our opinion.
---
Related Articles
• The Best Electric and Induction Cooktops
Advertisement - Continue Reading Below