Generally speaking, your cooking appliance choices are dependent on the kind of fuel hookup your home came with. There's no denying the benefits afforded by induction cooking—including superior heat, temperature control, and efficiency—but gas has a certain old-school appeal that's hard to deny.
It's not hard to see why: Gas offers a more visceral cooking experience. And fire. Let's not forget fire. The choice of whether you get a gas range may be out of your hands, but that doesn't mean you're getting the short end of the stick.
With that in mind, here are the best gas ranges on the market today. Our favorite is the Samsung NX58K9500WG (available at AppliancesConnection for $1,595.00), but we've tested great options at every price point.
Updated September 21, 2018
Advertisement - Continue Reading Below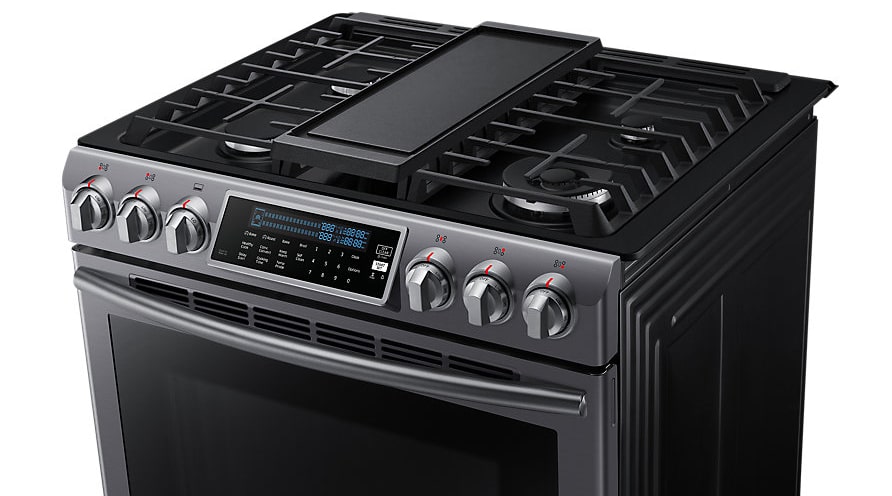 Samsung NX58K9500WG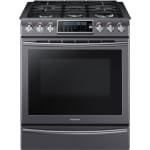 Samsung NX58K9500WG
Best Overall
Samsung continues to impress with another outstanding range, the latest in the design-oriented Chef Collection series. It wasn't just the premium look that captured our attention. The performance was as good or better than the best gas ranges we've ever tested.
This slide-in range has five sealed burners on top, ranging from 5,000 to 18,000 BTUs. An included griddle rests neatly on top of the oval-shaped burner in the center when you need it. Our tests found that the minimum and maximum temperatures weren't record-breaking by any means, but it can water boiling quickly enough and the 120˚-minimum is enough for most kinds of cooking. If you need super-low simmers, you might want to check out an induction range instead.
The Samsung NX58K9500WG is a baker's delight thanks to a wonderful oven packed with useful features. It offers a true convection fan for even bakes. The pre-heat is faster than competing ranges. There's also a warming drawer for proving bread, pre-heating plates, or keeping side dishes warm. The cookies, cakes, and pork we cooked during testing all came out looking great.
The user reviews are widely positive, with most people citing the power, pre-heat speed, and aesthetics. It's available in stainless or black stainless. Some users have complained about the black stainless finish being scratch-prone, though that's a known issue with many brands.
How We Tested

The gas ranges in this roundup were tested over a period of years, all adhering to the same careful procedures in a lab environment. We consider set-up and ease of use, cooking performance, and fit, finish & feel.
The cooking tests are, as you might expect, the most involved and the most heavily weighted part of the process. We use cake, cookies, toast, and pork roast as the food samples—always from the same source and prepared in exactly the same way. If an oven has a convection fan, we usually test with convection on and off. If it's a double oven, we usually test both upper and lower.
Read the super-detailed version of how we test ovens here.
---
Other Gas Ranges We Tested
LG LDG4315ST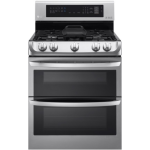 LG LDG4315ST
The 30-inch, 5-burner LDG4315ST double oven gas range offers 6.9 cubic feet of total oven space. The 4.3 cubic-foot bottom oven is equipped with LG's ProBake convection technology, which moves the heating element to the back and resulted in outstanding baking quality. Plus, both ovens can be cleaned in 10 minutes using LG's EasyClean Express cycle.
This is a powerful oven once you know how to use it. The LG LDG4315ST made it into the list of top performers because it does very well at core tasks: boiling, simmering, and baking. But it's important to use the right oven (the lower oven) and the right mode (convection mode). Learn the ins and outs of this oven and you will be rewarded. Read full review.
LG LRG4115ST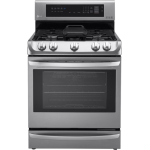 LG LRG4115ST
This innovative 5-burner, 6.3-cu. ft. freestanding gas range features LG's new ProBake system, which moves the heating element to the rear and adds a powerful fan. That means more even baking and faster preheating. The range also sports features like both steam and pyrolytic cleaning. Throw in versatile and powerful burners, and you end up with one potent package.
This is a powerful oven once you know how to use it. The LG LDG4315ST made it into the list of top performers because it does very well at core tasks: boiling, simmering, and baking. But it's important to use the right oven (the lower oven) and the right mode (convection mode). Learn the ins and outs of this oven and you will be rewarded. Read full review.
Frigidaire FPGH3077RF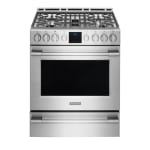 Frigidaire FPGH3077RF
The Frigidaire FPGH3077RF freestanding gas range has a sleek slide-in aesthetic, complete with a stainless steel finish and continuous cast iron grates. In testing, we discovered it has an excellent and spacious 5.1 cubic-ft. oven, but a mediocre 30-inch rangetop. There are lots of oven functions, a dual timer, a meat probe, and an included griddle. Read full review.
Frigidaire Professional FPGF3077QF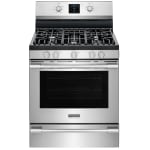 Frigidaire Professional FPGF3077QF
Inspired by restaurant kitchens, everything from the digital display to the burner controls on the FPGF3077QF gas range is beautiful and evocative of the high-end style. It isn't just about the looks, though. It's fantastic oven performance impressed us time and again and is the perfect companion for any amateur chef. It'll cost a bit more, but for a beautiful centerpiece in your kitchen, you can't go wrong. Read full review.
Bosch HGI8054UC
Bosch HGI8054UC
The Bosch HGI8054UC gas range brings European-inspired design to your kitchen at a reasonable price, along with a fast rangetop and an even faster water boiling and oven preheat speeds. Ultimately though, the HG18054UC is truly best for bakers. The range features an excellent convection mode that resulted in evenly cooked food that defied our expectations. Read full review.
Kenmore Elite 75232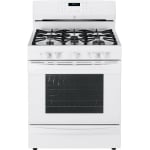 Kenmore Elite 75232
Don't let its bland appearance fool you: Hidden behind the Kenmore Elite 75232's unremarkable all-white exterior is an unexpected powerhouse of cooking potential. The cakes and cookies we baked in this oven were as close to perfection as we could hope for, with even browning, no dark bottoms, and perfect crumb. It may not win any beauty contests, but by putting function over form, this oven comes up all aces. Read full review.
Samsung NX58H5600SS
Samsung NX58H5600SS
We loved this 5.8 cu ft. 5-burner gas range. It has nicely designed, stainless steel dials that create a super smooth turning experience, and the large digital display panel makes it easy to enter your precise oven temperature. The grates are well designed for easy cleaning, and you can remove the middle grate to place the custom griddle directly over the griddle burner.
In addition to aesthetics, the Samsung NX58H5600SS is built to perform. It preheats exceptionally fast and did well on both the baking and roasting tasks. While the burners didn't heat our cast iron pan as evenly as some of the other ovens, it was quick to boil water. It comes in at a nice budget price for a convection oven, but it looks and performs much more like a high-end range.
Samsung NX58F5500SW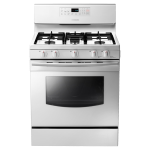 Samsung NX58F5500SW
If you're looking for a functional 5-burner gas range, you really can't go wrong with this model. The grates are easy to lift and the center panel is removable, perfect for placing the custom griddle over the middle burner. The control panel leaves some aesthetic design to be desired, but it's completely functional and easy to use.
The preheating was one of the fastest we've seen (taking less than 7 minutes) and the oven performed well overall. The range took longer than the competition to boil water, but it did an admirable job of heating cast iron pans evenly. At the end of the day, we'd be perfectly happy to install one of these in our house.
If you're shopping for a new oven, check out our guide, The Best Cookware Sets.
Advertisement - Continue Reading Below