Three days in, and we're still soaking up all the free lamp-warmed food and watered-down booze we can hold (while completing the occasional product review in between). But Tuesday night's Showstoppers press event at the Wynn Resort was a cut above the rest, if not for the tech products then for the Wynn's gold-embellished awnings, orotund soffits, and elaborate light decor—not to mention the buffet of delicious Vegas chow.
Okay, so why should you care about how good the food was at Showstoppers? Because, dear reader, the exquisitely delicious crèmes and marbled beefs stood in stark, useful contrast to the generally yawn-inducing gadgets on display. There were a few products worth checking out, to be sure, but the majority made you wonder how their vendors bribed their way through Steve Wynn's gilded gates.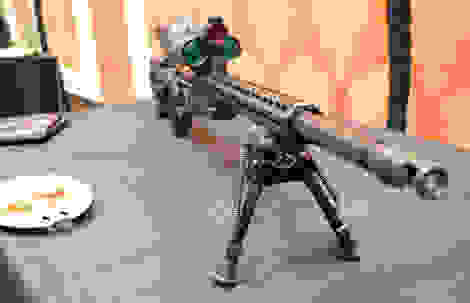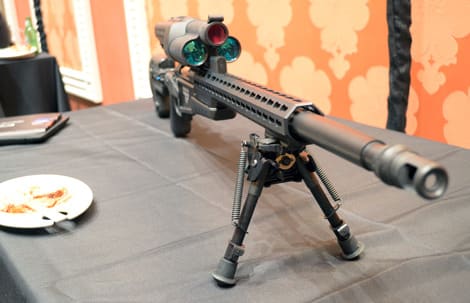 But enough about the Wynn and its profligate bounty of culinary creativity. Let's talk tech. Let's talk… sniper rifles, because why not? (Indeed, in Vegas, the why nots seem to outnumber the whys at least ten-to-one.) TrackingPoint's WiFi-enabled bolt-action rifle certainly turned some heads at Showstoppers, including my own gun-ignorant afflatus. The precision-guided rifle has three processors that calculate wind speed, trajectory, and target motion, among other factors.
The most interesting (and frankly unsettling) thing about this deadly weapon is the embedded WiFi hotspot, which allows you to stream video directly from the gun sight to a mobile device or social network. There was something so perverse about a social media-enabled firearm that I didn't even want to spend much time near it. Suffice it to say that gun nerds will rejoice at the opportunity to spend $20,000 on a bolt-action rifle that can tweet, and their buddies can get their jollies watching in real time on Facebook as a bullet tears into deer flesh. Yay?
Yeah, ok... let's just move on to aisle411. Have you ever walked into a Walgreens and felt overcome with despair at the prospect of not finding chapstick? Me neither, but aisle411 thinks this is a common affliction. And guess what? They've got an app for that. Yep, now you can use your smartphone to find where products are located, instead of reading the in-store directory, interacting with staff members, or, you know, just figuring it out yourself.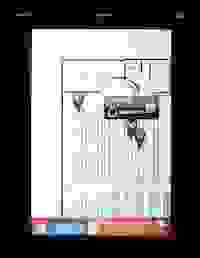 While we understand this appeal in a truly massive, warehouse-style store like Home Depot, it makes little sense in a smaller venue like Walgreens, which happens to be the fledgling company's largest client. This leaves us thinking that the service is really just an opportunity for in-store advertising. Indeed, the company's "Indoor Geo-Fence Alerts" program allows retailers and third-party interests to "deliver welcome messages" as shoppers enter a store. Finally! Digital geriatric Walmart greeters coupled with third-party advertising! Sign me up! I subtly indicated my skepticism to a booth rep, mumbling something about the personalized ads in that one Tom Cruise sci-fi movie. Imagine my surprise when he jovially concurred that yes, it is quite a lot like Minority Report! Umm… that wasn't a compliment, dude. I don't mean to suggest that your idea is stupid, but your idea is stupid. Here's something for all the mobile imaging nerds out there: the [olloclip](http://www.olloclip.com/). This product has been around for a while, but this was the first time I got to handle one and I really liked it. Simply put, it's a three-in-one lens system for the iPhone. This tiny clip latches onto the camera element of the iPhone (it can't be attached with a case on), and applies one of three effects: fisheye, wide-angle, and macro. A representative showed me how simple it is to use, and how radical the effect. The newest version for the iPhone 5 even includes a 360-degree view option, combining the fisheye lens with Apple's built-in panorama feature. center>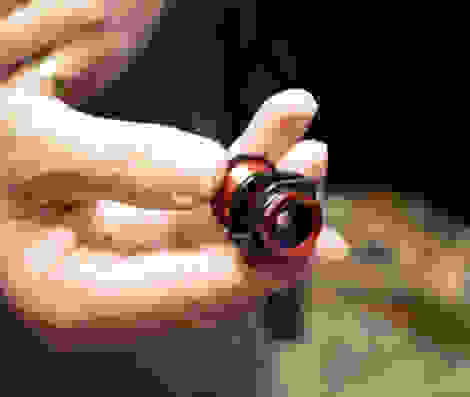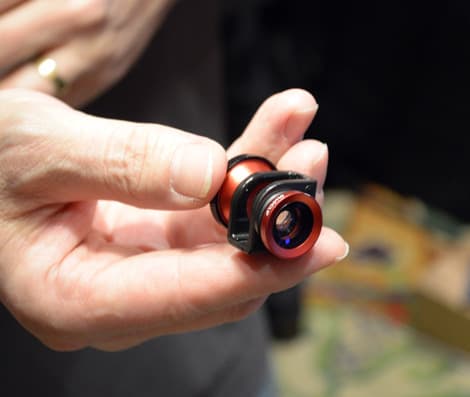 Our editors review and recommend products to help you buy the stuff you need. If you make a purchase by clicking one of our links, we may earn a small share of the revenue. Our picks and opinions are independent from any business incentives.