Reviewed
Track Your Family with Weenect
Watch where Fido wanders.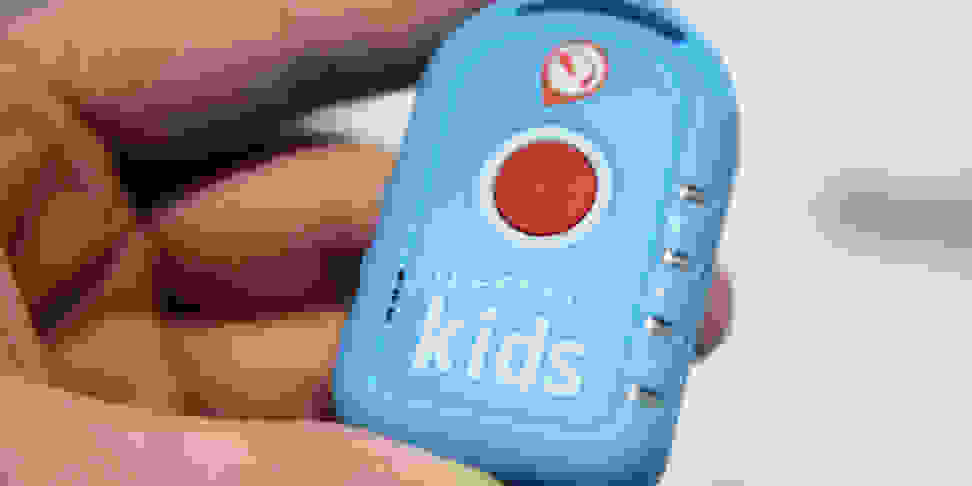 Credit: Reviewed.com / Kyle Looney
Weenect is a French company that makes GPS tracking devices specifically designed for pets and kids. With many GPS trackers to choose from, we visited Weenect's booth at CES to figure out what makes its products different.
Weenect Kids and Weenect Pets will be making their U.S. debut in 2015. Weenect Kids has been on the market in France for almost two years now, while Weenect Pets is brand new.
While the technology inside both devices is essentially the same, their exterior designs are dramatically different. Weenect Kids looks like a small walkie-talkie, with a water-resistant carrying case. It is easy to fit in a backpack pocket or key clip and has a battery life of roughly four days. Weenect Pets is a basic, waterproof square—attractive and practical.
Weenect Pets has an innovative exterior clip that snaps the GPS tracker onto a specially-designed collar. Four divets and a spring hold the device tightly, while a sensor underneath alerts owners if the GPS square is detached. We could easily snap the device on and off, but Weenect says the design is dog-proof, and we have no reason to disagree. Weenect is targeting the owners of mid- to large-size dogs, which makes sense given the tracker's small—but not tiny—size. A Jack Russell or larger canine could probably carry the tracker without a problem.
Weenect Kids distinguishes itself with its two-way voice calling feature. Push a button and the device calls a number or a list of numbers you designate through the app. Whoever picks up the phone first gets connected. That means Mom and Dad and Grandma can all be on the call list, making it more likely that someone will be available to immediately pick up the phone. A few other distinct features of Weenect Kids: It works in 68 countries, registers location data once a minute, and retains 45 days' worth of data.
Weenect Kids targets ages 6-12, the age range in which kids are old enough to be doing activities without immediate parental supervision, but perhaps too young to carry a cellphone or other connected device. Weenect has partnered with SkiSet, a large ski rental company that operates internationally, to offer Weenect Kids for rent to their customers. Weenect is also working on relationships with amusement parks in France.
Although we were not able to see the Weenect products in action, we were impressed with the design of both. We could see Weenect Pets surviving the antics of even the most active dogs, and we liked the way it snapped magnetically into its charger. For dog owners worried about lost pets, Weenect Pets could give owners significant peace of mind.
We were also excited about the partnerships Weenect is cultivating to make Weenect Kids available in situations where GPS tracking could be critically important. As parents ourselves, we would absolutely rent one if given the opportunity during a visit to, say, Disneyland. We look forward to watching Weenect as they continue to develop GPS-tracking products for the entire family.
Up next
Get Reviewed email alerts.
Sign up for our newsletter to get real advice from real experts.