The challenge presented to University of Oregon kinetic architecture students Tyler Short and Dannie Fautch was to solve an architectural problem using simple mechanical systems or low-tech contraptions. The two chose to devise window coverings that could maximize interior day lighting while minimizing air conditioning costs.
It sounds simple, but it's not.
"Internal shading devices work well visually and for blocking daylight, but they don't work well for blocking heat and reducing air conditioning costs," Short told us.
For example, venetian blinds, when closed, block out natural light and allow heat to collect between the blinds and the window. It's a lot easier to reduce direct sunlight using external shading elements, but a fixed canopy over a window works for only some hours of the day. How does one provide exterior shading when the sun moves throughout the day?
Short and Fautch's solution was to employ vertical louvered blinds that pivot horizontally as well as vertically, providing shade at any hour. The gear-driven system could be operated by hand or controlled by computer.
Of course, building a full-size working model—no matter how low-tech—is not in the budget for most students. So Short turned to animation and rendering software to illustrate the concept. The results, created using Autodesk's 3ds Max Design and Adobe After Effects, are like something out of a dream.
"We were looking for an elegant solution for shading that was lightweight but could tackle the problem," said Short. "We liked the idea of a clean, flowing interface on the outside and being able to see the internal clockwork from the inside."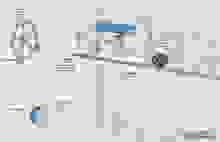 The equally elegant name for their device, Penumbra, describes the indirect illumination we experience just outside the full shadow—as in a total eclipse. "It seemed fitting, given that this device would bridge the gap between something in shadow and illuminated."
Are Penumbra blinds practical? While they could certainly reduce air conditioning expenditures, the upfront costs might be prohibitive. "I see no reason they're not practical, but cost minimization is not my area of expertise," added Short.
Whether Penumbra is a practical solution or merely a stylish dream, the students' teacher was a believer. The duo received a score of 100 percent on the project.
Our editors review and recommend products to help you buy the stuff you need. If you make a purchase by clicking one of our links, we may earn a small share of the revenue. Our picks and opinions are independent from any business incentives.