Gift Guides
15 sentimental gifts for active and retired military members
May is National Military Appreciation Month, after all.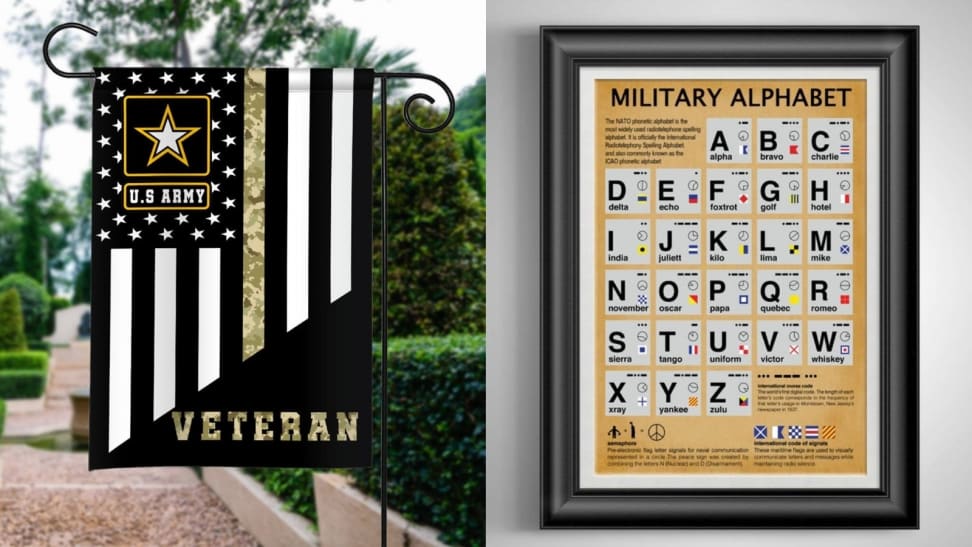 Credit: Etsy/ Jaminha/ Patent Pro
Veteran's Day might be in November, but did you know that National Military Appreciation Month is actually the entirety of May leading up to Memorial Day? So, while you might typically reserve your gifts for veterans for the fall, we're here to let you know that this month is just as good a time to pamper the active and/or retired military members in your life.
As tempting as it may be to do so with a convenient gift card, why not put in a little extra effort with a sentimental military gift idea? Below are 15 great military gift ideas that are good for every budget and every branch of service.
1. A wooden military sign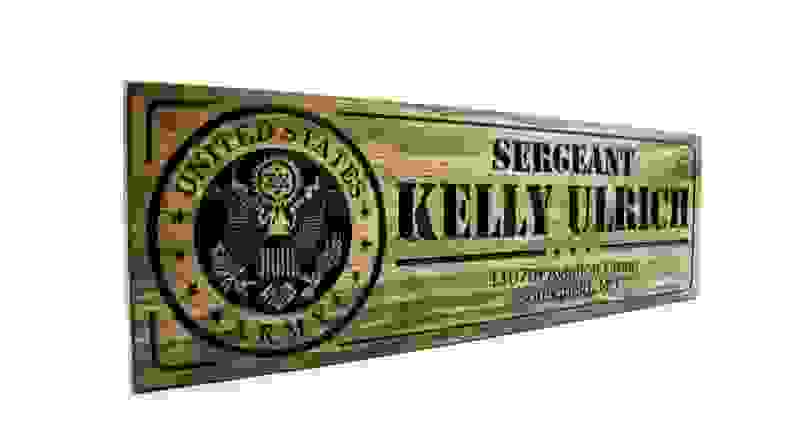 While a wooden name sign may not seem like the most sentimental gift idea, trust us, active and retired military members take great pride in their branch, rank, and squadron. This sign, which can be customized with all of that and more, is sure to leave an impression. Plus, it's approved by more than 2,000 Etsy shoppers.
Get the Custom Wood Design LLC Personalized Wood Military Sign from Etsy for $51.96
2. A personalized military wristlet keychain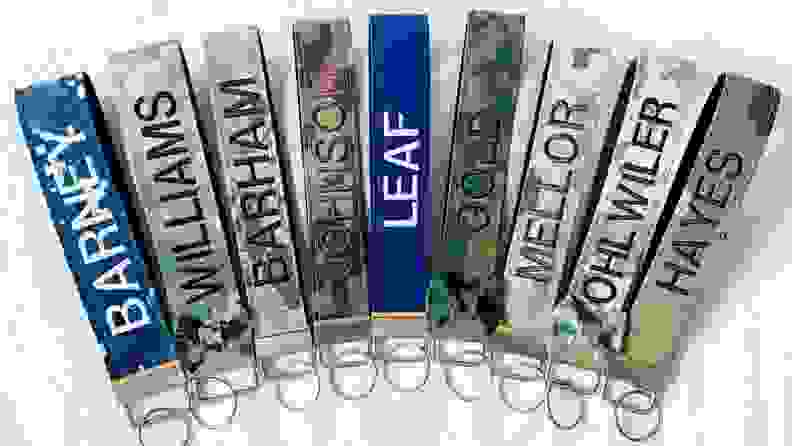 Keychains aren't always a juvenile gift idea, especially this one that has military fatigue patterns (or a color of your choice), features military font, and is easy to carry. It's bound to make your loved one smile upon receiving it. It will also help them keep track of their keys, which they'll undoubtedly thank you for.
Get the Kizzybel Designs Personalized Military Nametape Wristlet Keychain from Etsy for $24
3. A photo collage from the good ole days
Whether your loved one has some favorite photos from their active days in service or you found a few photos of them in uniform while digging through old memories, putting together a photo collage is sure to make your loved one reminisce. When it comes to professional, wall-ready collages, no one does it better than Minted. This particular photo art frame features five photos but you can opt for other designs that feature more or less. You can also tailor the frame, matting, and font color to your recipient's liking.
Get the Deckled Custom Photo Art Frame from Minted starting at $97
4. A military code framed poster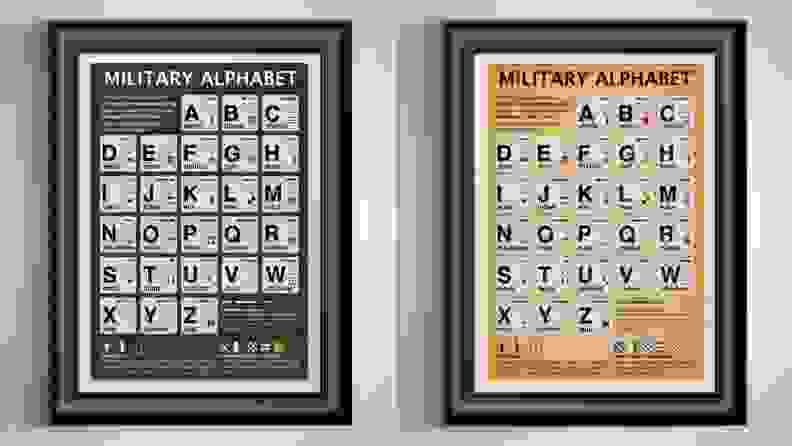 If you talk to anyone who's been in the military, you'll learn that sharing messages in morse code takes them back to their heyday. The framed alphabet is available in seven sizes and six colors and, in addition to the phonetic names for each letter, naval signals, and maritime flags are also included, giving it a more sentimental touch.
Get the Patent Pro Military Decor Phonetic Alphabet Morse Code Poster from Etsy starting at $15.50
5. A custom military plaque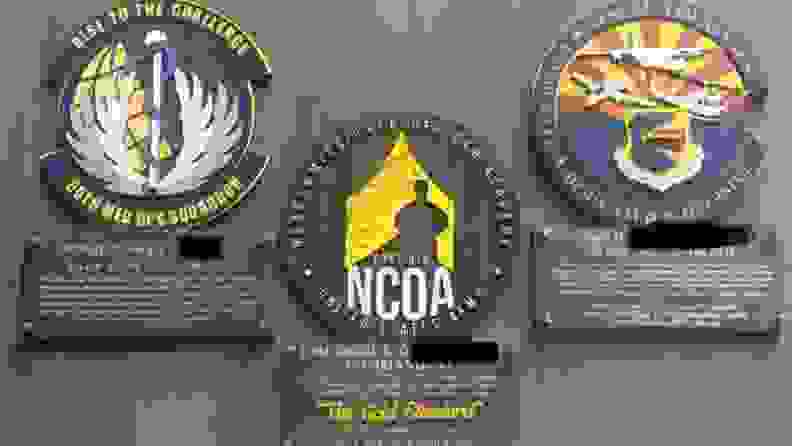 Hoping to commemorate a major military milestone for your loved one? This top-rated custom plaque is a great idea. Reviewed by more than 1,500 Etsy shoppers, the plaque is large, measuring 14 inches wide, and features your loved one's badge, name, branch, years of service, and a custom message to honor their efforts. While it's customary for squadrons to give their members similar plaques upon promotion or retirement, it's still a nice way to honor everything the military member in your life has done while serving, too.
Get the Honoring Heroes Custom Military Badge Plaque with Engravings from Etsy for $255
6. A framed foil map of their base
Does your loved one hold a specific military base on a pedestal? For my dad, it's Fort Carson in Colorado Springs, where he served in the army. While you could absolutely get them memorabilia from the base (my dad loves his Fort Carson shirt and hat), another option is to honor the location with a framed foil map of the city the base is located in. You can create one on Minted by choosing the city, state, and country and can even get it inscribed with the exact street address of the base. It's customizable with the frame and the matting, too. It may take your loved one a moment to recognize what the map is, but once they do, they'll hold it near and dear for years to come.
Get the Custom Map Filled Foil Art from Minted starting at $158
7. A military frame that shows their service
If you want to give your military member a plaque but are looking for something a bit less rustic, this personalized frame is a great alternative. Rather than a photo, the center of the frame features an acrylic sheet that's printed with the military logo of your choosing, along with your loved one's name and rank. Since it comes equipped with a sawtooth hanger, it will be ready to hand straight out of the box.
Get the Shend Doah Personalized Military Frame from Etsy for $77.51
8. A customwhiskey decanter set
Does your loved one like to pour one out for their fellow military brothers and sisters? Or perhaps they'd like to make a toast to their times in service. Whatever the case may be, so long as they like whiskey, a personalized decanter is a great gift idea. This one comes with a 32-ounce decanter and two rocks glasses, all of which can be engraved with the message of your choosing. Most buyers (more than 34,000 Etsy shoppers have added this set to their cart and it has more than 4,700 reviews) opt for a flag, along with the person's name, nickname, and rank.
Get the Personality Gift Shop Personalized US Veteran Whiskey Decanter Gift set from Etsy starting at $40.12
9. A Yeti colster can insulator you can personalize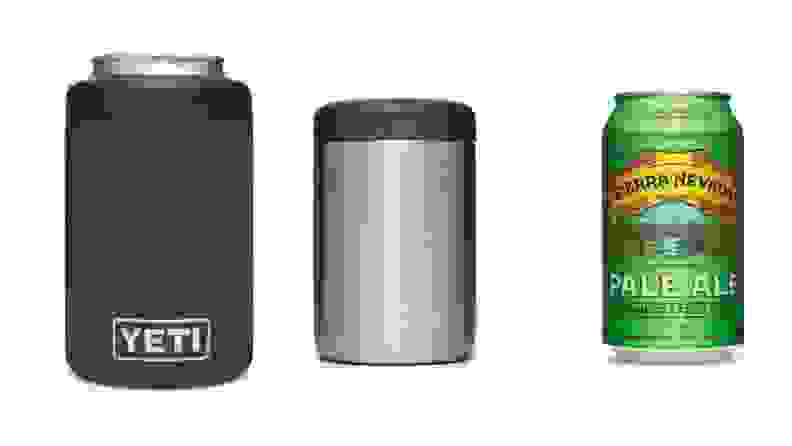 Many off-duty active and retired military members like to kick back and relax with a cold one. If it's one of your giftee's favorite things to do, they'll likely enjoy doing so with their military persona along for the ride on a custom Yeti can koozie. Plus, it's something they'll actually use and not just hang on the wall.
Get the Custom Colster Can Insulator from Yeti for $24.99
10. A set of custom rocks glasses
Your recipient can wind down with their favorite drink while thinking of their former home base with these custom map rocks glasses. You can choose a specific city and state to feature on the glasses along with a phrase, all of which will be engraved onto the glass. What's more, the bottom of the glass features a compass to further indicate the location you're paying homage to.
Get the All Roads Take Us Home Custom Map Glass Duo from Uncommon Goods for $48
11. An American flag military canvas with their branch
Does your loved one like to be surrounded by American flags? If so, you can't go wrong with this black and white canvas, which features the flag and can be customized with their name, rank, and branch. The fully-wrapped canvas is available in five sizes and five branches. Just keep in mind that you only have 50 characters for your customized text.
Get the Personalized Canvas from Veteran Nations starting at $44.99
12. A United States Army veteran flag
If you look at just about any veteran's house come Memorial Day, chances are there's an American flag hanging somewhere in or outside of their home. While the classic red, white, and blue flag is a forever staple of patriotism, veterans will appreciate a flag made specifically with them in mind, like this army flag. It's available in two sizes and is made with UV-, fade-, and mildew-resistant fabric, so you can have faith that it will last.
Get the Jaminha United States Army Veteran Flag from Etsy for $21.49
13. A veteran nutritional facts coffee cup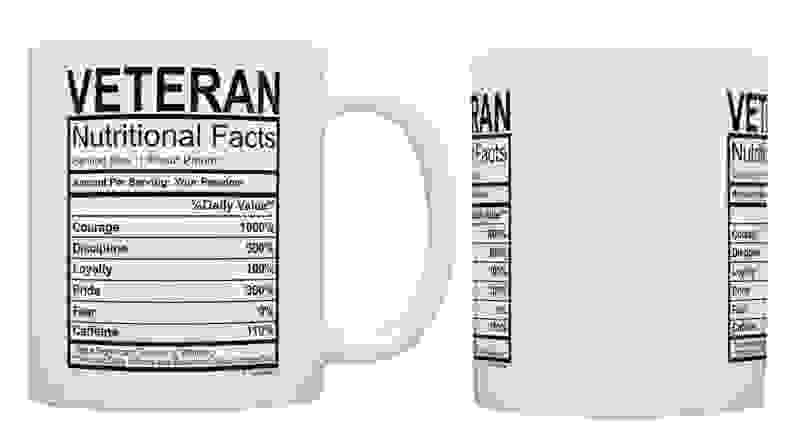 Perfect for the veteran who enjoys sipping on coffee in the morning or all day long, this mug will remind them of everything they are as a result of their courage in service. The dual-printed mug features the nutritional facts on both sides and is sure to make them chuckle and reminisce every time they use it.
Get the This Wear Veteran Nutritional Facts Coffee Mug from Etsy for $16.99
14. A retired military veteran shirt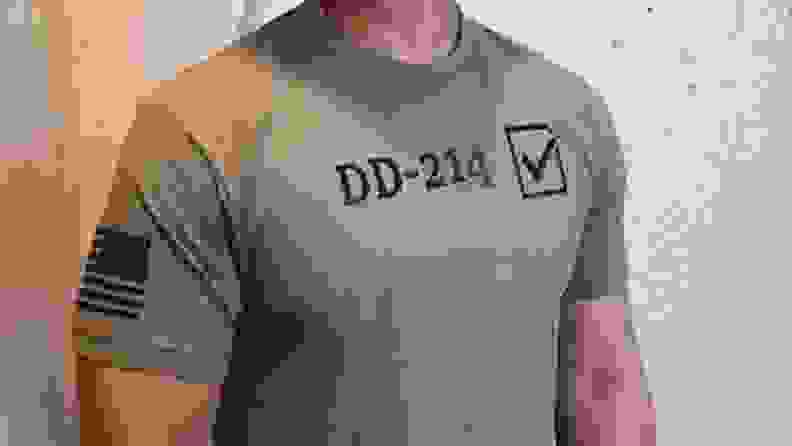 When you retire from the military, you become classified as DD-214, which means you've been released or discharged from active duty. Since it's associated with retirement, it's seen as a badge of honor to receive the DD-214 form, so a shirt labeled with it will surely remind them of everything they learned in service and how proud they are of their commitment to their country.
Get the Unsung Patriot Military Veteran Shirt DD-214 Retired from Etsy for $24
15. A personalized memorial stone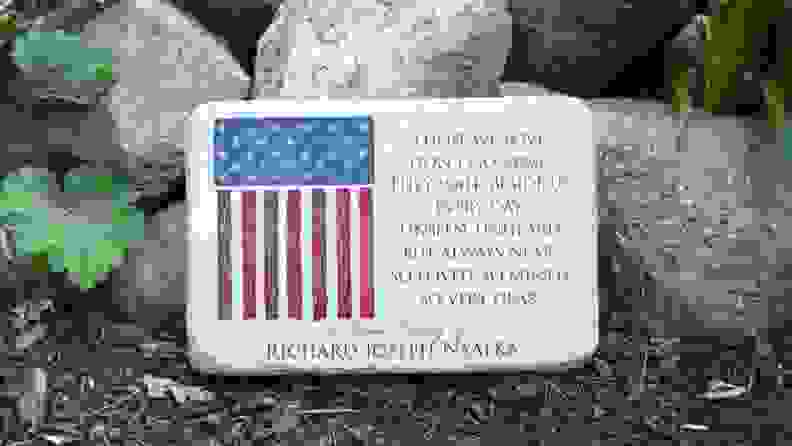 This personalized memorial stone, which is sold in two sizes, is an incredibly sentimental gift for any active or retired military member who lost a loved one in war. Whether it's your loved one's best friend, partner, or child, giving them this memento will remind them of the privilege and sacrifice of serving. Just be sure to give them some tissues too, because they may very well shed a tear.
Get the Blessing and Light Personalized Memorial Stone from Etsy starting at $46
The product experts at Reviewed have all your shopping needs covered. Follow Reviewed on Facebook, Twitter, and Instagram for the latest deals, product reviews, and more.
Prices were accurate at the time this article was published but may change over time.