Put me in, Coach!
The is a portable grill that doesn't sacrifice on features. Despite having only a 321 square inch grilling surface, this grill has an electric starter, the option to add different grate attachments (sold separately), and two side trays. These are far more useful at a tailgate than on a patio, unless you prefer lugging around a folding table. We especially liked Coleman's take on fuel access, allowing the grill to utilize a 16.9 ounce cylinder of fuel or a full-size 20 pound tank if you pick up a $10 adapter. When game day is over, the legs fold into each other, allowing the grill to be stored vertically.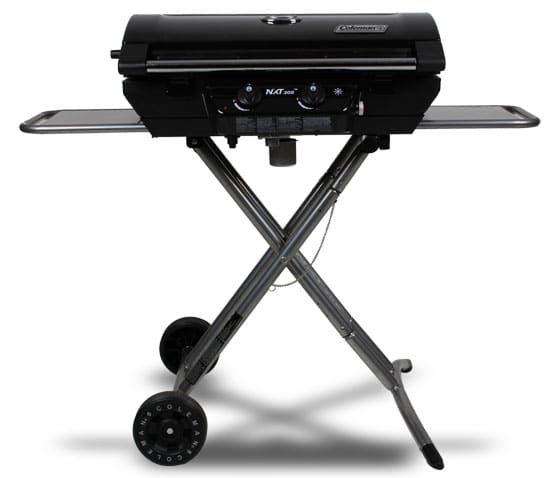 Like a five foot seven, 210-pound running back, it's small but powerful.
It might be small, but the showed some impressive power. No one likes waiting to get the patties on the grill, and the NXT's rapid preheat cuts down on wait time. But the small grill went a bit overboard when we set the temperature to its hottest setting (more than 750ºF!) with uneven heating across the small grate. Even the grill's exterior gets hotter than we'd like to see, which may be an issue in a crowded parking lot.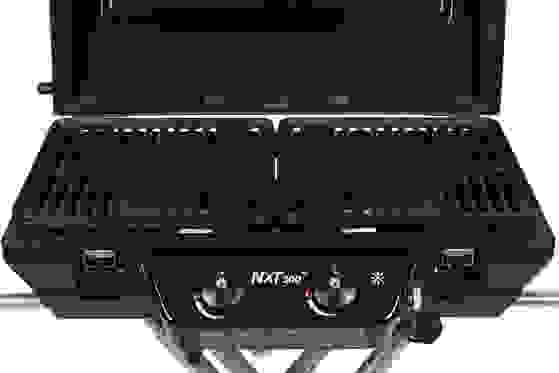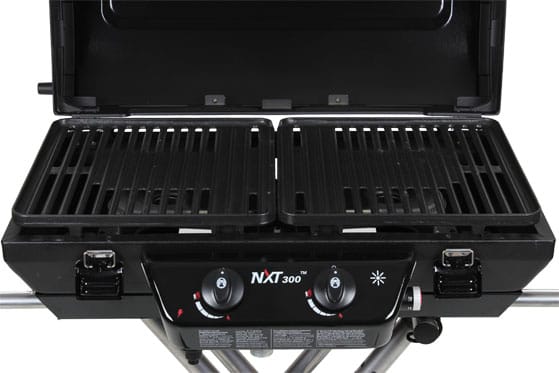 The solution? Just set it to a lower temperature. In our low-fire test, it hit close to 490ºF without much variance in temperature across the cooking surface. Depending on what you're cooking, this may be perfect, or it could be too hot. You could always heat only one burner to get around that problem, and for hot dogs, burgers, and the standard game-time fare, this grill should do just fine.
If portability and quick speed is paramount. . .
In a perfect world, you'd be able to lug a grill like the Weber Spirit E-320 and its 20 pound tank of liquid propane to the game, or have the patience to wait for the Weber One-Touch's coals to heat up. While some people do in fact live in that world (or, at least, in Texas) the makes tailgating a cinch for the rest of us, thanks to acceptable performance, the useful side-table and add-ons, and a travel-friendly setup.
Obviously a portable grill is going to sacrifice some performance and grilling area for mobility's sake, but the NXT holds its ground enough for us to give it a nod of approval.
The had an interesting time in the lab. Surprising us with its power, the grill's low temperature testing actually beat the high temperatures of some weaker grills we've tested.
This grill sprinted to 625°F.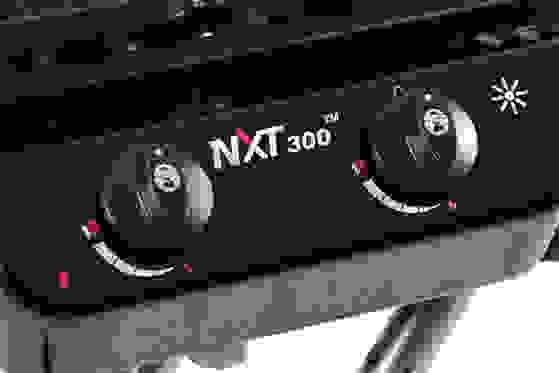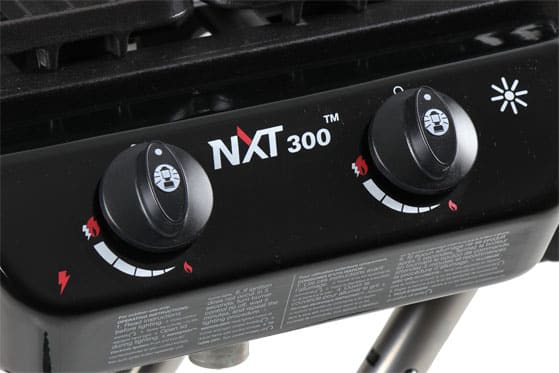 The preheat is certainly one of the 's best characteristics. It took just four minutes and 38 seconds to hit 625°F, which means no time will be wasted in getting hungry football fans satisfied.
Relatively even at ridiculously high temperatures.
Set to "low," the grill doesn't really perform like it's set to low. We prefer the ability to cook at lower temps, but that high heat is slightly more forgivable in a machine designed mostly for burgers and dogs. Despite the scorching heat, at least temperatures were quite even across the cooking surface. We registered only a 61°F standard deviation from the grill's 493°F average temperature, which is pretty decent for a relatively inexpensive portable grill.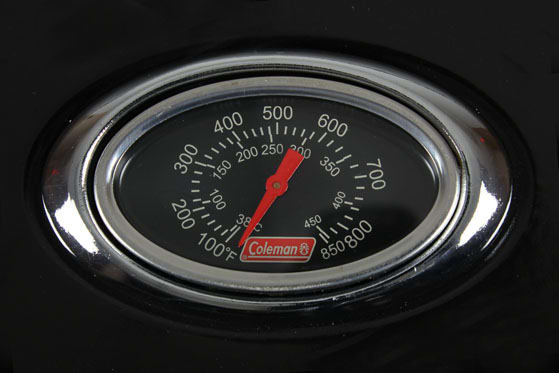 Set to high, however, the average temperature was 758°F, which is extremely hot. Our sensors found an standard deviation of 104°F across the grate, meaning any given point on the grill's surface is probably 104°F off the average. However, at temperatures that high, 104°F really doesn't seem like that much.
Handle with care!
While the grill's handle remained at a pleasant 109°F after 15 minutes on high, the NXT's body wasn't well insulated and reached 461°F. Depending on how crowded the parking lot is at your tailgate, this could be a big deal. Just make sure to keep a few big coolers between the grill and the crowd.
Meet the tester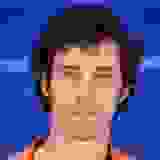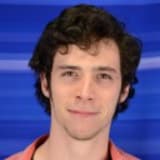 Ethan Wolff-Mann
Staff Writer
@ethanwolffmann
Ethan writes reviews and articles about science for Reviewed.com, and edits the Science Blog. He's originally from Vermont and thinks the bicycle and guitar are examples of perfected technology. Prior to Reviewed.com, he studied furiously at Middlebury College.
Checking our work.
Our team is here for one purpose: to help you buy the best stuff and love what you own. Our writers, editors, and lab technicians obsess over the products we cover to make sure you're confident and satisfied. Have a different opinion about something we recommend? Email us and we'll compare notes.
Shoot us an email