Pros
Extra long battery life

Appreciable sound isolation

Headphone jack adapter
Cons
Tight fit can lead to achy ears

On the pricier side
The Beats Solo3 Wireless headphones (MSRP $299.99) are the newest iteration of the Beats Solo line, and along with the Powerbeats 3 earbuds, are some of the first headphones to feature Apple's W1 wireless chip.
The Beats Solo3s are a vast improvement over the wireless Beats Solo2s if only for their massively improved Bluetooth range and battery life, but the approach remains mostly unchanged: lightweight build, collapsable cups, commendable audio performance with an emphasis on bass, and of course, a wide variety of color options.
But while the lack of design overhaul might satisfy past and present satisfied Solo owners, those of us who've had our fair share of complaints about the Solo line might find the "if it ain't broke, don't fix it" approach to be somewhat of a bummer. Bluetooth and battery reliability can only go so far when the rest of the package leaves a lot to be desired. After all, the Solo3s are many things, but cheap they are not.
What We Like
They perform quite well, especially if you love bass. The interesting thing about the Beats Solo line is that, despite facing a legion of upturned noses from audio purists, they actually tend to test quite well in our lab tests.
The cans' tight seal—perhaps too tight—does a bang-up job keeping sound from leaking, though it sometimes struggles to keep outside noise out. Most impressive, however, is the perfect score the Solo3s garnered in our test for distortion. Music, regardless of genre, just sounds fantastic on the Solo3s. For example, Brian Eno's Another Green World is by no means a new record, but the weird, alien ambient noises present on that album seem to come alive on the Solo3s.
Frequency response, as usual, is where the story of Beats begins and ends. For the most part, the Solo3s do a commendable job equalizing volume across the frequency spectrum—except on the low-end. Indeed, an emphasis on heavy, thumping bass is "in" right now, but no where is this industry-wide trend more apparent than the frequency response chart for a pair of Beats headphones.
Music, regardless of genre, just sounds fantastic on the Solo3s.
If you like your music with a little extra oomph on the low-end, or if you've known and loved a pair of Beats in the past, chances are good that you won't be disappointed in the Solo3s. But if you've never put a pair of Solos on and this passage has given you pause, you'll probably want to pass on them.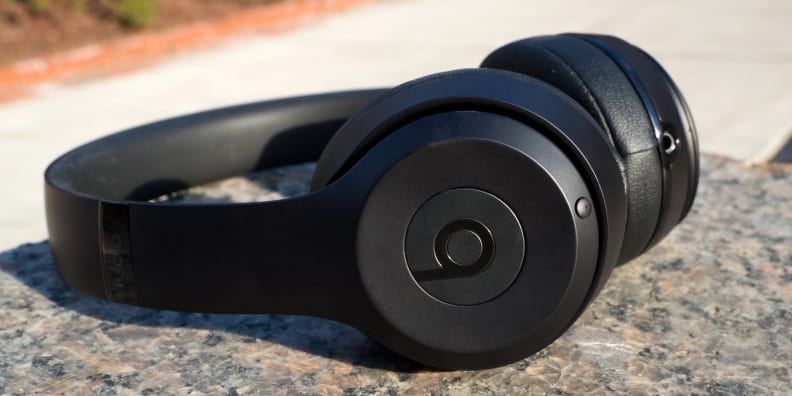 Absolutely insane battery life I've been using the Beats Solo3s on-and-off for about a week to get a feel for them, and in that amount of time, I've yet to recharge them. On Apple's website, Beats claims that it's packed 40 hours of battery life into the Solo3s, and I'm inclined to believe it.
Beats claims that it's packed 40 hours of battery life into the Solo3s, and I'm inclined to believe it.
Charging them is as easy as connecting a USB cable, and the charge times are just as impressive as playback times—five minutes translates to roughly three hours of juice. This is great news if you've gotta be out the door to catch the bus in ten minutes and you forgot to plug in your Solo3s overnight.
In a pinch, you can also jack in a 3.5mm audio cable for non-battery-reliant wired use, but where's the courage in that? It's the future, man.
Bluetooth range that really goes the distance My test for a pair of headphones' wireless range is about as simple as you'd expect—I pair 'em to a device, play some tunes, and walk in a straight line until the connection starts to drop out. Along the way, I dart in and out of rooms to test the Bluetooth's efficacy when walls and corridors are in the mix.
The Solo3s aced this test with such flying colors that I almost ran out of real estate in my office to test the range. I estimate that the Solo3s offer between 100-120 feet of wireless range, provided there aren't too many architectural obstacles in the way.
There's no denying it: Apple's W1 chipset combined with Class-1 Bluetooth makes for a sensationally long-ranged, reliable connection, even when there's a couple walls and angles in plasy.
What We Don't Like
A tight fit makes long-term use difficult. Oh, Beats Solo. Why? Why do you do it? Why do you clamp down on my head like the jaws of life? I just want to comfortably listen to bass-heavy music in my cool new brightly-colored wireless cans; instead, I feel like a small child is bear-hugging my skull.
Such was the case with the Beats Solo2s, such was the case with the Beats Solo2 Wireless, and so it is with the Solo3s. The sun will set, the sun will rise, and Beats on-ears will always feel like you're wearing a colorful vice grip that plays music.
The good news is that the rubbery padding on the Solo3s' headband—a material I've always felt to be weird choice—has seemingly grown more cushiony, which takes some of the edge off the top of your head. The bad news is that, if you're anything like me, less than an hour into a listening session and your ears will feel sore—like lame muscles the day after a rough workout.
The design still doesn't feel worthy of the price tag. Outside of their function as a fashion piece, I'll never understand the appeal of the Beats on-ear design. They're lightweight, which is nice, but the none of the separate elements—not the rubber headband, not the stiff leather cups, not the chintzy size-adjustment mechanisms—add up to a package that feels worthy of its premium price tag. And while I appreciate the Solo3s ability to fold up for easy storage, I cannot abide the flimsy hinges that sound and feel like they're breaking every time they're engaged.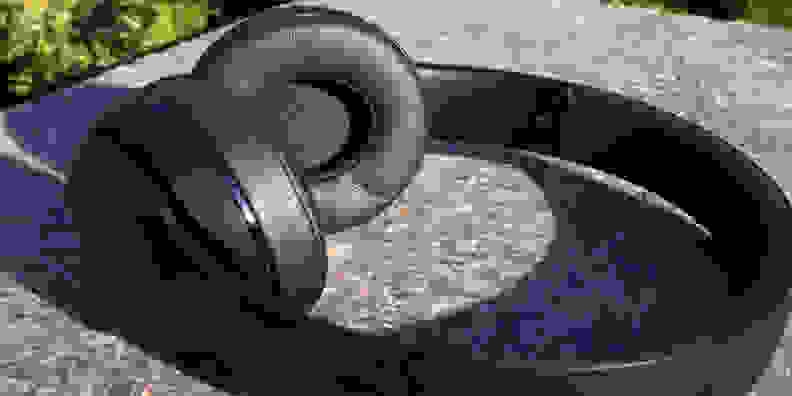 The overall design just doesn't convey confidence, and if the Solo3s are any indication, I don't see any major design overhauls coming to the Solo line anytime soon. The die has been cast and people keep buying these things, so why mess with a so-called "good" thing?
Should You Buy It?
Yes, but only if you can spare the cash and you know how Solos fit on your head.
Look, the Beats Solo3s are a pretty great pair of cans, all things considered. They're also the best Solos yet (though arguably, this should always be the case with the newest iteration of an annually-released product). Emphasis on bass aside, they sound fantastic, and the both Bluetooth and battery performance are off-the-charts good.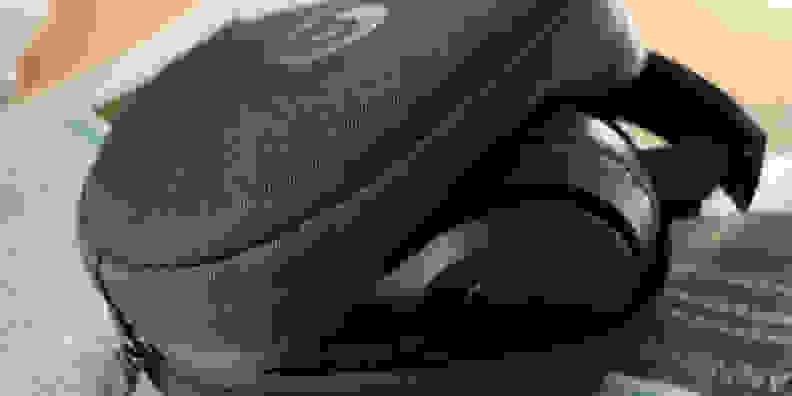 That said, they're also sitting comfortably at $300, and something tells me they'll sit comfortably at the price for much longer than they'll sit comfortably on your head.
The Beats Solo3s are a pretty great pair of cans, all things considered.
But maybe you've got no qualms with dropping three C-notes on a stylish pair of Beats, and maybe you've had a good, pain-free relationship with Solos in the past. If you meet these criteria, by all means, go nuts. Chances are you'll be immensely satisfied with the Solo3s looks, their fit, and most of all, their uber-reliable performance.
Related Video
Meet the tester
Michael Desjardin
Senior Staff Writer
@Reviewed
Michael Desjardin graduated from Emerson College after having studied media production and screenwriting. He specializes in tech for Reviewed, but also loves film criticism, weird ambient music, cooking, and food in general.
Checking our work.
Our team is here for one purpose: to help you buy the best stuff and love what you own. Our writers, editors, and lab technicians obsess over the products we cover to make sure you're confident and satisfied. Have a different opinion about something we recommend? Email us and we'll compare notes.
Shoot us an email