If you're looking for the best true wireless earbuds, we think you'll be happiest with the Apple Airpods (available at Best Buy)—especially if you primarily use an iPhone or MacBook to listen to music. To settle on our pick, we tried out nearly a dozen models and put six of the most popular true wireless models through the ringer in our lab over several weeks.
So-called "true" wireless earbuds are a tricky category. Unlike regular wireless earbuds—which still have a wire running from 'bud to 'bud—true wireless earbuds have no wires at all. It's a small change, but it creates all kinds of tough design choices, and it's taken a few years for companies to get it (mostly) right.
While we were impressed with just how good the field has gotten, Apple's AirPods are still the best all-around choice for most people due to their superb mix of battery life, range, comfort, and sound quality. The only thing we don't recommend them for is vigorous workouts, since the fit isn't overly snug and other models feature far better sweat resistance. Read on for our review of every model that we tested.
Advertisement - Continue Reading Below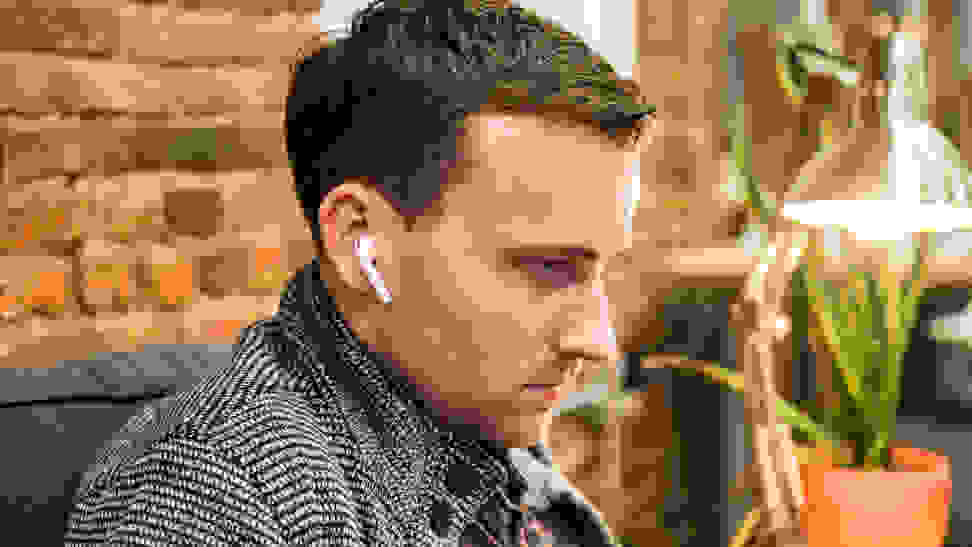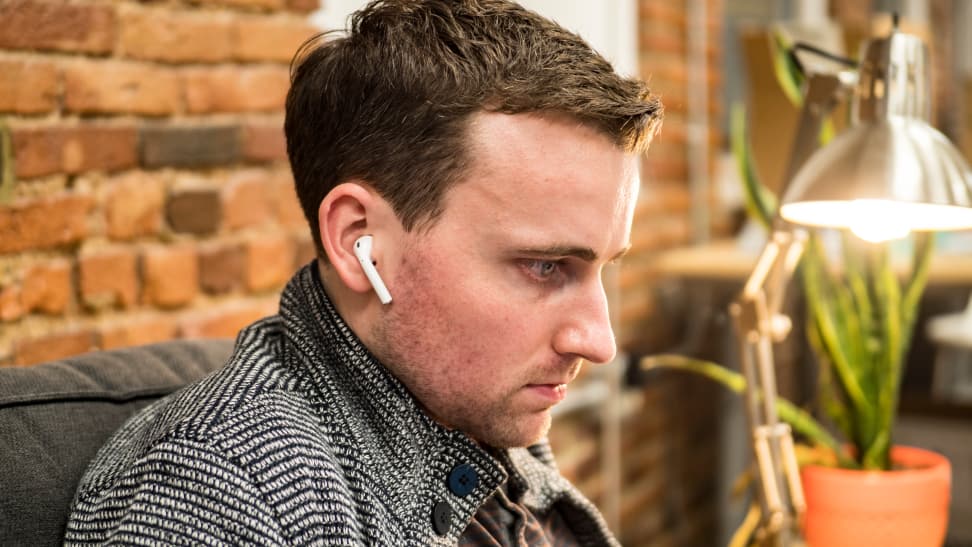 Apple AirPods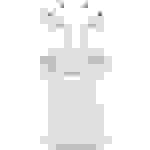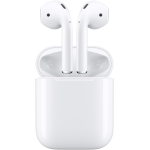 Apple AirPods
Best Overall
If you've ever bought an iPod or an iPhone and used the iconic white earbuds that were included, you pretty much know what to expect when it comes to look, feel, and fit of Apple's AirPods.
What might surprise you, however, is just how much better the AirPods sound than their wired counterparts. The low-end is better represented (so bass-heavy tracks finally have a chance to shine on a pair of Apple headphones) and the stereo field sounds far more expansive than with Apple's standard wired in-ears.
What we like most about the AirPods is how simple it is to manage them. Just pop open the dental floss-sized charging case and they automatically connect to your iPhone or MacBook (if you're running the latest update). When you're done listening, slot them back into the case and they'll magnetically slot into place and disconnect automatically—you don't have to hold down any buttons. The pairing process is the standard Bluetooth headache on non-Apple devices, but you'll still benefit from great range and killer battery life.
They're not perfect, however: The fit itself isn't as tight and comfortable as some of the other earbuds we tested, the 'buds are not rated to be sweat-proof (though they survived our workout tests just fine), and the tap controls and microphone quality are mostly hot garbage. (The fact that you still have to use Siri to control the volume when you can't reach your phone is insane.)
But if you're used to the fit of Apple's standard, wired earbuds, you'll be happy with AirPods. They sound great, they're super convenient, and they run rings around the other true wireless earbuds we tested despite being relatively affordable. Add it all up, and these are the best true wireless earbuds you can buy right now.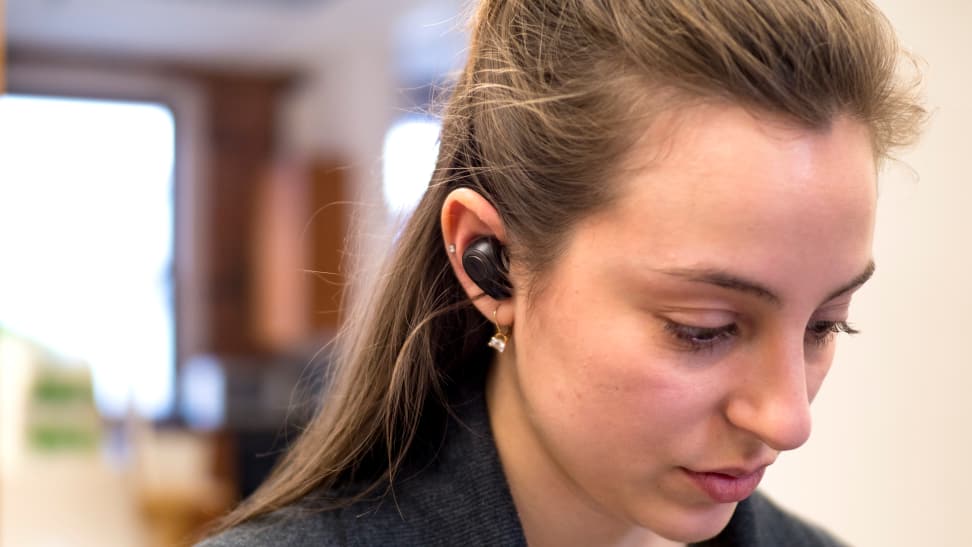 Jabra Elite 65t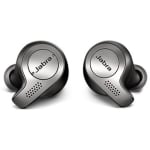 Jabra Elite 65t
Runner-up
The Jabra Elite 65t true wireless earbuds did extremely well in our testing. They offer very good sound quality, a snug fit, good battery life, superb wireless range, and even compatibility with Amazon Alexa.
The Jabra Elite 65t are a good all-around alternative to the Apple AirPods for people who don't have an iPhone, though their larger bulb-shaped design is definitely more awkward in your ear. They're very similar to the Samsung Gear IconX in terms of fit and size, but they don't get jammed uncomfortably deep in your ear canal.
The main knocks against the Elite 65t are the same ones we had with pretty much all other true wireless earbuds: They're a bit big to leave in your ears for an extended period of time, the on-ear controls are workable but causes the buds to shift around, and they're just less convenient than wired or other wireless headphones.
That said, they offer at least some protection against sweat and moisture, they're relatively affordable compared to some other true wireless models, and Jabra backs them up with a two-year guarantee against damage from dust and moisture. It's not enough for us to recommend them over the AirPods, but for Android users or those who want something with a bit more water-resistance, they're an awesome backup.
Jabra Elite Active 65t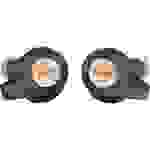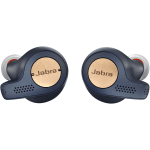 Jabra Elite Active 65t
The Jabra Elite Active 65t are nearly identical to the Jabra Elite 65t. As the addition of the word "active" would suggest, these version of Jabra's true wireless earbuds are better equipped to deal with sweat, rain, and dust.
In our testing, the Elite Active 65t performed nearly identically to the standard Elite 65t: mostly distortion-free sound with great isolation and a fair amount of "oomph" on the low end.
That said, we did encounter some of the same issues with the Elite Active 65t that we encountered with the Elite 65t. For instance, the Bluetooth pairing is spotty at best, particularly when switching from one device to another. Very often, we found ourselves needing to remove the Elite Active 65t from our phone or computer's saved devices list and re-establish a connection, which can be difficult since a long press on the earbud's play button controls both the earbuds' Bluetooth signal and the power.
Additionally, there was regularly static in the left earbud of our review unit, and several reviewers on Amazon have described similar issues. To Jabra's credit, some of these users reported receiving replacement 'buds, so at least there appears to be some accountability on Jabra's part.
For all of their faults, the Jabra Elite Active 65t are still some of the best true wireless earbuds you can buy—though that probably speaks more to the lack of contenders in the true wireless earbud market than it does to these 'buds' strengths.
If you're planning on running or working out at the gym with your wireless earbuds and you're reasonably certain that you want to pick up one of Jabra's offerings, it's worth spending the extra dough on the Elite Active 65t rather than the standard 65t.
Samsung Gear IconX (2018)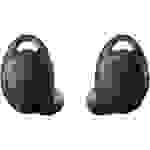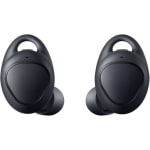 Samsung Gear IconX (2018)
Samsung's latest true wireless earbuds didn't make the best first impression—the first pair we received was dead on arrival. But once we got a replacement in the Gear IconX really won us over with an extremely snug fit, solid battery life, good connectivity range, and fantastic audio quality.
From a sound quality perspective, the most notable thing about the IconX is the bass response. These things really slap, especially for earbuds. That is due in large part to their design, which sits very deep in your ear canal. You have to find tips and wings that fit your ears properly, but once you do these things are really in there and don't budge an inch—even while working out.
That's great, though after an hour I actually found the IconX to be a bit uncomfortable. My other major issue was the controls, which are finicky at best—a common theme of all the true wireless earbuds we tested. Skipping tracks is easy enough but everything else is annoyingly hit-or-miss.
Otherwise we were impressed by the IconX. They were the most snug-fitting earbuds, and did the best job of staying put while working out. They can even be used without a phone, with 4GB of built-in storage letting you pre-load about 1,000 tracks. This method actually extends the battery life from 5 hours to 7, with the case holding "nearly" a full backup charge.
Overall we'd still recommend most people (especially iPhone users) stick with the AirPods. They're easier to use with an iPhone, sound great, have better battery life, and are more comfortable over a long period of time. But if you want snug-fitting true wireless earbuds for working out—especially if you want to leave your phone at home—the IconX are a great pick.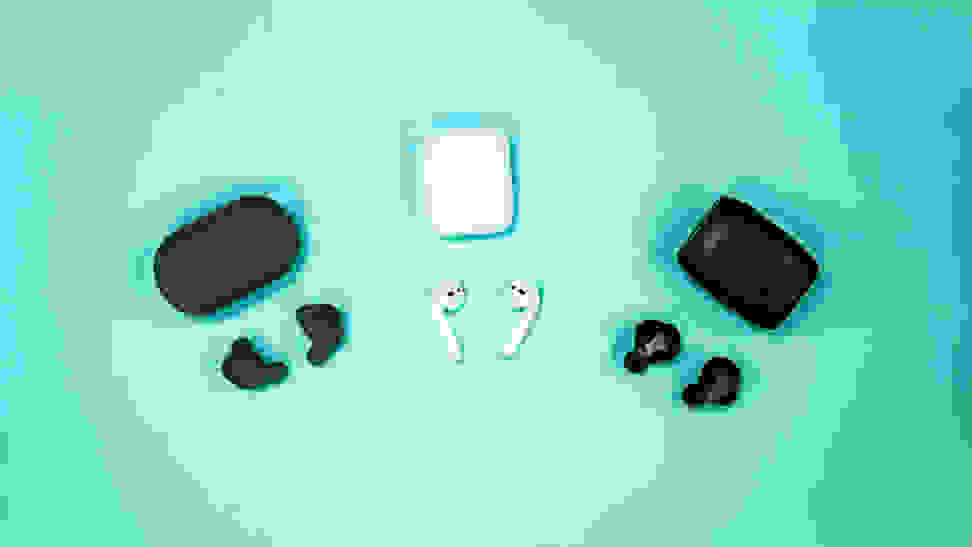 How We Tested and What You Need To Know
For this roundup, we focused on several key pain points that consumers typically run into when buying "true" wireless earbuds: battery life, ease of use, controls, wireless range, sound quality, sound isolation, and comfort.
For sound quality tests we first put all of our test 'buds through some basic audio tests in our labs in Cambridge, MA to give us data on a few things such as max volume and how well each earbud blocked outside noise. From there, we used all the earbuds extensively, playing a wide variety of test tracks ranging from classical, to hip-hop, to rock, and more.
We focused on several key points: battery life, ease of use, controls, wireless range, sound quality, sound isolation, and comfort.
The other features were all tested in real-life situations over the course of several weeks, including sweatproofing, short- and long-term comfort, battery life, and connectivity over distances and through obstacles like doors and walls. We briefly evaluated microphone quality as well, but frankly all six were just bad.
Perhaps the biggest missing link in all headphone reviews is durability. It's simply impossible for us to test a single pair and come to a meaningful conclusion about how well they'll hold up over time and with regular use (and abuse). To try to get at this issue, we did note any major issues that popped up in user reviews (where available), though this didn't impact the final scoring.
The truth is that wireless earbuds across the board have a pretty terrible record for durability, so this is a major cause of concern for us. Since some of these models are quite new, we are reserving the right to re-evaluate our conclusions as we become aware of any major issues as time goes on.
---
Other Earbuds We Tested
Bose Soundsport Free
Bose Soundsport Free
If you're looking for true wireless earbuds with the best sound quality, the Bose Soundsport Free are unquestionably the winner. Once you get the fit right, they offer excellent bass response, good sound isolation, and rich sound quality that excelled with everything from classical to rock to hip-hop.
The Bose Soundsport Free have one key flaw, as described by one user review from Bose's site: they stick out of your ears like bolts from Frankenstein's neck. Unlike most earbuds that dig into the nooks of your ears, these jut way outward. They felt secure enough to me that I could run and they didn't feel like they were going to fall out, but they just look goofy.
Having the earbuds stick that far out does let Bose put physical buttons on the buds themselves, rather than just simply touch controls. It's nice, but the force required to push the buttons down caused the buds to shift out of place almost every time. Not great.
If you can ignore how they look, the Soundsport Free are actually some of the top-scoring earbuds we tested. They offer five hours on a charge (with another 10 hours from the included case) and the sound quality is so good it's worth mentioning again.
Look, all true wireless earbuds look a bit off. Plenty has been written about Apple's AirPods, and even the "low profile" ones like the Gear IconX still look like massive earplugs. But the Soundsport Free certainly take the cake as the weirdest-looking of the bunch. If you can live with that, though, you won't regret buying these awesome earbuds.
JLab Audio Epic Air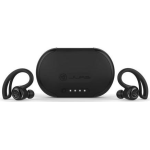 JLab Audio Epic Air
While most true wireless earbuds are designed to be as slim as possible (while still housing all the electronics the earbuds need to actually work), the JLab Audio Epic Air are actually quite large. That's because they use an ear-hook design that is very similar to JLab's popular Epic Bluetooth earbuds, just without a wire connecting the two 'buds.
Oddly enough, the fact that they have a larger more conspicuous design actually makes them look more natural. Though you wouldn't want to wear these around all the time, for use at the gym or on long runs, the design is great. The earhook also houses the antenna for each bud, which theoretically should improve connectivity.
The other major point working in the Epic Air's favor is the battery life. You can expect around 5-6 hours on a charge, and the included case can charge them 4-5 times over. It's a much larger case than the competition, but for something that'll live in your gym bag it's not bad at all.
The main thing that scares us off about the Epic Air is the user reviews. These have the worst user reviews of any of the true wireless earbuds we've tested. On multiple retailers the Epic Airs simply aren't as well-received as the competition, with complaints about spotty reception being the most damning.
We did experience some minor connectivity issues with the Epic Airs during testing—music broke up as soon as you put your hand over the earbud—so we think it's more than just a bad batch of early units. It's not enough for us to warn you off from buying them, especially if you want something primarily for working out, but it's something you should be aware of.
Sony WF-1000X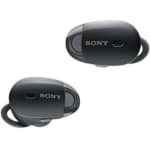 Sony WF-1000X
The WF-1000X is Sony's first crack at a pair of truly wireless earbuds, and it shows: the WF-1000X bring the sound quality and industrial design you'd expect of any Sony product, but lack the battery life and reliability of the better models we tested.
The main issue we ran into was connectivity, with the earbuds either dropping connection or failing to sync with one another. The 'buds usually resumed connection after a second or two without any extra effort, but it was far more common and annoying than with other models we tested.
The other major mark against the Sony's is battery life. The earbuds themselves rarely lasted more than a couple of hours on a charge, and frequently they would say the battery was at "medium" level right when you put them in only for them to die after 20-30 minutes.
Sony's promised "noise cancellation" is a bit of a bust here, too. Though these do block a lot of ambient noise, most of that is due to isolation—getting a tight seal and placing them deal in your ear canal—the same as with any other earbud. There is undoubtedly some noise cancellation going on, but it's not enough of a difference to consider these over our top picks.
All that aside, the sound quality and fit was generally excellent (with the right tips). As a result, we're excited to see how well future versions of Sony's true wireless earbuds do, but these are just not worth it.
Jabra Elite Sport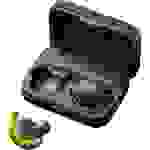 Jabra Elite Sport
Jabra's Elite Sport true wireless earbuds are among the most fitness-focused true wireless earbuds that we tested, though the design isn't all that different from the Jabra Elite 65t. As such, our takeaways are about the same: These do a great job of fitting snugly in your ear, but they put a lot of pressure on the outer ear and that can be uncomfortable after an hour or so.
That said, these are nearly as snug as the Samsung Gear IconX, but don't get jammed as uncomfortably deep in your ear canal. It's a trade-off some people may prefer, and either way they are great at staying put during workouts and long runs.
That's good, because these are designed to be an ideal workout partner. They are sweat-resistant and backed by a three-year warranty, which is almost unheard of among wireless earbuds. They also have the ability to sync up with the Jabra Sport Life app on your phone, providing heart rate data and other workout stats. We're a little dubious about the app's ability to figure out things like VO2 Max, and the app itself has poor user reviews, but in general, the app worked fine.
If you can get over the fit issues, the Jabra Elite Sport earbuds have decent sound quality, range, and battery life, with 5 hours per charge and a further 8.5 hours in the case. Overall, the Jabra Elite Sports didn't take the top spot in any one area, but they're good enough that workout warriors searching for a sweat-proof option should check them out, as long as you don't mind a tight fit an an occasionally spotty app experience.
Related articles
• The Best Headphones for the Gym
• The Best Wireless Earbuds for Running
• The Best Wireless Headphones
Advertisement - Continue Reading Below