We spent time with JBL's J22i ($59.95) this week, and though these in ears may not look like much, the sound is really worth a listen.
Mostly positive results
The J22i doesn't look like much, but the audio quality is better than expected. For under 60 bucks, the lab results are quite pleasing.
Let's start with the frequency response; it isn't suited for studio needs, but the consumer ear should be more than satisfied with the results. From deep-down bass notes, to mids, to highs, these headphones produce very desirable sound. Bass is prominent and accurate, vocals come through clearly and audibly, and high notes are pretty much perfect, as well. Impressive. Normally we find segments of the frequency range that are over- or underemphasized, but problems of this sort just aren't an issue here.
Throughout basically the entire range, volume is louder in the right ear.
Yet before we award any medals, we should discipline the trouble makers. I found mildly audible distortion around the upper midrange that pesters vocals, horns, flutes, guitars, and the like—and the trouble doesn't end there. Throughout basically the entire range, volume is louder in the right ear. It doesn't ruin the listening experience, but it definitely casts a damper over the otherwise close-to-perfect performance.
Lastly, high frequency sounds like chattering birds or squeaky wheels are effectively blocked by the J22i, but low frequency noises like rolling carts or rumbling engines will definitely interrupt your listening.
A commuter's customizable cup of tea
The J22i is built for travel. The 4.3-foot cable resists tangles, houses a remote for controlling tunes and phone calls, and even ships with a little shirt clip to minimize tug. Additionally, users can cinch the Y split to better suit their needs. Listeners will enjoy great noise blocking when it comes to high pitched annoyances, but don't expect the subway's low rumblings to be stopped in their tracks (pun intended). As for the office, these are practically perfect: Leakage is nearly nonexistent, so blast those nerdy show tunes all you want. Listen to some Biebs. No one will know.
The J22i includes three sets of silicone sleeves to suit a range of ear sizes.
Best of all, the J22i includes three sets of silicone sleeves to suit a range of ear sizes. This came as a particular relief to me because I can never get ear buds to stay put; with the miniature set of silicone covers in place, I found a snug, comfortable fit. For all that, though, I still don't relish an ear-full of plastic—especially with extended use. The J22i comes in white and black—both with cheery orange accents.
The materials... not so fabulous. The cable isn't detachable—so handle with care—and the combination of rubber and plastic parts doesn't offer much in the way of overall durability. Thankfully, JBL includes a protective leather carry pouch that fits in the palm of a hand.
Sale away with me, honey
A frequency response like what the J22i delivers is worth a second look, and the customizable features serve as the cherry on top. Have trouble getting ear buds to stay in place? JBL includes three silicone covers to suit different sized ears. Hate how your cable always tangles when you're jogging at the gym? This one effectively resists knots with its flat contours.
The only thing holding me back from shouting "J22i!" from the mountain tops is its loudness errors; for some reason, the right speaker is consistently louder than the left. It doesn't ruin the audio quality, since the problem is fairly mild, but it certainly hampers it.
In a word, I recommend waiting for a sale. With worthy competition like the Sol Republic JAX offering similar sound for 20 dollars less, there's no sense in snatching up the J22i for its full asking price of $59.95.
In ears often crumble when put up against software, a robot, and a full day in the lab, but the JBL J22i put up a fair fight. We ran tests, we collected numbers, and we delivered them here for your viewing pleasure. The Science Page is the backbone behind our front page facts.
Hot on the trail of the equal loudness curve
Like most consumer headphones, the J22i follows an equal loudness curve—which charts frequencies in a manner that equalizes them in loudness for the human ear—but unlike most consumer headphones, the J22i pretty much hits the nail on the head.
Starting with sub-bass and zipping all the way into the uppermost notes, sounds are neither over- nor underemphasized to any notable degree. Such a response does not suit the studio ear, but that's no surprise—these are 60-dollar in ears.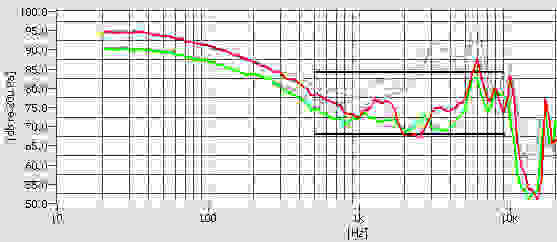 What does this mean in practical terms? Well, even though the curve on the graph looks topsy turvy, your music will actually sound balanced in practice. Humans don't perceive bass notes the same way that they perceive high notes, so what you see on the chart is actually a fair representation of notes that will sound equally loud. On the J22i, bass will rumble your brain, vocals will emerge perfectly, and high notes will sound just as they should. This is an ideal consumer frequency response.
Tracking down tracking errors
Tracking refers to the balanced of volume between left and right speakers. Often, a set of headphones favors one channel over the other, and that's exactly the case with the JBL J22i.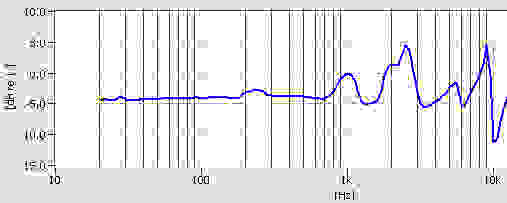 Normally I would walk you through the range to explain where the tracking errors occur, but in this case it's easy: everywhere. On the whole, music will consistently sound louder in your right ear than your left. This is true throughout the scale with just two exceptions: Between 2kHz and 3kHz, volume spikes in the left ear; the same is true at 9kHz. Therefore, high mids on instruments like strings, woodwinds, and vocals will sound out clearly in your left ear, and the same goes for the highest notes on cymbals, violins, and piccolos; otherwise music will sound consistently louder in the right channel across the board.
Happily, aside from the 10dB blip that occurs at 10kHz—making the uppermost notes nearly twice as loud in the right channel—the tracking errors never overreach the 5dB mark, so the effects are fairly mild.
Up high, down low
The J22i does a great job blocking out 1K - 10kHz frequencies like high pitched clinking, clacking, and crinkling; thus, the cackling in the cubicle across the way shouldn't bother you much at all. But revving engines on the streets below are a different story; bass sounds easily breach the barrier—don't expect much when it comes to blocking low frequency noise pollution.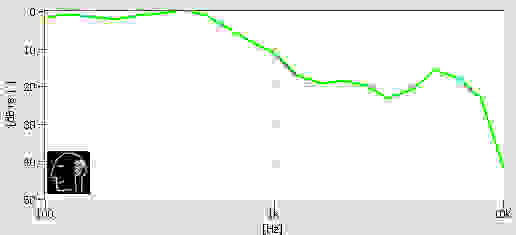 Looking further...
Meet the tester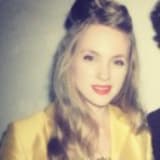 Virginia Barry
Former Managing Editor
@
Virginia is a former Managing Editor at Reviewed.com. She has a background in English and journalism. Away from the office, Virginia passes time with dusty books & house cats.
Checking our work.
We use standardized and scientific testing methods to scrutinize every product and provide you with objectively accurate results. If you've found different results in your own research, email us and we'll compare notes. If it looks substantial, we'll gladly re-test a product to try and reproduce these results. After all, peer reviews are a critical part of any scientific process.
Shoot us an email