Not very portable, but good ear pads
The speakers are protected by a thin mesh speaker element. The ear pads are made of a leather-like (if not actually leather) material that is very soft to the touch. For those of you who don't like to futz with band settings, the s have a design that should come as a welcome surprise, as it uses a cable assembly to automatically adjust to the user's head. Placing the s on our head for the first time, you'll notice that the band conforms to your head with a light touch, which is always a positive, but be careful not to move around too violently, as it can sometimes move a little bit.
Stored inside the left ear cup is the retractable microphone, which can articulate to the user's preference.
Stored inside the left ear cup is the retractable microphone, which can articulate to the user's preference. Should you stop using your mic, you an always guide it back into the headset. Each of the cables that split from the main cable after the remote ends in a 3.5mm plug, one for the microphone, the other for the headphone element. Protruding from the left ear cup is the cable, 9.8 feet long, and splitting into dual 3.5mm cables. While these cans don't seem to have many other features related to durability, the break-away cables are actually a good thing, allowing you to replace them should they snap for whatever reason. Still, there are a few weak points that can cause you grief later, so please treat your headset with care.
Because there are many versions and different colors of the Steelseries Siberia V2s, you can choose what you'd like most, including a variant of the white color with a blue glow when you plug them in. The unit we were able to review is the limited edition black and gold model, which in all honesty looks fairly slick.
Fair Sound Quality
The Steelseries Siberia V2s is fairly indicative of what a common performance looks like with gaming headsets, complete with a de-emphasis in the higher end, which is where many sounds of small arms fire live. Great thing for first-person shooter games, it may not be ideal for RPG games with a heavy focus on music, but rest easy: we've seen far more dramatic de-emphasis on this range in other headsets.
The Steelseries Siberia V2s is fairly indicative of what a common performance looks like with gaming headsets.
There was also some issue with tracking, or the difference in volume between the right and left channel. Though the problem was only egregious at the higher frequencies. What you (or rather, those around you) will notice is just how much sound these leak out, as even listening at a reasonable volume will annoy just about everyone within a 6 foot radius.
Affordable and solid, the Siberia V2s offer performance higher than their price indicates.
If you're looking for a gaming headset for your PC that boasts a good microphone, decent sound, and won't break the bank, you'd be hard-pressed to do better for the price than a set of Steelseries Siberia V2s. They're not perfect, but they get the job done without frustrating hangups and connectivity issues.
There is the slight tracking problem, but you probably won't notice it all that much, but keep in mind that this is an entry-level gaming headset; it's not going to light the world on fire, but its flaws are few. That being said, the frequency response may not deaden the sound of gunfire as much as some may like, but that also means that they're balanced enough to work for other games where that sort of de-emphasis is not ideal.
Taking into account the sound performance, comfort, durability and price, the Steelseries Siberia V2s make a strong argument for your cash if you're in the market for an entry-level gaming headset for a PC. If you're not looking for a headset to work with a console, these are a solid pickup for the price.
The is moderately priced gaming headset that performs as well as devices in higher price ranges.
The has a fairly even frequency response curve.
This may not come as much surprise to many of you, but a performance for headphones that is ideal for music isn't exactly the best for certain types of games. What do I mean? Well, if your game has a bunch of explosions and gunfire, you wouldn't want it to come in at the same exact volume or louder than the other frequencies, right?
Tones at the 2-8kHz range were downplayed by the . This means that said small arms fire will be more tempered, but footsteps will also be muffled, giving you a tactical disadvantange in an FPS game. However, you'll still be rocked by loud explosions.
It isn't perfect, but that's okay when the error is under 2dB in any channel.
Tracking measures the sound level differences between the right and left channel. Outside of a slightly noticeable channel shift in the higher frequencies, the Steelseries Siberia V2s don't have any immediately audible tracking errors. This headset would not be recommended for any video game with a Queen dominated soundtrack.
Isolation, Distortion
If you live in a noisy household, the may not be the best headset for you. Outside noise easily entered the world of the . On the other hand, Steelseries Siberia V2s also leak sound like a sieve, which may or may not matter to you depending on your gaming environment. It's something to be wary of, as you will annoy those around you if the room is quiet enough.
Distortion is the amount of divergence from an audio file and the sound the headphones produce. Anything under 3% will go unnoticed by the human ear. We had to crank up the volume to 109.05dB to cause the to cross that threshold. That's not phenomenal nor terrible.
Meet the tester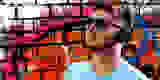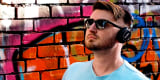 Chris Thomas
Staff Writer, Imaging
@cthomas8888
A seasoned writer and professional photographer, Chris reviews cameras, headphones, smartphones, laptops, and lenses. Educated in Political Science and Linguistics, Chris can often be found building a robot army, snowboarding, or getting ink.
See all of Chris Thomas's reviews
Checking our work.
We use standardized and scientific testing methods to scrutinize every product and provide you with objectively accurate results. If you've found different results in your own research, email us and we'll compare notes. If it looks substantial, we'll gladly re-test a product to try and reproduce these results. After all, peer reviews are a critical part of any scientific process.
Shoot us an email