Much like their predecessors, the V-Moda XS on-ears, V-Moda's newest Crossfades are built with maximum durability in mind. And now that they're wireless, they're the most versatile V-Moda cans yet.
Unfortunately, they're not without their faults—the durable design makes it tough to adjust the headband, Bluetooth connections often produce a hiss, and they don't do a very good job blocking outside noises. And then there's the issue of cost; at around $300, the V-Moda Crossfade Wireless headphones aren't exactly for everyone.
If you can bring yourself to spend the dough, there's a lot to love about the Crossfade Wireless over-ears, and given their tough, durable build, there's a very good chance these cans will last you several years. But while the overall experience might be fine, you'd probably expect more for 300 smackaroos.

If looks could kill, these headphones probably would; in keeping with V-Moda's traditional design, the wireless Crossfades have the angles of a Klingon starship, with corners in places most headphones stay round.
The aesthetic is anything but subtle, but I suppose subtlety isn't really part of the equation when it comes to military-level durability. I can't speak for how they'll hold up after a couple of years of rough handling, but they certainly look and feel as though they'll survive just about any extreme scenario you could put them through, be it hiking, parkour, or drinking Mountain Dew.
Unfortunately, you lose some of the finesse at the expense of the durability; the Crossfades' steel frame is equal parts "tough as nails" and "too tough to adjust easily." After a handful of trials I imagine most people will get the hang of it, but they certainly don't adjust as easily as I'd like.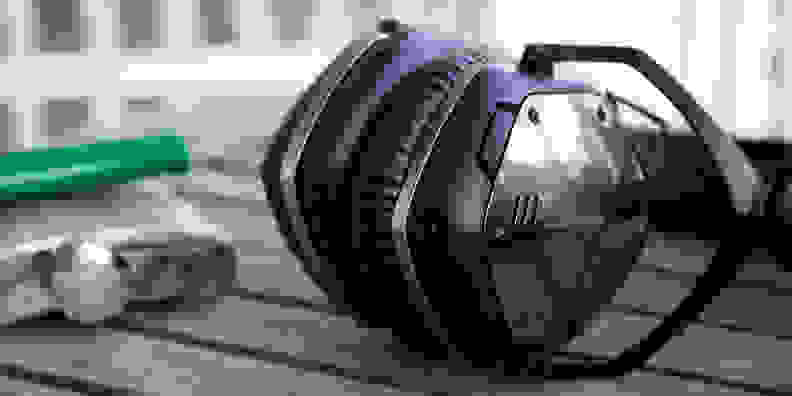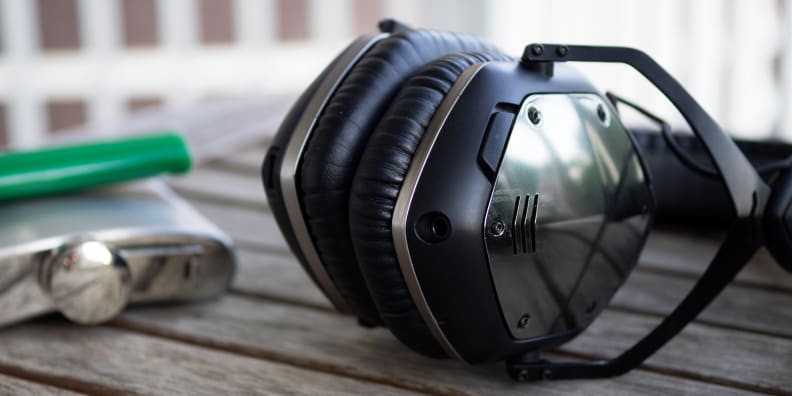 Once the headphones are adjusted and on my head, they almost vanish altogether. Thanks to the soft, faux-leather cups and headband padding, it's an altogether lightweight and non-invasive headphone experience. If I had one complaint about the fit, it's that the Crossfades tend to create a hot, sweaty ring on and around your ears after an extended period of time. I look at it as somewhat of a tradeoff, however, given how much comfort the faux-leather cups bring to the table otherwise.
Using the Crossfades with a wire doesn't require a battery.
The Crossfades arrive in V-Moda's signature "exoskeleton" case, which is as lightweight as it is durable. Inside you'll find a standard audio cable for wired listening, as well as a flattened, tangle-free USB cable for charging the Crossfades' non-removable lithium-ion battery. V-Moda promises up to 12 hours of continuous use on one charge, which is more or less in line with what I experienced in testing. Using the Crossfades with a wire doesn't require a battery, thankfully, which means you won't be left without music should your battery die while you're out-and-about.
It's worth noting, too, that while the cups swivel up and down, they don't fold, making the exoskeleton case that much more important when the time comes to pack them up and take them on the road.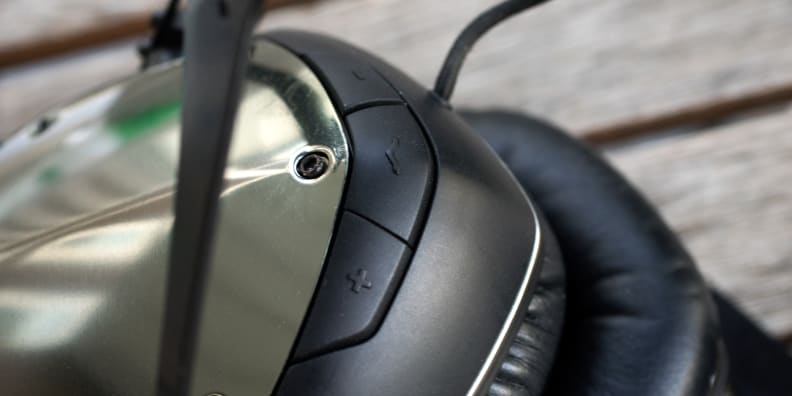 On the top of the right ear cup are three playback buttons—a play/pause control flanked by two volume buttons. I appreciate having them within reach, but their size, shape, and placement make them hard to distinguish from one another.
For the most part, the V-Moda Crossfade Wireless headphones deliver the quality you'd expect given their price tag. We found very little distortion and equal emphasis across the low-end, mid-range, and high-end frequency ranges, which means listeners can expect faithful, studio-level performance. The bass gets a bit punchy, but no where near as severely as most commercial over- and on-ear headphones. If you're looking for a heavy, bassy experience, you might want to keep on looking.
Being over-ear, wireless headphones, you'd hope that the Crossfades would hold their own during a noisy commute, but unfortunately, that just isn't the case; isolation appears to be the Crossfade Wireless' Achilles' heel. The low rumble of a moving subway car still manages to find its way into your ears despite the relatively tight seal of the cups. Worse are higher-pitched noises, which are far more likely to reach your ears than lower frequencies.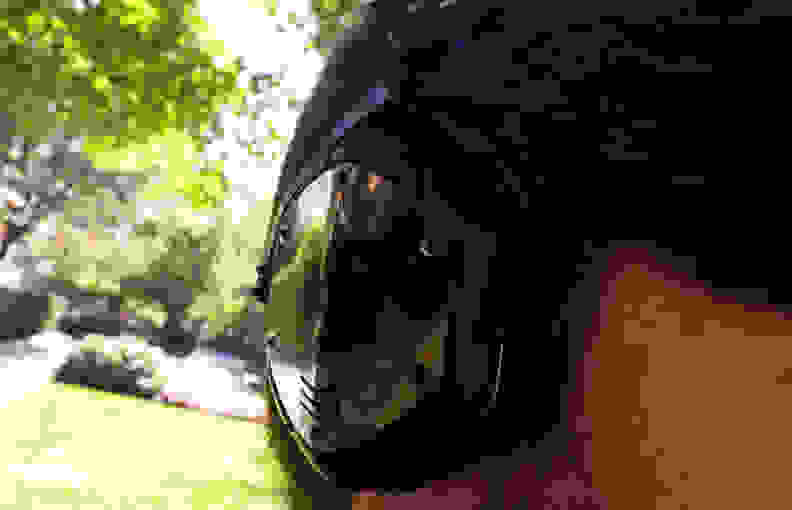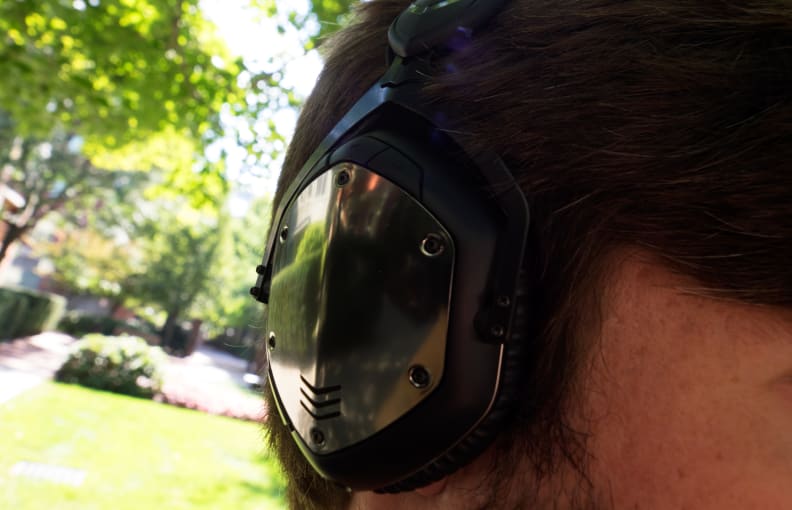 This makes the Crossfades less-than-ideal for quiet, reflective music or podcasts, at least when you square them directly against a tough competitor like the Bose QC35 wireless over-ears, which do a better job blocking outside noise even when their noise cancellation software is disabled.
They also suffer from occasional Bluetooth trouble, which typically manifests as a very quiet (but noticeable) hiss, particularly in between tracks or when music is paused. The hiss doesn't stick around for long, which makes it seem as if the wireless software anticipates its presence and clicks itself off when there's no sound output.
Overall, the wireless Crossfades deliver the solid performance that initially drew people to the V-Moda XS on-ears and the V-Moda Crossfade M-100 over-ears. As wireless, on-the-go companions, however, they leave quite a bit to be desired.
The wireless Crossfades are a tough pair of headphones with a lot to offer in the areas that matter most—sound, comfort, and durability. That said, if dropping three C-notes on a pair of headphones still intimidates you, I'd steer clear of the V-Moda Crossfades; they're good, but not enough to make you forget how much you spent on them.
They're good, but not enough to make you forget how much you spent on them.
In just about every category other than durability, the Bose QC35 wireless over-ears eclipse the Crossfades. The cups feel better, the battery lasts longer, and the noise cancelling software is unparalleled. They're $50 more than the Crossfades, but honestly, I'd rather pay $50 for the all-around better experience than be stuck wondering why I spent $300 on headphones that feel like they oughta be at least $50 cheaper than they are.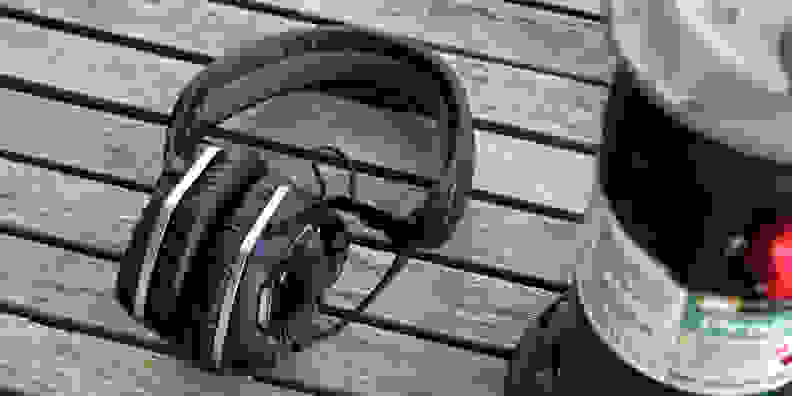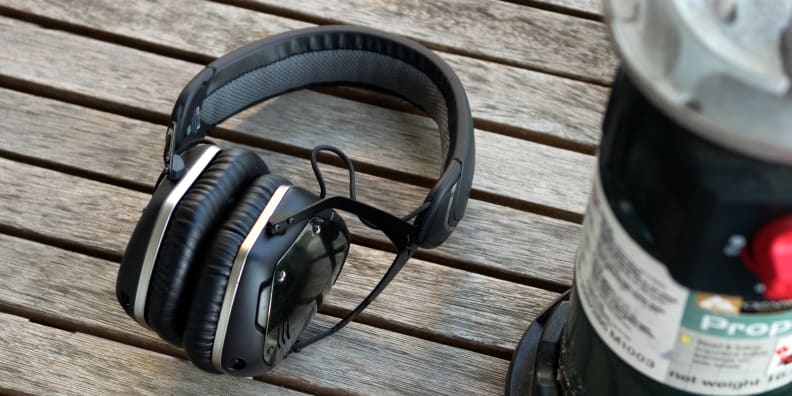 But maybe you value durability more than most, in which case, the Crossfades are probably the best option right now. If nothing else, they'll likely last you several years, depending on how fast you burn through the battery.
If you really love the rugged look and feel of the V-Moda Crossfades and wireless functionality is more of an add-on to you than an essential feature, the V-Moda XS on-ears have fallen below $200 on Amazon and feature the same studio-level sound quality.

Meet the tester
Michael Desjardin
Senior Staff Writer
@Reviewed
Michael Desjardin graduated from Emerson College after having studied media production and screenwriting. He specializes in tech for Reviewed, but also loves film criticism, weird ambient music, cooking, and food in general.
Checking our work.
We use standardized and scientific testing methods to scrutinize every product and provide you with objectively accurate results. If you've found different results in your own research, email us and we'll compare notes. If it looks substantial, we'll gladly re-test a product to try and reproduce these results. After all, peer reviews are a critical part of any scientific process.
Shoot us an email