Headphones
Bose's first gaming headset is available for pre-order
Bose's QC 35 II Gaming Headset is a hybrid take on the genre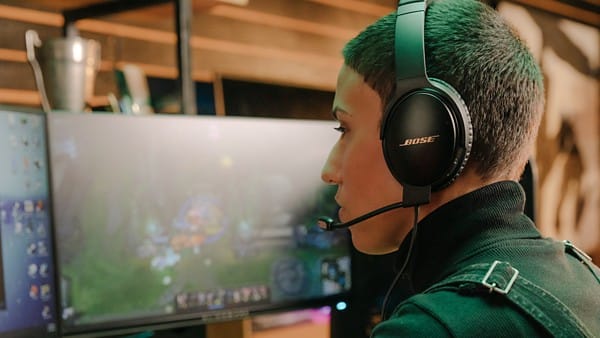 Credit:
Bose has been expanding its reach into new audio realms in recent years, including an impressive lineup of soundbars, true wireless headphones, and (like almost every audio brand) smart speakers. On Wednesday the company revealed its latest venture will tackle an entirely new market: Gaming headsets.
Announced in a sparse tweet Wednesday, Bose's QuietComfort 35 II Gaming Headset is now (and quite suddenly) available for pre-order for $329.95.
Judging by both the name and design, the QuietComfort 35 II Gaming Headset appears to be an adaptation of the company's beloved QuietComfort 35 II noise cancelling headphones. In fact, it essentially looks like the QC 35 II with a microphone tacked on.
Bose is calling the new headset a "2-in-1 gaming and lifestyle headset." It offers up to 20 hours of wireless listening while you're on the move, and up to 40 hours of noise cancellation while you game your life away. While it's wireless for music playback, the headset must be plugged in while gaming.
Bose is essentially selling its new headset on its noise cancellation first and foremost, and its website already has quotes from some lucky gamers out there who got to try the new headset before it hit the light of day.
Other features touted on the QC 35 II Gaming Headset's homepage include Bose's Optimized Active EQ, designed to boost low frequencies so you get clear, powerful, and balanced sound even at low volume levels. As a hybrid headset, Bose's new cans also offer features you won't get from other gaming-first models, such as Amazon Alexa built-in, adjustable noise cancellation (low and high), and more features available through the Bose Connect app.
The headset comes with a micro-USB charging cable (the original QC 35 II never moved to USB-C), a removable boom mic, a 2.5mm to 3.5mm headphone jack, and a PC desktop controller for gaming control.
While this is far from the first gaming headset to let you take it on the road, the idea of a pair of headphones that's versatile enough to be both your gaming companion and a go-to work and travel headset (for someday when we travel again) is definitely an intriguing one that should offer broad appeal.
Pre-order the new Bose QuietComfort 35 II Gaming Headset now.