Health & Fitness
10 mistakes to avoid as a beginning golfer
Knowing what you can skip could save you time and money.
Credit: Getty Images / ArtMassa
Golf can be an expensive sport, especially when you're starting out and don't know yet what you need. Peer pressure can show up on the course, and it doesn't just happen in middle school. When a beginner golfer walks to the first tee, seeing other adults with the shiniest new toys has been known to result in mid-round Amazon purchases. Don't fall into that (sand) trap—and try to avoid these other rookie mistakes, too.
1. Don't bother with expensive golf balls and clothes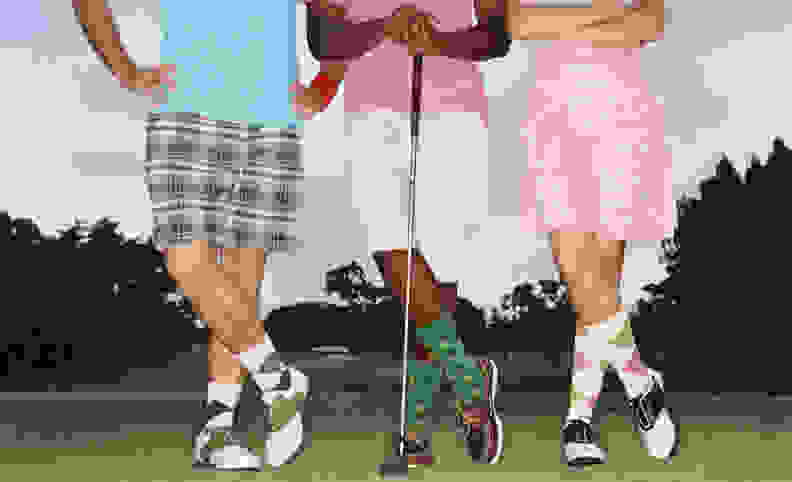 A beginner golfer won't tell the difference between Titleist Pro-V1s and any decent knock-off golf balls any more than the typical drinker can notice a difference between a $25 and $1,000 bottle of wine. In other words, you can get golf balls with decent technology and name recognition (like TaylorMade and Srixon) without paying Screaming Eagle (a.k.a. Titleist) prices.
The same goes for golf clothes. Peter Millar clothing is top-shelf, but a golf polo at Walmart will cost you under $20.
2. Don't try to play someone else's game
You are not Tiger Woods, so don't act like you can hit 150 yards with a 9-iron. Instead, use a rangefinder to figure out exactly how far you do hit and plan your game accordingly.
Relatedly, don't judge your golf ability solely on how far you can hit the ball. Just ask Jim Furyk. He is one of the shorter hitters on the PGA Tour, but only two players have made more money than him in their careers: Woods and Phil Mickelson. Solid company for a guy who earned more than $70 million by playing to his strengths.
Get the Callaway 300 Pro Golf Laser Rangefinder at Amazon for $249.99
3. Avoid paying for your official handicap
Some public courses will charge you up to $50 a year to register so you can put your scores into a database that spits out an official handicap. Handicaps are a wonderful way to keep golf competitive among different generations of golfers as well as skill levels. Until you can break 100 on a consistent basis, though, it's not necessary.
Rarely will the beginner golfer need to provide proof of their handicap index, but picking up a clicker will allow you to keep track of your score for your own posterity.
Get the EEEKit 4/2Pcs Hand Tally Counter from Walmart for $17.97
4. Skip taking lessons from friends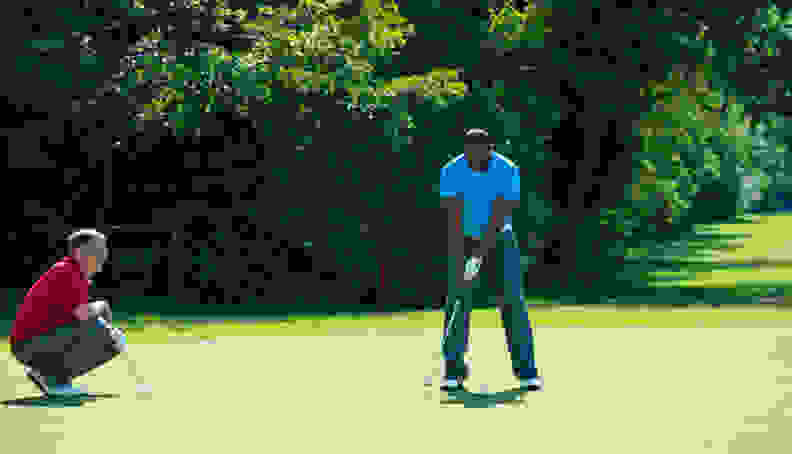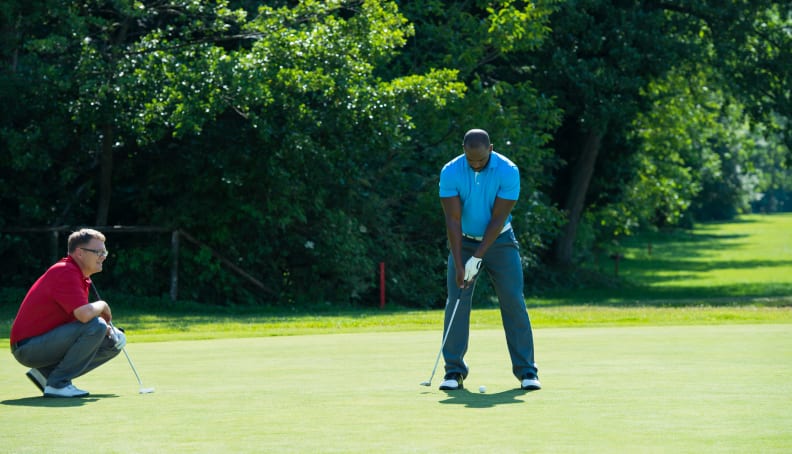 You know that line about not going into business with close friends? The same can be said about letting them give you golf lessons. They might have been playing since they were a kid but that doesn't make them qualified to teach you anything more than how to put a golf ball on a tee—and even that might be a stretch.
Better idea? Record your swing on your phone in slow-mo with this handy attachment that works with riding or pull carts. Then compare it to instructional videos on YouTube to see how you can better mimic the pros.
Get the Golf Gadgets Swing Recording System at Amazon for $21.99
5. Don't read golf magazines, at this point
Don't get me wrong: These publications have plenty of amazing tips and tricks that will help improve your game. But if you are just starting to get into golf, wait a bit before you sign up for a year's subscription, and you have built up enough skills and confidence to be able to execute the tips therein.
Once you do, they are worth the price of admission. (For future reference, you can't go wrong with Golf Digest.)
6. Pass on the paid golf apps
There are apps to track your distances, apps to find courses, and even apps to analyze your golf swing. One thing you should not do is pay for any of them—yet. Whether it's a one-time fee or monthly subscription, a beginner golfer should not venture down the road to pay for golf apps.
If you are a stats geek, you might be tempted to track your numbers with an app, but you're better off using a pencil and mark them down on your scorecard. You can tabulate them when you get home. Creating a spreadsheet with the number of putts you had, the fairways you found, or greens in regulation you hit works just as well, and won't cost you a dime.
7. Avoid "the tips"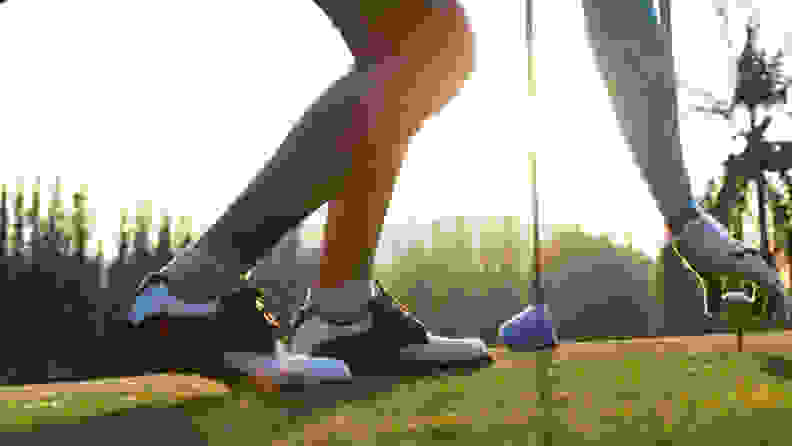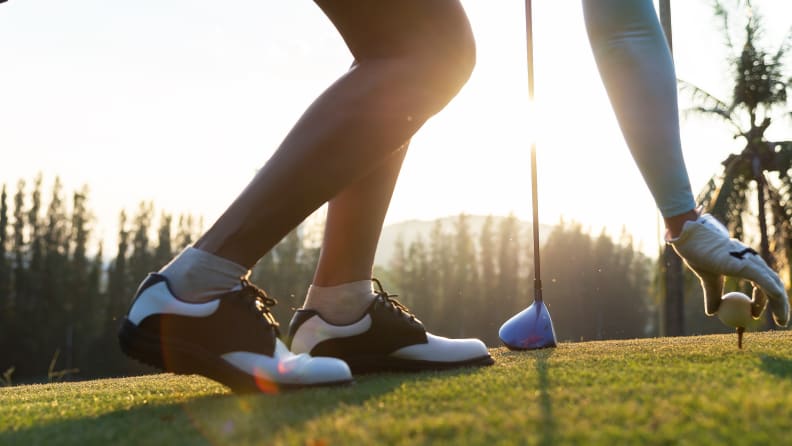 In golf parlance, "the tips" refers to the set of tees as far away from the green as possible. Your may think your ego will take a hit playing from the more forward teeing ground, but it'll hurt less the closer your ball gets towards the hole. As your game improves, start to edge your way back, but starting close is the smarter choice as a beginner.
8. Don't skip a warm-up
You're going to be swinging a golf club upwards of 75 to 80 miles per hour, so you might want to loosen those back and leg muscles up before you play. There are plenty of YouTube videos available, but Golf Channel has plenty to get you loosened up. (Just a suggestion, but you might not want to do these on the first tee in front of your friends.)
9. Don't pay to custom-fit your clubs
This falls into the "do it eventually" category. Once you decide to shell out a thousand bucks—or more—for a set of clubs, make sure they are tailored exactly to your swing. Until that point, don't worry about terms that the club fitter will wow you with during your appointment, like MOI (moment of inertia) or lie angle. Just play whatever equipment that helps you advance the ball down the fairway. MOI won't make a difference at this stage of your game.
10. Say no to a buddy trip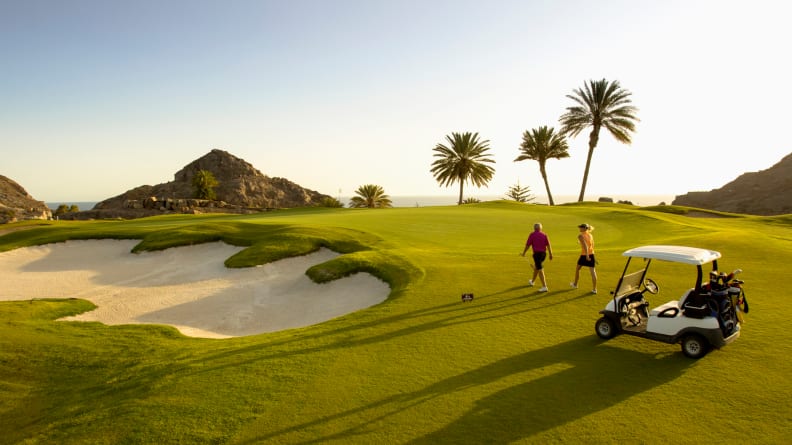 These travel excursions can create memories of a lifetime, once you are at a level of play that is worthy of leaving your state or country to play golf. Otherwise, don't get sucked into one of these boondoggles. They often consist of 36 holes a day with dinner and drinks, followed by a repeat performance the next morning. What's not to love, right? That is, until you realize you are a few hundred bucks in the hole to your playing partner because you didn't want to say no to a $25 Nassau bet.
The product experts at Reviewed have all your shopping needs covered. Follow Reviewed on Facebook, Twitter, and Instagram for the latest deals, product reviews, and more.
Prices were accurate at the time this article was published but may change over time.