Health & Fitness
Everything you need to start playing tennis
All the gear you need to play tennis—and what you don't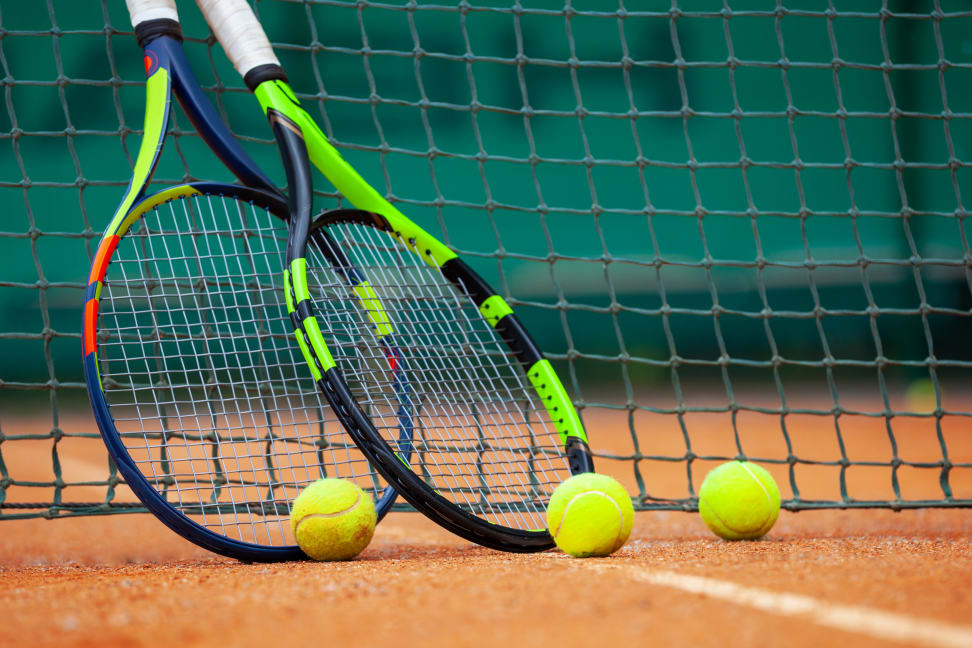 Credit: Getty Images / luckyraccoon
You don't have to be the next global superstar to join the nearly 18 million people estimated to be playing tennis in the U.S.
In fact, with cooler weather on the way and outdoor activities and social distancing increasingly encouraged, now might be the perfect time to visit your local tennis center, particularly given the physical and mental health benefits associated with playing the sport.
As with many activities, tennis offers plenty of bells and whistles for prospective players to invest in. That said, it doesn't ultimately require a huge investment to play. Here's a quick look at what you'll need to get out there and start a rally today, and a few things you can leave until later.
The right racket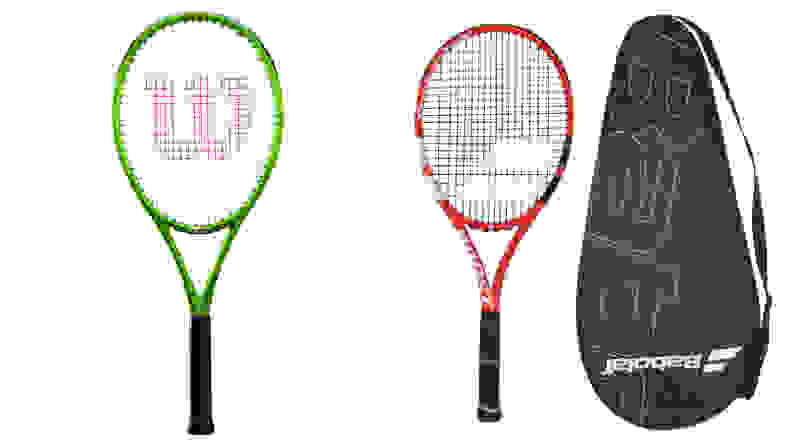 The most essential tool for any amateur tennis player is the racket, and while prices do vary, purchasing one doesn't require a massive investment. Still, it's important to make sure you're buying a tennis racket that's made for your swing and skill level if you want to give yourself the best chance to improve.
A basic rule of thumb when buying a tennis racket is that the larger the head is, the easier it is to make solid contact and the more forgiving the racket will be. There are benefits to using a racket with a smaller head—skilled players may find that a smaller racket lends itself to more precision, for example—but for a true beginner, a racket with an "oversized" head is a good place to start.
When it comes to weight, a typical racket will range from 9 to 11 ounces, and a lighter racket is recommended for new players, who may find a heavier racket cumbersome over the course of a match or lesson. Other related factors include length and grip size. Most adult rackets range from 26 to 29 inches long, but while a longer racket may give you a more powerful serve or an extra bit of reach, it can come at a cost of a heavier frame. As for grip size, all you need is a ruler to determine what's best for you.
A set of decent tennis balls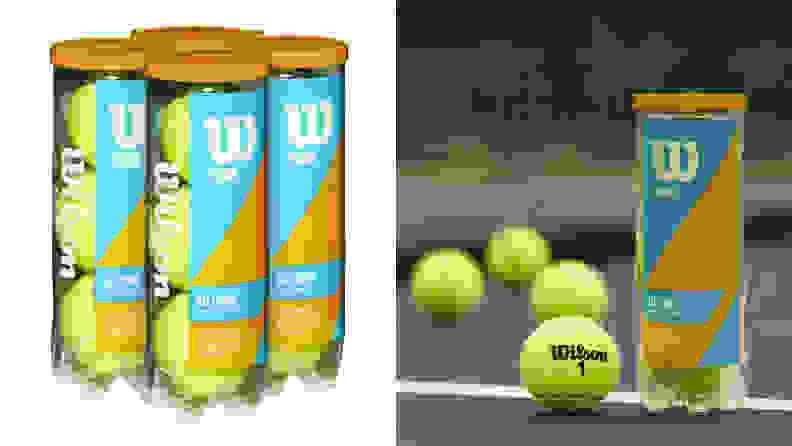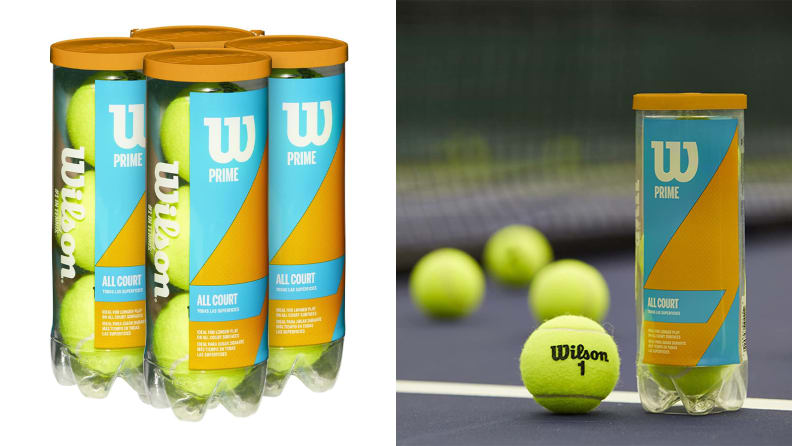 You won't get far playing tennis without the game's namesake ball, and at first glance it's easy to be overwhelmed by the options.
Tennis balls are typically sold in recreational, championship and professional varieties. For a true beginner, a recreational or championship-level ball is adequate. If you're playing in a tournament or a league that requires a certain level of ball, they'll notify you upon sign-up. Similarly, tennis balls are segmented by "type" depending on the surface you're playing on, including matches played at high altitude. However, for most matches played on a standard hard-court surface, a "Type 2" ball will do the trick.
For drills and other practice activities that may require more than just a handful of tennis balls, practice balls are also available in bulk at a reasonable price.
A well-fitting pair of tennis shoes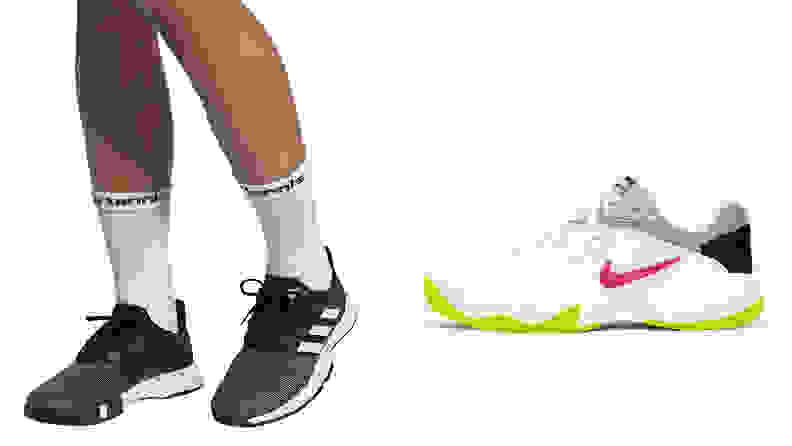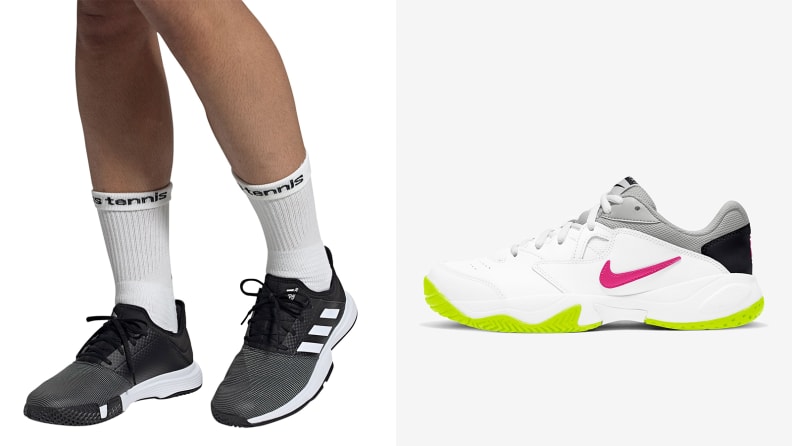 The term "tennis shoes" is often used as a catch-all for anything that resembles a sneaker, but there's some actual science behind shoes made specifically for playing tennis.
Whereas running shoes and other athletic styles are built with impact and repetition and forward motion in mind, proper tennis shoes are durable, flat-soled and designed to withstand the specific rigors of tennis: frequent starts and stops, constant pivoting and side-to-side motion, among others.
Once you're playing at a higher level, other factors including foot type and playing surface may influence the style of tennis shoe you buy, but for a beginner, if the shoe fits (and it's made for tennis), wear it.
Anything else to wear on the court
There's more to a good tennis outfit than the right set of kicks, and when it comes to what you should wear when you take to the court, common sense should ultimately prevail.
First, if there are specific club rules where you're playing, abide by them. Once a summer (2020 notwithstanding), the strict dress code at Wimbledon gets a turn in the news cycle; fortunately, your local tennis center is likely not enforcing a particularly stringent policy.
Second, when playing tennis, you're going to move and sweat—a lot—so consider the material when choosing your outfit. That means put away your cotton T-shirt and seersucker shorts and try a breathable, wicking fabric that will allow you to move freely about the court and stay as dry as possible. Many players also wear headbands or wristbands to help keep their faces and hands dry throughout matches.
Additionally, tennis players holding serve typically keep a spare ball on them in the event a second serve is needed to start a given rally. So do yourself a favor and make sure your tennis shorts have pockets. For women looking to wear a skirt, most major brands include built-in tights or shorts that can be used to store a spare ball. Our tester loves the Lululemon Play Off the Pleats skirt for its roomy pockets.
Skin protection for sunny days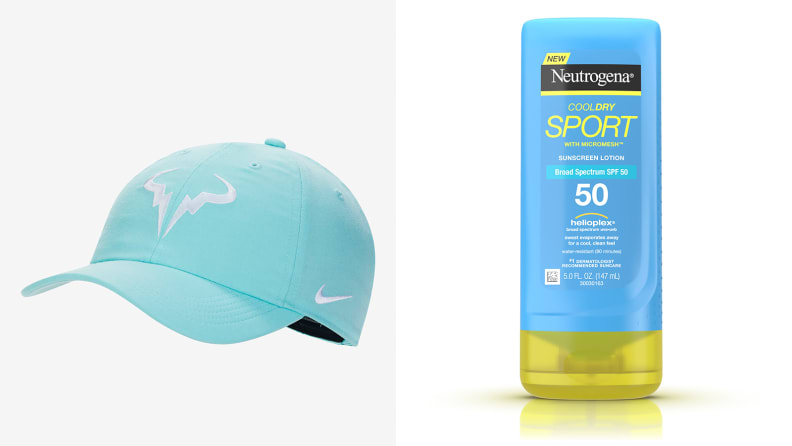 If you're playing tennis, you're probably outside, so do your skin a favor and slap on some sunscreen. For an added layer of protection, consider a hat or visor to help keep the sun out of your eyes. This can also take the place of a headband for sweat absorption.
Support to prevent aching joints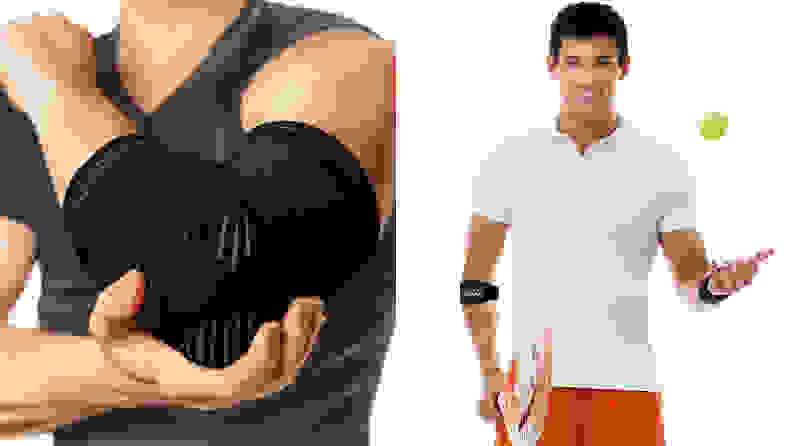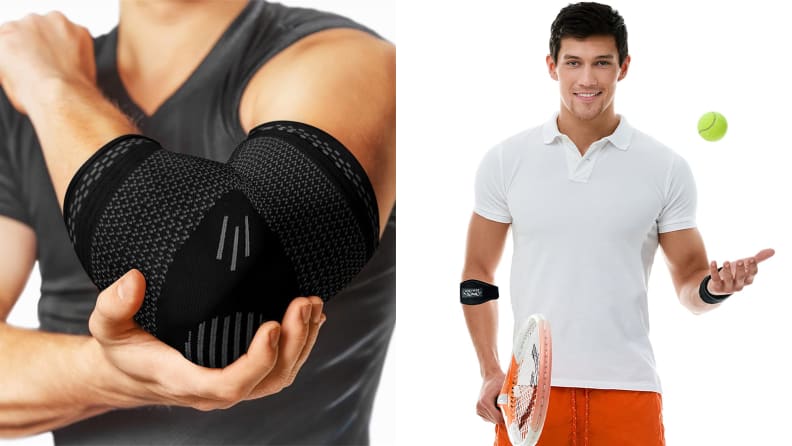 Given that tennis is inherently tough on joints, many players wear elbow, knee, wrist or ankle supports to help stay safe on the court. This is true for players looking to avoid new injury and those looking to protect against known issues. Offerings vary, but the most common include "tennis elbow" braces and patellar straps, both of which are designed to help prevent injuries commonly found in tennis players.
A quality bag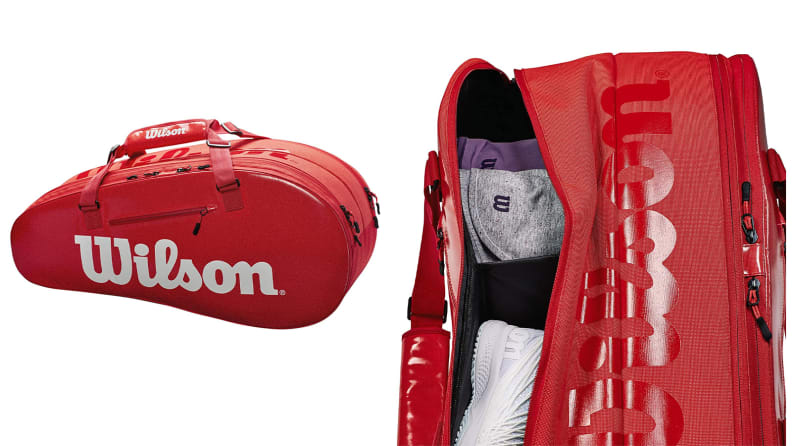 A good bag isn't required, but it'll make carrying all your stuff a lot easier—particularly as your game improves and you begin to acquire more rackets and accessories. There are large bags available with room for 15 or more rackets, but for a beginner, a three- or six-racket bag is a practical choice, as it gives you room to carry your gear while still leaving space to store your personal belongings while you play.
Strings and a stringing machine for your favorite feel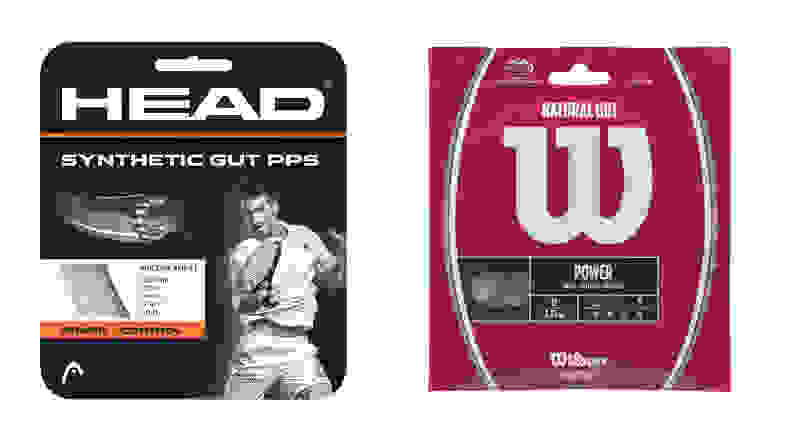 This is definitely a step up, and not a necessity for most people. Players looking for more control over individual components of their game may choose to buy separate strings and string their own racket instead. And if you're looking to make another significant purchase in the name of improving your tennis, a stringing machine will save you lots of time and effort when making adjustments to your racket.
Generally speaking, the thicker your strings are, the longer they'll last, while thinner strings produce more power and spin but may be less durable. Additionally, strings come in a variety of materials ranging from natural gut strings made from a membrane in cow intestines to Kevlar, polyester and other synthetic varieties. Each offers something different—"natural gut" strings, for example, retain their tension well and hit more consistently over a longer period of time—and finding the right strings for you ultimately may come down to trial and error.
A ball machine if you're really serious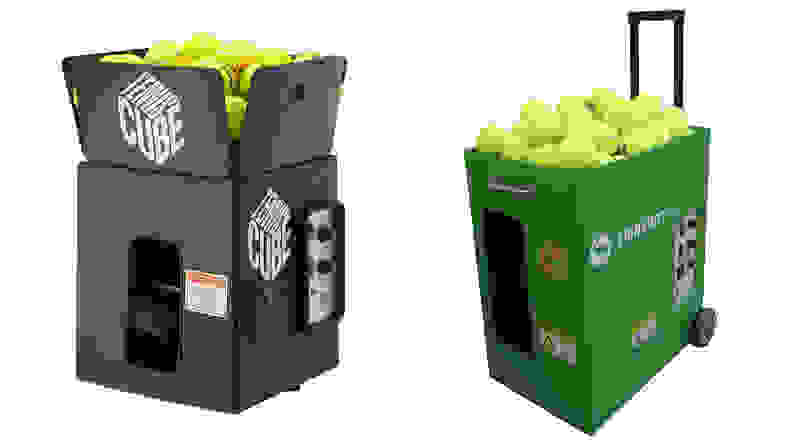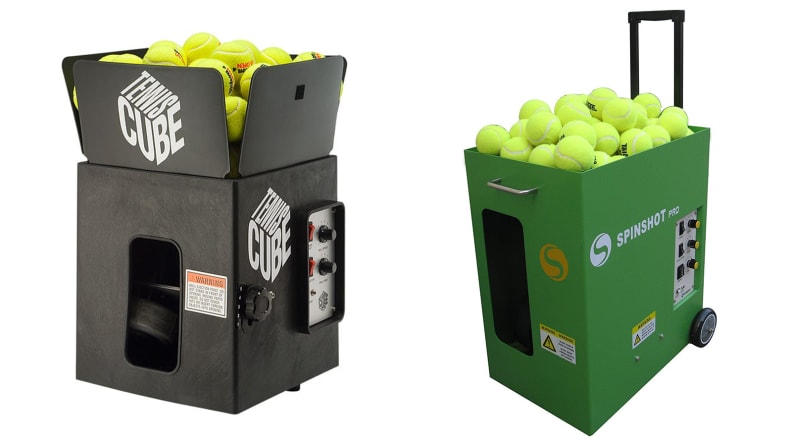 File this under "What you don't need—yet." As the saying goes, practice makes perfect, and there's no better way to ensure rapid progress than with a ball machine, which can serve you balls to return when you don't have—or want—a partner to play with. If you're taking lessons, most instructors will already utilize one, and if you want a quality ball machine for personal use, it won't come cheap, with models ranging from a few hundred dollars into the thousands. However, it's an invaluable tool for anyone who's serious about improving on their own, and, depending on how deeply you fall in love with the sport, may just be worth the investment.
The product experts at Reviewed have all your shopping needs covered. Follow Reviewed on Facebook, Twitter, and Instagram for the latest deals, product reviews, and more.
Prices were accurate at the time this article was published but may change over time.