Health & Fitness
Hands-On With Garmin's New Fitness Smartwatches
GPS be damned, Garmin has its sights set on the wearables market.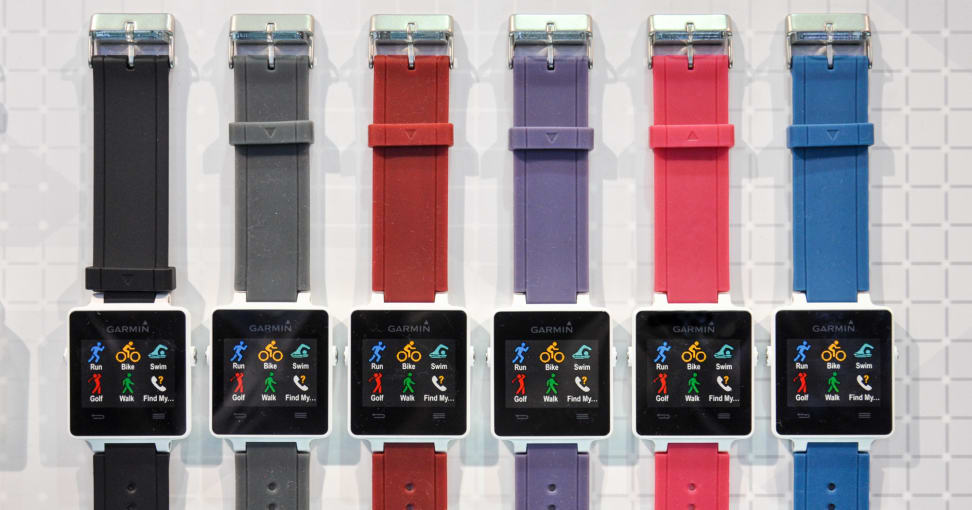 Credit: Reviewed.com / Dave Swanson
Best known for its line of sports watches and navigational tools, Garmin has lately been trying to dive into the smartwatch category. Wearable brands like Fitbit and Jawbone are mostly intended for moderate sports activity, but active types may prefer a more lightweight, modestly priced gadget.
It's a tough market to break into, especially with the arrival of the Apple Watch, but Garmin seems to have carved out a niche. While not perfect, Garmin's new line of activity-focused smartwatches are both attractive and affordable, and they steer clear of some of the pitfalls associated with other activity trackers.
Vívoactive
The sleek, thin Garmin Vívoactive is Garmin's foray into the smartwatch market. Intended for moderate sports activities, it features GPS tracking, a high-resolution color touchscreen, and built-in apps that cater to sports and exercise.
Runners and cyclists will find a pace alert that triggers an alarm if you vary from a designated pace; calorie computation, based on your heart rate; an optional heart rate monitor, which is a $50 add-on; and a speed/cadence sensor for cyclists.
The metrics for swimmers calculate your distance, laps, stroke count, and pool length. The Vívoactive also has an interval feature that allows you to pause and resume a workout.
And then there's golf. In addition to course maps available through your smartphone, the Vívoactive can calculate the exact yardage for shots from anywhere on a course (including layups and doglegs), as well as the distance from the front, middle, and back of the green.
There are also more common smartphone functions such as a step counter and a "move bar" that displays after a period of inactivity, and a sleep monitoring function—features that may appeal to users who aren't dedicated to formal workouts.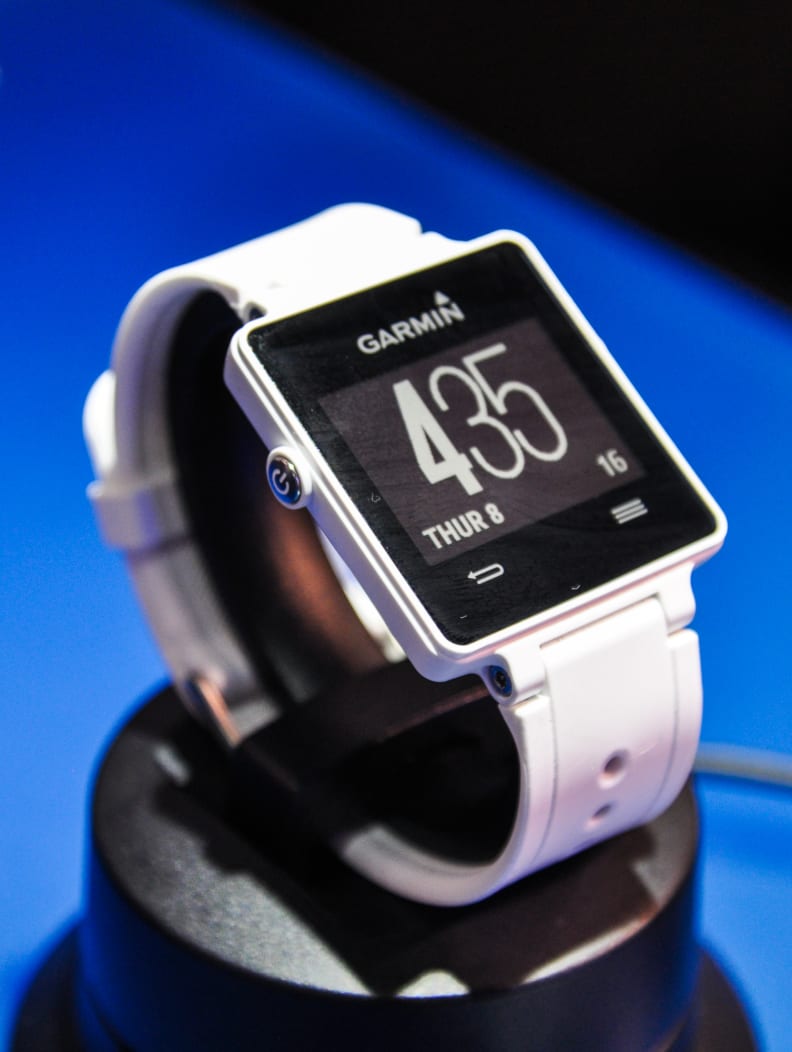 The Vívoactive pairs with your phone, so text message and email notifications are displayed along with vibration alerts. Garmin says battery life is 10 hours when the GPS is activated, but the rechargeable battery lasts up to three weeks with standard watch/activity modes running.
At just 8mm, the Vívoactive is thin, lightweight and easy to wear, but it doesn't feel cheap or chintzy. It doesn't have a wide or thick wrist band (like some other fitness trackers), so wearing it for extended periods shouldn't be a problem. The casing is available in either black or white. Bands for the Vívoactive come in six different colors in a rubberized plastic, along with black or white leather wrist bands. The bands are, of course, interchangeable, which is a nice perk for fashion mavens.
Note that Garmin has developed a proprietary smartwatch software—the Vívoactive doesn't run Android. That may be an issue for some folks, so keep it in mind if you're considering a purchase. That said, the device is customizable, with alternative watch face designs, widgets, and additional apps. We weren't able to see how well the face lights up in full sunlight, but Garmin says the Vívoactive is "sunlight-readable."
The Garmin Vívoactive is [currently available] for an MSRP of $249.99. Bundling it with the heart-rate monitor adds another $50.
Fēnix 3
A pricier alternative to the Vívoactive is Garmin's Fēnix 3, the flasy, high-tech followup to the Fēnix 2. This ruggedly handsome piece is intended for serious athletes, and will help ensure you don't get lost in the woods. Like the Vívoactive, it can connect to your phone to pick up calls, texts, and email notifications.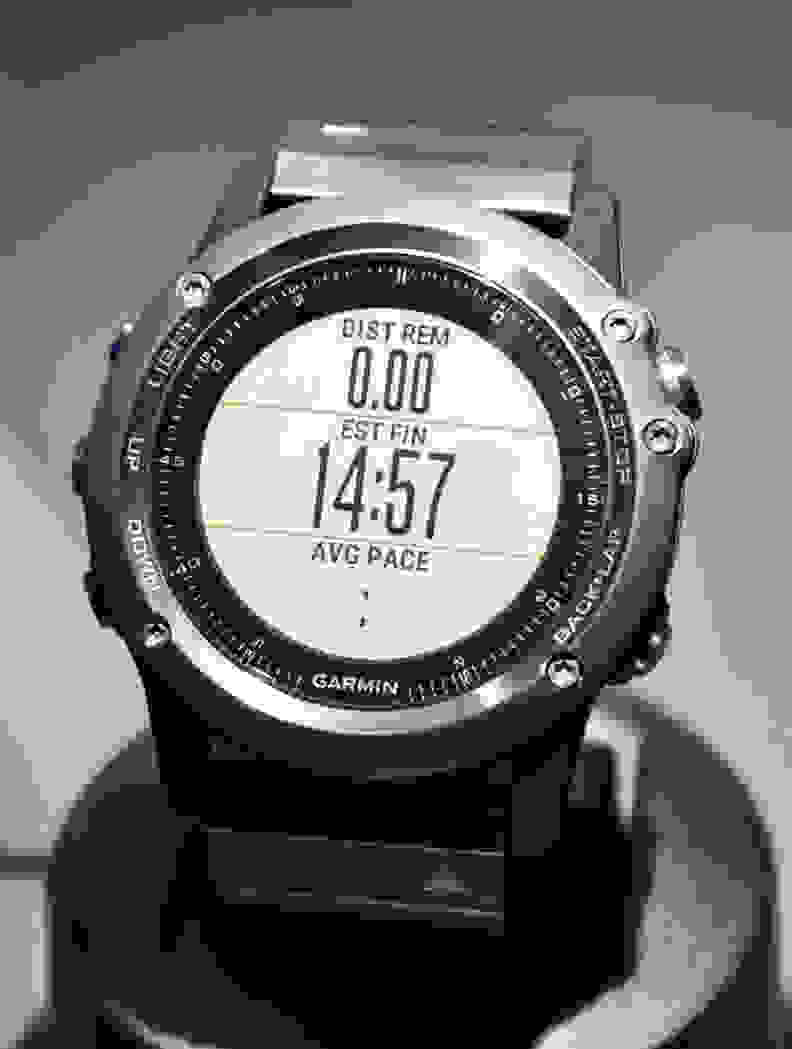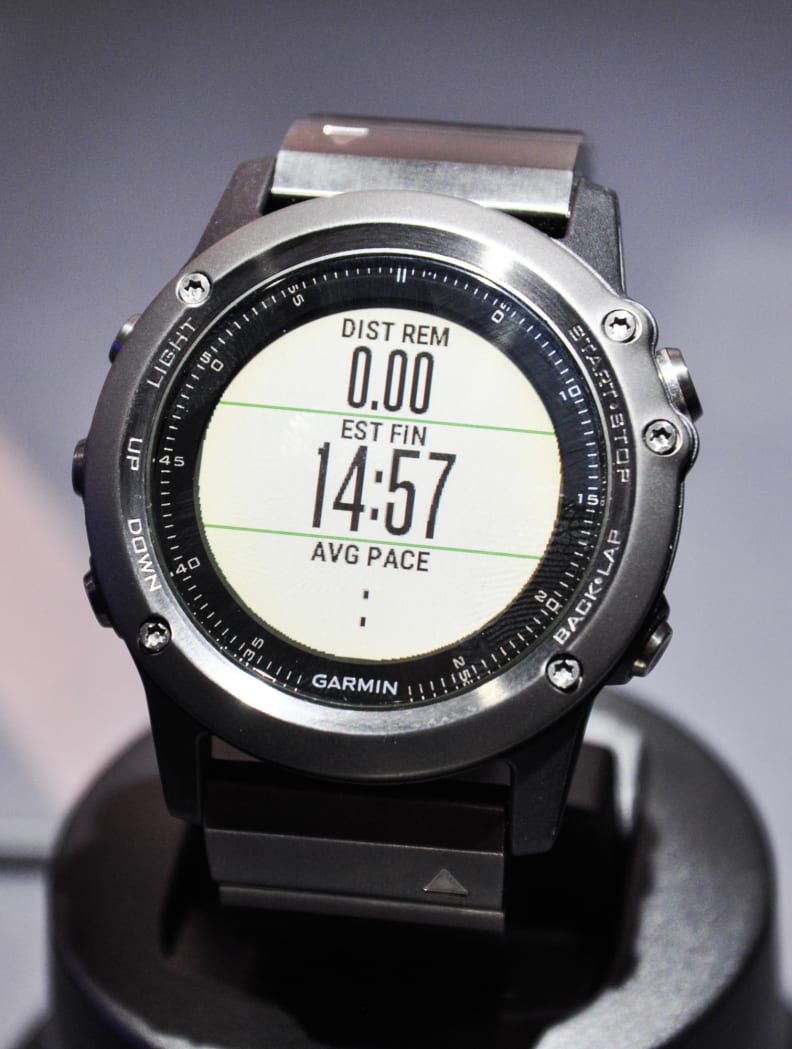 There are three settings for GPS monitoring. In regular GPS mode, the Fēnix 3's battery life is about 20 hours, while "UltraTrac mode" preserves battery life up to 50 hours by sampling only once per minute. You'll get an impressive 6 weeks of battery life when the Fēnix 3 is set only to watch mode.
This sturdy smartwatch is ideal for those engaged in mountaineering or multi-day hiking trips. Skiers and snowboarders will also be able to track their speed and distance, and swimmers can follow their distance, pace, and stroke count. With its advanced running metrics, it's a solid fit for triathletes. And yet the Fēnix 3 is also beautifully designed, with a black or stoplight red wrist band. (Other band colors are available for $25 each).
Garmin's Fēnix 3 is currently available for an MSRP of $499.99. There's also a sapphire version with a scratch-resistant lens and metal wrist band, which will ring you up an additional $100.
Related Video