Health & Fitness
How to shop for an elliptical
All you need to know to purchase this home-gym favorite.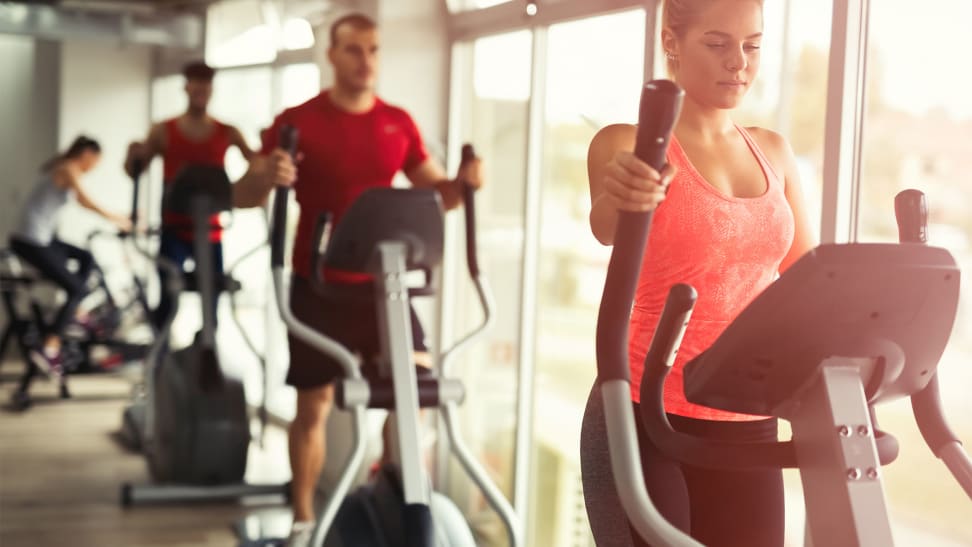 Credit: Getty Images / nd3000
Between treadmills, exercise bikes, rowers, and more, there's no shortage of ways to get an indoor cardio workout. And if you're looking to add to your home gym, you may be considering an elliptical machine. They're great for low-impact workouts, which means you can use them every day with little risk of injury. And in a home gym where you may only have space for one large cardio machine, it's smart to get something you can use often.
If you're interested in buying an elliptical but don't know where to start, fear not. We've broken down what you should know about ellipticals before you buy.
What does the elliptical do?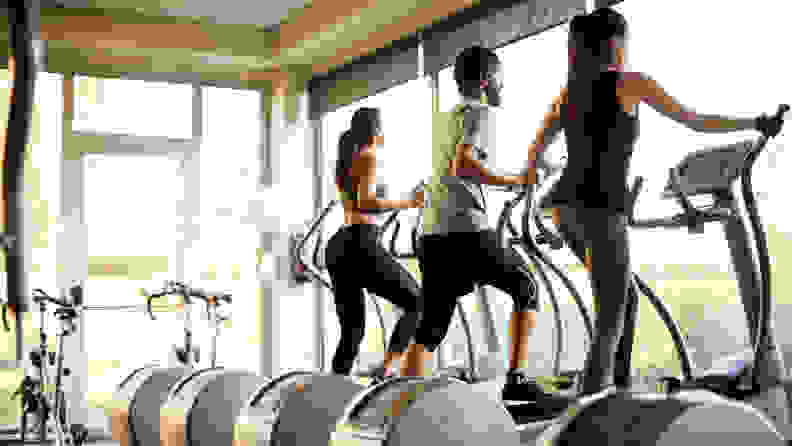 These cardio machines are great for low-impact workouts. They're designed to mimic the gait cycle, which is how your body moves while walking, and allow you to move with minimal pressure on your joints. When on the elliptical, you stand on pedals that move in an oval shape and hold most of your weight, allowing you to let your legs fly in mid-air with minimal impact.
You use different muscles on the elliptical than you would walking or running, but without the impact from bearing your own weight, you don't get the same bone-strengthening benefits of those exercises. Still, the elliptical can offer a complement to a walking or running routine. When you increase the resistance on an elliptical, you may find yourself using your upper legs and hips more, according to Pete McCall, a fitness educator for American Council on Exercise (ACE) and National Academy of Sports Medicine (NASM). This offers a good balance to the strengthening effects that walking or running has on your calves, hamstrings, and glutes.
What are the different types of ellipticals?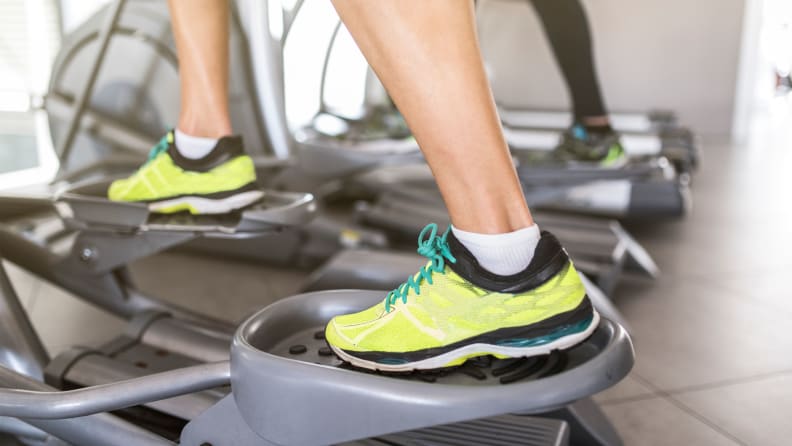 These machines may look similar to the untrained eye, but there are three main types of ellipticals—rear drive, front drive, and center drive.
Rear drive: This is the original elliptical design, with the flywheel (the motor) at the back of the machine. This creates a smoother and more stable movement, and allows for a longer range of motion, which can feel more natural. Rear-drive ellipticals are often quieter and smoother than the others, but will cost more.
Front drive: These types of ellipticals keep the flywheel in the front, and may create a more vertical range of motion compared to the long, horizontal movement of rear-drive ellipticals. The stride of some front-drive ellipticals is purposely shortened to give more of the benefits of a stair stepper. They also tend to be lower to the ground, which can be advantageous for those who can't comfortably climb up on higher pedals. Front-drive machines are very popular in home gyms as they're lighter, more compact, and often less costly.
Center drive: This style of machine places two flywheels on either side of the pedals to create an even more compact machine. It often also creates a more vertical movement like a front-drive machine, somewhat similar to a stair stepper, and may feel most like walking or jogging. Center-drive ellipticals are often the most expensive, and are popular for home gyms because they take up the least amount of space.
Do under-desk ellipticals work?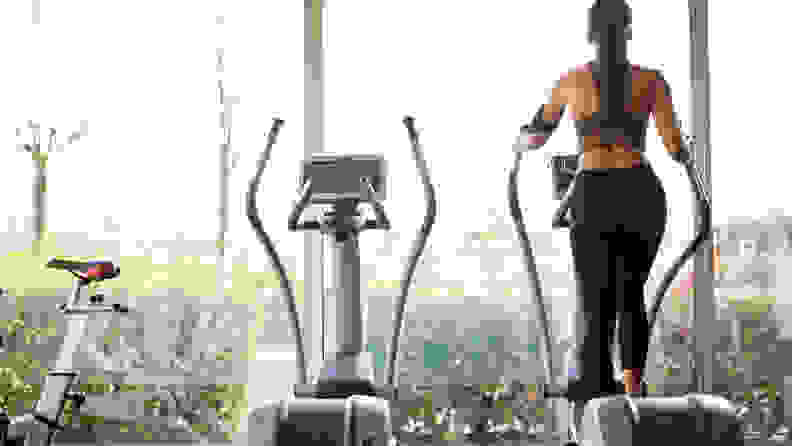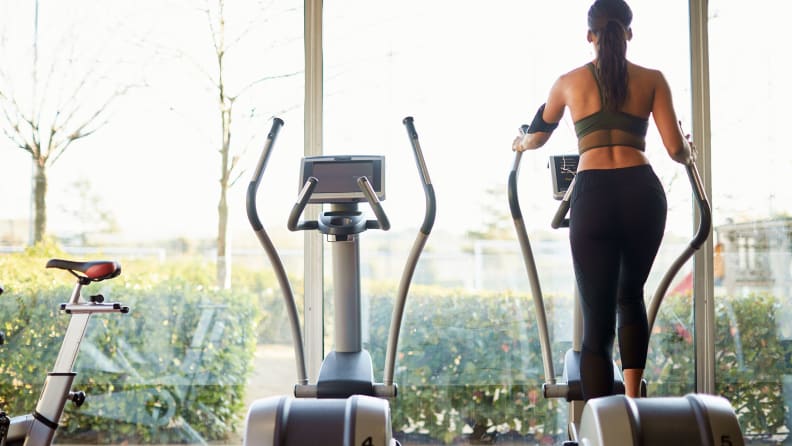 You may have seen some miniature elliptical pedals move into the workplace with the rise of standing desks, as people look for ways to move more throughout their day. We tried an under-desk elliptical, and while these may seem like a no-brainer way to get in your steps (er, pedals?), we found they don't get your heart rate up the way any other cardio workout would, and ultimately won't significantly increase your aerobic or muscular fitness levels.
How big are ellipticals?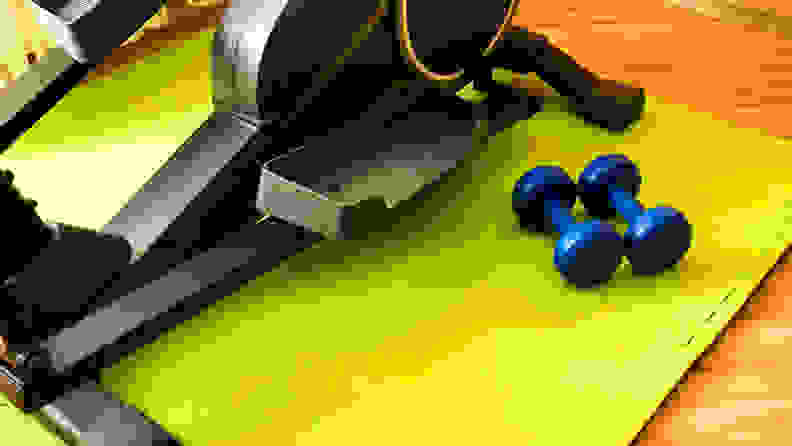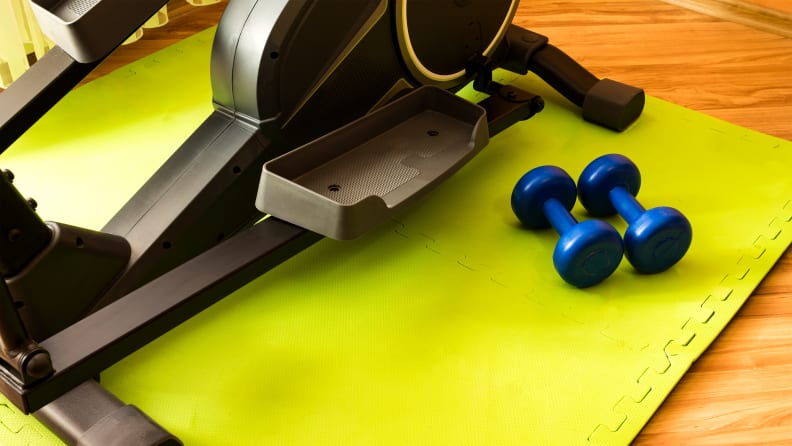 When purchasing any large gym equipment, one of the most important factors is its size. On average, ellipticals are roughly 6 feet long and 2.5 feet wide, but their length can range from 4 to 7 feet. The machine may be even longer end to end when fully extended, and could be wider, particularly if you purchase a center-drive elliptical.
The floor space needed will vary based on the type of elliptical, so look at the specs of the machines you're considering and measure your space accordingly. Give yourself ample room to ascend and descend and avoid any accidents.
Ellipticals are also taller than treadmills or exercise bikes, so if you're over 6 feet tall, you'll want to take into account the pedal height and your ceiling height to avoid bumping your head. Precor, a popular fitness equipment brand, recommends adding 20 inches to your height to gauge how tall the ceiling should be.
What elliptical features do you want?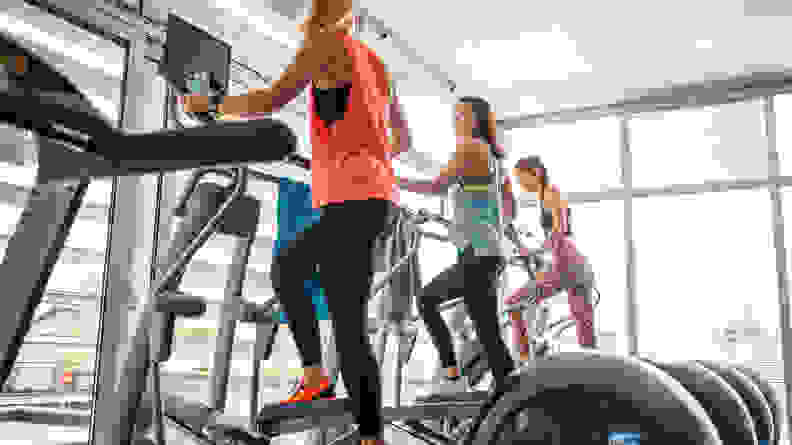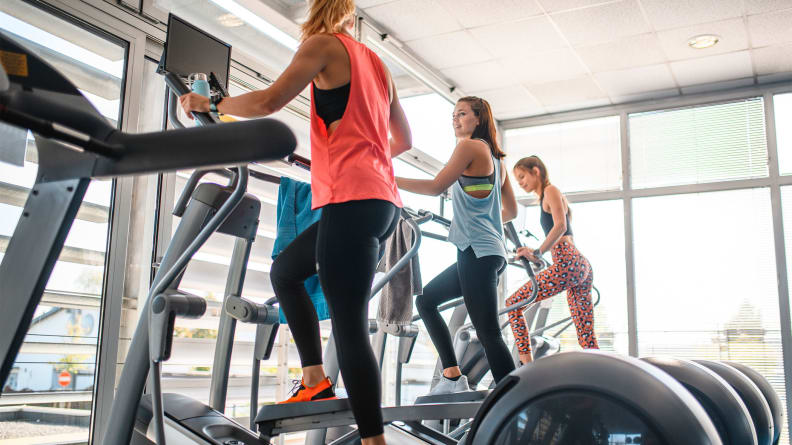 You'll also want to think about what extra features you want—and which you're willing to pay for. One you should take into account is the elliptical's resistance. The more resistance levels the machine has, the more you can vary your workout.
Some "connected" ellipticals come with access to interactive workout programs to keep you occupied while you stride. If you enjoy having an instructor to keep you motivated and give you some direction, look for an elliptical with access to exercise programs, and consider whether the classes offered sound interesting to you. Some ellipticals may let you connect a heart rate monitor or smartwatch to track your progress, which could be useful if you're planning on using your elliptical during a HIIT workout or if you enjoy keeping tabs on your pulse.
The best way to compare the feels of different ellipticals is to test them yourself, McCall says. If you can, visit a retailer like Dick's Sporting Goods in person to try out a few options. When demoing ellipticals, pay attention to how noisy they are. If you have thin walls or a small living space, a quieter machine may be more enjoyable. But if your home gym is set up in the basement far away from any other shared spaces, you may be able to sacrifice a quiet workout and crank up the volume on the TV or speakers instead. You'll also want to notice how it feels to change the resistance—you should have a smooth transition from one level to the next, with no jarring or stalling.
How much is an elliptical?
You can find some pretty inexpensive options on Amazon, available for a few hundred dollars, whereas ellipticals on the higher end of the scale can cost you upwards of $5,000. However, most good-quality ellipticals will run you anywhere from $1,000 to $2,500. The more expensive options tend to have more high-tech features like connected workouts or Bluetooth connectivity for listening to music. These features are great bonuses, but not necessary to get a good workout.
The product experts at Reviewed have all your shopping needs covered. Follow Reviewed on Facebook, Twitter, Instagram, TikTok, or Flipboard for the latest deals, product reviews, and more.
Prices were accurate at the time this article was published but may change over time.