Health & Fitness
Martian Notifier Blends Analog Style With Digital Smarts
Martian puts style before specs with the Notifier, a stylistically pure and functionally minimal smartwatch.
While the technology behind smartwatches is cutting-edge, many of their designs look like something scrapped together from the discarded dreams of nine-year-old Trekkies. They're simply not something your average fashion-conscious consumer would be caught dead wearing.
This is why we're so impressed by the Martian Notifier: It combines the elegance of an analog watch with the most important functionality of a smartwatch. It may seem odd to overlook more innovative products in favor of something stylish—especially at a tech show like CES—but our choice to give the Notifier a CES Editors' Choice Award is an indication of just how important we feel design is in the emerging wearable tech category. The price tag of $129.99, which is $20 less than the Pebble and $180 less than the Samsung Galaxy Gear, is just icing on the cake.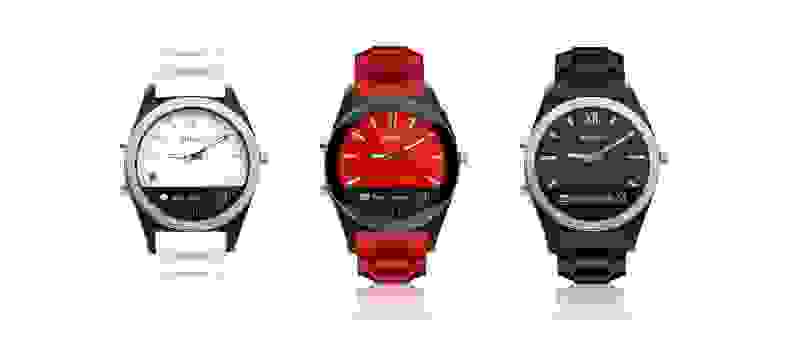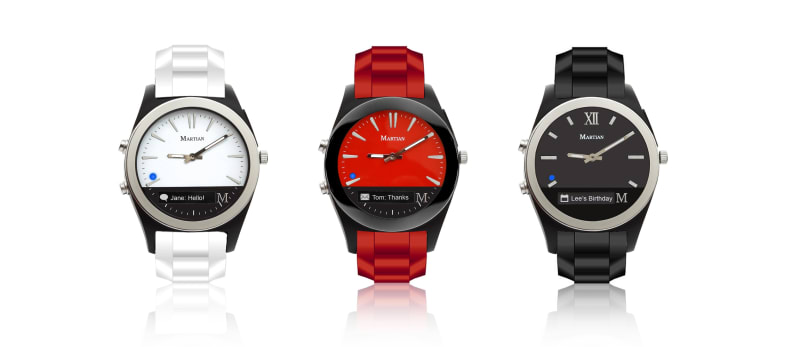 First, let's talk about the design: The Notifier features an anti-scratch acrylic crystal face that covers a tastefully simple 96x16-pixel scrolling OLED display. The watch is supported by an interchangeable silicone band, along with a stainless-steel clasp and bezel. Keep in mind, the very concept of stainless steel in a smartwatch has been essentially unheard of in the category thus far.
While some of the silicone bands look a little tacky, the fact that they are all interchangeable opens the device up to more stylistic personalization than any other smartwatch on the market.
The idea is that users don't need to remove their phones from a jacket, pocket, or bag to be notified.
Once again, it's important to point out that the Notifier is primarily a watch. The "smart" functionality is bare-bones, if effective. Phone calls, music control, apps, fitness tracking—those are right out. But what it does offer is impressive for a fashion-forward $129 watch. You get alerts, notifications, camera shutter control, an analog quartz timepiece, customized vibration patterns, touch functionality, five-day battery life, low-energy Bluetooth 4.0 pairing, and iOS/Android compatibility.
A little more on those features: The biggest attraction here is notifications. Email, phone, Facebook, Twitter, weather, calendar, Instagram—any alert your phone can send can be received (or selectively filtered out) on the Notifier.
Each type can also use a customized vibration pattern (e.g. one buzz for text, or a long buzz followed by a short buzz for Twitter). The idea is that users don't need to remove their phones from a jacket, pocket, or bag to be notified, nor do they have to worry about not sensing their phone's vibration setting, since the device is on their wrist.
The lack of voice command functionality—something that was a staple on earlier Martian watches—is a bit disappointing, though users can remotely trigger voice commands to their smartphone.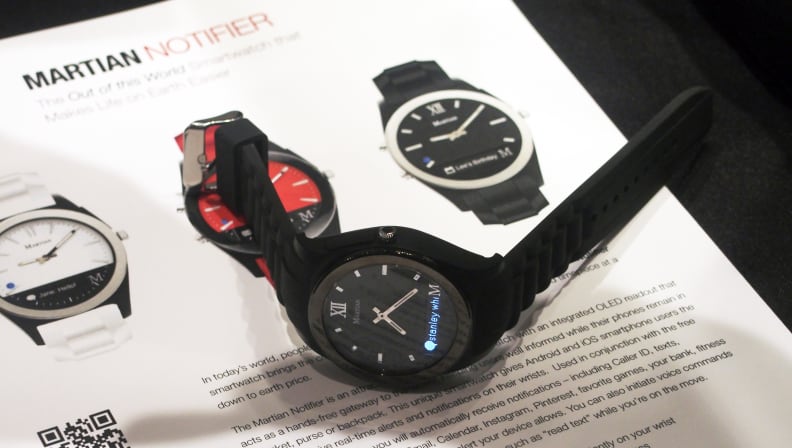 Another nifty feature of the Notifier is the camera shutter control, which allows you to snap a photo from anywhere within Bluetooth range. I'll just let you imagine how that could revolutionize the selfie.
In all, the Notifier may not be a game-changing device for the wearables market, but it highlights the direction we believe smartwatches and other similar tech should be headed. When we're talking about wearables, the endless specs arms race that has defined the mobile tech market no longer applies.
Product Specifications
Bluetooth 4.0 (classic and low energy)
Dimensions: 1.70 inches (height and width)
Thickness: 0.5 inches / 12.7mm
Weight 1.83 oz
5 days battery length (separate analog watch battery will run for up to 2 years)
Built-in lithium polymer rechargeable battery
Analog quartz watch with accurate movement
Upper Command Button, Lower Select Button
96 x 16 pixel graphic OLED display
RGB LED light
"Light Touch" Vibrating Motor
3-Axis Accelerometer
Silicone band with stainless steel clasp
Anti-scratch acrylic crystal
Micro USB port for recharging and firmware updates
2 hours charging time
Plastic case with stainless steel bezel