Health & Fitness
This collapsible kayak is perfect for on-the-go summer adventures
It's possibly the most portable kayak on the water.
Credit: Courtney Campbell / Reviewed
I love kayaking. Methodically paddling down rivers, marshes, and ponds during the summer months gives me a feeling of serenity and a moment of escapism from what's going on in the world. It's an activity that makes me feel active and gives me a chance to connect with nature.
But kayaking doesn't come without its own set of stressors: namely, getting the kayak to a body of water. Not only do you have to lug these 12-foot-long vessels in and out of your car or attach them to a rack, but you also need to drag them to the water.
Enter, the Oru Kayak. Touted as the "original origami kayak," it's a foldable kayak that supposedly makes it easier to transport a kayak to and from the water. My parents recently purchased the Beach LT model and when I got to try it out, I was nothing short of impressed.
What is the Oru Kayak?
Oru Kayaks started as a Kickstarter project in 2013 that was funded the first day. They are made of a single sheet of hard, corrugated plastic (specifically 5mm double-layered polypropylene) that makes it both lightweight, bendable, and buoyant. They come folded up in a convenient carrying case and ready to ride, and they are assembled "origami-style" by bending and clipping folds together.
The Beach LT model is specifically designed for flatwater recreation—a.k.a. some casual 'yakking' in lakes and streams—but there are four other models in varying sizes and functions that would work better in rough waters or in the ocean. The 12-foot-long kayak comes nicely folded into a rectangular cube about the size of a large suitcase, which still isn't that big compared to the space you'll need to store a regular kayak. It's small enough to fit into a closet or car trunk, making it ideal for anyone without a ton of storage space.
These kayaks are only available in one color: white with orange accents, but it looks bright and sleek in the water, so I have no complaints about the style. To use the kayak, you'll have to purchase the Oru paddle separately, which breaks down into four pieces and can be stored in the kayak in box form. Alternatively, you can just bring another paddle along, though it makes the experience less portable.
Is building the Oru Kayak easy?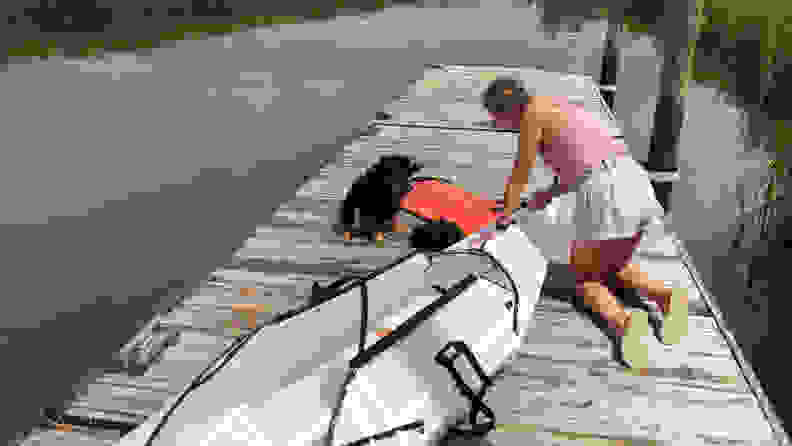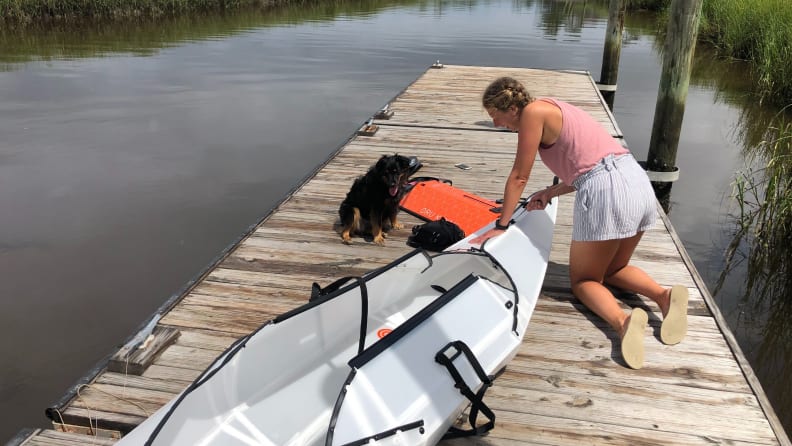 I am currently on an island where golf carts are the main means of transportation, other than bikes and a few service vehicles. To bring the roughly 25-pound Oru Kayak to the water, I carried it (with the carrying strap) to my golf cart and took the 10-minute ride to the marsh dock. The kayak fit easily in the golf cart, which is smaller than most car trunks. As for the carrying part, I'll be honest: it's not terribly heavy, but I couldn't imagine having it on my shoulder for more than five minutes before experiencing some serious discomfort.
The Oru site claims these kayaks can be assembled in a few minutes, but I assume that's after a bit of practice because it took me about seven minutes with some helping hands to get mine assembled the first time—and this is coming from someone who built several standing desks on her own.
Before attempting to assemble, I watched the 10 minute long how-to video on the Oru Kayak site, which I found extremely helpful because once the kayak is unfolded, it's somewhat tricky to figure out how to put it together without directions. The kayak does come with a set of instructions, but watching someone build something first is always a better visual.
Honestly, assembling the Oru was not as difficult as I expected, as I was fully prepared to scream out in frustration on my first try. That did not happen. Once unfurled, the bends created when the kayak was folded make it pretty obvious on where to bend the corrugated plastic and clips that are lined up to create the water-tight seal. Plus, there are straps to pull everything together, reassuring me that this contraption would float.
The entire process took less than ten minutes and was comparable to the energy it would take me to drag a heavy, plastic kayak to the water.
Does the Oru Kayak work well on the water?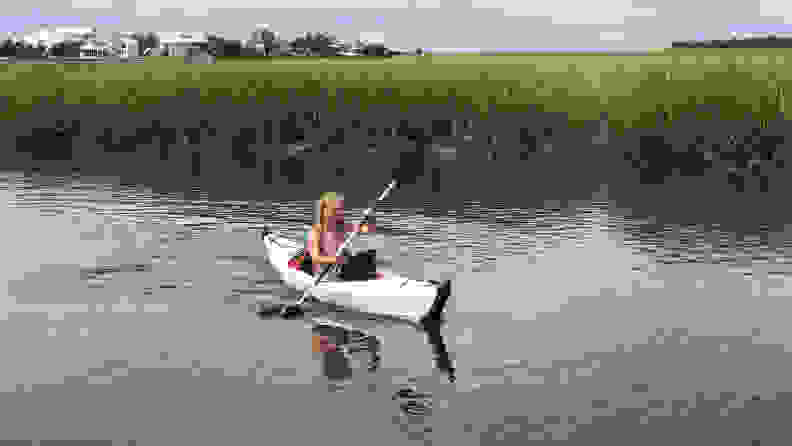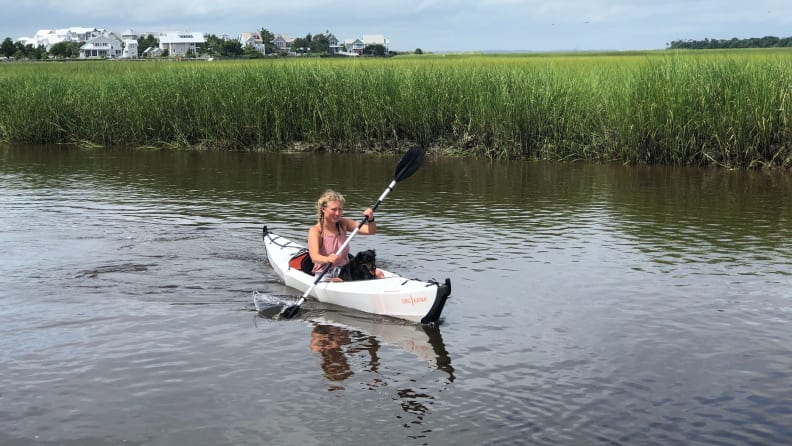 I was nervous about getting into the Oru Kayak at first. It's pretty thin, and I was worried that it would flip over the second I stepped into the little boat. After crouching low and placing one foot from the dock onto the kayak, I felt how sturdy it was. It didn't tip to one side as I got myself in, and I stayed dry this time, folks.
Despite being so lightweight, the Beach LT model claims to hold up to 300 pounds, which was more than enough to safely transport me and my family's mini Australian shepherd, Mila.
Once I got paddling, I was impressed with how smoothly the Oru gilded on the water. I felt myself traveling a bit faster than usual, even when I was fighting the slight current of the marsh. I can attribute this to how light this foldable boat is. Less weight means less work, right? It made for a very enjoyable 30-minute ride.
Getting out of the kayak was no fuss, as well. I just grabbed the edge of the dock and pulled myself out without a wobble. Plus, lifting the 25-pound kayak out of the water was pretty effortless, even with tired arms.
Putting the Oru back into its box form was easier than transforming it into a kayak. Not only were the folds easy to follow, but there are two colored bullseyes to indicate where to tuck the sides into. It was a relief considering how exhausted you can be after a long kayaking session.
What I don't like about the Oru Kayak
While the concept of the Oru Kayak is nice, it does not fully replace the ease of using or the performance of a normal kayak. After a few hours of kayaking, I'm pretty tired. The last thing I want to do is exert more energy to fold up the kayak, making the somewhat complicated assembly process even more frustrating. In the future, I might consider bringing the unfolded kayak home with me if I'm especially exhausted—or just feeling lazy.
It's also more expensive. The base model of the Oru Kayak, called the Inlet, retails for $900, which is a bit pricier than plastic kayaks. Those can start at around $400. However, larger models of these corrugated plastic kayaks that hold more weight and people can cost upwards of $3,000.
Is the Oru Kayak worth your money?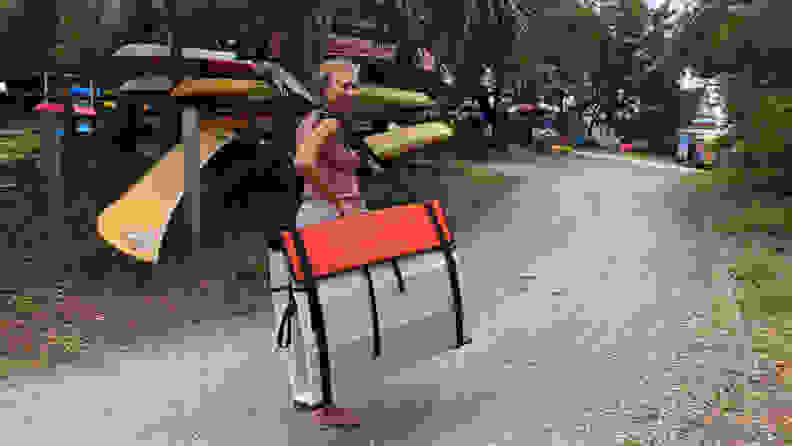 If you're willing to shell out the cash, the Oru Kayak ideal for any adventurer with a small space. They're small enough to fit in a small apartment and are ideal for traveling, as they can fit on planes, trains, and boats for cross-country or even international kayaking. I could picture myself bringing the Oru with me on the train from my small apartment in Boston to the Charles River.
To properly travel with the kayak, you'll want to get the Oru Kayak Pack, a nylon backpack that fits the folded-up Oru snugly. It's not necessary for short distances, but if you plan on flying with it or hiking a distance to water, it's a must.
The product experts at Reviewed have all your shopping needs covered. Follow Reviewed on Facebook, Twitter, and Instagram for the latest deals, product reviews, and more.
Prices were accurate at the time this article was published but may change over time.