Health & Fitness
Withings Leans on Design With Activité and Home
Can fashionable watches and products make us care about our health?
Credit: Reviewed.com / Kyle Looney
You may not have heard of Withings, but the French startup is quickly becoming one of the hottest names in wearable tech thanks to its two new smartwatches: the Activité and Activité Pop.
Both products have been praised for their refreshingly traditional design and reliable Swiss build. They probably rank among the most elegant smartwatches you can buy, and that is precisely because they're not just bulky LCD displays glued to your wrist. They are real watches.
Yet for a company that uses the slogan "Inspire Health," such a fashionable product is rather surprising. When the company started back in the mid-2000s, its first product was a WiFi-connected scale for weighing yourself.
Withings then branched out into other health products, creating baby monitors, a smart blood pressure cuff, the Pulse O2 fitness tracker, and the Aura sleep monitor.
These products ranged in design from the utilitarian Pulse monitor to the Aura sleep tracker, which looks like something straight out of the future. However, pretty much all of them were focused on health, and not exactly concerned with fashion.
In fact, Withings' entire philosophy is based on health. Last year, the company adopted an approach that centered around five pillars of health: activity, environment, heart, sleep, and weight.
Despite this strategy, the company is beginning to focus much more on design and fashion. We recently met with Arielle Carpenter, Withings' senior marketing manager for North America, at the company's new offices in Cambridge, Massachusetts.
"We really want health to be really cool and fun and sexy," she told us in a meeting room overlooking the Charles River. And they may just be achieving that with the Activité.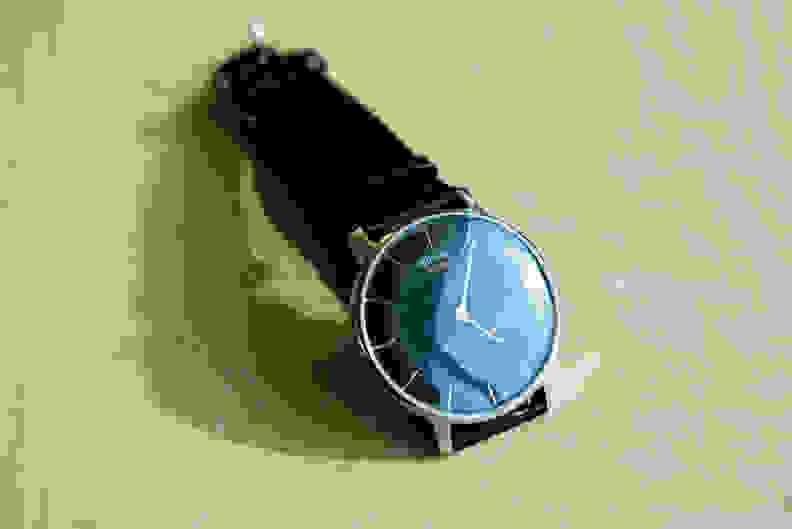 Activité
How did Withings transition from its line of utilitarian wearables like the Pulse O2 to a fashionable wristwatch like the Activité? They focused on the problem facing all wearables: user abandonment.
There's no better way to get rid of abandonment than to make people want to wear your product.
Since the use cases for wearables are still somewhat nebulous, a lot of users tend to give up on actually wearing their wearables, relegating them to a drawer somewhere only to be wore while exercising. After all, most of these devices simply log data—they don't tell you how to be healthier.
There's no better way to get rid of abandonment than to make people actually want to wear your product, which is where fashion and design come in to play.
While Withings' other products have decent design, the company decided to look outside its doors for Activité. They hired a French design firm to help design the watches, and the result was a Swiss-made watch with French leather bands from a tannery used by Hermès. That's right: This watch has Hermès quality leather.
The attention to detail shows, as the Activité is a smartwatch that any style-conscious individual would be attracted to. And without a screen, the watch actually has a normal watch battery life of 8 months. You still have to change the battery, but it's better than being tethered to a charger every night.
And since many people don't want to buy a $450 smartwatch, Withings made an affordable version of the Activité called the Pop, which only costs $150. The clock isn't Swiss-made, but it is identical in feature set and battery life to its more expensive sibling.
What's interesting to note about the Activité is that Withings is calling it an activity tracker, not a smartwatch. This makes sense since its "smart" features only relate to health and fitness.
However, this isn't a bad strategy for Withings. Since most people aren't entirely sure what they want their wearables to do, a watch that looks beautiful and just happens to be smart could resonate with a lot of fashion-conscious users.
Withings Home
With this new fashionable design style, Withings decided to enter another, equally-hyped area of technology: the smart home.
"We really want health to be cool and fun and sexy."
Unveiled last year, Withings Home is an environment-monitoring security camera. Capenter explained the thinking behind the new product: "We define health as not only the health of the individual, but the health of the home."
Even if that's true, the Home only has one true health feature: an air quality sensor that detects Volatile Organic Compounds (VOC's). This is a nice feature, but in a way it almost feels tacked on.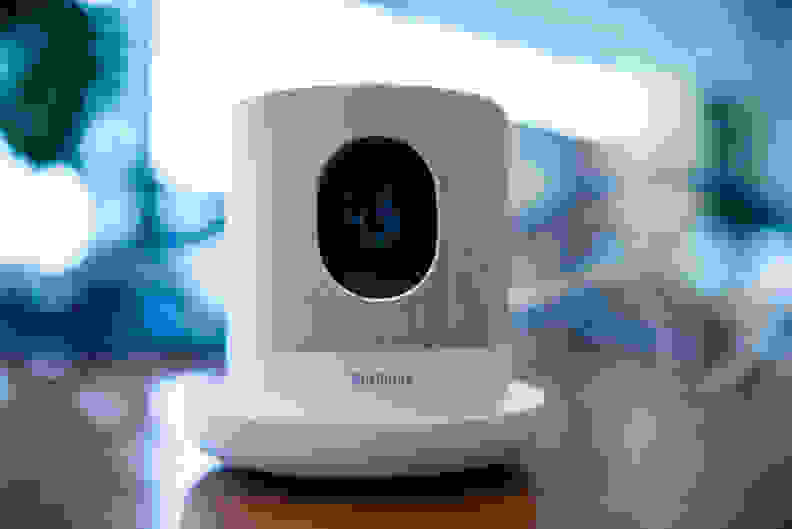 Regardless, Withings' new approach to design shows in the Home. It's covered in a bamboo finish that's both stylish and welcoming, unlike those ugly security cameras that make you want to hide away in a corner.
Withings is just dipping its toes in the smart home sector.
While the product has great design, its limited feature set and lack of compatibility with other smart home products makes it clear that Withings is just dipping its toes in the smart home sector.
You can check out our full review of the Home here.
Home aside, the company most likely has even bigger plans on the horizon. Carpenter would not elaborate on it, but Withings is an Apple HomeKit partner. The Home does not work with HomeKit, but perhaps a future incarnation will.
Whether the Home and the Activité take off is yet to be seen, but it's clear Withings has come a long way from its humble smart scale.
Further Reading
Related Video