The Best Checked Luggage of 2019
By Seamus Bellamy, December 26, 2018, Updated February 22, 2019
If you're like me, you probably prefer to travel light: a backpack or small carry-on bag is usually enough for a quick trip, and it'll save you a trip to the luggage carousel when you deplane (not to mention baggage fees). But if your travel plans keep you away from home for any more than a week at a time, you'll want to consider bringing a full-sized suitcase, like our favorite, the Travelpro Platinum Magna 2 29" (available at Amazon for $318.94).
Larger and more ruggedly designed than their overhead bin-sized counterparts, full-sized suitcases are meant to survive being stashed in an airplane cargo hold. They can contain enough clothes to see you through a multi-week Caribbean cruise, with no visit to the shipboard laundrette required. More importantly for some, the cavernous dimensions of a suitcase or a huge rolling duffel bag are ideal for stashing mementos and duty-free swag from your time abroad.
We spent days researching which features a great suitcase should have before calling in eight of the top models on the market for intensive testing. The aim? To see which ones deserve your hard-earned money.
Here are the best suitcases, in order:
Travelpro Platinum Magna 2 29" Expandable Spinner Suiter
The Large Away Suitcase
Briggs & Riley Large Expandable Spinner
Eagle Creek Cargo Hauler Rolling Duffel
Timbuk2 Rolling Duffel
L.L. Bean Sportsman's Expandable Rolling Pullman, Extra-Large
American Tourister Sonic 28" Spinner
Delsey Helium Aero 29" Expandable Rolling Luggage
Updated February 22, 2019
Advertisement - Continue Reading Below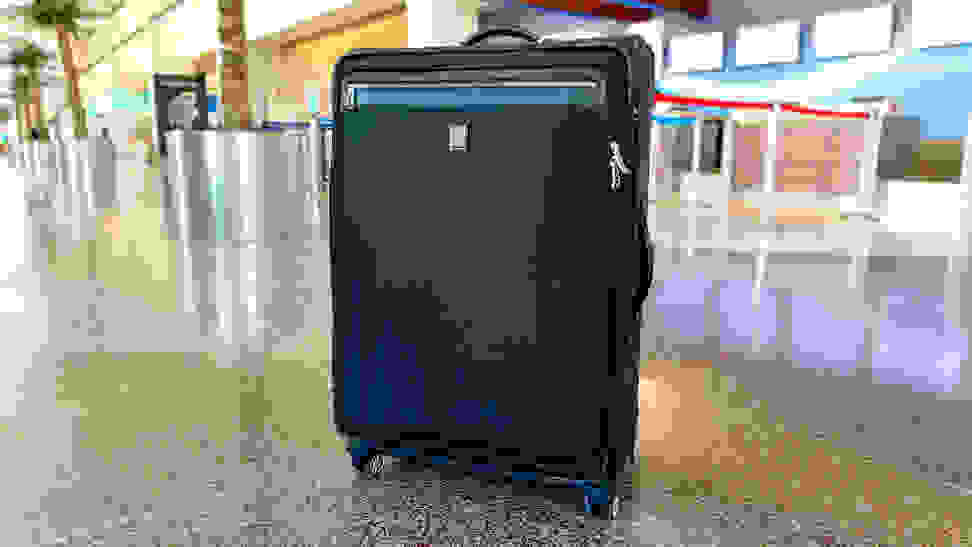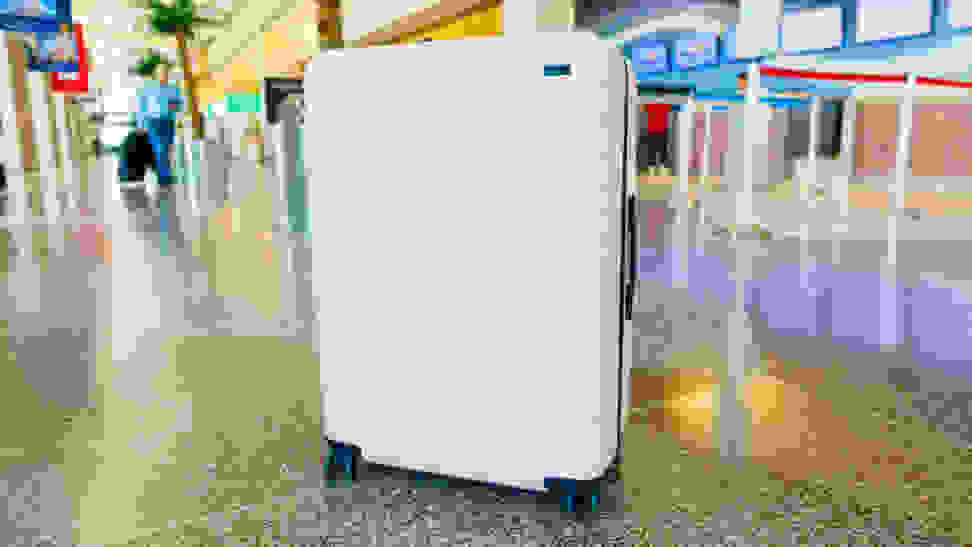 How We Tested
In late 2017, I tested a ton of carry-on luggage. I examined each bag for its build quality, capacity, features, durability, and maneuverability.
After talking it over with Reviewed.com's editorial team, we felt that scaling a number of these tests up for full-size suitcases was a good plan of attack. For example, while I tested carry-ons to see if they could carry a week's worth of clothing, I stuffed all the full-size suitcases with two weeks' worth. The included garments ranged from formal wear for a nice dinner out, to business attire, to a windbreaker and a sweater for chilly evening excursions.
I tested each suitcase's maneuverability by wheeling it over a quarter mile of varying surfaces: tile, hardwood, concrete, and cracked sidewalks. For every 20 steps taken with each bag, I performed a 360-degree turn to ensure that its wheels were still spinning freely (and to befuddle curious onlookers).
To simulate navigating an airport check-in line, I rolled each suitcase through an obstacle course of tables and chairs. And because a fully loaded suitcase is a lot more difficult to pick up than a typical carry-on bag, I tested how easily each one could be carried up and down a flight of stairs.
The Tester
My name's Seamus Bellamy. I'm a full-time digital nomad, which means I live a lot of my life out of a suitcase. When I'm not busy unpacking from my last trip, I spend my time traveling North and South America in an RV with my wife and our dog, Boudica. I understand what makes a good suitcase a reliable travel companion and what problematic design decisions make a bad one worth avoiding.
What You Should Know About Checked Luggage
Price: During testing, we discovered that suitcases are a category where you really do get what you pay for: higher prices meant better quality bags. We're not suggesting that you break the bank to buy a suitcase, but you should consider spending as much as you can comfortably afford. A $300 suitcase might seem expensive for something that you'll only use once or twice a year, but it's better than forking over $150 for a bag that falls apart after a couple trips.
Toughness and Flexibility: Suitcases with a plastic or aluminum exterior can scuff, dent or crack when subjected to abuse. Still, they tend to protect their contents from crush damage better than a fabric-sided suitcase can. Fabric-sided suitcases can compress without sustaining any damage, but they aren't ideal for protecting delicate items. Before you purchase, think about what you're likely to bring with you when you travel.
Wheels: If you want your luggage to glide through an airport concourse on wheels, remember that four are better than two. Four-wheeled bags are just as maneuverable whether they're being pushed or pulled. That said, two-wheeled bags are still a good get—they're more portable than four-wheelers and often cost less.
Handles: The best bags have retractable handles that slide smoothly and offer at least a couple of height settings to accommodate shorter or taller users. They'll also come equipped with wide, padded handles that make the bag's weight less of a burden when you have to lift and carry it. The best of the best have handles on multiple sides, making it easy to grab them off of the baggage claim conveyor belt no matter how they're oriented.
Organization: Bags that offer an array of interior and exterior pockets along with a single, large interior space are a smart buy. The big main compartment can be used with packing cubes, a garment bag, or packed with loose clothes, while the interior pockets are great for smaller items like toiletries or socks. Outside pockets can be used to stash on-the-go items.
Security: Make sure that any suitcase you buy comes with either a built-in TSA-compliant combination or key lock, or is equipped with zippers that can be used with a TSA-compliant aftermarket lock.
---
Other Suitcases We Tested
More articles you might enjoy
Advertisement - Continue Reading Below