The Best Carry-On Under Seat Luggage of 2019
By Seamus Bellamy, Updated May 17, 2019
If you prefer to travel light like I do, chances are you've already got a great piece of carry-on luggage, sized to fit into an airplane's overhead bin. But when you fly, have you been making good use of the space under the seat in front of you?
Most airlines allow travelers to bring one piece of carry-on luggage and a personal item with them. Sure, a plastic shopping bag or purse can carry your snacks, iPad and other sundries when you take to the sky, but the right personal-sized carry-on bag can keep you organized in the air and be a great travel companion at your destination.
After conducting days of research and testing an assortment of nine different backpacks, duffels, totes and briefcase-style bags, we think that the Tom Bihn Western Flyer (available at Tom Bihn for $240.00) is the best personal-sized carry-on bag you'll find. Looking for other options? We've also tested checked luggage and carry-on luggage.
Here's how the best personal carry-on bags we tested ranked, in order:
Tom Bihn Western Flyer
GoRuck GR1 Rucksack
Timbuk2 Never Check Overnight Briefcase
Waterfield DesignsAirPorter Carry-On
Eagle Creek Expanse Wheeled Tote Carry-On
Travelpro Platinum Elite Carry-On Regional Duffel
Mystery Ranch Slick
Travelpro Crew 11 Deluxe Tote
Lo & Sons Catalina Deluxe Weekender Bag
Advertisement - Continue Reading Below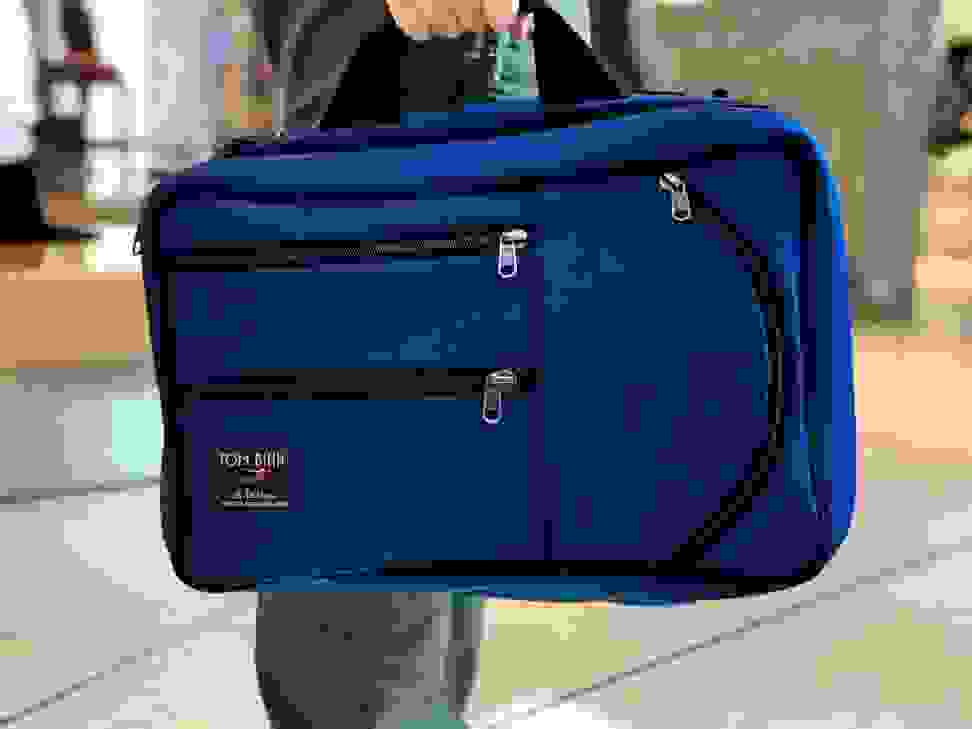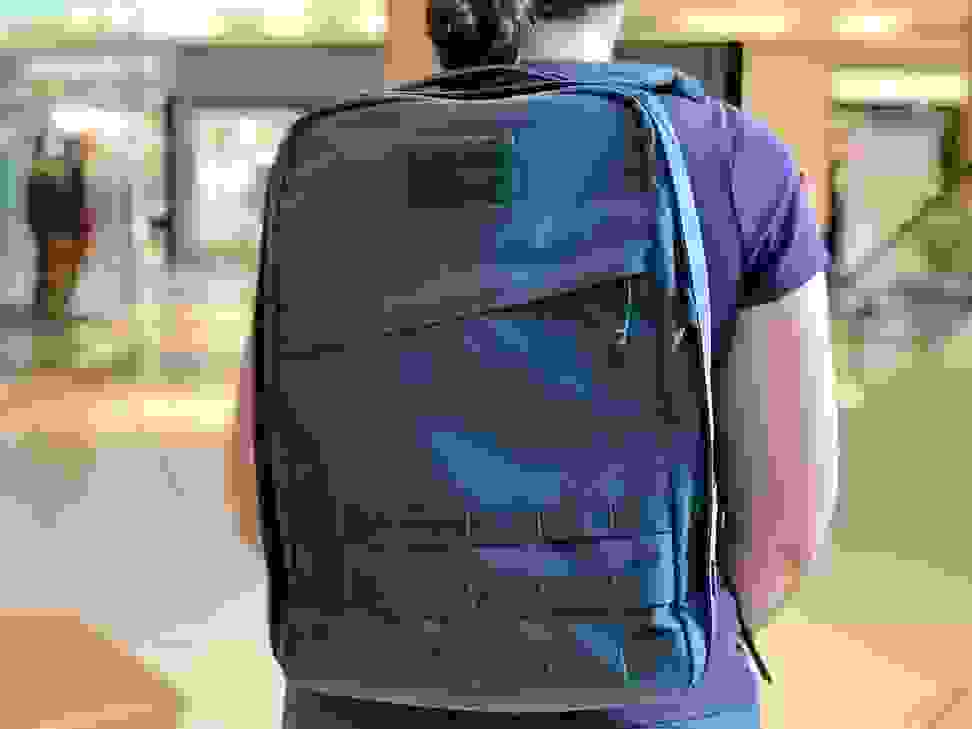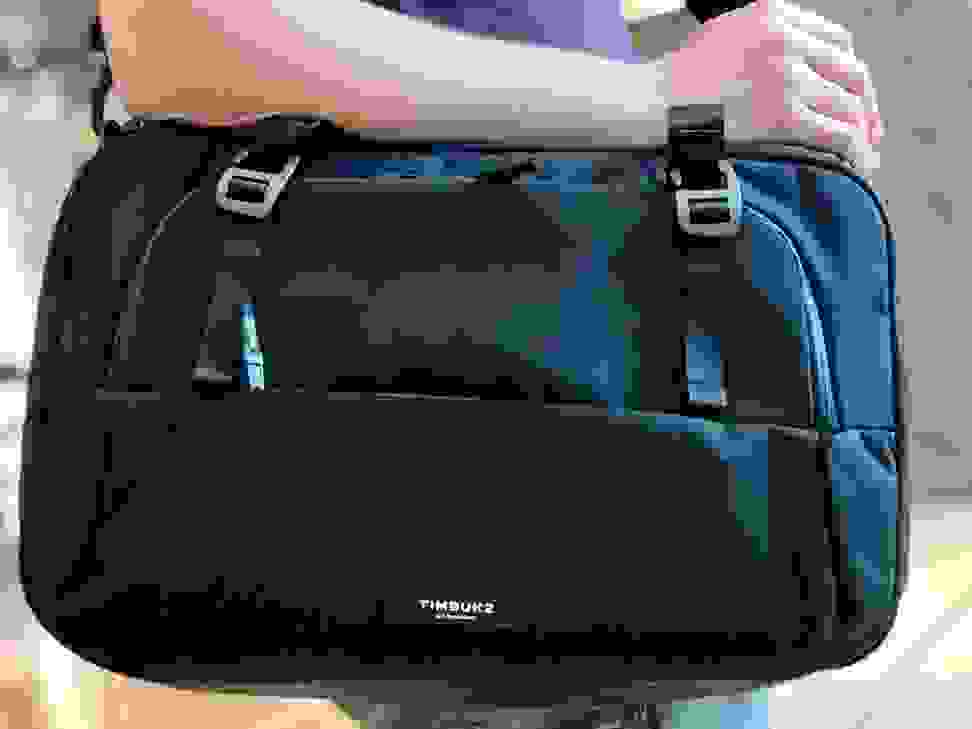 How We Tested
Who am I?
My name's Seamus Bellamy. I'm a full-time digital nomad. I live a lot of my life out of a suitcase—I've tested a lot of them, too! I'm responsible for Reviewed's guides to the best carry-on suitcases and best checked luggage. When I'm not flying somewhere for work, I migrate around North America in a 40-foot RV. Travel is in my bones. I love it. I want to make sure that you have the gear you need to love it, too.
The Tests
The only guidelines that most airlines provide for personal carry-on items, aside from sizing devices scattered around airports, is that they must fit under the seat in front of you. That'd be fine if anyone could say how much space there is under an airplane seat. Unfortunately, these dimensions vary by airline, the type of plane you're in and where you sit. Those in the middle seat of a set of three chairs, in economy, for example, will find they have more under seat space in front of them than those seated on either side of them. Sizes are also different for seats next to the plane's bulkhead, or in some emergency exit aisles.
Seatguru.com keeps track of the maximum size limits for personal carry-on items for most major airlines, but it doesn't consider things like room to put your feet or things like in-flight entertainment boxes that sometimes reside in those spaces.
So, instead of relying on what the airlines and experts have to say, I looked to the maximum allowed sizes for far more precious in-cabin cargo: pets, which FAA regulations state must be in containers small enough to fit underneath the seat in front of you without blocking the main aisle of the airplane.
Since different airlines suggest different dimensions, we decided to call into testing bags that were slightly smaller than the largest pet carrier allowance (11" x 18" x 11" from United Airlines). We also wanted the bags to be soft-sided, like a duffel bag, purse, or backpack, so they would be easy to stuff under a seat.
To ensure size compliance for all the bags we tested, I built a bag sizer similar to what you'll find at many airports, with 8" x 18" x 14" dimensions. I attempted to insert each bag into the sizer, twice. The first attempt was to see if the bag was true to its advertised size. Next, I tried placing them back into the sizer while laden with a number of items that one might want to bring with them on a flight, such as a 13-inch laptop, change of clothing and small toiletry kit, notebooks, pens, a passport, a large pair of Bluetooth headphones, an iPhone 7 Plus, an eReader, and a newspaper.
Any bags that were unable to fit in the sizer with or without all of these items were disqualified. I also paid attention to how comfortable the bags were to carry, if it was a chore to pack, its security and accessibility to pockets that could hold important items like keys or passports, the overall build quality, and how useful each bag might before someone headed to school or commuting to work.
What You Should Know About Personal Carry-On Bag's
Price: With suitcases and other carry-on baggage, I advise you to spend more if you travel more. High-end luggage tends to be more durable, so you'll have to replace it less often. The same can't always be said for personal carry-on sized bags. Sometimes, as these smaller bags, purses, and backpacks can be used as fashion accessories as part of your daily commute, the price of a bag is commensurate with its brand's recognition, rather than its durability or utility.
Boring is safe: Speaking of brand recognition, play it safe. As you'll likely be using your personal carry-on to haul your camera, laptop, passport, and other valuables, it's best to avoid status brands like Tumi, Louis Vuitton and the like as they scream 'I have money, please help yourself.' Nothing ruins a trip faster than a mugging or being targeted by pickpockets.
Avoid wheels if you can: wheels and a retractable handle for pulling your carry-on along with you will eat into the already limited amount of space bags sized to slip under an airplane seat offer. Avoid them when you can.
Handles: If the personal carry-on sized bag you want comes with wheels, its retractable handle should slide smoothly and offer at least a couple of height settings to accommodate shorter or taller users. All handles and backpack straps should be well padded to make the bag's weight less of a burden when you have to lift and carry it.
Organization: Bags that offer a number of easily accessible exterior pockets for small items like a passport, smartphone and tickets are a smart buy. Look for bags with a large main compartment that can be used with packing cubes, or stuffed full of a number of loose items such as a water bottle, snacks or a hoodie. If you plan on using your bag for work trips or having it double as a tote for your daily commute, be sure that any laptop compartment, tablet sleeve, or admin panels built into it will suit your needs.
---
Other Carry-On Under Seat Bags We Tested
More articles you might enjoy
Advertisement - Continue Reading Below