The perfect comforter is hard to find. There are so many options sold by every retailer imaginable, and they vary drastically in terms of construction, material, and price—how are you supposed to choose, especially without trying them out?
We tested some of the top-rated comforters available today, evaluating them in terms of performance and quality, and one of the best products you can buy right now is the Pottery Barn Linen Silk Comforter (available at Pottery Barn for $209.00).
When shopping for a comforter, you have to consider things like fill, warmth, weight, duvet compatibility, softness, and even style. Some comforters might look nice but fall short in terms of warmth, while others are plain to look at and need to be paired with a duvet.
We gathered all these options together and spent several days and nights sleeping under them. After all was said and done, here are the comforters we tested, ranked in order:
Pottery Barn Linen Silk Comforter
Linenspa All-Season Down Alternative Quilted Comforter
Buffy Comforter
Land's End Essential Down Comforter
L.L. Bean Ultra Soft Cotton Comforter
Brooklinen Down Comforter
The Company Store LaCrosse Light Down Comforter
Snowe Lightweight Down Alternative Comforter
AmazonBasics Reversible Microfiber Comforter
Updated September 22, 2018
Advertisement - Continue Reading Below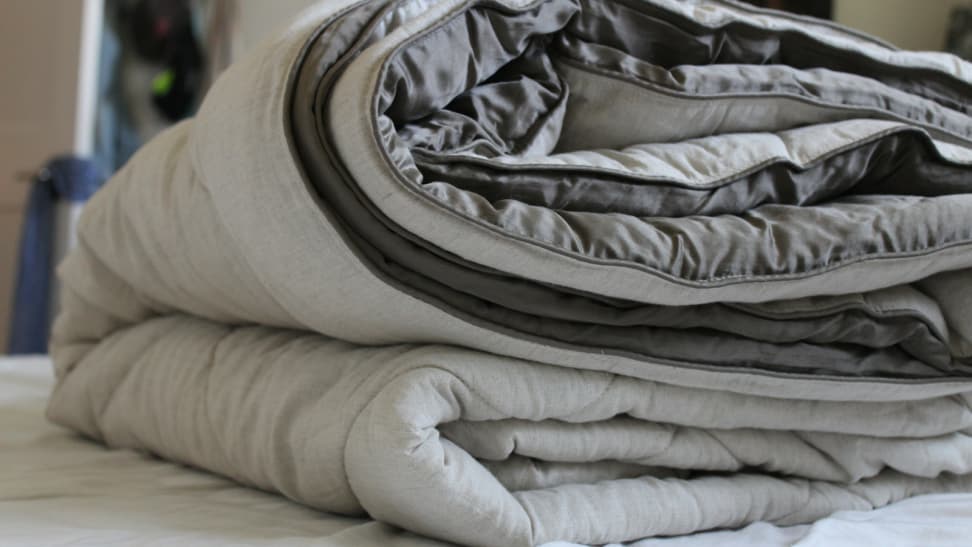 How We Tested
The Tester
I'm Camryn Rabideau, a freelance contributor here at Reviewed. After I tested and reviewed the best sheet sets, it was a natural progression to move on to comforters. (More sleeping for work—score!) Personally, I usually spring for comforters based on looks alone, so I was curious to see if high-quality bedding was really that much better than what I usually buy at the discount store. (Spoiler alert: It is.)
The Tests
I put each of these comforters through the wringer—figuratively and literally—to see how well they perform in a few key areas.
First, and perhaps most importantly, was the sleep test. I took a one-hour nap under each blanket, then slept with them overnight, evaluating whether they kept me warm, how soft they felt, and if they were noisy when I rolled over.
Next, I evaluated how easy each comforter was to wash. In addition to researching care instructions for each product, I stained them with fruit juice and Diet Coke, then attempted to spot clean them with regular detergent—no pre-treating or stain removers.
Finally, I used my background in textile science to evaluate the overall construction of the comforter, determining whether it would stand up to years of use. I also considered how easy or hard it would be to store each item, based on how much space it took up when folded.
---
Other Comforters We Tested
If you're shopping for bedding, check out our guide, The Best Bed Sheets.
Advertisement - Continue Reading Below