The Best Luggage Scales of 2019
By Seamus Bellamy, Updated January 02, 2019
Nothing shatters the zen-like calm that comes in the wake of an amazing vacation or productive business trip faster than unexpected baggage fees.
Your luggage might have been light enough to avoid getting fleeced on your outgoing flight, but that bottle of duty-free scotch and the souvenirs you snagged for your nephew were heavy enough to get agents at the check-in counter salivating on the way back.
The best defense against overage fees is to invest in a portable luggage scale, like our favorite Dr. Meter Digital Luggage Scale (available at Amazon). To help you find the best scale for your personal needs, I considered dozens of different models and then called in some of the best for some intensive testing.
Here are the best luggage scales, in order:
Dr. Meter Digital Luggage Scale
Nonzers Digital Luggage Scale
Samsonite Manual Luggage Scale
Etekcity Digital Hanging Luggage Scale
AmazonBasics Digital Luggage Scale
Travelon Stop and Lock Luggage Scale
Tariss Jetsetter Digital Luggage Scale
Saitec GO110 On-the-Go EZ Grip Hanging Scale
Advertisement - Continue Reading Below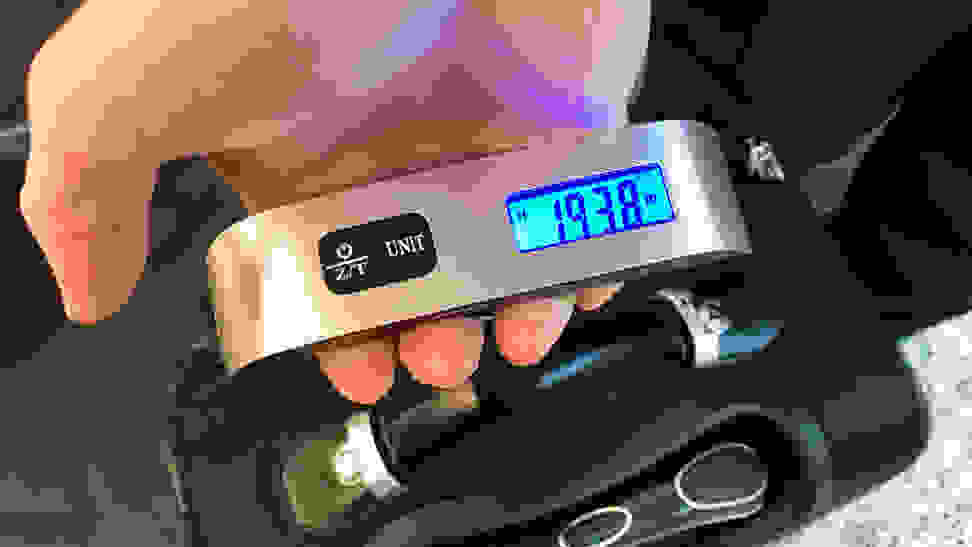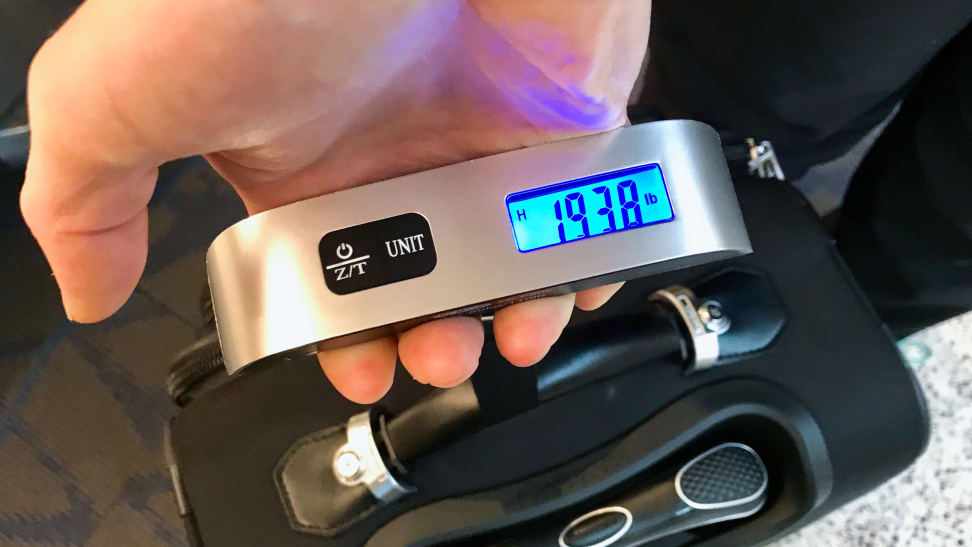 How We Tested
The Tester
I'm Seamus Bellamy. I've been working as a tech and travel journalist for close to a decade. As a full-time digital nomad, I travel constantly across North and Central America, and also take frequent trips to Europe and Asia. I like to travel light when I take to the skies, but I've been hit with ugly baggage fees just like any other frequent traveler. In other words, I'm extremely motivated to find the best luggage scale possible.
The Tests
The most important requirement for a great luggage scale is accuracy. After all, if it can't provide a reliable reading of your bags' weight, you'll be on the hook for fees at the airport.
To make sure your scale doesn't leave you high and dry, I started with three different types of luggage—a hockey bag, a soft-sided suitcase, and a hard-sided suitcase—and used a household digital scale to determine their empty weight. I then weighed each bag again, using the 10 scales I called in for testing.
Next, I prepared test weights. The first group of weights consisted of 25-, 50-, and 75-pound increments made up of solid stuff like flats of canned goods and car batteries that wouldn't shift while being weighed. The second group used the same increments, this time composed of items you might actually travel with—clothing, booze, a laptop, backpacking gear, and SCUBA equipment—to simulate the more unbalanced bags found in the real world.
Finally, I placed the test weights inside our three pieces of luggage and obtained baseline weights for each combo, then measured them again using each luggage scale. Most of the digital scales produced readings within a few decimal points of the baseline. However, I was able to eliminate one model right away due to inaccurate readings. Mechanical scales are considered to be inherently less accurate, and our testing certainly bore that out. However, for some shoppers a few pounds of variance might be a worthwhile trade-off for near-instant measurement. After all, not everyone is able to dead-lift and hold a 75-pound bag long enough to get a reading from a digital scale.
But accuracy isn't the only requirement for luggage scales: they should do their job in a timely manner, too. With this in mind, I gave each scale a time limit of five seconds to return a solid reading. This rule immediately knocked out two more contenders.
With my list of seven finalists in hand, I then examined build quality, extra features, ergonomics, and the weight of the scales themselves to determine the best of the best.
---
Other Luggage Scales We Tested
Advertisement - Continue Reading Below