The Best Food Storage Containers of 2019
By Sharon Franke, Updated May 17, 2019
UPDATE: May 9, 2019
We've recently retested and added new products to this guide and found Pyrex Ultimate to be the best food storage containers.
Sometimes it's about the little things. While food storage containers are a relatively small item, if you buy the wrong one you can wind up with a big problem. Stash one that doesn't have a tight seal in your tote bag and salad dressing leaks into all the wrong places. Or use it to store leftover salmon and your whole fridge smells fishy. Fill it with the best potato chips and when you go to munch on them, they're soggy. Ideally, good containers will extend shelf life by keeping food fresh without leaks, odors, or stains, without breaking. And, if you invest in a big matching food storage set, you may spend as much as you would on an electric appliance, making it not such a minor purchase.
After months of testing, we found that glass food storage container Pyrex Ultimate (available at Amazon), will keep your food fresh and even look good in the process. If you prefer the lightweight and break resistance of plastic, Rubbermaid Easy Find Lids (available on Amazon) are our top choice. And if you're looking for a very affordable container to pick up at the supermarket and use for lunches and potlucks, we recommend Glad Food Containers (available on Amazon).
To help you spend wisely, we chose 12 highly-rated lines of food storage containers and used each one to freeze, defrost, and microwave and store potato chips and fish oil.
Here are the best storage containers we tested, ranked in order:
Pyrex Ultimate
Rubbermaid Easy Find Lids
Glad Food Containers
Oxo Good Grips Smart Seal Glass
Pyrex Smart Seal
Snapware Total Solution Plastic
GlassLock Oven Safe
Snapware Total Solution Glass
Rubbermaid TakeAlongs
Rubbermaid Brilliance
Ziploc Containers
Oxo Good Grips Pop
Advertisement - Continue Reading Below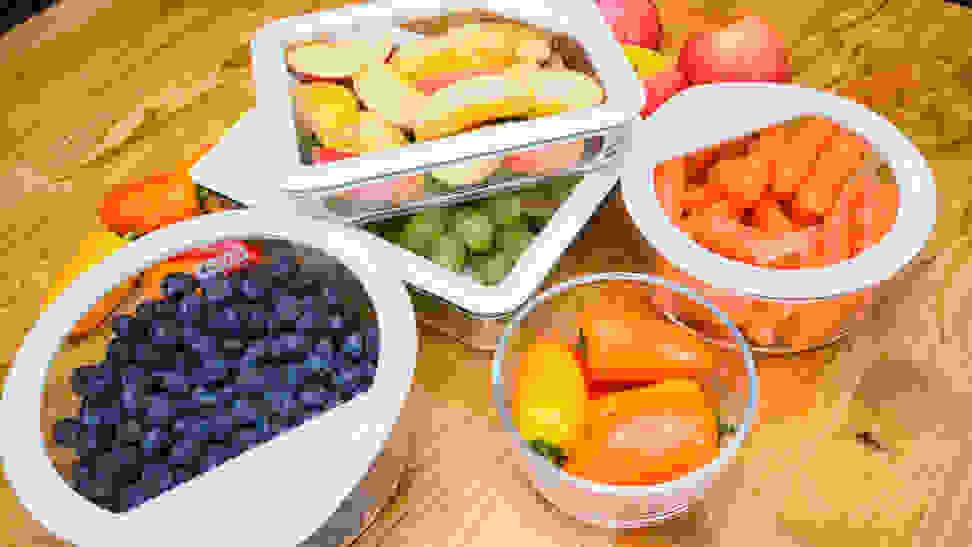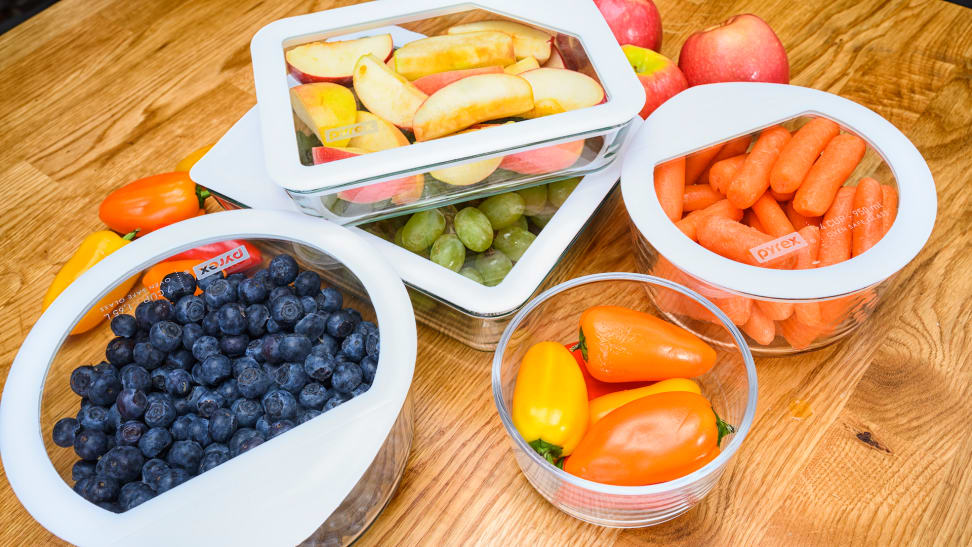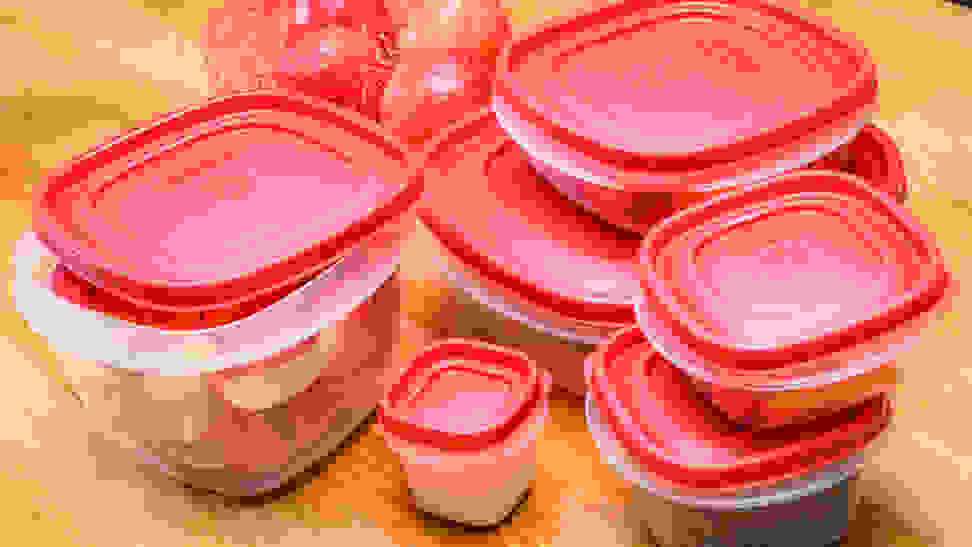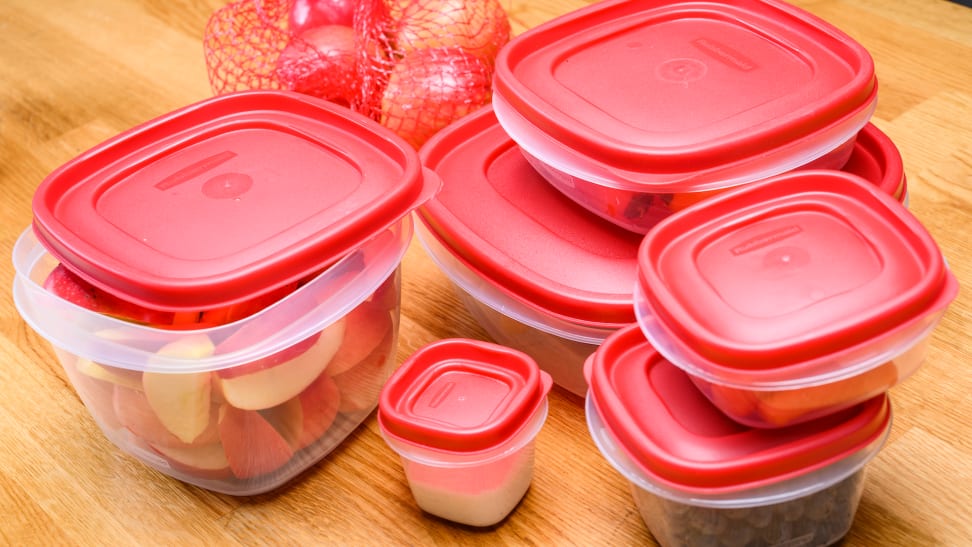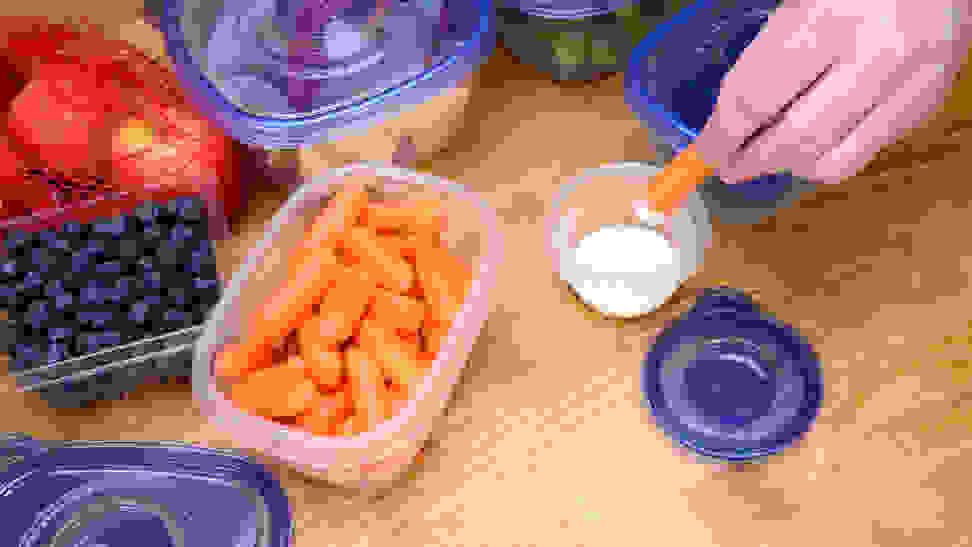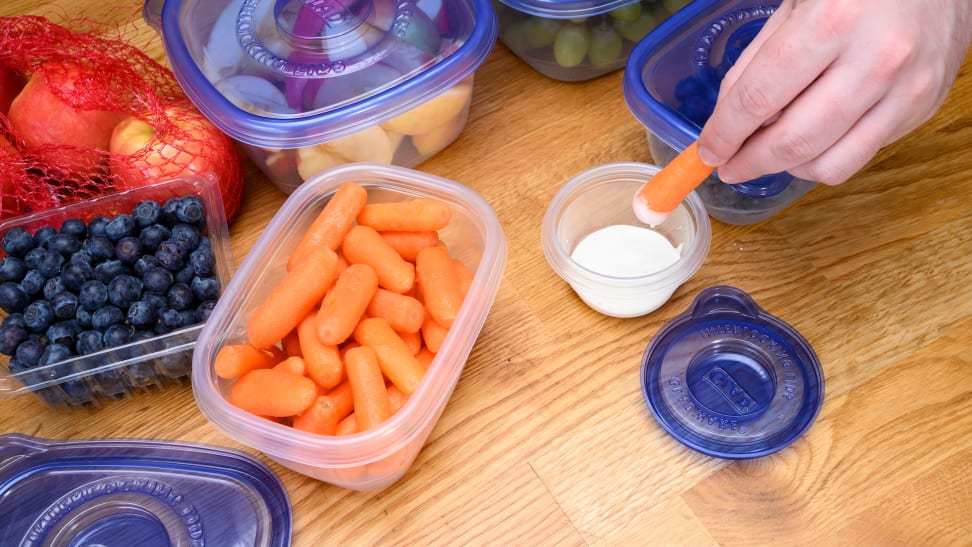 How We Tested
The Tester
Hi, I'm Sharon Franke, and I've been reviewing kitchen equipment for more than 30 years. Before that, I worked in New York City restaurants for seven years. But I've been storing food my whole life. My earliest food storage memory is of using a plate to cover a bowl of leftovers in the Frigidaire.
The Tests
We tested 12 food storage containers. In all (but the one that's designed only for dry food storage and hand washing) we tested the storage containers' insulation properties by timing how long they took to defrost ice water and kept tomato sauce warm. We checked to see if tomato sauce leaked out and if fish oil odors seeped through. After washing containers in which we stored fish oil, first by hand and then in the dishwasher, we sniffed to see if they retained a fishy smell. By sealing a piece of paper in them and submerging them in water, we determined if they had a tight seal. After filling them with potato chips, we stored them in a warm steamy room then tasted to find out if they kept the chips crisp and fresh tasting. To check for staining and pitting, we microwaved tomato sauce in them, then washed each one by hand. Then we cleaned them in the dishwasher for a week to see if stains came out and if the dishwasher affected the ability of the lid to be closed tightly. We dropped water-filled containers from countertop height to see if they leaked, opened, or broke.
In the container designed only for dry food storage and that's not dishwasher safe, we tested for the retention of fish oil odors, the tightness of the seal, the ability to keep chips fresh, and the breakability.
As we worked, we considered how easy it was to put the lids on and take the lids off, how easy it is to clean and store the containers, and the overall quality and experience of using them.
What to Know About Food Storage Containers
You can choose plastic or glass and both have their charms. Glass is more effective at keeping food fresh, as long as it has a tight-fitting lid, as absolutely nothing can pass through it. While there will always be a concern for it breaking, in our tests none broke from a simple drop from countertop height onto a vinyl floor. Another big plus about glass is that it won't stain. However, most glass containers come with plastic lids that will discolor and if you want to keep them looking spiffy your best bet is to avoid using them for microwave heating. While the majority of glass containers can safely go in the conventional oven, you need to read the manufacturers' instructions to find out whether or not the oven should be preheated and they can go directly from the freezer into the oven.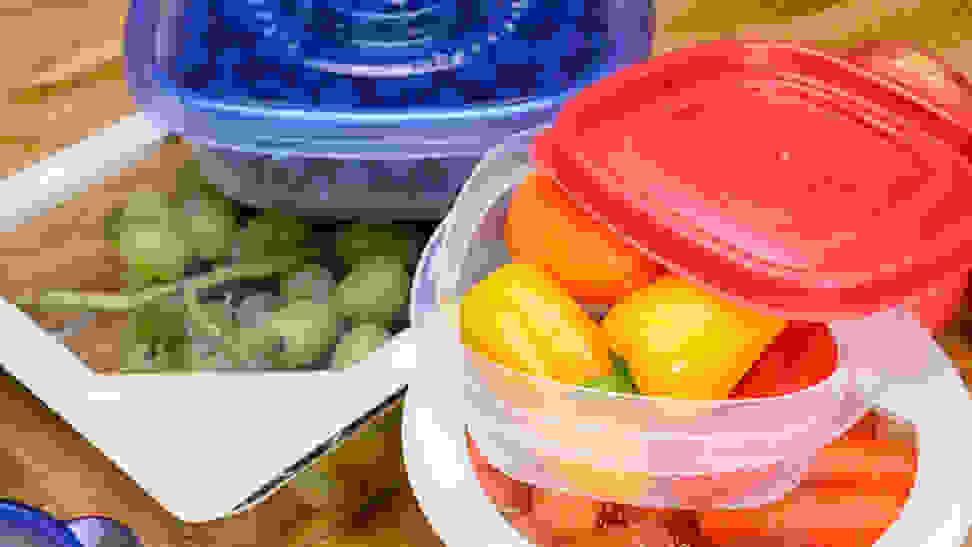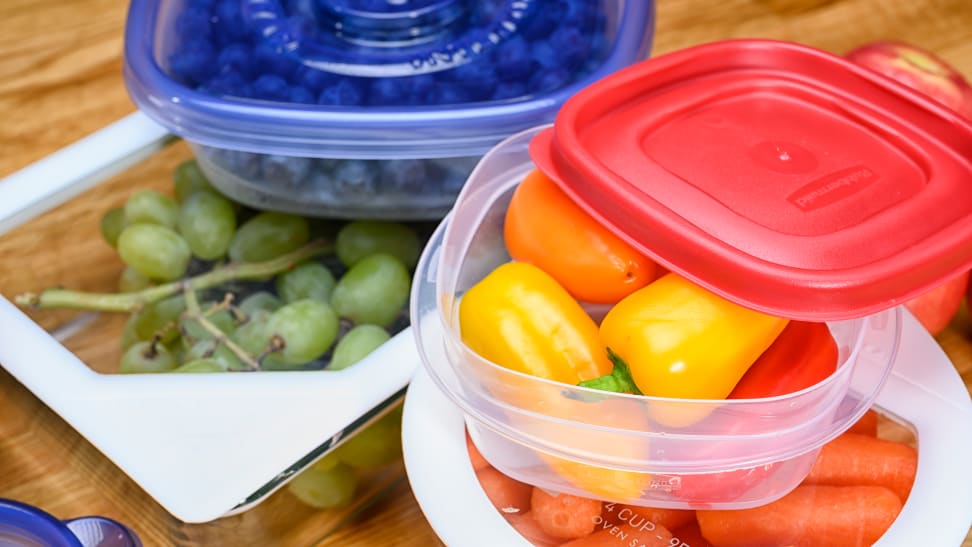 Are Plastic Containers Safe for Food Storage?
Nothing beats the portability of plastic food storage containers. We know many of you are concerned about using plastic for storing food, and even more so about heating food in plastic, because of concerns that chemicals can migrate from the plastic into your food. The jury is still out on plastic safety. You need to decide on your own comfort level when it comes to using plastic. Most plastics will stain and degrade in some way when used to cook items like tomato sauce.
One note of caution, while almost every container that we tested was leak proof when left on its side when filled with tomato sauce, none kept water out when submerged. If you're traveling with a container, we suggest you always wrap it tightly in a bag before tossing it in a handbag or on a car seat.
---
Other Food Storage Containers We Tested
More Articles You Might Enjoy
Advertisement - Continue Reading Below