Home & Garden
10 mistakes you're making when shopping for clothing
Everyone needs clothes. Why not improve how you shop for them?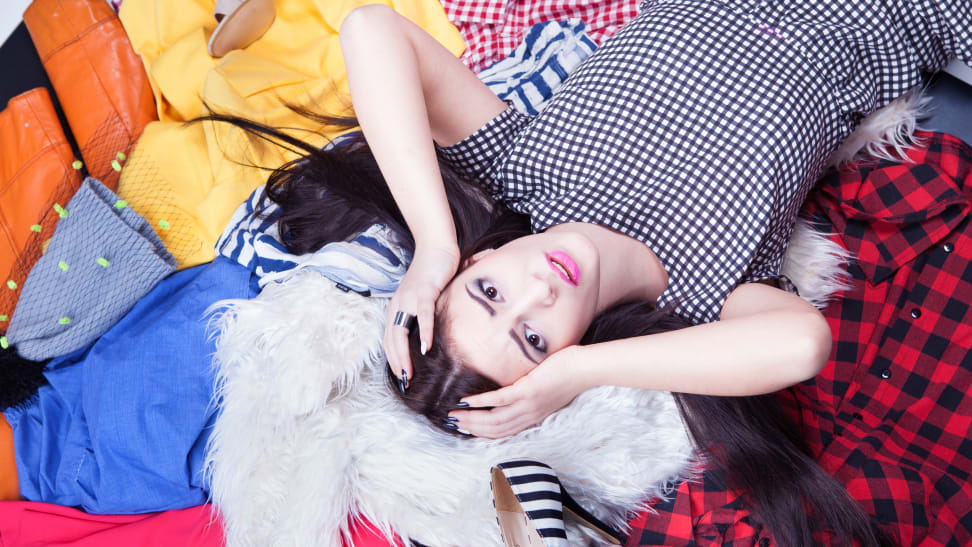 Credit: Nina Malyna / Getty Images
I have a love-hate relationship with shopping. It's unavoidable, and sometimes I love it. Other times? It ends up resulting in absolute disaster.
As a taller and athletic female, shopping for clothes can be an absolute nightmare. It's difficult to find something that fits my height, and when it does, it rarely fits anywhere else. We've all encountered shopping fiascos from one time to another (and if you haven't, please share your magic with the rest of us) where things just aren't working out.
If you're tired of shopping turning from retail therapy to a total nightmare, you might want to pay attention the next time you hit the shops (or go online) so you don't make one of these mistakes.
1. Not taking measurements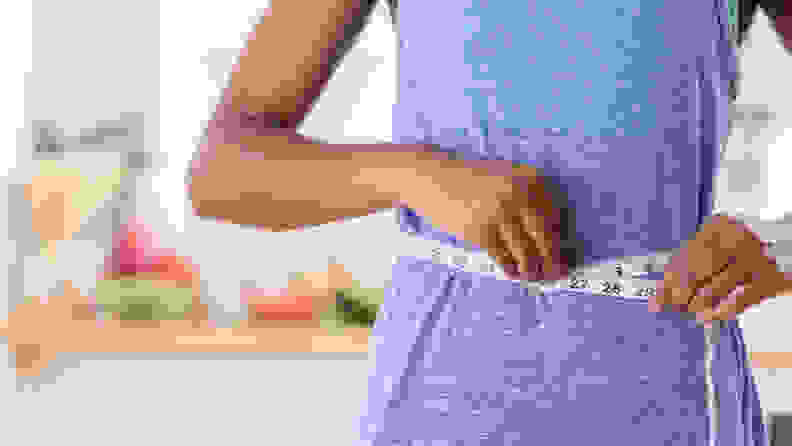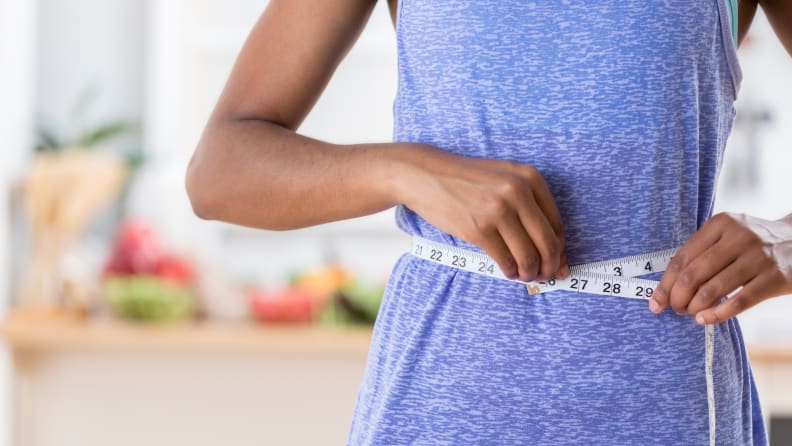 How many times have you grabbed a pair of jeans off the shelf only to discover they're not remotely close to fitting, even if they're your "normal" size? Sizes are often arbitrary, meaning the size 10 jeans you pick up at one store probably won't be the same size as the same size you snag at your next destination. Sizing can even change from season to season (H&M recently updated their sizing, for example), so the size that used to fit you from a specific brand might not work anymore even if your body hasn't changed.
Instead, set aside a few minutes to take your measurements using a flexible tape measure like this $4 one from Singer. This can be super useful if you're shopping online—making returns a thing of the past—and it can even cut out some of the pain of shopping in store. If you know you're going to shop at a certain retailer, check their website to see if they have a size chart you can reference beforehand. This makes shopping faster and more painless, and ensures you get quality, well-fitted clothing.
2. Not having a plan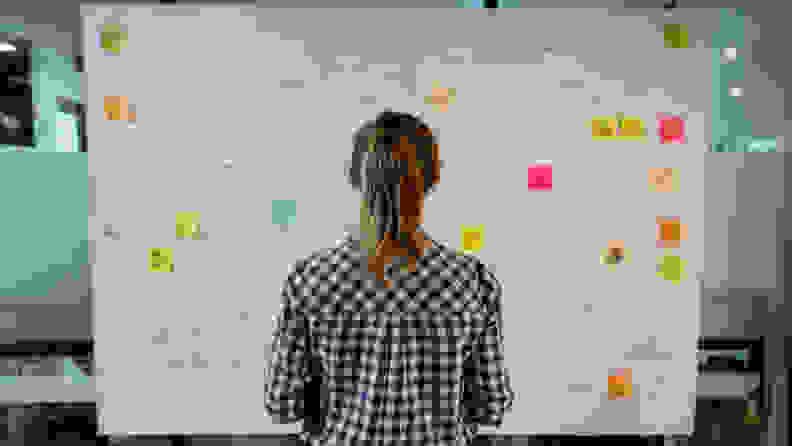 Shopping isn't always a battle, and it should be fun. However, if you're not planning your shopping trip ahead of time, then you risk spending too much, hitting the wrong stores, or leaving empty handed. I've gone on way too many shopping trips without a plan only to waste hours wandering the mall with nothing to show for it. Unless that sounds like fun, it's good to do a little research and form a plan first.
Check your favorite stores' websites for any sales or coupons, especially if you're shopping online, and start thinking about what you're looking for before you get into the store. Do you need shoes? Jeans? Underwear? Having some sort of game plan makes sure you're looking in the right place for what you need and prevents you from spending too much on things you don't need.
3. Not setting a budget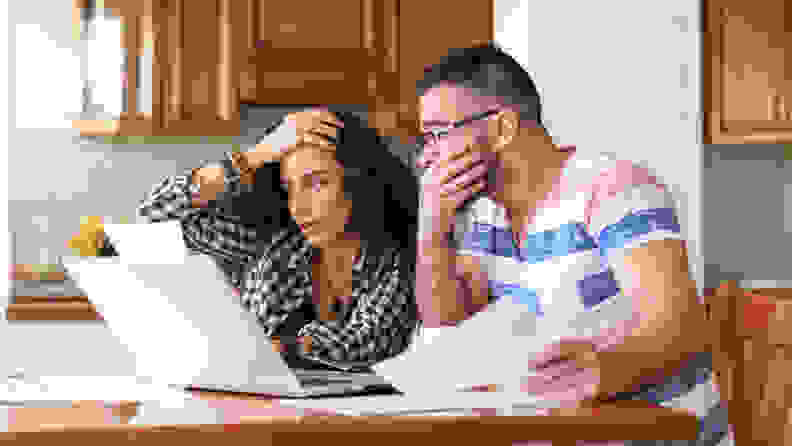 We've all been there. A quick trip to Target turns into three hours of shopping, and suddenly the $10 you meant to spend on a pair of sandals turns into $200. After all, shopping actually produces dopamine—the same feel-good chemical that controls the brain's pleasure and reward center—which means it's easy to get caught up in the whirlwind only to regret it later.
There are a few great ways to avoid the Target effect, but it's really all about planning ahead. Decide how much you want to spend before you even get in your car or open your laptop so you have a better idea of what you can afford. Shopping can be fun no matter how much you plan on spending, and you'll be much happier if you don't have to cringe over a credit card bill later.
4. Only shopping the sales rack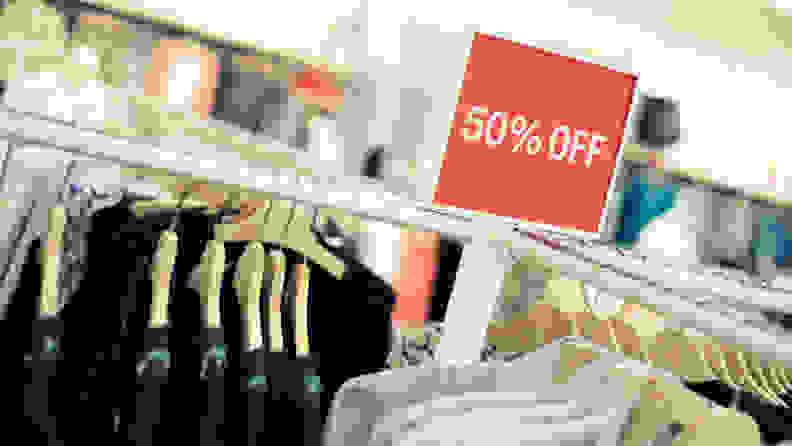 I've spent years as a dedicated sales rack shopper, and I used to spend hours scouring Goodwill for bargains. Often times, I'd come home with giant bags full of clothing after having spent $100 or less, and I was thrilled that I'd gotten a bargain. The downside? I didn't even like all of the pieces I was purchasing. I've gotten so many shoes that are too small, jeans that are too tight, and sweaters thinking, "Well, it could be cute with the right top," only to never wear them.
While there's nothing inherently wrong with shopping the sales rack, don't fall into the trap of buying bargain items simply because they're cheap. If you don't need something—or aren't in love with it—don't buy it, especially if it's a replacement for something you do want or need. What's the point in spending $10 on jeans you'll only wear once and will just have to replace anyway?
Don't fall into the trap of buying bargain items simply because they're cheap.
5. Choosing price (or quantity) over quality
Growing up, I was raised to believe that cheap equals better. Not only did it mean I had more money for other things, it also meant I could buy more clothing. However, after my bras started falling apart after only a few months of use, I realized that I wasn't actually saving any money. Instead, I was losing it.
Be honest with yourself about what you're actually going to use. Will you wear a different pair of shoes every single day? Make sure you're shopping for quality pieces that don't just fit your budget or the idea that you need more. Many clothing items can be seen as investment pieces. A good pair of jeans, high quality shoes, a great belt—these can all last multiple seasons, meaning you won't need to purchase them over and over again. The first time I spent $100 on high-quality, casual shoes, I nearly cried in the store because I couldn't stop feeling like I was "wasting" the money. They ended up lasting five years, through travel in multiple countries and near-daily use.
6. Buying too many random pieces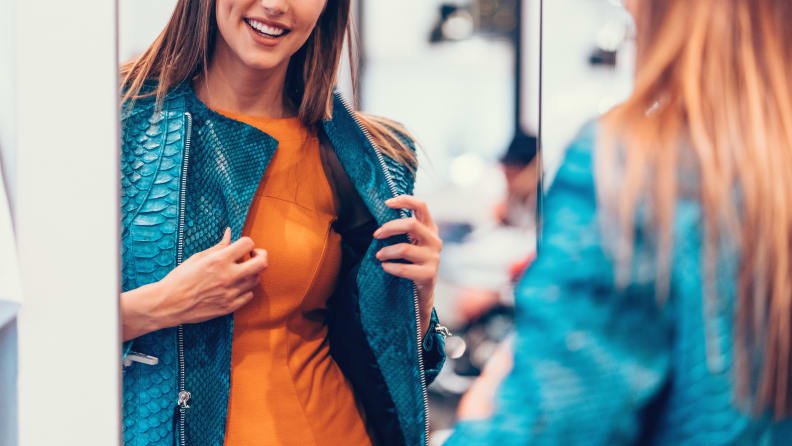 This is one of my biggest shopping faux pas, and it's still one of the hardest habits to break. A random blouse here, a cute sweater there. I've racked up an entire closet of cute clothes in the past only to feel like I have nothing to wear. Why? Because I'm not thinking about my outfits.
Before you buy anything, make sure you have something to wear it with. Ideally, you'll want to make sure it can be worked into multiple outfits—like a great pair of jeans—versus something you can only wear once. Think about your personal style and the "look" you're going for, too. Love a neutral palette? Keep your shopping constrained to those tones so you don't risk having mismatched items.
Really want to try stepping out of your comfort zone? Rent the Runway can be a great way to test new trends before you buy.
You can even scan Pinterest, Instagram, blogs, or magazines for entire outfits you really enjoy and identify the things that pop up more than once in all of the photos. For me, this helped me find gaps in my wardrobe that I could fill with things I knew would look good.
7. Spending too much on 'fast fashion'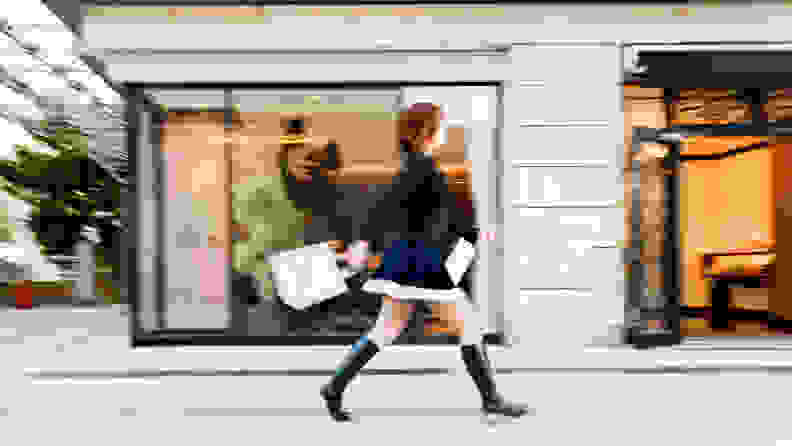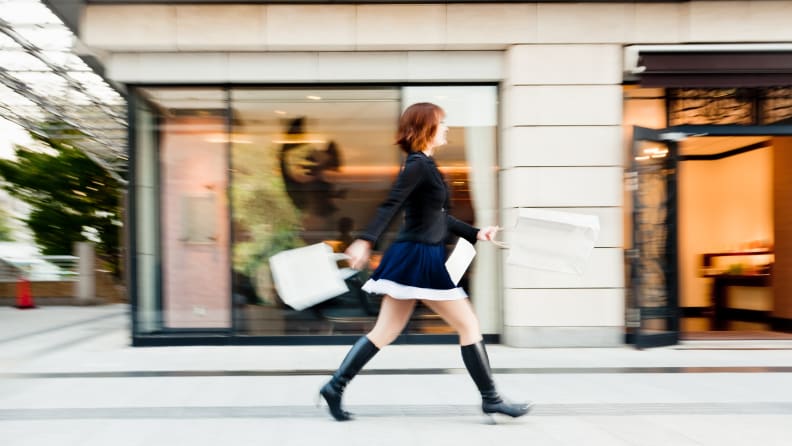 While it's fun to test out a trend by purchasing it at a store like Forever21 or H&M before investing in something more expensive, buying all of your clothing from fast fashion retailers can lead to overstuffed closets with low-quality clothes that move out of style quickly. Not only does quality suffer, what seems like saving money in the short term can actually end up costing more when you need to replace those "affordable" items.
Focus on building a wardrobe filled with quality, essential pieces that you can wear for several years—no matter what the trends are. A great white button-down, a black t-shirt, gym shoes, a classic little black dress, a timeless blazer—none of these have gone out of style over the years and likely won't any time soon, which means they're definitely worth your investment. By spending a little more now, you reduce the need to replace them season after season, and you can always supplement your wardrobe with little "pops" of trendy pieces.
8. Not checking the care instructions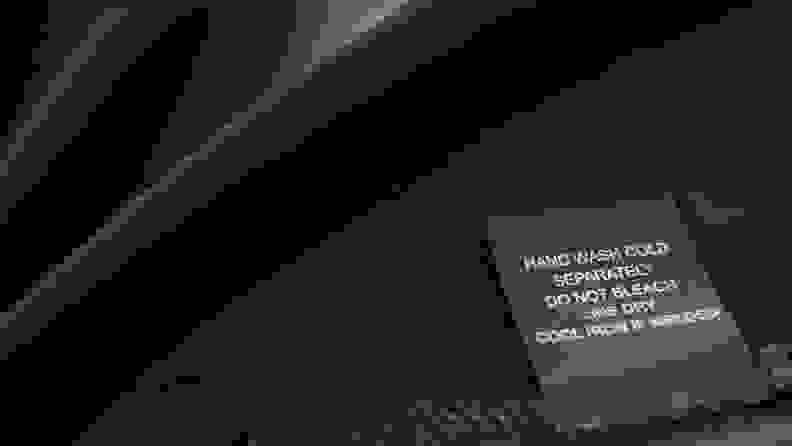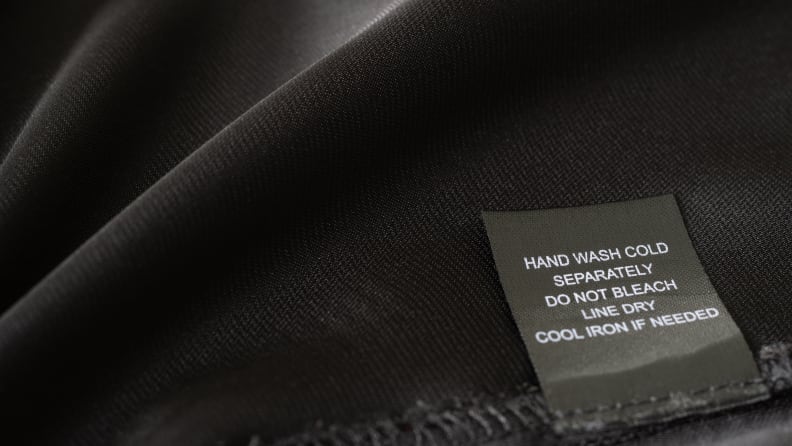 I'm a major sweater lover, which means I'm constantly buying more sweaters regardless of season. However, one of the worst things I do when shopping for clothes is forgetting to check the label for care instructions! One time, I even ended up getting a stain on a blouse that I had to dry clean, which definitely doesn't fit my lifestyle.
If you're like me and low-maintenance is key, make sure you're checking the care instructions, even if you need to use a guide for all the symbols on your clothing tags, before buying your clothes. If dry cleaning doesn't bother you, even better! However, if needing to get something dry cleaned means you're never going to wear it again, then maybe you should skip that purchase in favor of something you can get a little more longevity out of.
9. Buying something for the sake of it
Whether you're an emotional shopper or just getting into the groove, it can be easy to put things in your basket that you don't need. I've fallen into the trap of buying something just to have it far too many times. This leads to going home with something you didn't even want, let alone need, and it's a tough habit to break.
Ask yourself if you actually want the thing you're considering, as well as if you're going to wear it, when you'll wear it, and if you need it. With all of these things in mind, if the answer is still "yes" — go for it! If not, maybe it's time to reconsider. While there's nothing wrong with indulging a little bit of retail therapy here and there (on a budget!), make sure that you're not buying something that will sit in your closet untouched just because your friend said it looked cute on you.
10. Using shopping as wish fulfillment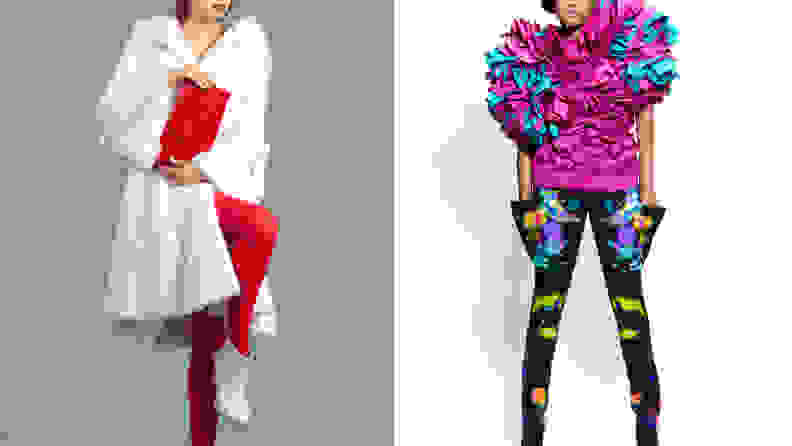 I spend a lot of time scrolling Instagram for style ideas and flipping through magazines, so it's easy to get a little over-excited when I go shopping. Suddenly I'm looking at high heels, cocktail dresses, and gorgeous purses that, let's be honest, I'm rarely—if ever—going to use.
They say dress for the life you want, yes, but also consider the life you have. It's fine to have one or two special occasion outfits sitting in your closet, but if you're not going out on the regular then you might not need more than that. If you plan to start wearing more of a certain style of clothing, start small before investing in a full new wardrobe. That way, even if you revert back to yoga pants and sweaters, you'll only have one or two extra outfits on hand, which can actually be nice to have.
Bonus: Not buying what you want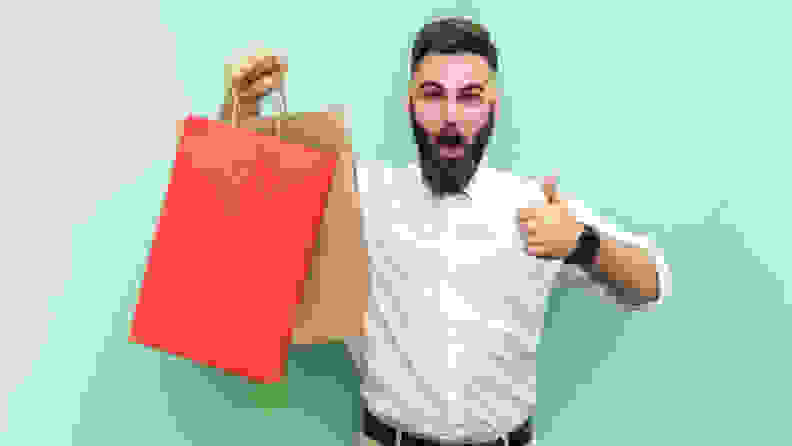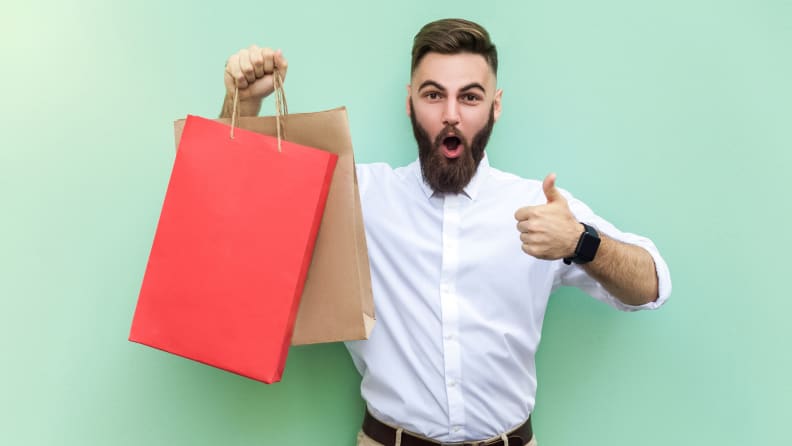 I've spent a lot of time feeling guilty over shopping, and it sucks. I feel like I should be spending less money, being more thrifty, or selecting only "practical" items to stock my wardrobe 24/7. And, while there' are a lot of good things about being a bargain hunter, it can also end up hurting you more than it's helping.
At the end of the day, don't stress about style "rules," someone else's advice, or doing what you feel like you have to do—especially if adhering to those rules will end up making you regret it later. You should feel good about the clothes you're purchasing, and you certainly don't want to end up buying more clothes next month because you didn't actually like what you found the month before. It's okay to put clothing back, to return items that you didn't love, or even to go home empty handed from time to time. Clothes shopping is about getting what you need, yes, but only if you're actually going to wear it.