I love a gift basket—giving, receiving, the themes—and I know I'm not alone. Whether you choose to purchase a pre-made basket or whip one up yourself, a theme keeps things tight, preventing you from going to the four corners of the earth to search through a way-too-wide variety of gifts.
And the wrapping couldn't be simpler. A pre-made gift basket comes ready to go, and if you do build a basket yourself, all you have to do is twist a big sheet of paper, fabric, or cellophane over it and tie it up with a ribbon.
Plus, who doesn't love opening a gift to discover that you've actually received several gifts that suit your particular interests?
Have I sold the magic and simplicity of gift baskets yet? Read on for plenty of inspiring theme ideas and pre-made baskets to add to your list.
*We know some of these won't be available until after the big day, but what says "sorry your gift is late" better than a customized gift basket.
1. A Christmas morning gift basket to make things oh-so-easy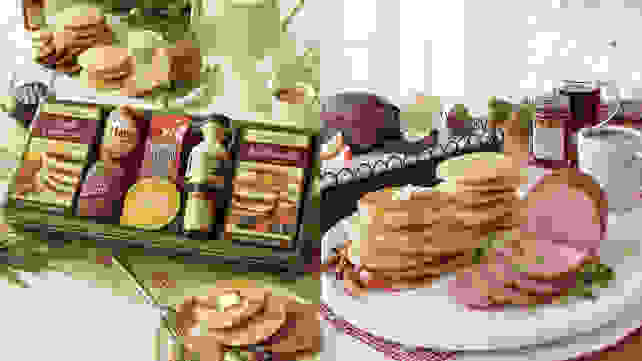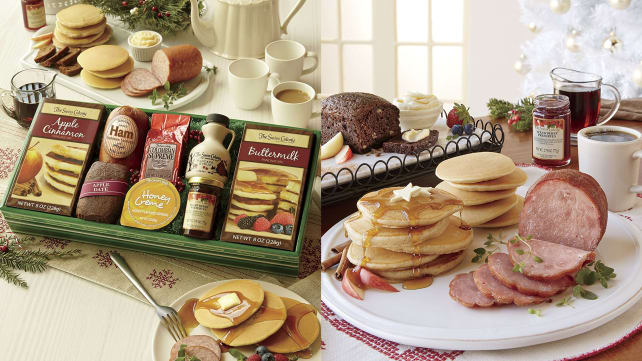 Christmas mornings are made cozier and even more enchanting with the addition of a hot, comfort-food breakfast. I can remember so many Christmases growing up in which I smelled something cinnamony baking in the oven as we opened gifts. Give the gift of memory-making with a Swiss Colony Christmas breakfast gift box, filled with buttermilk and apple cinnamon pancake mixes, maple ham summer sausage, pancake syrup, strawberry preserves, coffee, apple bread, and honey creme. Yum…
Get the Holiday Breakfast Gift Box from The Swiss Colony on Amazon for $29.99
2. A gift basket to create a spa day at home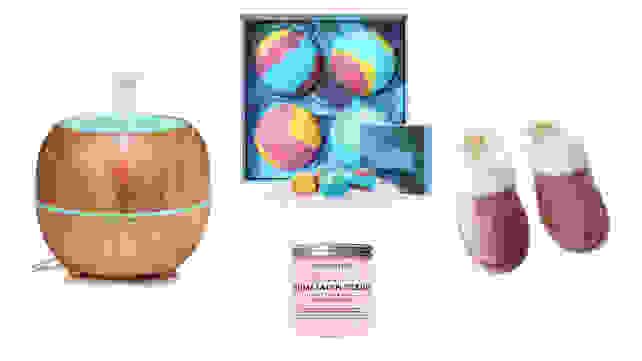 The holidays are lovely, but let's face it, they can be chaotic, too. For that perpetually-running-around person in your life, put together a spa basket to encourage feelings of relaxation. You can include a set of bath bombs in soothing scents like lavender and rose, a best-selling salt body scrub made with lychee fruit essential oil and sweet almond oil, an aromatherapy diffuser, and of course, a pair of incredibly soft slippers to sink into afterward.
Get the Bath Bombs Luxurious 4-Pack Gift Set for $17.59
Get the Majestic Pure Himalayan Salt Body Scrub for $12.95
Get the ArtNaturals Aromatherapy Essential Oil Diffuser for $18.95
Get the iHomey Suede Fleece Slip On Slippers starting at $14.59
3. A camping-and-coffee gift basket for the outdoorsy people in your life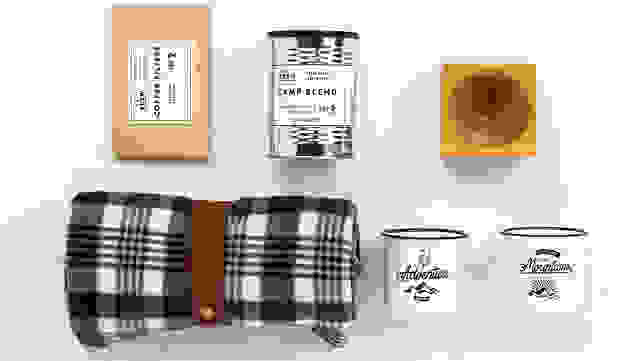 Hot drinks seem to taste better when they're sipped around a fire with friends, and this gift pack can help to create that very moment. Tailored to the outdoorsy sort, it includes two inspiring mugs, a plaid fleece blanket, disposable coffee filters, and 100% Arabica coffee beans. I can smell the freshly brewed coffee and blazing campfire now…
Get the Coffee Camp Gift Box by Thoughtfully Gifts on Amazon for $39.99
4. A basket of items to set the scene for a movie night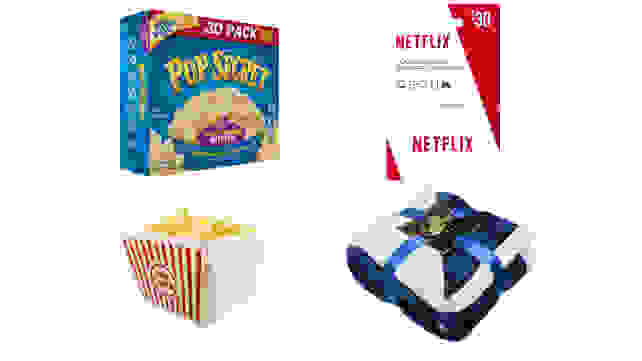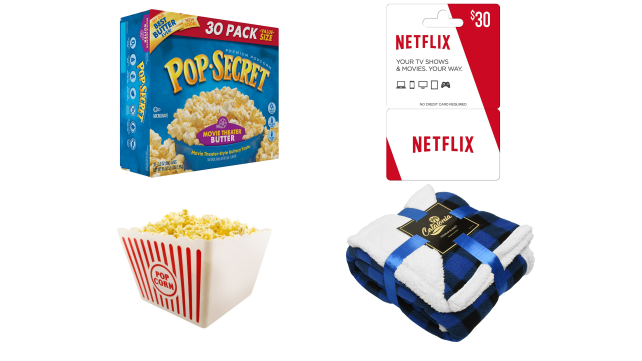 Going to the movies is enjoyable, but it's even better when you get to watch a blockbuster at home in your PJs. No movie night is complete without Netflix, and you can buy gift cards in denominations of $30 or $60—that'll give them access to thousands of movies for a few months of fun. And you can't skip a classic like a bucket of movie popcorn, especially when it's served in adorable, nostalgic red and white popcorn boxes? To top it off, give your loved ones a comfy new blanket to snuggle up under.
Get the Netflix Gift Card Starting at $30
Get the Movie Theater Butter Pop Secret Popcorn Starting at $14.88
Get the Classic Red and White Striped Popcorn Box for $6.95
Get the Catalonia Red Plaid Sherpa Throw Blanket for $25.99
5. A mixology gift set for a DIY devo-TEA
DIY is such a thing nowadays (at least that's what Pinterest is telling you, right?). And in that spirit, you can give this unique gift to a crafty, culinary friend or family member—a kit to create their very own tea that comes with loose leaf teas in six flavors, a mortar and pestle, disposable tea infusion bags, and a timer that doubles as décor, all in fresh, modern packaging.
Get The Ultimate Tea Mixology Box Gift Seton Amazon for $59.99
6. An adorable grouping of gifts for animal lovers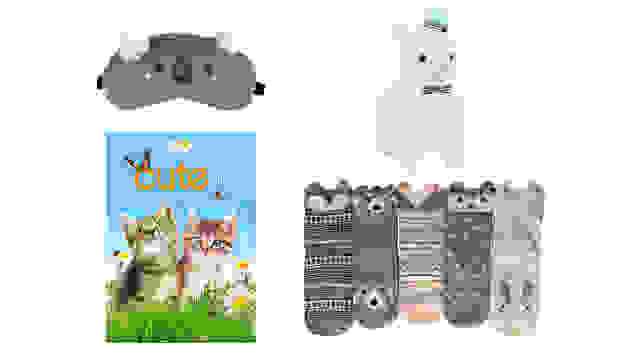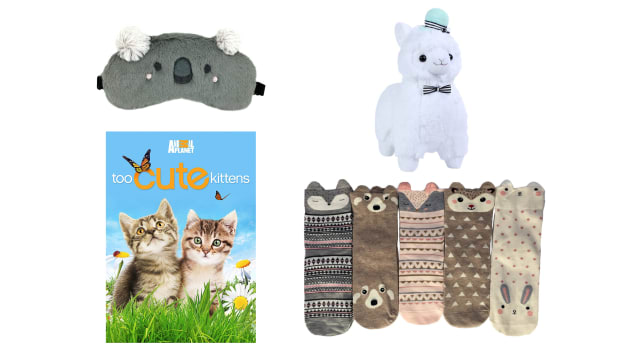 This themed basket is for the adult that never grew out of her childhood love for all things furry and cuddly. It's guaranteed to inspire a few squeals and even some giggles, and how could it not? A set of five pairs of socks featuring sweet animal faces, an Animal Planet Too Cute Kittens DVD, an alpaca plush wearing a HAT AND BOWTIE (you know that deserves all-caps), and an eye mask that looks like a fuzzy koala. It's almost too much to handle.
Get the Oureamod Cartoon Animal Socks (5 Pack) for $15.99
Get the Animal Planet Too Cute Kittens DVD for $15
Get the White Plush Alpaca With Tie And Hat for $22.98
Get the ZHICHEN Silk Koala Eye Mask for $11.99
7. An impressive tower filled with treats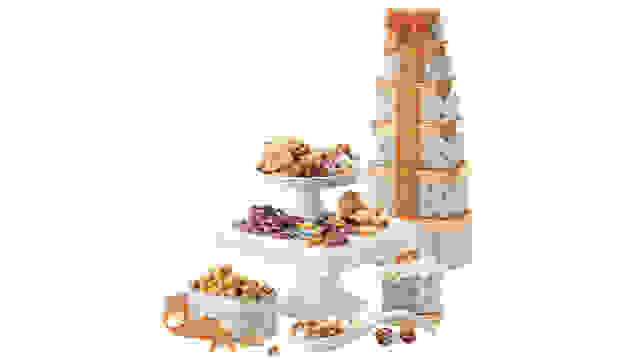 This time of year, nearly everyone loves receiving those old-school tins filled with popcorn, candy, or pretzels. This tower of treats just might blow those little tins out of the water, with six boxes brimming with pretzels, truffles, and a sweet mix, cookies, caramel popcorn, chocolate peanuts, and toffee.
Get the Broadway Basketeers Thinking of You Gift Tower on Amazon for $41.41
8. A basket fit for a green thumb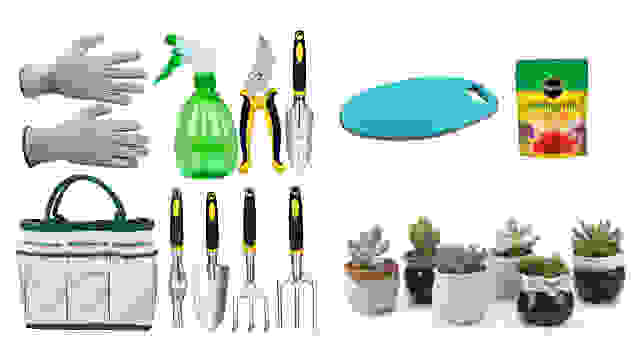 I am fully aware that we're in the throes of winter, but a girl can dream about spring, right? And I think any green thumbs out there would join me in that dreaming, and revel in receiving a basket that honors their love for gardening. In this basket, you can include a best-selling set of gardening tools (which has tools, a bag, gloves, and more), a cushioned kneeling pad to avoid sore knees, a bag of potting mix, and small pots that could be right at home in an indoor garden or outdoor display.
Get the LANBOZITA 9 Piece Gardening Tools Set for $24.99
Get the Foam Comfort Cushion Kneeling Pad for $19.99
Get the Miracle-Gro Potting Mix for $32.19
Get the Pack of 6 Succulent Plant Pots for $12.93
9. A box of all-natural goodies for recipients who go organic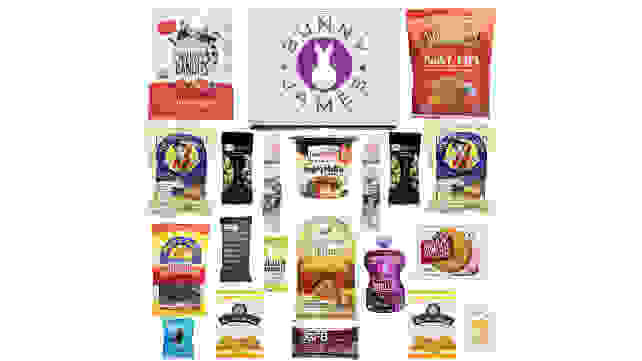 For someone who prefers natural products, this gift pack is ideal, filled with junk foods that aren't filled with junk. From muffins to cookies, chips to jerky, this box contains natural food brands your organic pal is sure to appreciate nibbling on.
Get the Gourmet Healthy Sweet Snacks 'Harvest Box' on Amazon for $40.84
10. A gift for the person always tackling a home improvement project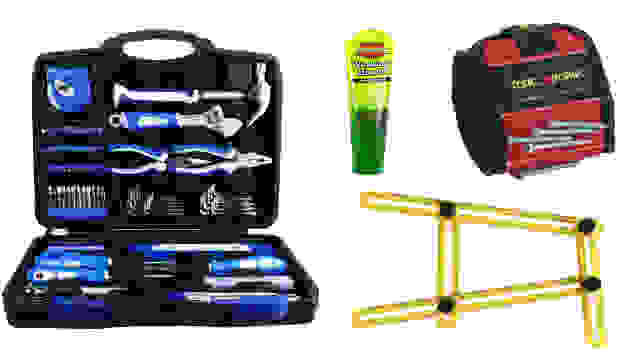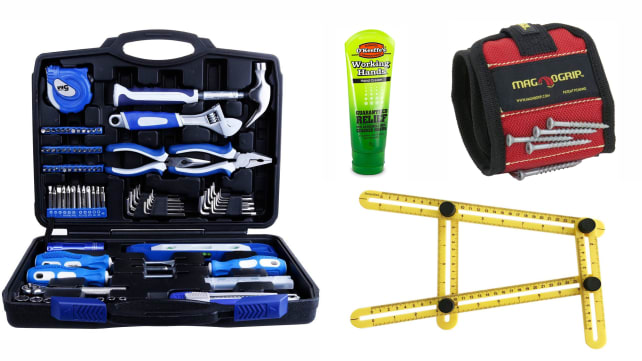 People who constantly work on home improvement projects are always on the lookout for products that will make things smoother and more efficient. This gift basket can do just that, with an enviable tool kit, a cool, magnetic wrist accessory that holds screws and nails while working, a ruler that can transform into various shapes, and a tube of O'Keefes Working Hands hand cream. And the bonus? All of these items are best-sellers in the Tools & Home Improvement section on Amazon.
Get the Vastar 102 Piece Home Repair Tool Kit for $49.99
Get the MagnoGrip 311-090 Magnetic Wristband for $14.46
Get the Amenitee Universal Angularizer Ruler for $14.96
Get the O'Keeffe's Working Hands Hand Cream for $6.19
Prices are accurate at the time of publication, but may change over time.
Our editors review and recommend products to help you buy the stuff you need. If you make a purchase by clicking one of our links, we may earn a small share of the revenue. Our picks and opinions are independent from any business incentives.