Home & Garden
10 Mother's Day gifts under $20 for moms with a sense of humor
For moms who love to laugh.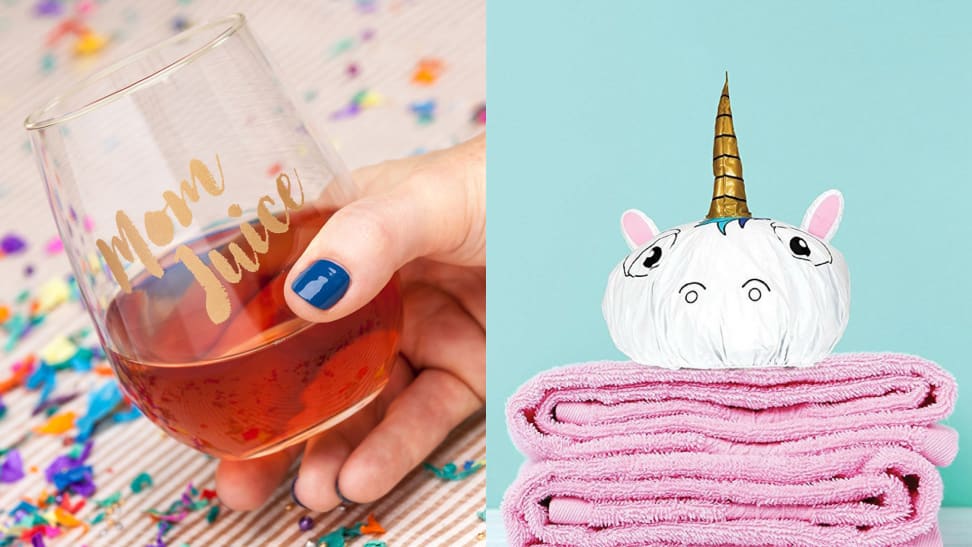 Credit: Smart Tart Design / NPW
Mother's Day is coming up soon, and if you want to get your mom something really special and unique this year, you've come to the right place. There are those typical, and totally lovely, Mother's Day gifts moms around the world receive year after year. The candle (she has 12 more exactly like it in her cupboard). The bouquet of flowers (she'll be sad when they die in two days). And all those "World's Best Mom" mugs.
While these gifts are perfectly nice, why not step it up a notch this year? Here's a fact—moms are funny. Like, really funny. Look no further than Chewbacca mask-wearing Candace Payne as an example of this. Moms enjoy hysterical, novelty gifts along with the rest of us.
This Mother's Day, give the gift of the giggles with these truly amazing gifts (all priced under $25!).
1. A colander to confirm your mom's conspiracy theories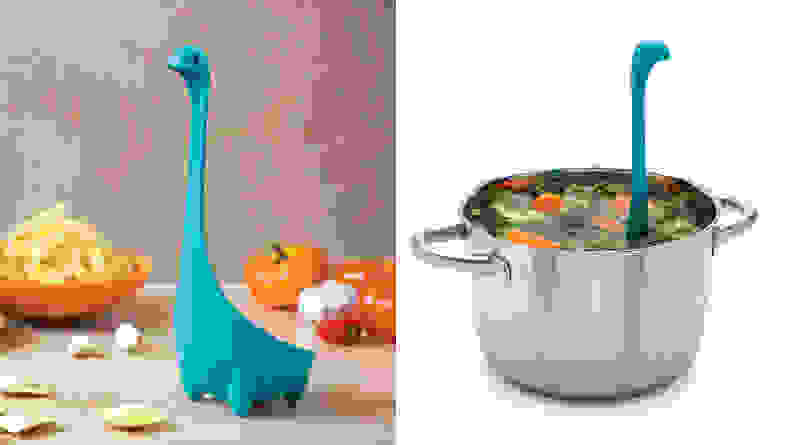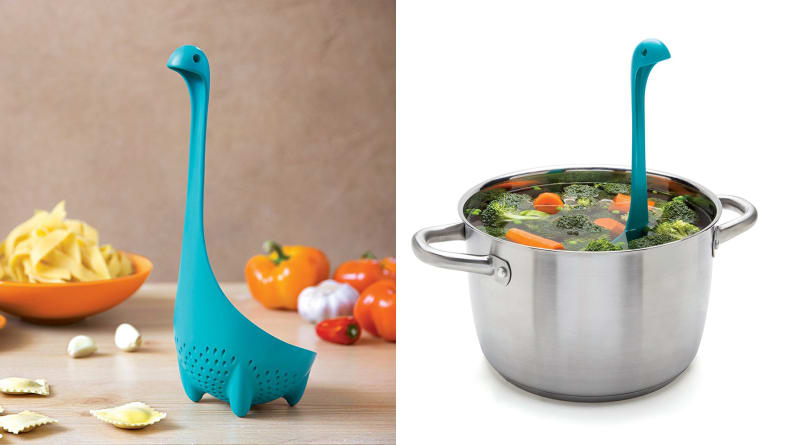 A colander that's also a Scottish sea monster? Now that's a match made in heaven! This kitchen must-have will inspire your mom to throw out her boring old colanders and brighten up her kitchen.
Our favorite review: "I don't know why this product needs a review. It works as a colander, it excels as colander because it is a Nessie colander." – PrimeCompletesMe
Get the Ototo Mamma Nessie Colander Spoon on Amazon for $14.90
2. A wine glass that captures the mom life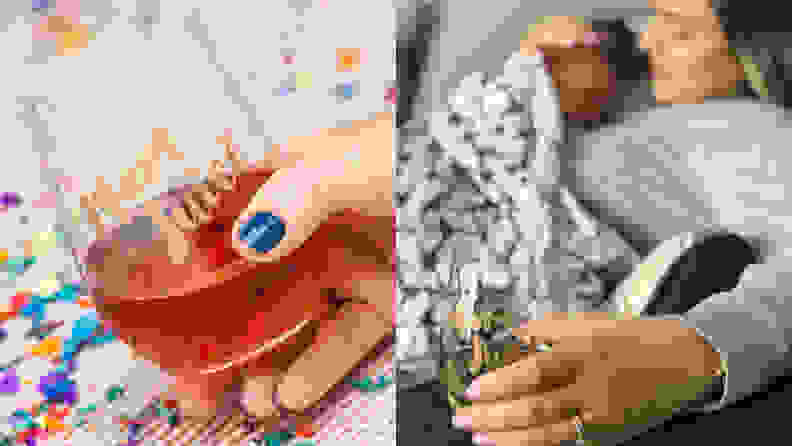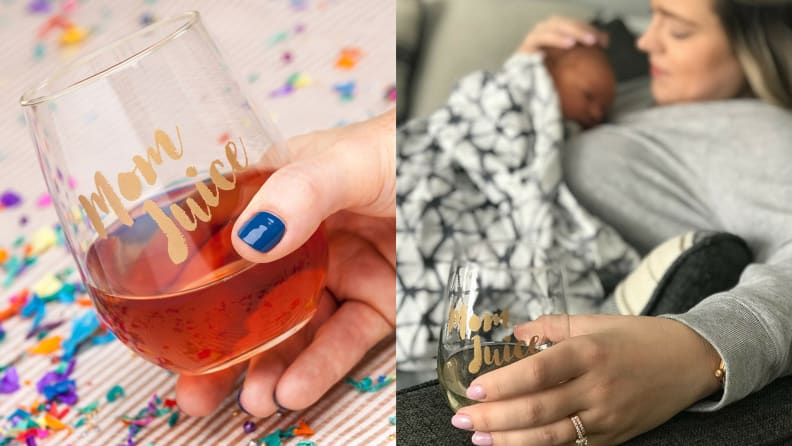 Some days, moms need a little extra juice so they can keep running. And we're not talking about orange juice. At the end of a long day (admit it—you have the potential to annoy your dear, sweet mother), she might want to sit back and sip some Pinot from a classy glass like this one.
Our favorite review: "Great present for a new mom. I received one when my son was born and loved it. I now buy one and a bottle of wine for all my friends when they have a child, and they love the idea, too. Gotta take care of the Mama!" – Frank
Get the Smart Tart Design Funny Mom Juice Wine Glass on Amazon for $16.95
3. A pair of gloves that are both warm and whimsical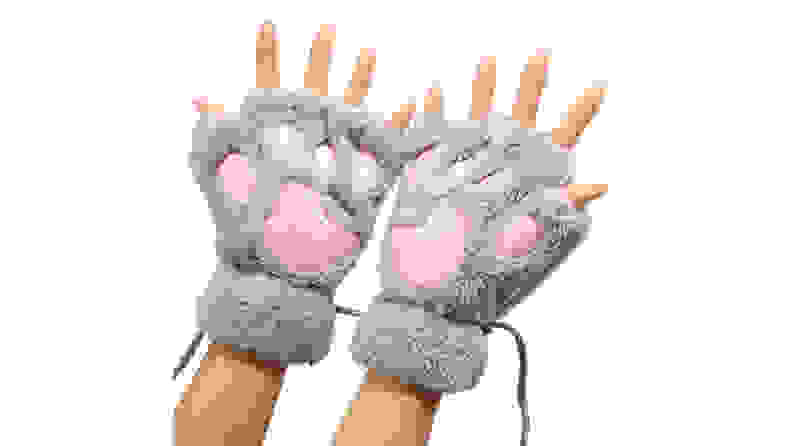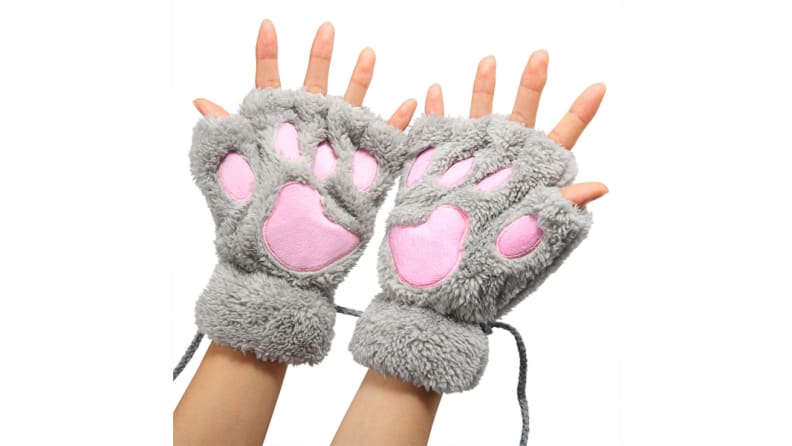 When your mom is typing on her laptop, chances are her hands are cold. Fingerless gloves are always a cute, practical option when working at a desk, but don't get her ones that make her yawn. Get her ones that say "meow!" These animal paw gloves (they could be either cat or bear paws) are sure to be toasty and will make Mom grin while she types away.
Our favorite review: "I needed a quick costume this weekend, and these gloves convinced me to be a cat. These, one set of ears, and a face painted nose did the trick. The gloves are adorable, warm, and could be used for every day, OR make a fantastic costume. I may need more than one pair before I'm done." – Rivkeleh
Get the Arshiner Women Bear Cat Paw Gloves on Amazon for $9.99
4. A unicorn shower cap that's oh so magical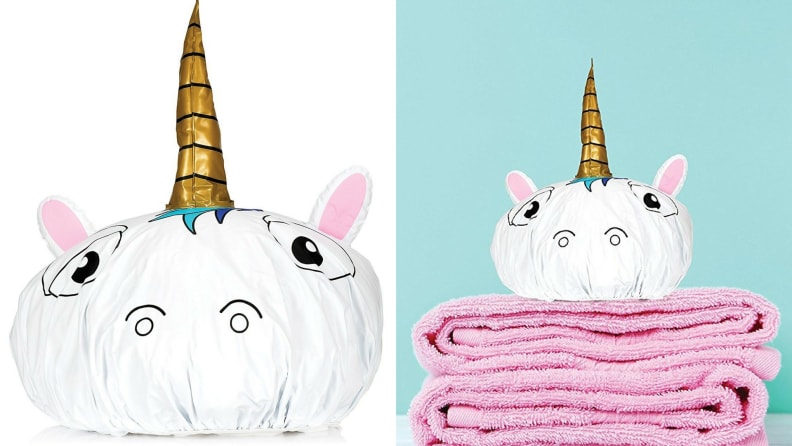 Have you ever thought to yourself "Gee, I wish my shower cap had a unicorn horn"? Well, now you're in luck, and so is your mom with this delightful Mother's Day gift. As it says in the description, this shower cap will "keep your hair as perfect as a unicorn's mane."
Our favorite review: "I'm a full a** grown adult and have really long hair and when I put it into a bun this shower cap still fits nicely. It makes me crack up every time I use it cause I feel so silly!" – Brooke
Get the NPW Unicorn Shower Cap on Amazon for $8
5. A pair of floral socks with a secret message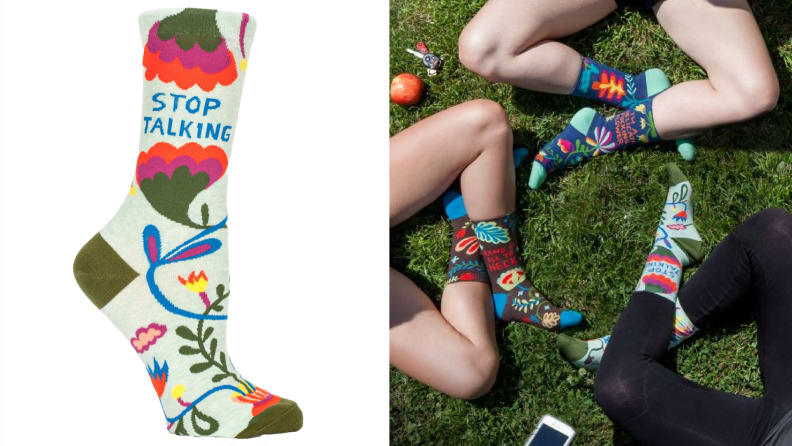 We all have those days, and there's a good chance that moms experience more of them than most. To reflect their innermost desires, buy your mom a pair of cheeky socks that say it all: "Stop talking."
Our favorite review: "These are so super fun! Put them on and showed each and every co-worker so they could get a good laugh. A way to sneak in mildly inappropriate humor in the wardrobe on the down low. Love it!" – Cool_Mable
Get the Blue Q Women's Stop Talking Novelty Crew Socks on Amazon for $10.99
6. A set of sticky notes that proclaim your mom's favorite catchphrase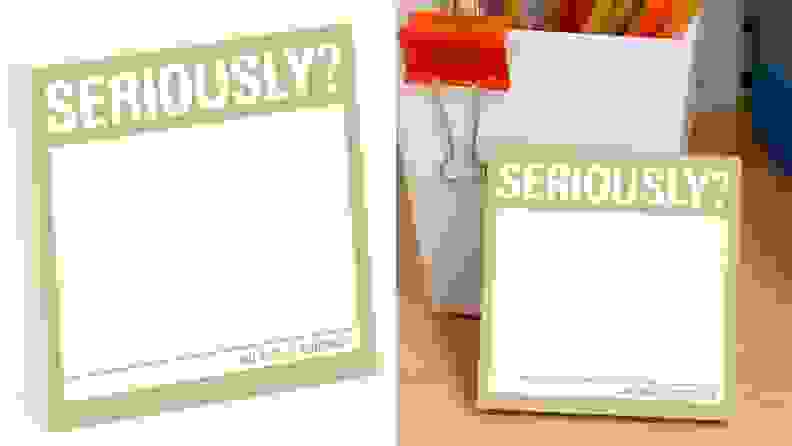 "Seriously?" We bet your mom may say this several times a day. And you know that she totally has the right to repeat it over and over again, thanks to your ongoing shenanigans. These sticky notes could completely represent the essence of your relationship.
Our favorite review: "I am literally holding myself back from going and buying every single one of these. I bought them as a part of a gag gift for 2 of my fellow sassy girlfriends, and they LOVED them. Now I/we want them all!" – SM824
Get the Knock Knock Seriously? Sticky Notes on Amazon for $5.50
7. A doormat that keeps it real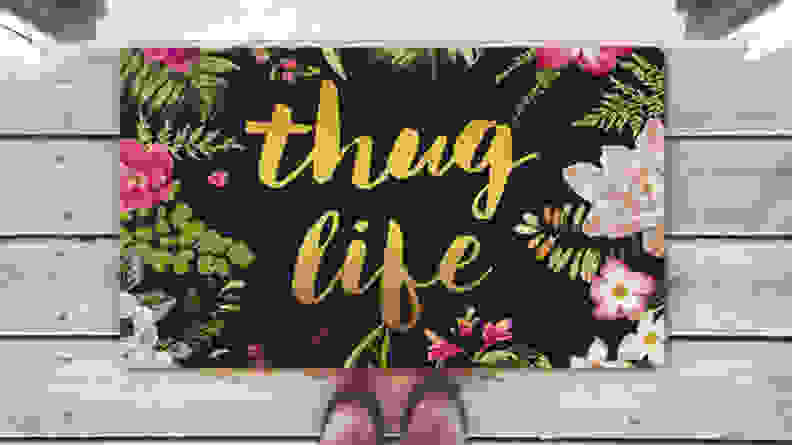 We live in an incredible time, when doormat options are endless and no longer only say "Welcome." Give your mom a doormat that pushes the envelope (and tells visitors the hilariousness they can expect as soon as they walk through the door) with a flowery "Thug Life" mat.
Our favorite review: "This rug is whimsical and adorable. I have it in front of my stove and have received many compliments and gotten some laughs. The colors are so vivid and pretty. Worth every penny." – sleeplessinohio
Get the ZBLX Thug Life Flowers Doormat on Amazon for $16.99
8. An oven mitt that flaunts your mom's favorite food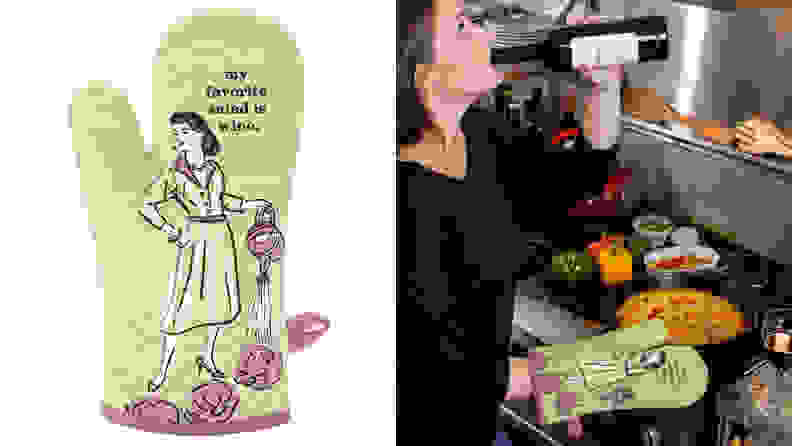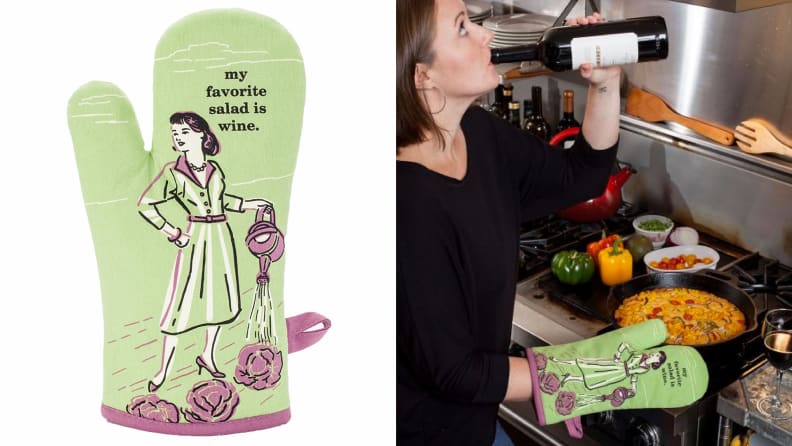 If your mom enjoys a little vino, this is the oven mitt for her. Or if she sometimes confuses her food groups, this gift works for her, too. Either way, people will definitely chuckle every time they see her using it.
Our favorite review: "This is going to be the best gift. EVER!" – Amazon Customer
Get the Blue Q My Favorite Salad Oven Mitt on Amazon for $11.99
9. A set of cookie cutters that are simply dino-mite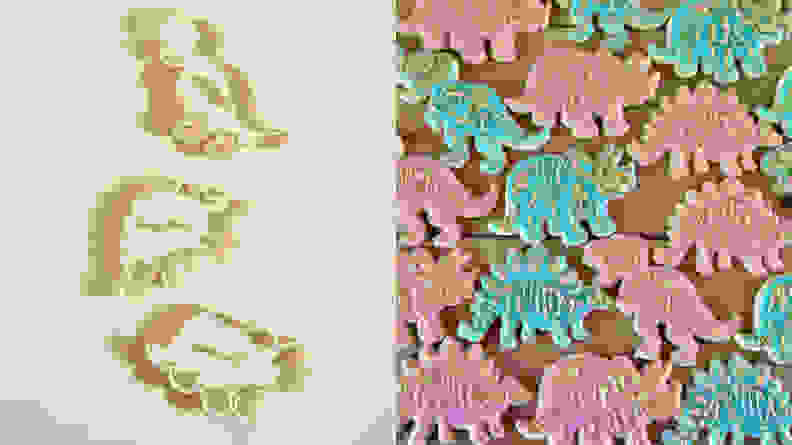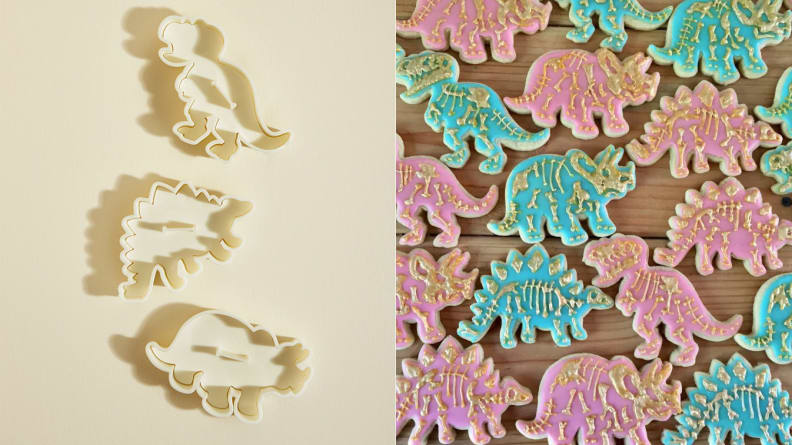 Yeah, those heart-shaped cookies your mom is famous for are certainly sweet, and tasty too. But don't you think she'd have more fun if she were making DINOSAUR-shaped cookies? We think so, and this set from ModCloth is spot-on. It even comes with a set of stamps so she can make regular dinos or dino skeletons.
Our favorite review: "These are the greatest cookie cutters of all time. I seriously can't use them enough. They are durable and sharp enough to cut through cold dough. I really love using them for shortbread and filing the bones in with chocolate." – mfranquemont
Get the Paleo in Comparison Cookie Cutter Set on ModCloth for $15
10. A swan pool float that will make your mom feel like the queen that she is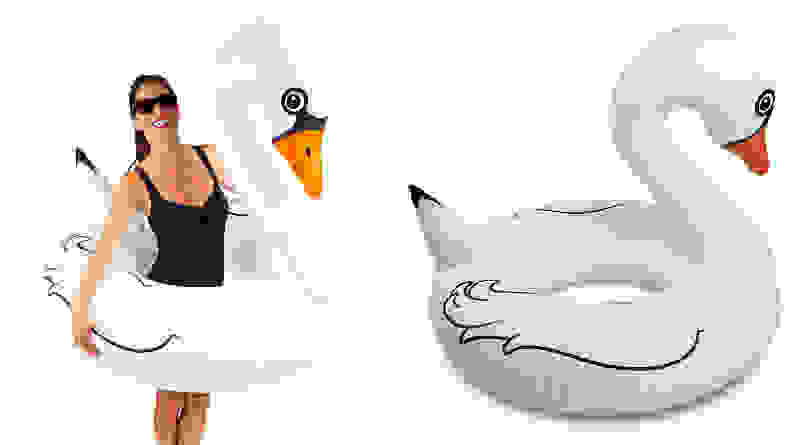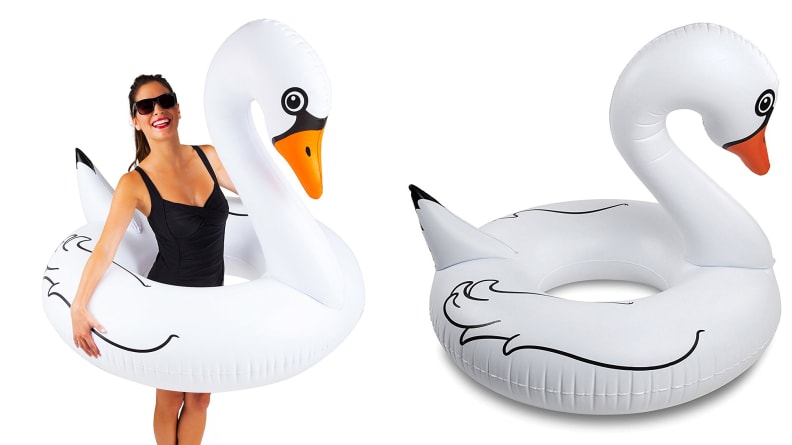 Drifting around on a hot day in a pool float is already pretty fun. But it's even more indulgent when that pool float is a swan. It's just the thing your mom needs for her sunny, relaxing Mother's Day.
Our favorite review: "This made an amazing addition to my Bjork costume. When paired with a white leotard, no one was able to tell the difference. 10/10 would buy again." – Runeteller
Get the BigMouth Inc. Giant White Swan Pool Float on Amazon for $19.99
Prices are accurate at the time of publication, but may change over time.