Home & Garden
10 things you can buy from Home Depot that make holiday entertaining easier
Bingo and pie tins and blankets, oh my!
Credit: Pyrex / Hey! Play!
Let me know if this sounds familiar: You go to Home Depot planning to pick up a new pair of gardening shears and end up leaving with a brand new bingo set.
Wait, that hasn't happened to you?
OK, honestly that's not surprising. You probably had no idea that Home Depot has a massive online store for home decor and kitchen goods, chock full of some of our editors' favorite products across a variety of categories. It includes an expansive line of tableware, bar ware, and holiday decor that can help you set the scene for upcoming dinners and parties. Oh, and did we mention they do free two-day shipping?
As you're prepping for your next holiday feast, check out these surprising finds from Home Depot that can make entertaining much easier.
1. High-quality servingware so guests can treat themselves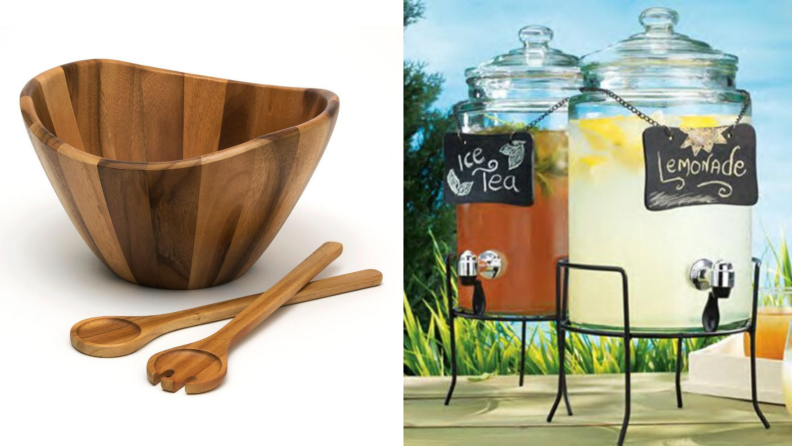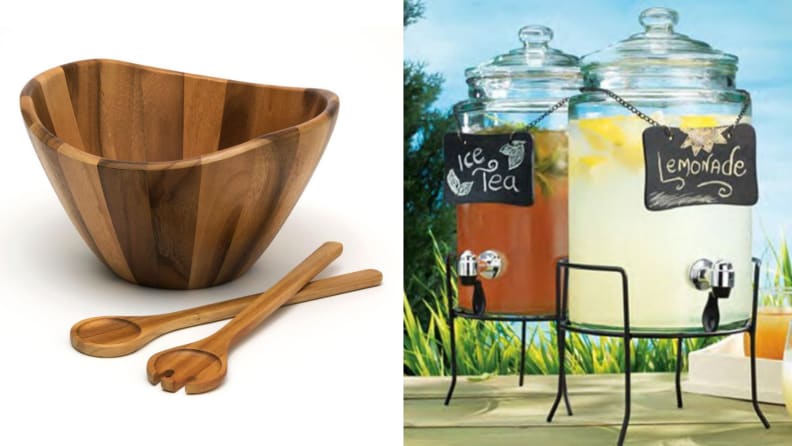 If you're entertaining a crowd, you can use all the help you can find. Pick up servingware that requires little to no effort on your part to fill and lay out, but allows guests to serve themselves from the offerings. This large salad bowl is made from acacia wood and comes with salad servers, perfect for not only holding the largest salad you can make, but allowing people to fill their own bowls. Reviewers note that it's not only functional but absolutely gorgeous, doubling as a great centerpiece for your meal.
This glass beverage dispenser is another gorgeous piece of servingware that can serve as a centerpiece. Instead of pouring drinks for every person that comes to the house (or, if you're my mother, forcing your children to do so), allow them to get their own drink with a dispenser like this one, which comes with chalkboard labels perfect for cocktails and punches.
2. A machine-washable tablecloth that you can set and forget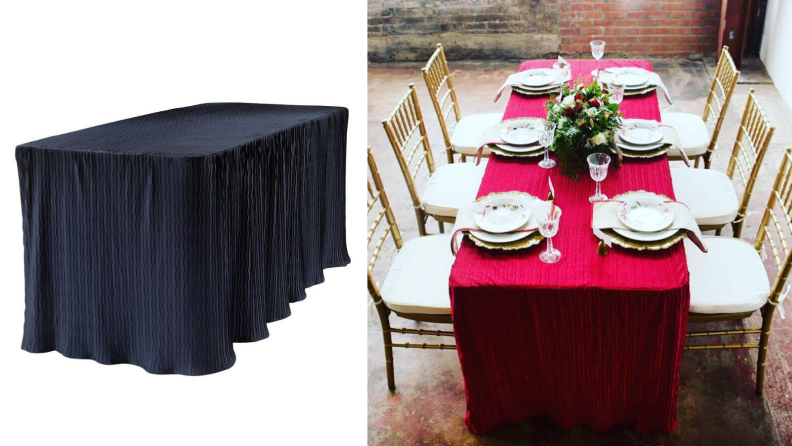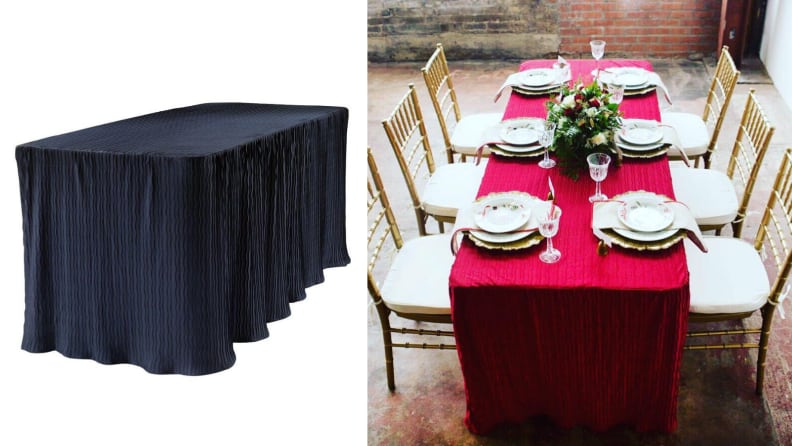 I, like many other children who get invited to holiday festivities, can not be trusted around high-quality or antique furniture. You'll need a strong tablecloth that can protect family heirlooms without tearing or allowing foods to stain the furniture underneath. This particular product is made specifically for folding tables, but it's large enough to fit just about any surface you have in your home. User reviews are overwhelmingly positive, with people saying it's wrinkle-free, attractive, and easy to wash.
Get The Folding Table Cloth 6 ft. Blue Table Cloth Made for Folding Tables from Home Depot for $39.96
3. A game that can entertain a crowd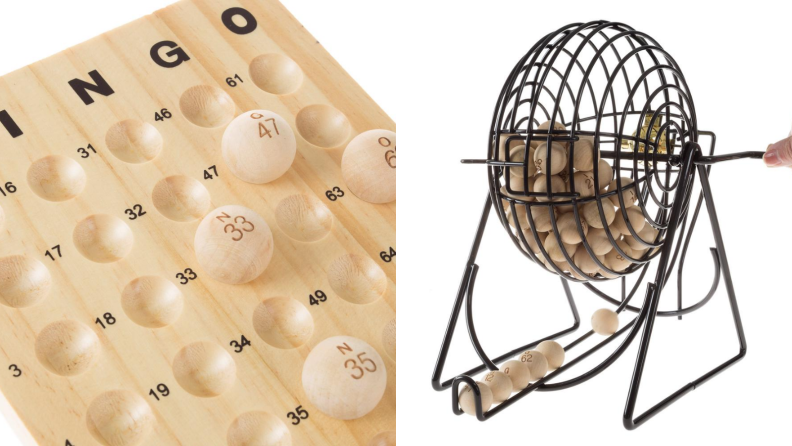 You know what's not helpful when you're trying to cook a turkey, four types of potatoes, and a pecan pie? Grandma hovering over your shoulder the entire time telling you how she used to entertain double the crowd and also reminding you that her feet hurt. What is helpful? An engaging game that can keep grandma and the rest of the group occupied while you wrap up your culinary masterpiece.
This bingo game is incredible—it comes with eight boards and a full spinning wheel. Reviewers love that the game is both durable and unique, providing hours of entertainment for your loved ones.
Get the Hey! Play! Deluxe Bingo Game with Accessories from Home Depot for $41.40
4. Our favorite pizza stone that's great as cookware and decoration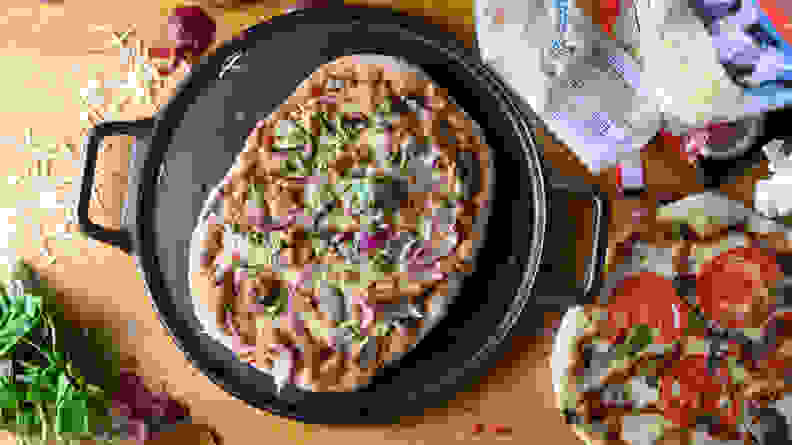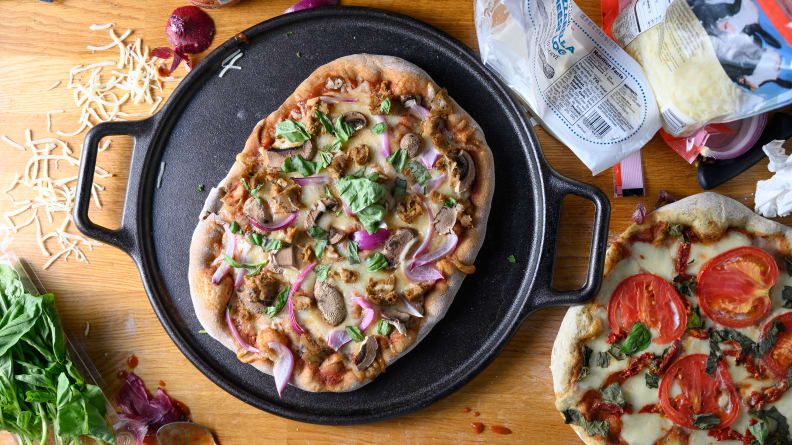 We absolutely love this baking pan. When we tested the best pizza stones, the Lodge cast iron pan came out on top. It's sturdy, bakes evenly, and doubles as an attractive centerpiece, meaning less dishes for you to do at the end of the night.
Get the Lodge Cast Iron Pizza Baking Pan from Home Depot for $39.99
5. Fake poinsettias that you don't have to keep alive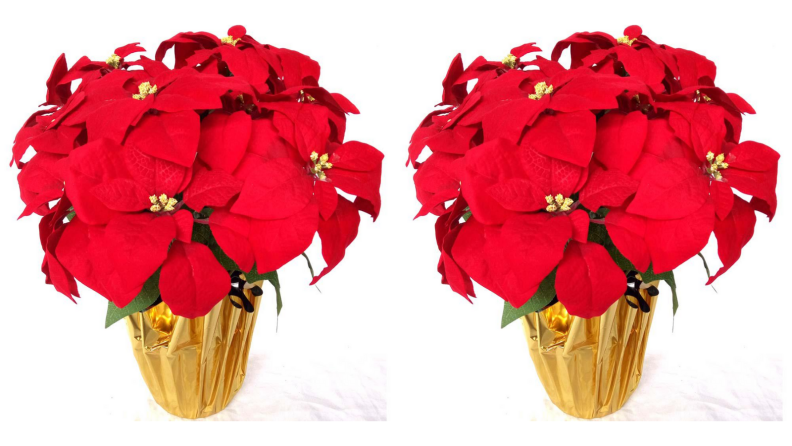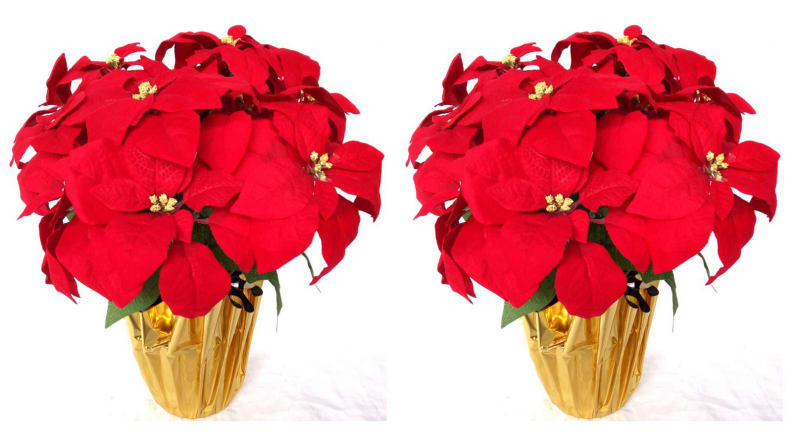 During the holiday season, I absolutely love poinsettias—they're gorgeous. And while the real plants are low-maintenance, they still require care to keep alive. Plus, they can be harmful to pets when ingested. Forget the stress of caring for living plants and opt for these silk poinsettias, which reviewers claim look nearly identical to the real thing. And honestly, until I found the word "silk" in the description, I genuinely couldn't tell if these were real or fake.
Get the Home Accents Holiday 21 in. Unlit Silk Poinsettia Arrangement (6-Pack) from Home Depot for $49.98
6. A classic Pyrex dish you can use to prep and cook
Pyrex dishes are truly magical things. You can get this highly rated casserole dish from Home Depot for less than $20, which is a godsend since it can be used to bake just about anything on your menu, from sides to desserts. Bonus points: Pyrex dishes are gorgeous, so you can take them straight from the oven to the table without worrying about presentation.
Get the Pyrex Basics 4.5 Qt. Glass Baker with Red Lid from Home Depot for $17.99
7. A folding table you don't need to assemble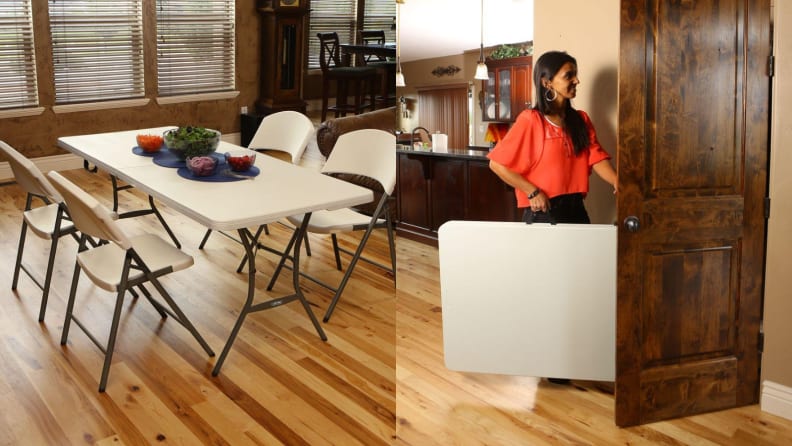 If there's one thing you'll never complain about having too much of at the holidays, it's eating room. Your old card table from college may be able to provide a few extra seats, but we recommend this sturdy folding table from Home Depot that can fit six at least, which is easy to set up and store. Reviews are overwhelmingly positive, with people saying it works just as well inside and outside, and it's very easy to clean.
Get the Lifetime 72 in. Almond Plastic Portable Folding Card Table from Home Depot for $47.98
8. This cake stand that will store and display your prized dessert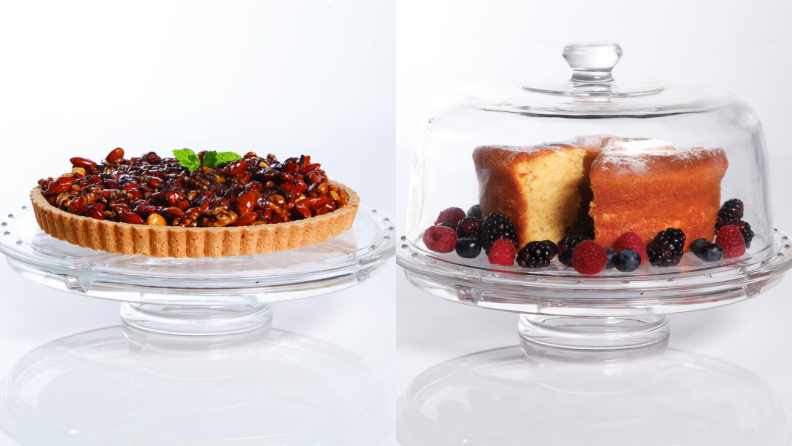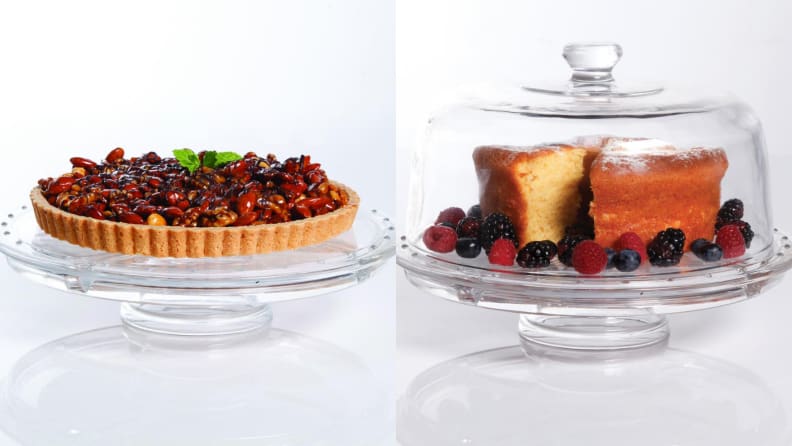 Desserts are my favorite part of any holiday meal, especially because you can bake them the day before your event. Keep them from going stale by storing them in an attractive glass dome, like this one from Home Depot. It's glass, so you can set it out on the counter or table to show people exactly what to expect for dessert without having to open it. And if you want to get fancy, like the image above, you can line the dish with fresh fruits or festive flowers (hopefully fake ones).
Get the Gibson Great Foundations 2-Piece Multi-Functional Glass Cake Stand with Dome from Home Depot for $29.99
9. An electric wine opener to get to the drinks without effort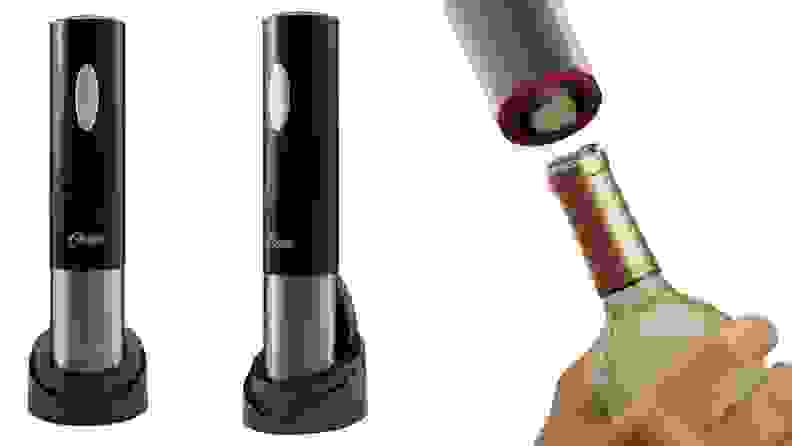 As your guests arrive, they'll likely bring bottles of wine to say "thank you for this incredible dish you worked so hard to make, you are my best friend" (or is that just what I want everyone who comes to my house to say?). This electric wine opener comes highly rated—and as someone who owns this product, I can tell you it works wonders, especially if you're pushing 30 and still can't use a corkscrew.
Get the Oster Tuxedo Black Electric Wine Opener from Home Depot for $20.59
10. A large and cozy blanket for when you deserve to relax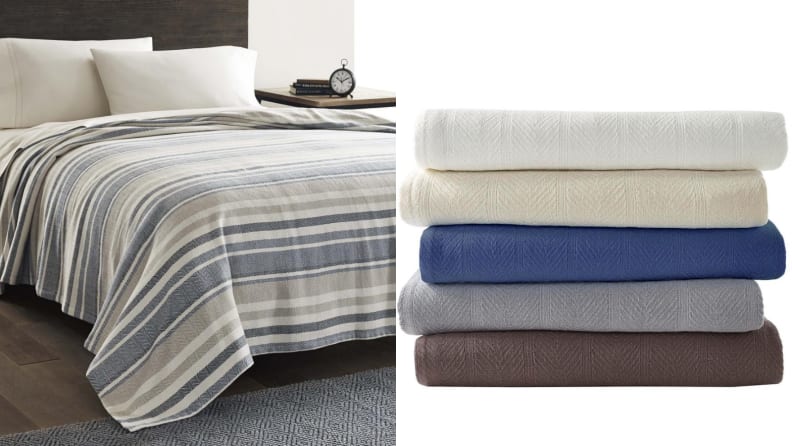 Once the evening is over and it's time to relax, make sure you've got a large, cozy blanket that can wrap you in the warmth and comfort you deserve. Or, better yet, one that can help you relax as your guests clean up after dinner. Either way, your belly will be full of food and your heart will be full of happiness, so relax and take that well-deserved sleep in this bestseller from Home Depot.
Get the Eddie Bauer Gray Cotton King Blanket from Home Depot for $34.49
The product experts at Reviewed have all your shopping needs covered. Follow Reviewed on Facebook, Twitter, and Instagram for the latest deals, product reviews, and more.
Prices were accurate at the time this article was published but may change over time.