Home & Garden
10 ways to treat yourself over the holidays, because you deserve it
It's time for some R&R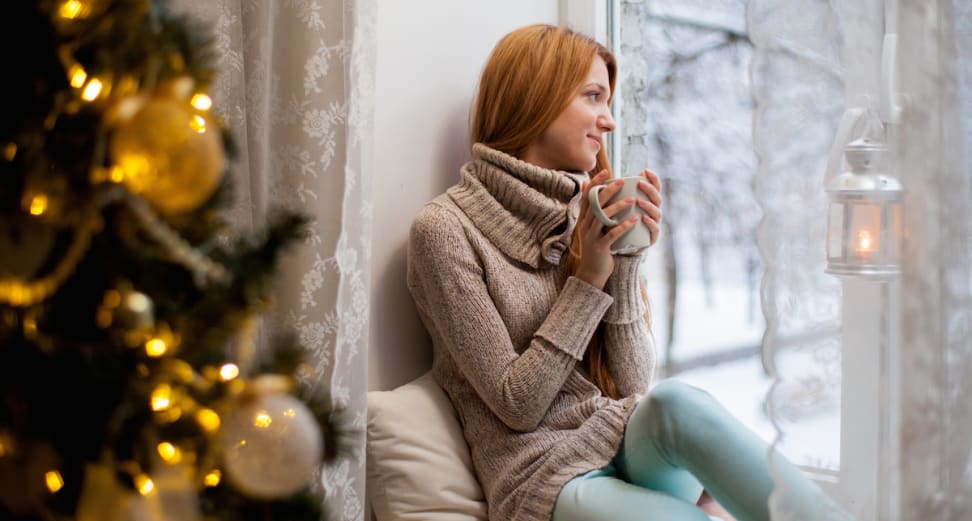 Credit: Getty Images / Sasha_Suzi
The biggest, most ridiculous assumption about the holidays? That they're all warm and fuzzy and filled with laughing family and treats. It's easy to fall prey to that narrative, but the fact is that the holiday season can be stressful, financially challenging, and filled with family drama.
Suffice to say, amidst all the holiday buzz and pomp, it's easy to lose yourself. You might stop sleeping or eating well, which is why self-care is all the more necessary during this time. Take a moment to enact some "me time" and do what you want.
1. Get some much-needed zzz's
It might sound silly, but giving yourself the ability to get some sleep is so important. I know, I know, you need to shop and clean house and make Christmas lists, but you also need to give yourself the gift of sleep! I hate to be the messenger, but no one wants to be around the cranky version of you. Stop running around like a chicken with its head cut off and get some sleep already! This molded mask will help you black out the world and drift off comfortable and cozily.
2. Cozy up with a hot cup of tea
Take a break from all the wine, cocktails, and drippy eggnog to sit down with some tea. In fact, make tea-time a de-stressing ritual. This Blooming Tea teapot comes with 12 natural blooming tea balls, creating a gorgeous tea-drinking experiencing. Get all the benefits of sipping hot tea while watching all-natural florals blossom in your tea cup.
3. Prepare healthy foods full of nutrients
If it's a celebration, calories don't really count, right? Wrong! Sugar cookies, hot chocolate, and pumpkin spice everything—it's all delicious, and it's everywhere, but it's also loaded with carbs and sugar. Indulge in your sweet tooth, of course, but in moderation. The holidays are a great time to invest in healthy food items so that you can feed those cravings without binging on everything in sight.
The answer? A blender! Not only is a blender essential for any good kitchen, but it's a life saver on those long and crazy shopping days or work parties filled with sugary treats. Blend yourself up a healthy smoothie—banana, almond milk, a touch of chocolate—and stay full and fit. This blender is affordable, easy-to-use, and super efficient. No more gross, unblended chunks with this one.
4. Give your feet a spa day
What's better than taking a moment to sit down in all the frenzy? Taking a moment to soothe your dull feet in a warm, bubbling in-home foot bath! This sleek, easy-to-use Conair foot bath is complete with vibration and toe-touch controls, perfect for a late-night chill out session.
5. Break a sweat!
Work out! It may sound like yet another chore, but instead of thinking of working out as yet another item on your to-do list, think of it as prime self-care time. Prioritize it. Your mind and body will thank you for the you-time and the massive endorphin rush.
6. Get into the routine of taking vitamins
It might sound silly, but vitamins are essential to mind and body health. Think popping a vitamin won't actually change your stress levels? Think again. According to Dr. Whitaker, B-Complex vitamins help to improve mood and and boost energy—which will prevent exhaustion and kick-start your serotonin. Order yourself this three-pack of B-Complex vitamins, specially designed for stress. You'll save money, and you'll get enough to last you through the cold, harsh winter.
7. Ease your mind and learn to meditate
Find some time to turn your mind off and meditate. With this super comfy meditation cushion and mat, you'll be able to enter a zen-like state easily. Called a "Zafu," it's filled with natural, biodegradable filling. Plus, it's mobile.
To kick your meditation up a notch, order yourself a copy of Thich Nhat Hanh's Making Space: Creating a Home Meditation Practice. If you're gonna learn how to meditate, learn from a monk.
8. Get coloring!
December, for some people, is a month of endless family visits. Sick of arguing about politics with your crazy aunts and uncles over holiday dinner? Is your house filled with screaming children? Take out all your annoyance on this adult coloring book. Adult coloring books are incredibly popular right now and are a wonderfully creative way to de-stress.
9. Spend time reading a great book
Take the time to turn off your mind and indulge in a good story or audiobook. The most important thing you can do for you is say, "this time is mine." Reading is one the best ways to do just that. Can't decide what to read? Browse our favorites for inspiration.
10. Blast some music and have a dance party
People underestimate the power of dancing all alone, in your undies, while blasting music. Hey, we won't judge you if you want to listen to play bad 90s pop way too loudly. Just make sure your speaker system rocks when you do. This Anker SoundCore bluetooth speaker is crystal clear, with incredible sound quality. Go on, get crazy.
---
Related Video