Home & Garden
10 weatherproof workout jackets that will actually keep you dry
Don't let a little rain stop you in your tracks.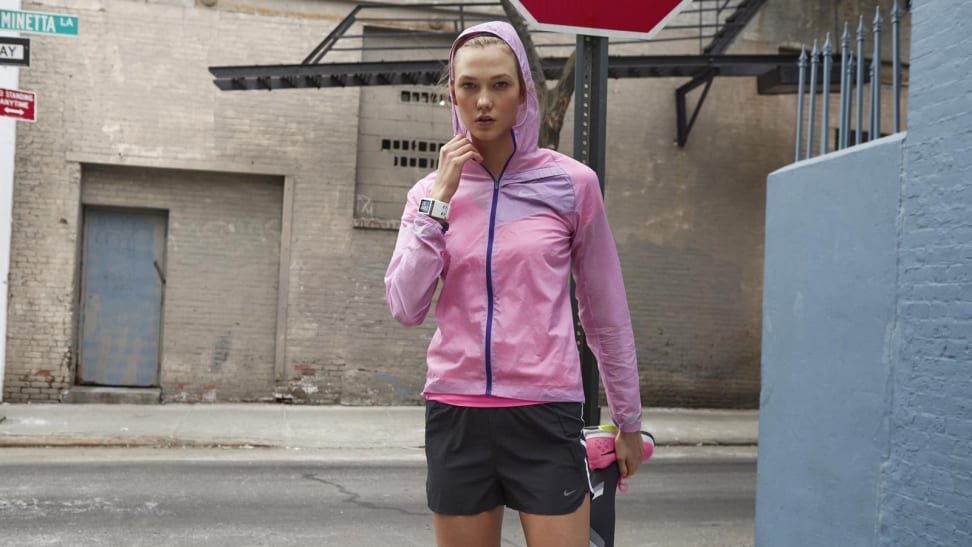 Credit: Nike
Spring is a wonderful time—the flowers, the warm temperatures…the constant, pouring rain. If you love to run, bike, or walk outside, we're betting that as soon as the snow melts, you're lacing up your shoes or pumping up your tires. But with spring comes downpours, which can put a damper on your workouts.
But if you want to one-up Mother Nature, you're in luck. You don't need to push the pause button on those outdoor workouts if there's rain in the forecast. With the right jacket, you can crush your workout and stay dry too.
The benchmarks of a good-quality running or biking jacket include water-resistant fabric, breathability, wind resistance, and extras like handy pockets or hoods. These athletic jackets are highly rated and cherished by their users, and they're all available on Amazon. Read on to learn about the rainy-day features of these premium biking and running jackets.
1. Water-resistant fabric with a hood you can tuck away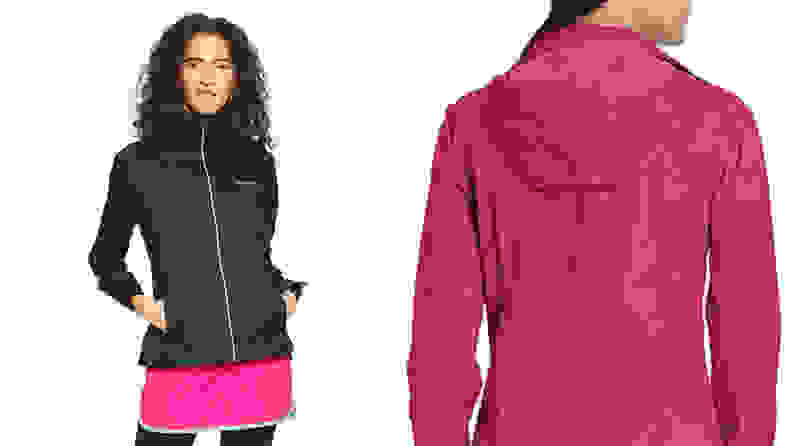 The Columbia Switchback II jacket is a favorite among outdoor workout devotees. This Amazon Best Seller is rendered in hydroplus fabric, a water-resistant material made up of nylon and polyester. Plus, it has a stowaway hood for when the rain lets up and a back-venting system so you'll stay cool even when it's damp and humid outside.
Get the Columbia Women's Switchback II Jacket on Amazon starting at $19.64
2. A standout color with plenty of breathability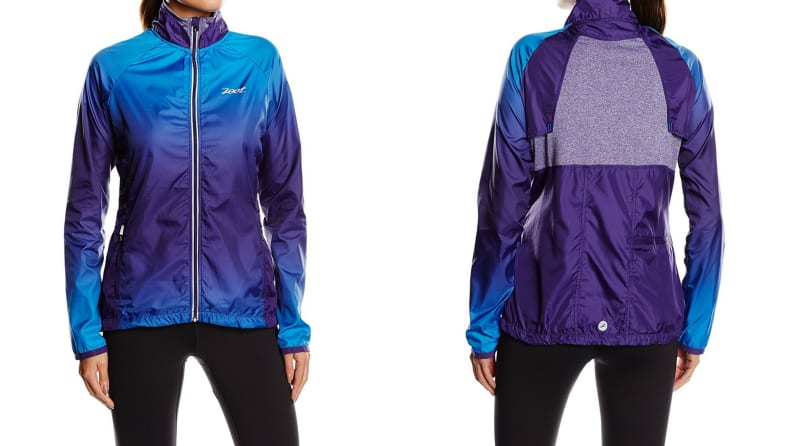 Zoot is a cult brand, especially among triathletes, and this jacket continues Zoot's tradition of making high-quality products. In addition to looking really cool, this best-seller is made up of polyester mixed with spandex for a little stretch and a lot of water resistance, and it has a double collar that provides even more protection against wind. One reviewer said she experienced "no sweating" due to the jacket's great ventilation and breathability. Another reviewer said that it's the best windbreaker she's ever owned.
Get the Zoot Sports Women's Wind Swell+ Jacket on Amazon starting at $35
3. An impeccable option for men from an up-and-coming brand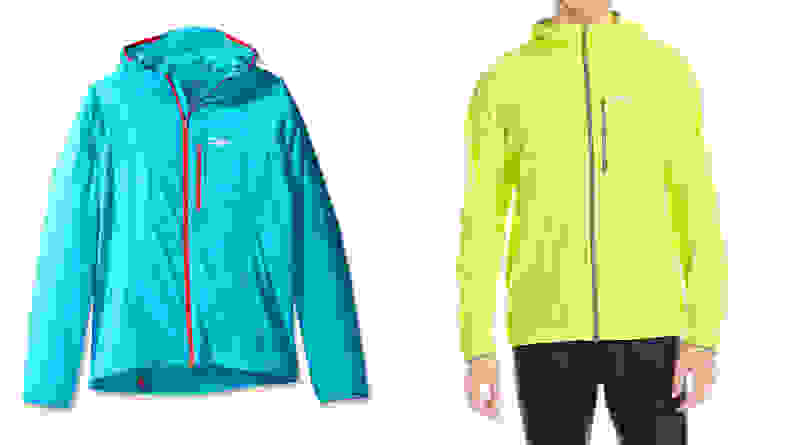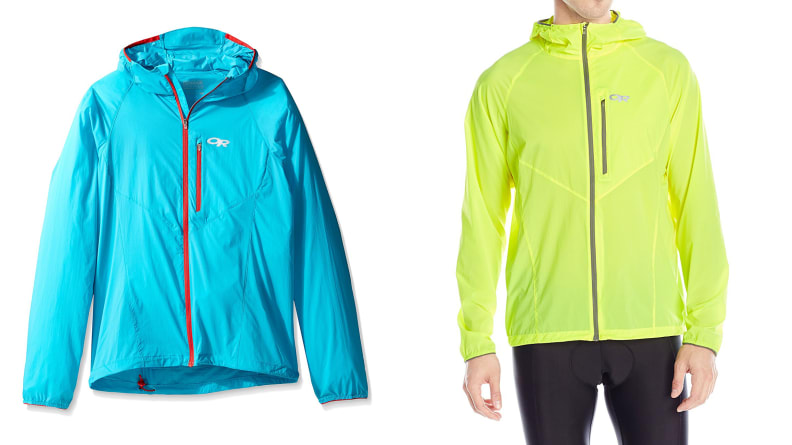 The Outdoor Research brand is becoming increasingly popular thanks to their top-notch jackets. Frequently recommended on outdoor gear websites, and an REI favorite, the Tantrum men's jacket is water- and wind-resistant, dries quickly, allows for movement, and has a helpful pocket on the chest, perfect for protecting your smartphone and keys. But keep in mind that "water-resistant" is not the same as "waterproof" so you might want something heavier for anything more than a drizzle.
Get the Outdoor Research Men's Tantrum Hooded Jacket on Amazon starting at $67.99
4. Reflective fabric with convenient, zip-off sleeves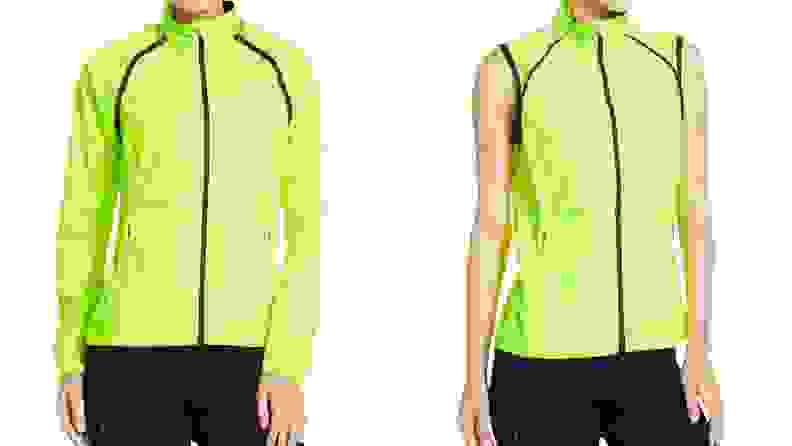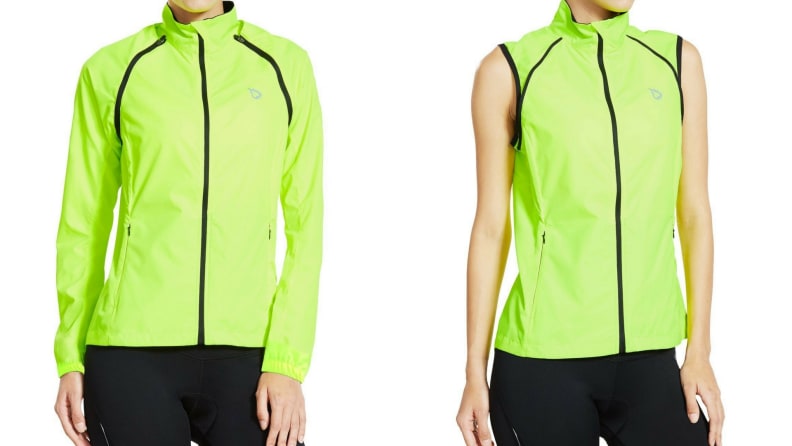 If you enjoy biking, you may want a jacket that turns into a sleeveless singlet-style vest. This best-selling Baleaf jacket fits the bill, with sleeves that can come off completely or be partially unzipped for increased ventilation. The sleeves can be stashed in a convenient back pocket. On exceedingly drizzly, cloudy days, it's imperative to wear something that's reflective, and this fluorescent yellow jacket is sure to be seen by cars and bystanders.
Get the Baleaf Women's Windproof Water Resistant Convertible Cycling Running Jacket on Amazon for $35.99
5. Rain-repellent technology for wet runs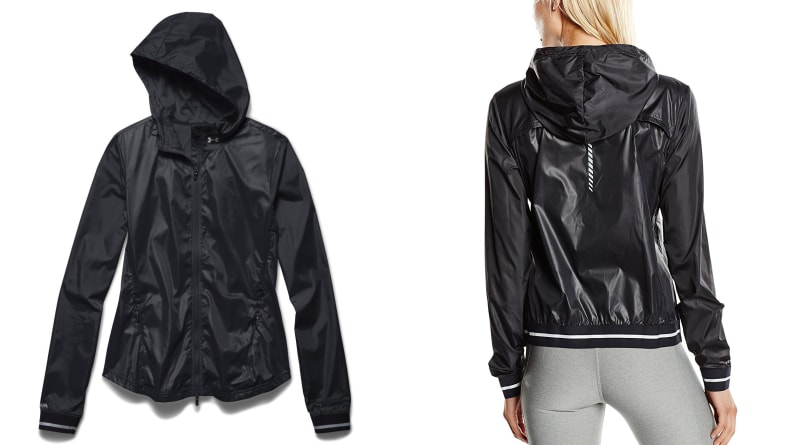 Under Armour is a beloved brand in the workout world, with products that are well-known to ward off even the chilliest temperatures. The Women's Storm Layered Up Jacket is no exception. This Amazon Best Seller is available in a variety of colors, and it utilizes something called UA Storm Technology, a sophisticated system that protects wearers in even torrential downpours. It also has a scuba hood so you can retreat from the rain. And it certainly is popular—this version is currently sold out on the Under Armour website.
Get the Under Armour Women's Storm Layered Up Jacket on Amazon starting at $50
6. Superior ventilation made for cyclists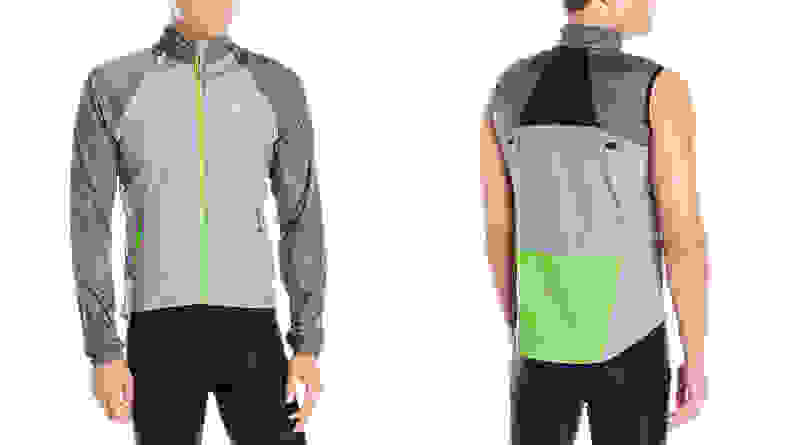 Worn by cyclists all over the globe, Pearl Izumi certainly knows how to make a mean rain jacket. The Men's Elite Barrier Convertible Jacket is another one that always makes lists of the best athletic jackets. It includes zip-off sleeves to convert your jacket into a vest, ELITE Barrier fabric which shields against wind and rain, and sleeve zips for additional venting. One reviewer even wore this jacket during a 600-mile biking trip in Europe.
Get the Pearl Izumi Ride Men's Elite Barrier Convertible Jacket on Amazon starting at $55.38
7. A packable poncho/raincoat hybrid made for men and women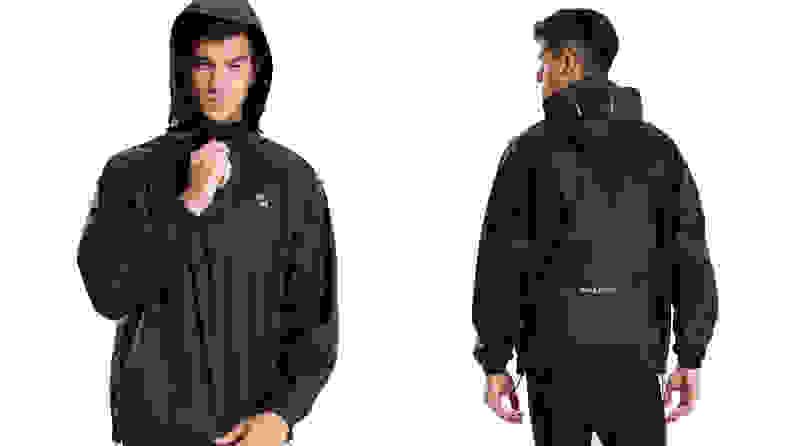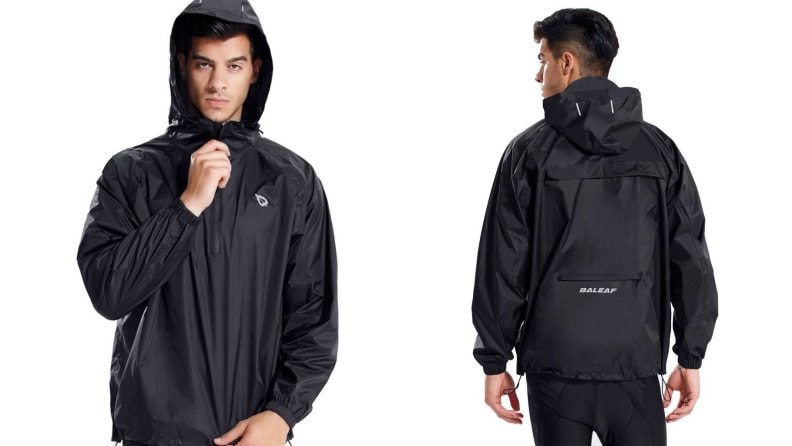 People buy Baleaf's jacketsfor their quality and affordability. This top-rated poncho-meets-raincoat is made of lightweight nylon with a funnel hood that has an adjustable drawstring. It also has a back pocket that's designed so you can fold it up, making it compact enough to keep in your bag in case you get caught in the rain.
Get the Baleaf Unisex Packable Outdoor Waterproof Rain Jacket on Amazon for $21.99
8. 'Impossibly' light material for when the weather gets warmer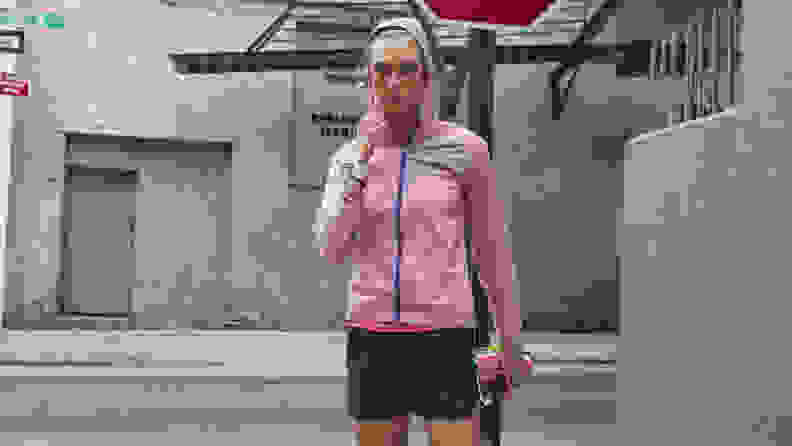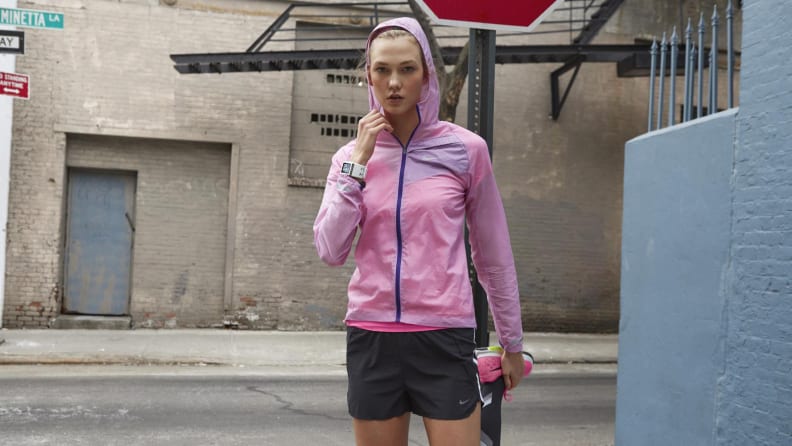 When it's warm outside but pouring, a tank top certainly won't keep you dry. What's a runner to do? Wear this "impossibly light" jacket made by Nike, that's what. In a whispery material that still keeps the rain out, this Amazon Best Seller has reflective touches perfect for overcast days, and elastic in the hood and sleeves to keep out those raindrops. It also works for not-so-warm days—one reviewer said it was "perfect for early morning runs in chilly weather."
Get the Nike Women's Impossibly Light Running Jacket on Amazon starting at $84.99
9. All the bells and whistles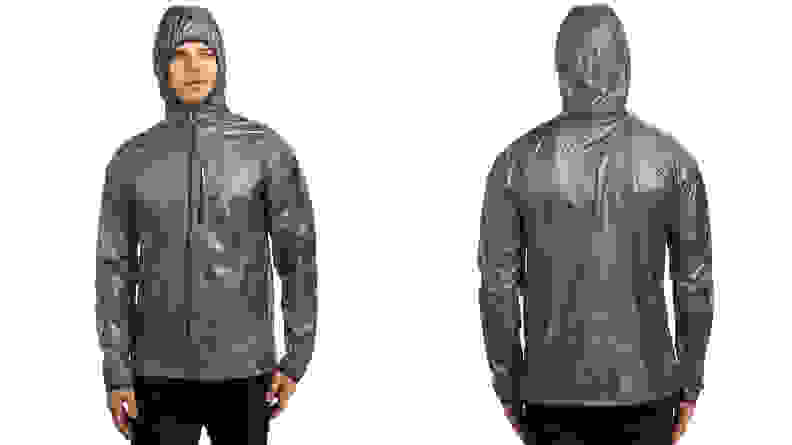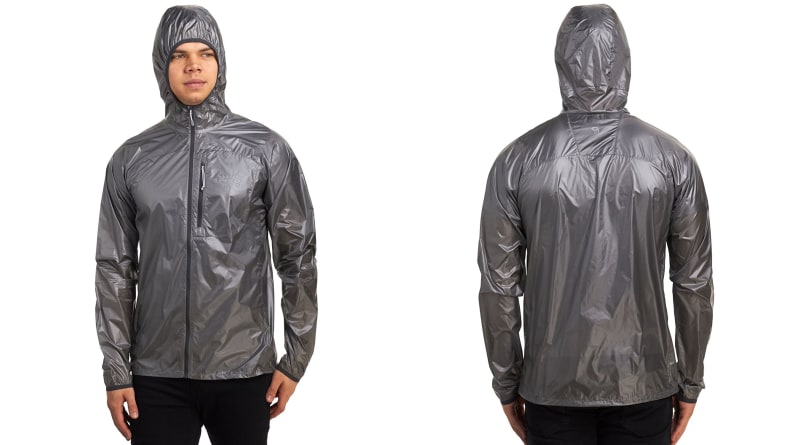 The top-rated, water-resistant Mountain Hardwear Ghost Lite Jacket has been featured on many outdoor gear lists. It comes in a wide selection of colors, and includes noteworthy features like a single-zippered chest pocket, a hood stowaway system, and a low-profile hood that keeps out cold, wet weather.
Get the Men's Mountain Hardwear Ghost Lite Jacket on Amazon starting at $69.98
10. A jacket that keeps the rain out while you set speed records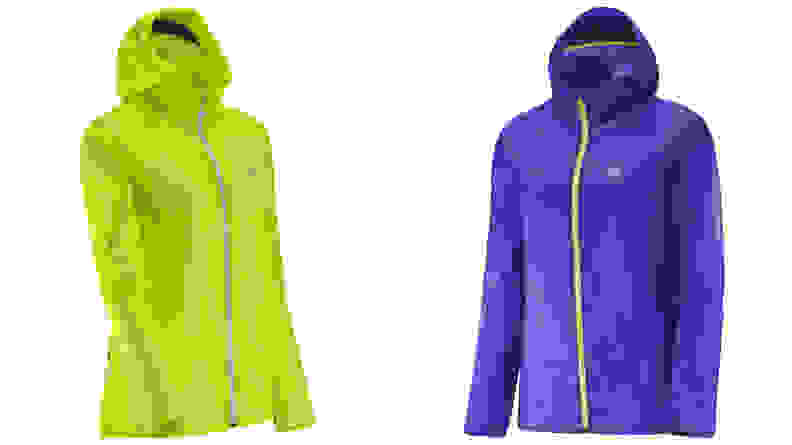 The Salomon Fast Wing Hoodie is widely recommended among fitness gear enthusiasts. It's available in bright hues, ideal for wet runs thanks to the 100% nylon material that safeguards the skin from rain, and moves easily, so you won't have to sacrifice speed. One reviewer calls this the "best jacket ever," saying, "I am a long distance runner and can pack this awesome jacket in the pocket of my vest."
Get the Salomon Women's Fast Wing Hoodie on Amazon starting at $77.95
Prices are accurate at the time of publication, but may change over time.