Home & Garden
12 things to upgrade your home that look more expensive than they are
Turn your house into a magazine-worthy home.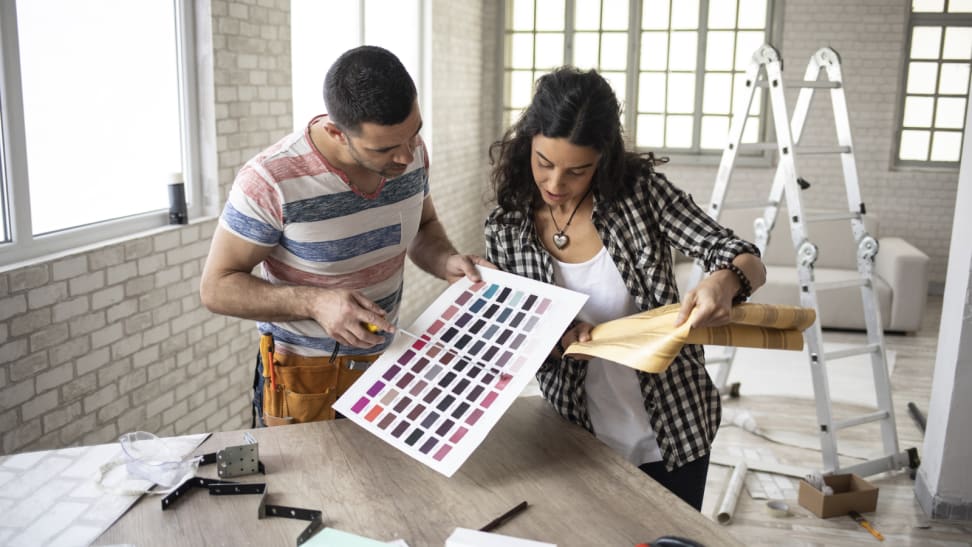 Credit: Getty Images
Being stuck inside over the last few months due to COVID-19 has changed our relationships with our living spaces. We've come to use our homes in different ways—many of us are now working from home, working out from home, and everything in between. As a result, we've become so familiar with our spaces that we've begun to fall out of the honeymoon phase, if there was one in the first place. Fortunately, it's never too late to reignite that spark—even if you don't have an endless budget to do so.
If you have expensive taste, you'll likely want to find upgrades that look pricer than they really are. After browsing top home websites, we found 12 top-rated (and chic) products at great prices that could be game-changers when it comes to upgrading your home.
1. This stick-on backsplash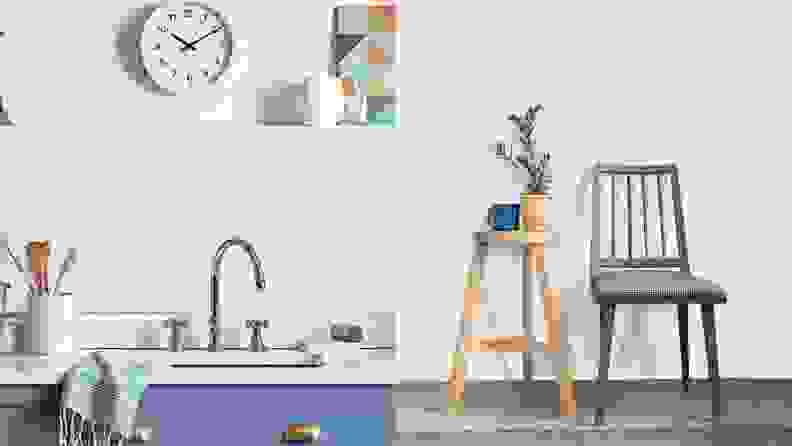 This kitchen upgrade is as simple as slapping a smiley sticker on a grade school child's report card. A backsplash can do wonders in creating a faux accent wall anywhere from a bathroom to kitchen, adding depth and character to any room. Backsplashes don't even need to be bright and loud in color. Take advantage of other effects like texture and sheen to bring your room to life. This super on-trend subway tile, which has nearly 1,000 reviews, is made with anti-mold technology perfect for spaces that tend to quickly become cesspools (i.e. warm and dark breeding grounds for bacteria). Five-star reviewers note this type of mini renovation is well-suited for beginners (or the risk-averse): "This was a fantastic upgrade on the cheap. Installation is forgiving and I was able to pull corners up to re-stick them if I came in a little crooked."
Get Art3d 10-Sheets Peel and Stick Tile Backsplash on Amazon, 12x12 for $39.99
2. These mood-setting outdoor lights
You're likely spending as much time outdoors as you possibly can. Light up your outdoor area with these mood-setting and mood-boosting solar-powered LED lights that emit light for several hours and automatically turn off at dawn. They're also a low-cost, high-impact way of framing the exterior of your house, giving it that fresh-out-of-a-Sotheby's-ad vibe. Of the lights' 2,900 Amazon reviews, many customers note they glow enough light to create a calming ambiance without feeling blinding.
Get Sursun Outdoor Solar Lights, Pack of 16 at Amazon for $35.99
3. These wall plants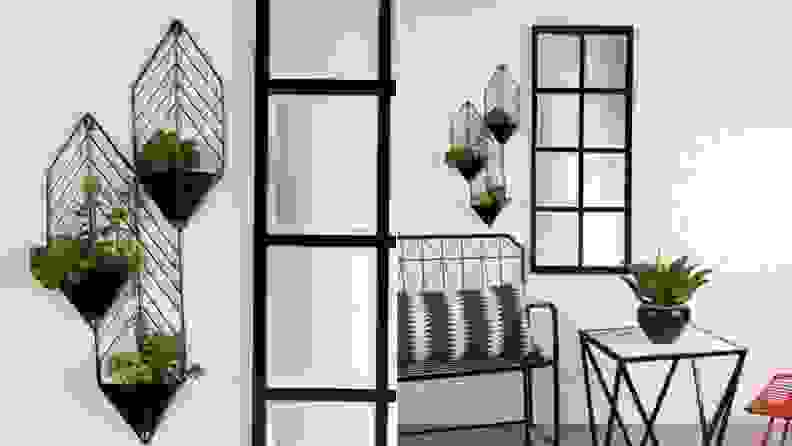 PSA: Plants are the new pictures. Add some natural greenery to the concrete jungle that is your apartment to enliven and soften the atmosphere. A planter lets you experiment with different styles, whether you're thinking more floral or lush leaves letting down their hair like Rapunzel. Since natural light is hard to come by, you can also grab fake plants to brighten even the darkest of areas, sans upkeep. Trust, this'll be the wall you'll favor most, like your aforementioned child with the good report card.
Get the Regnier Iron Wall Planter at Wayfair for $61.99
4. This modern entry door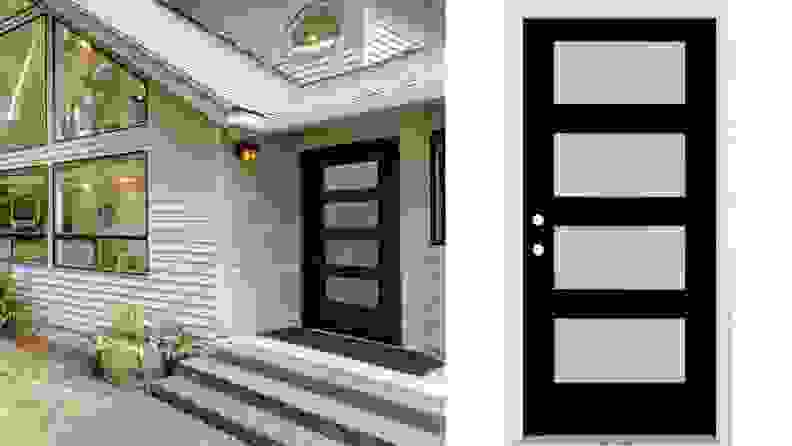 Fun fact: The most budget-friendly way to make an enormous impact on your entire home is to switch up your front door. I learned a lot about home renovations when shopping for my new house (not a flex, I swear), and this very front door—in matte black fiberglass with satin rectangular panel windows—is everywhere. It instantly upgrades the entire look of your home's exterior while infusing your mudroom with a modern touch. One reviewer confirms this rings true: "We love this door! It has changed and refreshed the look of our 1964 brick ranch home. Our living room looks bigger with the amount of light it lets filter into the room. It has a modern, yet retro look to it." This top-rated door also contains a dual adhesive weather seal to prevent water and air infiltration.
Get the 36 in x 80 in Elite Inkwell RH 4 Lite Satin Etch Fiberglass Front Door at Home Depot for $1,257.29
5. This elegant chandelier
When we think of chandeliers, ballrooms and banquet halls come to mind. But I'm a firm believer in the idea that every room—be it a bedroom, bathroom or home office—can benefit from a sophisticated pendant lighting situation. This top-selling chandelier tops off your room like a cherry on a sundae with its regal hand-painted gold detailing and round canopy silhouette. Of its 1,000 reviewers, many note how it looks and functions better than they expected: "This is such a perfect addition to our home above my grandma's mid century modern dining set we inherited. Perfect blend of old and new that I was looking for. Great price. Great quality. And it lights up the room perfectly (much more light than the picture)."
Get the Beaumode 7-Light Statement Chandelier at Joss & Main for $291
6. This grungy brick wall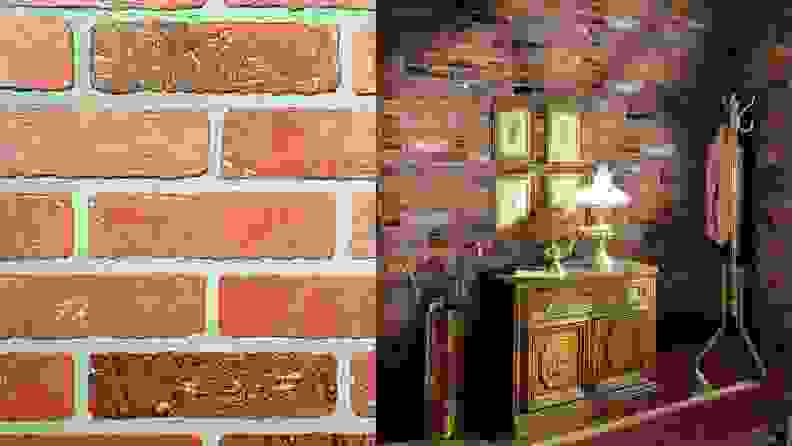 It's a widely known fact that even a single brick accent wall can elevate the aesthetic and financial value of your home exponentially. This best-selling brick panel works perfectly whether you're looking to cover chipped paint or tattered wallpaper, or to make the room pop with an accent wall. One five-star reviewer who calls this DIY renovation essential "quick and easy" also appreciates that it was budget-friendly. "I wanted the look of worn brick without the high cost. This was the perfect solution! Added chalk paint to give it an aged look. I love the end result!."
Get the Kingston Brick Hardboard Wall Panel at Home Depot for $29.38
7. This inviting fireplace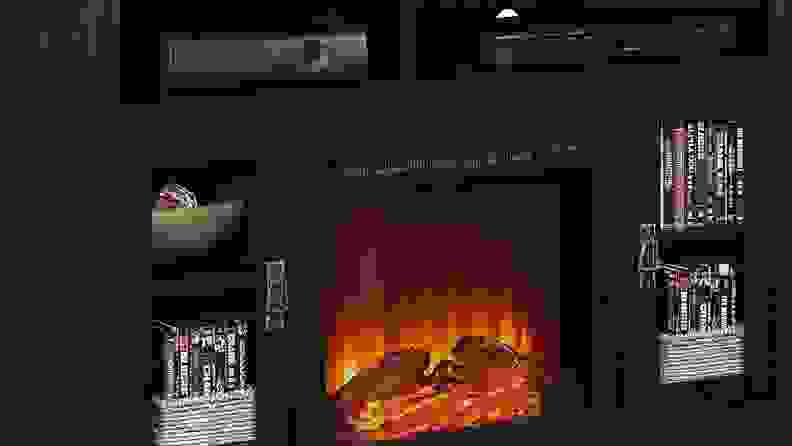 The trend here is that you can trick the eye into thinking small home modeling projects were actually part of the original bones in your house. Take this best-selling fireplace TV stand, for example. It instantly adds an element of nostalgic warmth you'd see in a property from the turn of the century, and it works double duty as storage. Our tech editor named it Reviewed's favorite fireplace TV stand because of its great value: You're getting a substantial size (50 inches wide) and a heating capacity of up to 400 square feet for under $200.
Get the Ameriwood Home Chicago Fireplace TV Stand from Amazon for $277
8. These easy vinyl floors
Changing up your flooring is one of the most energy- and cost-intensive renovation projects. But when getting a new floor is as simple and peeling and sticking it on? Now you're in business (the business of renovating efficiently, that is). It features a bright parquet wood pattern in a sandy beige-gray, and it claims to reduce sound reflection thereby reducing creakiness. Reviewers seem to be in sheer awe of how positive an experience it was to use this stick-on flooring solution: "This flooring is easy to install and looks beautiful. I am so thankful I chose it. I was able to complete the job in one day. Would purchase it again!"
Get the TrafficMaster Seashore Wood Peel and Stick Vinyl Tile Flooring at Home Depot for $19.40 per case
9. This walk-in closet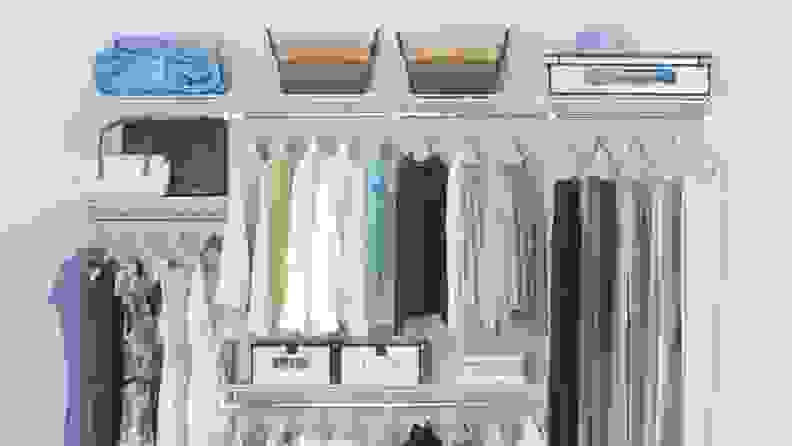 The truth is you don't need to buy or rent your property with a built-in walk-in closet—simply transform any existing empty space into your celebrity-worthy walk-in with this top-rated DIY closet from Rubbermaid. I personally use it and am absolutely obsessed. There are enough building materials to create a roomy closet for more than one person, but if you're one person, keep the extra materials on hand in case you want to add to it at a later date or customize it. If you follow the directions closely, installation shouldn't take more than a couple hours. It'll seriously change the way you organize your home.
Get the Rubbermaid Configurations Closet Kits from Amazon starting at $66.13
10. This chalkboard wall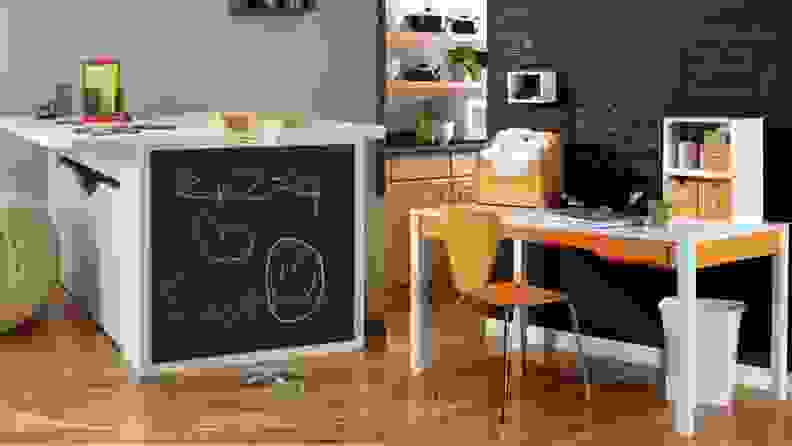 It's one thing to paint a wall for aesthetic purposes, and another to paint it for functional purposes. A chalkboard wall is an ideal way to add depth to your space while also creating a sense of novelty for your guests who might want to leave a note. This best-selling chalkboard wall paint works on wood, metal, concrete, masonry, drywall and glass and cleans easily. Reviewers can confirm it's the perfect upgrade for any living space if you follow a few key priming steps: "Applied 2 coats with a foam roller, then "seasoned" the chalkboard with white chalk and erased with lightly dampened towel. Did this 4'x6' chalkboard with a barn wood frame and it came out excellent. Highly recommend Rust-Oleum Chalkboard paint!!"
Get the Rust Oleum 30 oz. Flat Black Chalkboard Paint at Home Depot for $10.98
11. This DIY marble counter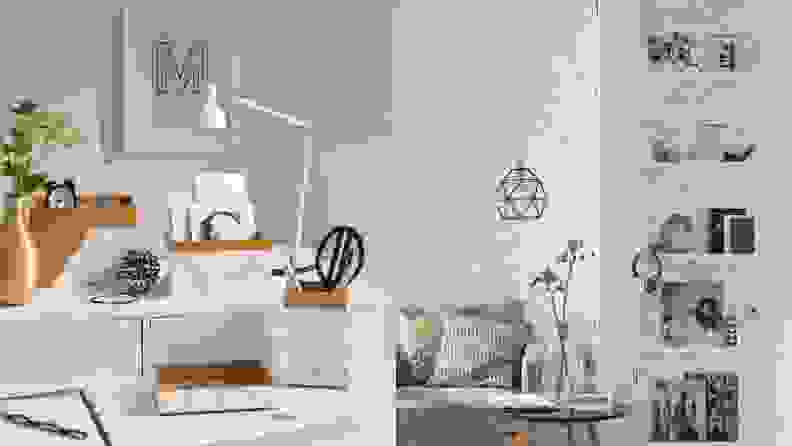 Marble counters aren't only stunning for taking Instagram flat-lays, but they'll also make you excited about being in your kitchen again (i.e.: attempting ambitious recipes that require you stay put for three hours). The white, airy atmosphere they lend to your room is welcoming and pairs with virtually any color palette. Using this easy-to-use marble wall paper with over 3,500 reviews, you'll instantly breathe new life into cabinets, counters, shelves, walls and more. One reviewer's positive experience is inspiration enough to give it a shot: "So Pinteresting! I used this adhesive film to turn two cheap IKEA tables into less cheap looking IKEA tables because I'm not made of money but I would like others to believe I am. Super simple to use and a ton of it for the price I was really pleased overall. The pattern actually looks like marble not a weird pixel-y repetitive pattern so that's great as well."
Get the Decorative Self-Adhesive Film, Grey Marble, 17" x 78" Roll on Amazon for $10.50
12. This statement-making hardware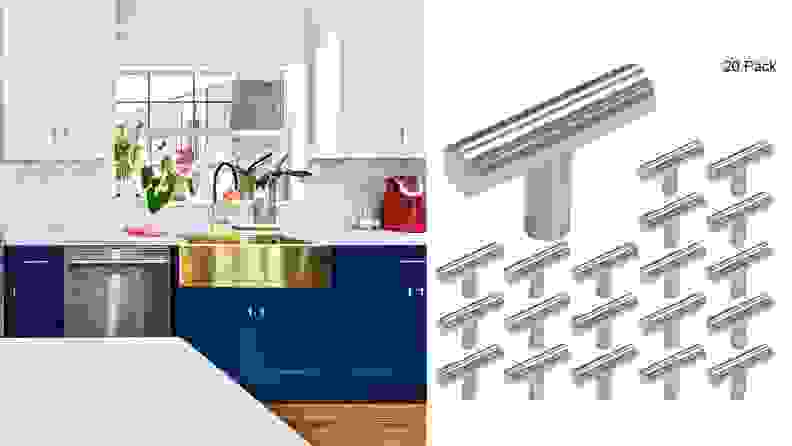 The key to renovating your home on a budget is to look for a small accent you can change to make the biggest impact. You'll instantly transform the vibe of your room (be it a kitchen or bathroom) once you swap those shabby chic cabinet handles for something sleek, elegant, and modern. This best-selling set includes 20 brushed nickel handles that the brand claims doesn't display fingerprints and won't rust easily. Reviewers swear by this renovation project: "Really love these pulls! For the price they can't be beat. Totally updated our kitchen for such a small price. They are hollow, and they do break from time to time, so order extra to have on hand. As long as you know you're getting great value for the money, you'll be golden. We ordered one package at first to test it out, and loved them so much we came back to get enough for the entire house!"
Get the Homdiy Brushed Nickel Cabinet Knobs, 20 Pack on Amazon for $15.99
The product experts at Reviewed have all your shopping needs covered. Follow Reviewed on Facebook, Twitter, and Instagram for the latest deals, product reviews, and more.
Prices were accurate at the time this article was published but may change over time.