Home & Garden
13 useful things from Bed Bath & Beyond you'll want in your home
Small upgrades for your kitchen, bathroom, and more.
Credit: HoMedics/ Back to the Roots
Spending more time inside our homes has given us plenty of time to peruse the internet and debate whether or not to buy something. Bed Bath and Beyond has such a wide range of products and you can get lost on its website for hours, specifically browsing through its shop-by-room categories.
If you're a Broad City fan, you've probably heard Abbi Jackson sing Bee-Bee-n-Bee's praises. She would go on rants about how you can buy anything at her favorite store, from an air conditioner to a SodaStream. To top it all off, she'd buy it with coupons that never expire (though some do have expiration dates that she claims you can argue, but don't take our word on it).
What Abbi didn't teach us is that Bed Bath and Beyond has several surprising products that all have practical uses. We've rounded up 13 things from Bed Bath and Beyond you're going to want to add to your cart immediately.
1. A massage cushion for your WFH chair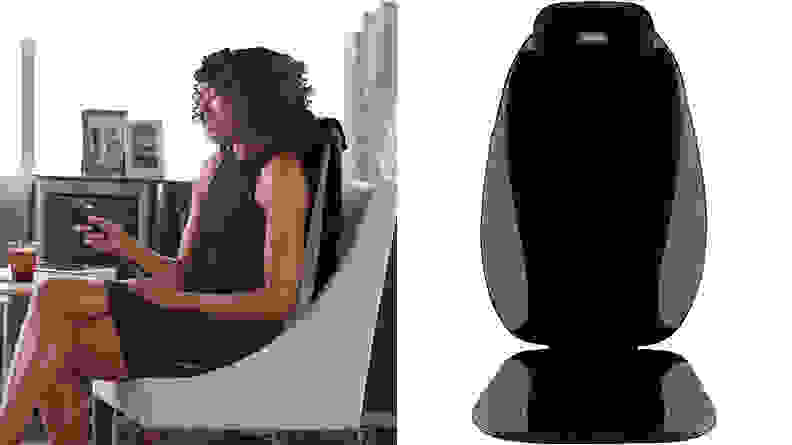 Nothing says comfort like having a massage cushion attached to your WFH chair. Since many of us are still working from home during the pandemic, why not spoil ourselves with some relaxation? More than 300 reviewers love this cushion from HoMedics because of its quality, durability, and functions like a heated kneading back massage and seat vibration. One shopper said that they use the massage cushion while they're at their desk and now they "don't tense up during Zoom meetings."
Get the HoMedics Shiatsu Plus Massage Cushion with Heat from Bed Bath & Beyond for $99.99
2. A towel that brightens and dries your glassware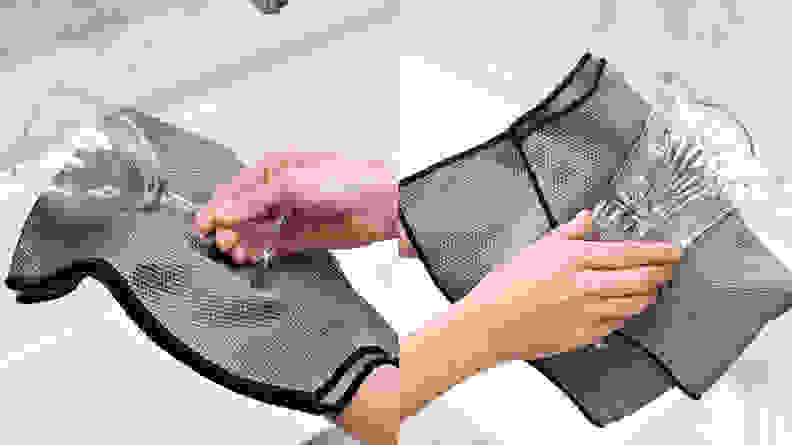 We all want to get immediate results with limited effort, especially when it comes to drying our dishes. That's where the Salt Magic Glass Drying Towel comes in. This towel is made of durable diamond microfiber that makes cleaning glasses a breeze. It brightens your glassware while removing unwanted streaks and spots, including those hard to remove water spots. Reviewers say that they use this product on their wine glasses and are shocked at how sparkling they get. One reviewer said they bought the towel on a whim to clean their windows and said it did a great job eliminating the streaks.
Get the Salt Magic Glass Drying Towel from Bed Bath & Beyond for $3.49
3. A therapy light to boost your mood
During the colder months, we just don't have time to get outside and take in that sweet vitamin D the sun has to offer. That's where a therapy light comes into play. This light claims to boost your energy, improve your mood, enhance focus, and regulate sleep patterns, which makes it ideal for those who spend most of their days indoors. The Verilux light can specifically be customized to your needs and preferences, which is why Bed Bath and Beyond shoppers love it. One reviewer says that although working from home can be stressful and exhausting, "this light gives me the energy to get through the day." Another noted that the light is compact, bright, and very easy to use.
Get the Verilux HappyLight Lucent Light Therapy Lamp from Bed Bath & Beyond for $44.99
4. The perfect tool to remove pet hair
If you're sick and tired of pulling out your vacuum every time you notice some pet hair on your furniture, we've found an easy solution. This battery-operated, lightweight, cordless pet hair remover is simple to use and actually works. All you have to do is roll back and forth on the surface you want to clean and the hair will be gone. Its handheld size makes it easy to focus on one area and you can use it on couches, beds, carpets, car interiors, clothing, and even shag rugs. A reviewer said that this tool has become a lifesaver before unexpected guests come over and another was blown away at "how much pet hair it got up out of my rug."
Get the Fur Daddy Sonic Pet Hair Remover from Bed Bath & Beyond for $19.99
5. A spa-like facial experience at home
While many of us haven't been able to go to the spa in months, there are plenty of products available to help create a similar experience at home. To specifically upgrade your at-home facial, this facial roller and massager is something you never knew you needed. The Flawless Contour Micro Vibrating Facial Roller claims to improve firmness, blood flow, and skin tone and has an under-eye stone to target that area. While we can't confirm these claims one reviewer said that the tool's vibration "takes the results to another level" and the vibrations will feel luxurious on your skin.
Get the Flawless Contour Micro Vibrating Facial Roller & Massager from Bed Bath & Beyond for $14.99
6. A soft holder for your tablet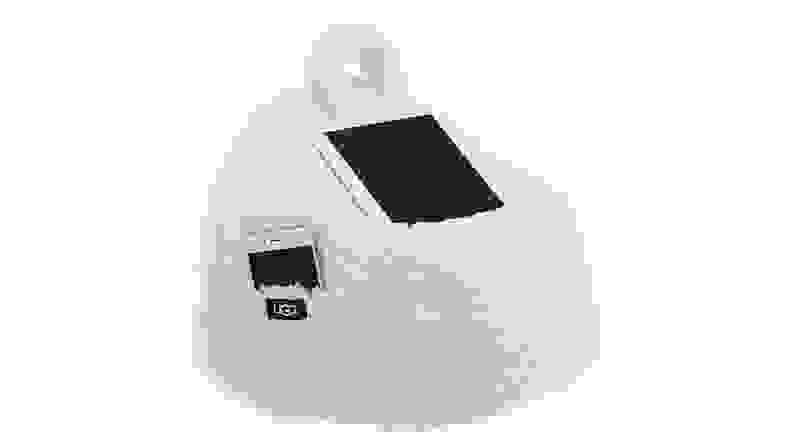 Sometimes we want to be a little lazy and use our tablets without holding them. Ugg has created a soft sherpa pouf tablet pillow that will prop your electronics up, allowing you to view them hands-free. This plush accent will be the comfiest home for your electronic devices. It works on your desk, bed or table, so it can be used as a lap desk if you work on a tablet and comes with a mobile pocket to keep your cell phone within reach. Reviewers say that this is the perfect product for "propping up reading material of all shapes and sizes" and recommend using it with books, as well.
Get the Ugg Classic Sherpa Pouf Tablet Pillow in Snow from Bed Bath & Beyond for $19.99
7. An ice tray for the perfect sized cubes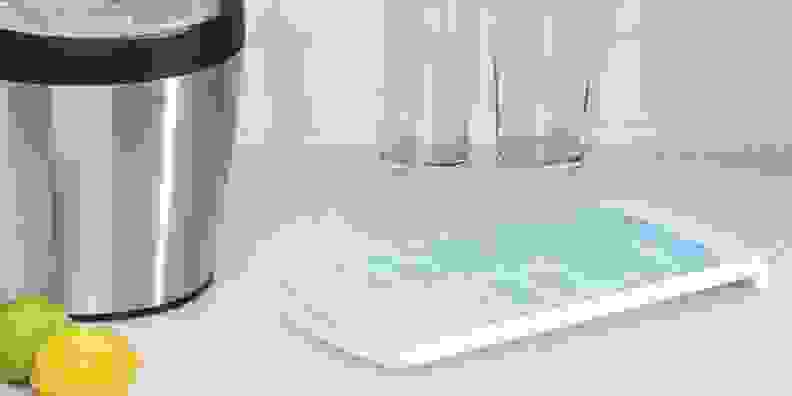 Have you ever wanted to add some ice to your water bottle, but the cubes just won't fit? This ice stick tray from OXO is here to change that. It makes narrow ice sticks that slide right into your water bottle and a no-spill lid, which is ideal for storing in your freezer without making a mess. When we tested this ice tray, we loved that you don't have to play Tetris every time you make ice and that it can be stored sideways.
Get the OXO Good Grips No-Spill Ice Stick Tray from Bed Bath & Beyond for $9.99
8. The cult-favorite Squatty Potty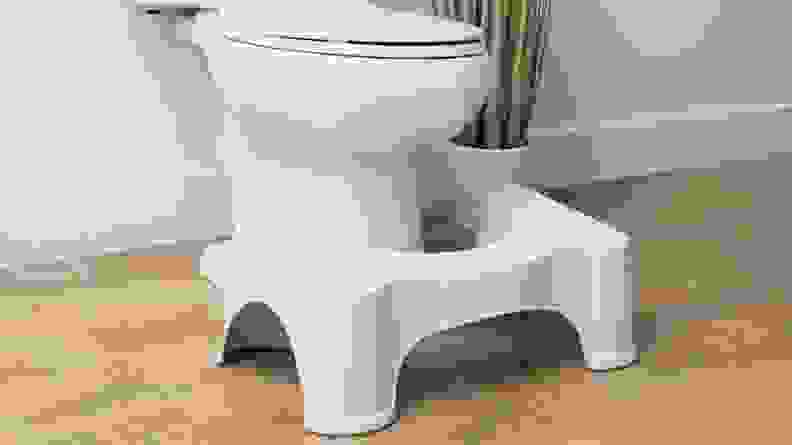 It sounds strange, but hear us out, you need a bathroom stool in your life. The Squatty Potty will help you do your business faster and make it a more pleasant experience. Seriously, we tested it and found that it actually works. Our toilets aren't aligned with how we need to be positioned when it's time to excrete ourselves, but this stool puts you into a squatting position for more efficiency when going No. 2.
Get the Squatty Potty Adjustable Toilet Stool from Bed Bath & Beyond for $34.99
9. An adorable waffle maker for Easter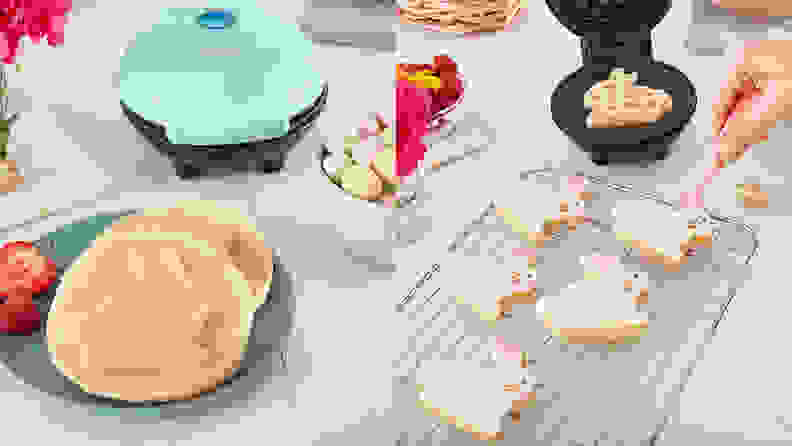 Is there anything cuter than mini bunny waffles? I think not. This is the perfect gadget to add to your kitchen as spring and Easter approach quickly. Not only do they make snack-sized waffles, but we tested out the non-bunny version of this model and found that it works well, though it might be time-consuming to feed an army with. The aqua color will add a touch of spring to your kitchen and it's small enough to store in your cabinets without fuss.
Get the Dash Bunny Mini Waffle Maker from Bed Bath & Beyond for $9.99
10. A galaxy projector made famous by TikTok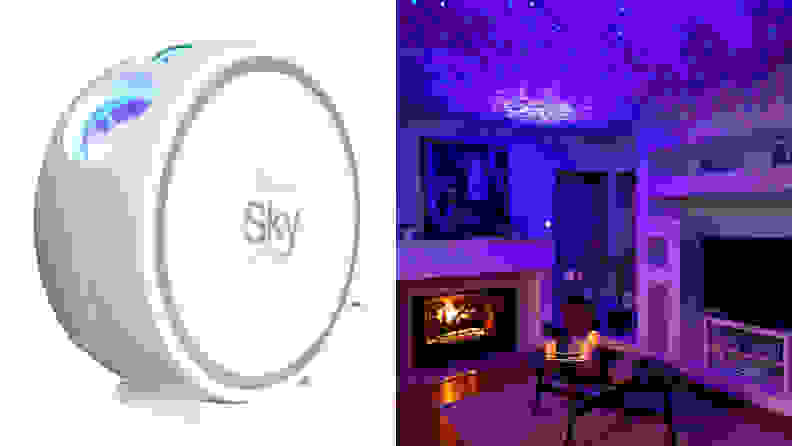 You can create a far-out ambiance in any room of your house with this laser galaxy projector that has been popularized by TikTok. Just shine it onto a wall or ceiling and a universe with moving stars against a blue nebula cloud will appear. This projector will bring the constellations into your home and you to a new world. With three different brightness levels, reviewers have called this projector "very cool and unique" with many adding that it's the perfect gift.
Get the BlissLights Sky Lite Laser Galaxy Projector from Bed Bath & Beyond for $49.99
11. A surge protector that rotates for your convenience
This surge protector is different from your traditional, blocky power strips. Each outlet rotates to plug in your cords without straining yourself. It's genius. With five rotating outlets and two USB ports, you can plug in plenty of devices and then keep it out of sight behind a console or couch. Reviewers say it's great for dorm rooms or anywhere with limited outlets.
Get the 360 Electrical PowerCurve 3.4 Surge Protector from Bed Bath & Beyond for $39.99
12. A mat that serves as a friendly reminder
When we're in a rush to get out of the door it's easy to forget some necessities—namely, your phone, keys, and wallet. But this accent rug is here to remind you of these on your way out. To top it off, this rug is machine washable and has a non-slip backing, meaning it's easy to care for. Reviewers love how clever this rug is and say that serves its purpose well.
Get the Keys Phone Wallet Accent Rug from Bed Bath & Beyond for $12.99
13. A plant you'll be proud of this spring
Not all of us have a green thumb, and that's okay. If you do want to get into gardening and grow your own vegetables this spring, this starter kit makes it easy. This cherry tomato plant kit will help you grow your organic cherry tomatoes right at home with limited gardening knowledge. It uses an ancient watering technology called an olla pot and only requires you to water it once a week. With nearly 400 reviews and a 4.8-star rating, this kit is a hit with Bed Bath and Beyond shoppers who say it's easy to use but does require some patience with the growth process.
Get the Back to the Roots Self-Watering Tomato Plant Kit from Bed Bath & Beyond for $29.99
The product experts at Reviewed have all your shopping needs covered. Follow Reviewed on Facebook, Twitter, and Instagram for the latest deals, product reviews, and more.
Prices were accurate at the time this article was published but may change over time.