Home & Garden
15 cozy decorations from Home Depot that will upgrade your living space
Make your house feel like a home with these things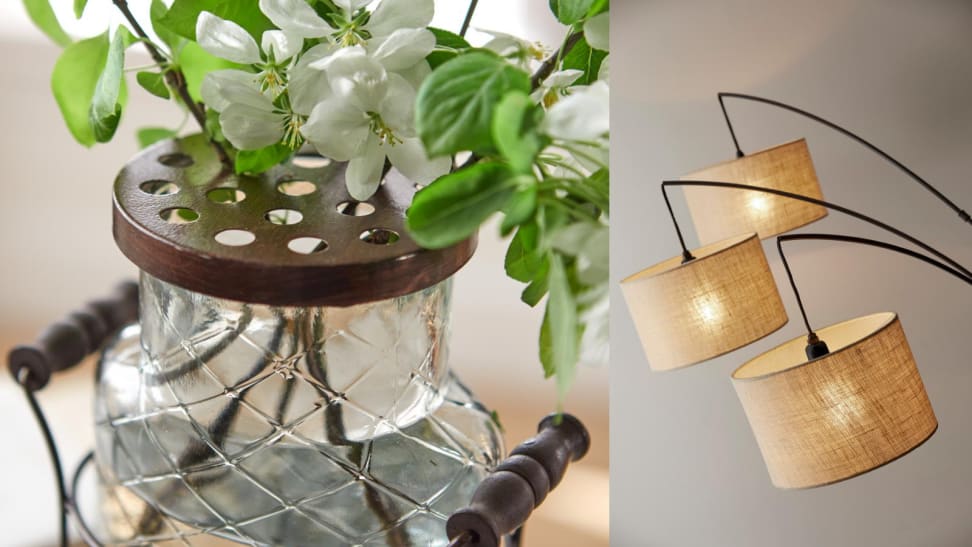 Credit: Home Depot
Finding yourself stuck inside the house a lot lately? For those of you already lucky enough to be home bodies, this might not feel like a problem. If you get stir crazy in the span of fifteen minutes, though, the struggle to make peace with being stuck indoors is very real. I fall solidly into the second camp, so I'm painfully familiar with the sensation of prowling resentfully around my house, wishing to be anywhere else.
Thankfully, that is not the only way. There is absolutely a way to enjoy being home, and it starts with making your home into an oasis. Home Depot is one of our favorite places to pick up soft bedding and luxurious homegoods, since it carries tons of high-end brands for a surprisingly affordable price. We've put together a list of items to make your house more of a home, with an eye for the soft, warm, and comfortable.
1. A new set of dishes to make breakfast feel like a little gift to yourself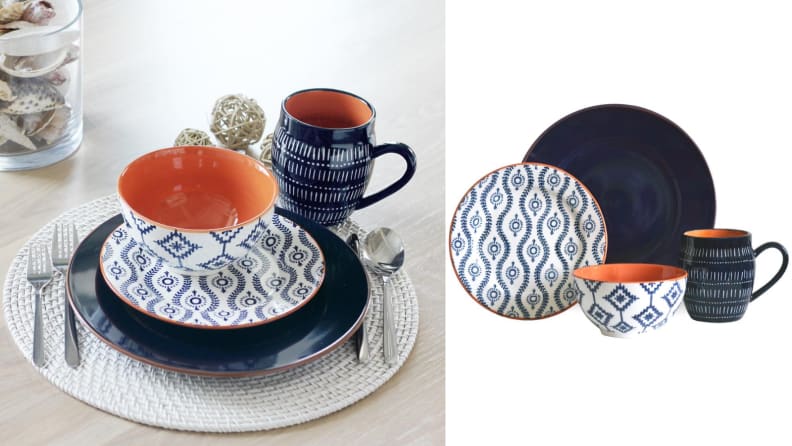 One of the quickest, easiest ways to pamper yourself is to replace your old chipped mismatched dishes with a set you love. If you're moved a lot or lived with roommates, you've likely picked up plenty of random bowls and mugs that make you go "eh." Investing in a nice set is a way of reminding yourself that your home belongs to you, not to the ghosts of roommates past. Reviewers say this cute blue set looks great in person, and the mug is big enough to hold all the coffee you need to get through the morning.
Get the Tangiers 16-Piece Blue Dinnerware Set from Home Depot for $69.99
2. A soft new towel set, because towels shouldn't double as exfoliators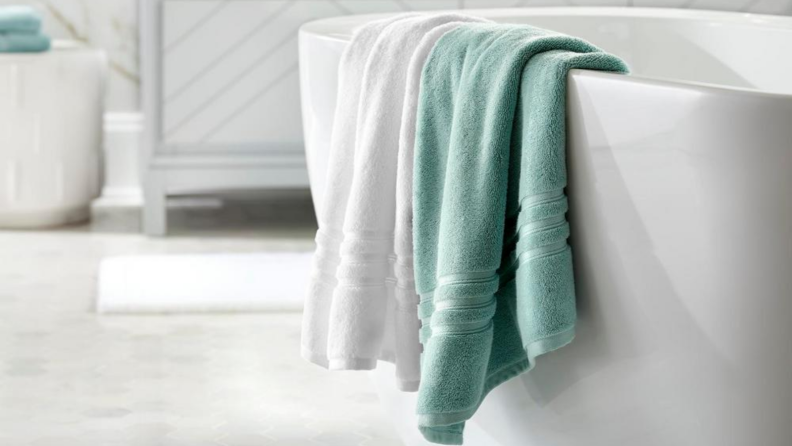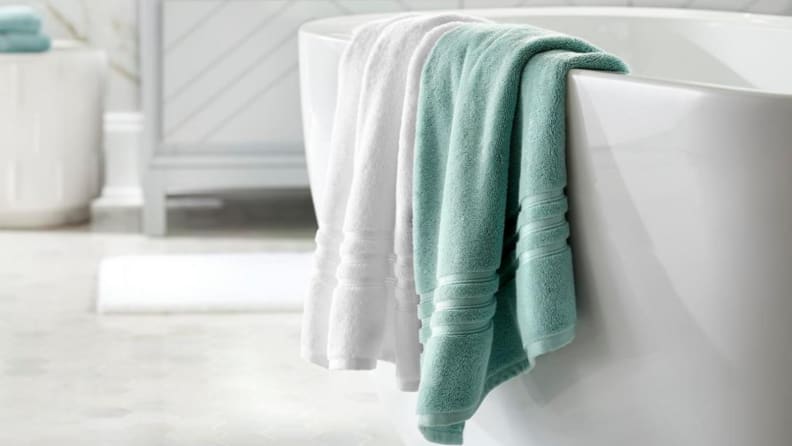 When I moved into my first apartment, I owned exactly two rough, threadbare towels that were barely big enough to wrap around my body. I wish I'd been quicker to invest in some nice ones—both for my own sake, and the sake of my poor visitors. This ultra-soft set of towels will see that you're all set when guests come to stay, but they'll also make your day just that much softer and more luxurious.
Reviewers rave about how soft these towels are, saying they feel like the kind of thing you'd find in a luxurious hotel room. According to one reviewer, "It dries quickly during the day which is nice when you use the same towel for multiple days. Nice weave and good looking, even after washing!"
Get the Turkish Cotton Ultra Soft 18-Piece Towel Set from Home Depot for $137.15
3. A multipurpose lap desk to take you from breakfast to work calls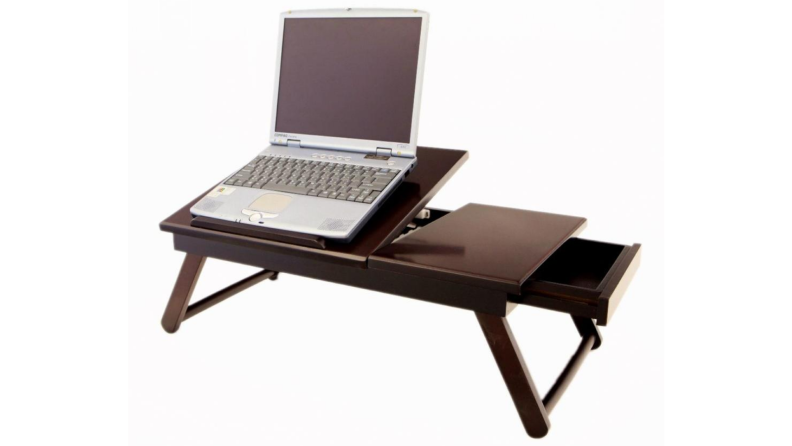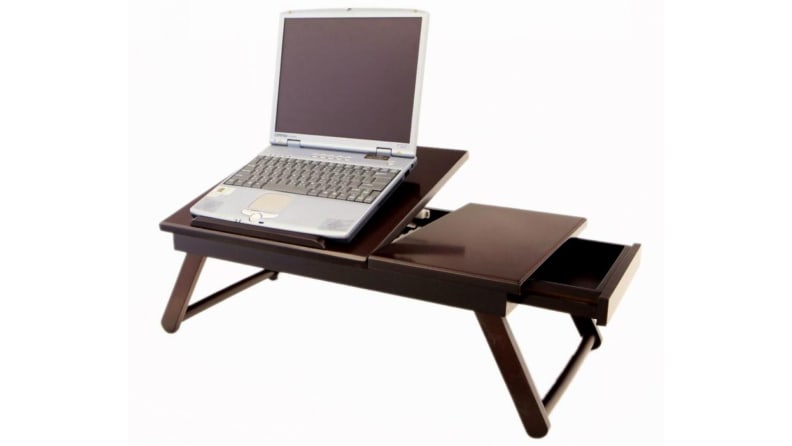 There can be a fine line between enjoying a relaxed day at home, and realizing you've been lying in bed all day looking down your chin at your laptop propped on your chest. This classic lap desk can be a way to bridge that divide, taking you straight from breakfast in bed to work on the couch.
Reviewers say it's durable and easy to assemble. With details like the pencil ledge and little drawer, this tray works is designed for multiuse.
Get the Espresso Lap Desk from Home Depot for $30.47
4. A bud vase to bring spring into your home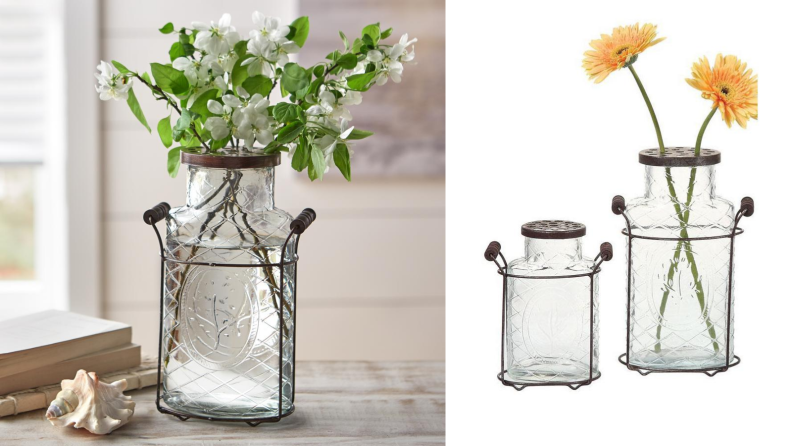 This sweet vase has a unique design, created to hold individual stems upright through holes in its lid. This means you don't have to buy a new bouquet every time you want to use the vase—you can just as easily snap off a few springs from a budding tree and make a beautiful, supported display that way. Its rustic, simplistic design already has a homey charm, but this simple design tweak makes it especially easy to bring a bit of springtime inside.
Reviewer Wilhamena appreciates this, noting that they like to display just a few flowers at a time. "They are very pretty, " Wilhamena writes. "The metal matches my bronze accents in my decor." For pretty much any design sensibility, this vase can help freshen up a space.
Get the Glass and Metal Decorative Vase from Home Depot for $20.70
5. A supportive armchair to curl up in after a hard day at the home office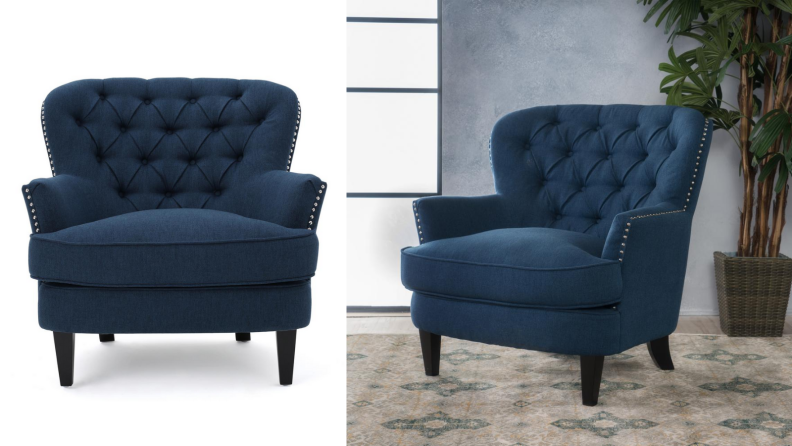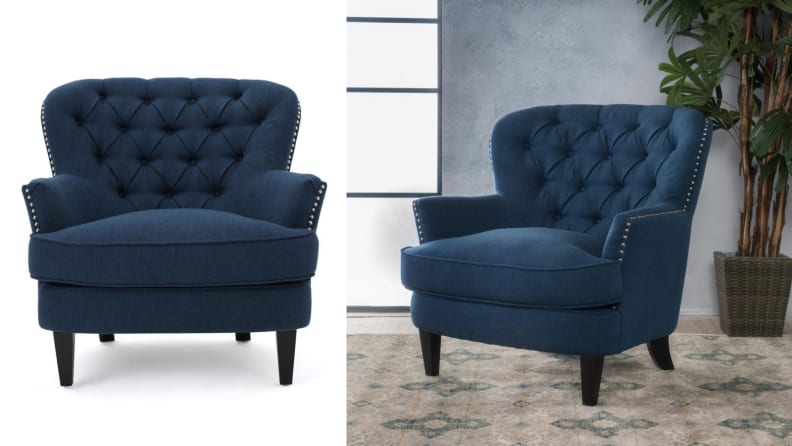 I'd be remiss to talk about making your home cozier without mentioning the importance of a great comfy armchair. This chair is popular with reviewers, who love its compromise between a classic and modern design.
Reviewer Chris writes that the chair is "surprisingly lightweight, and the only assembly involves attaching the legs." They go on to say that "the cushioning feels a bit stiff [...] but it has proven to be quite resilient and supportive—very firm and comfortable." Other buyers agree that the chair is strong and sturdy, and mention that it's spacious enough to curl up and have storytime with kids.
Get the Tafton Dark Blue Fabric Tufted Club Chair from Home Depot for $228.02
6. An elegantly minimal floor lamp to brighten up any room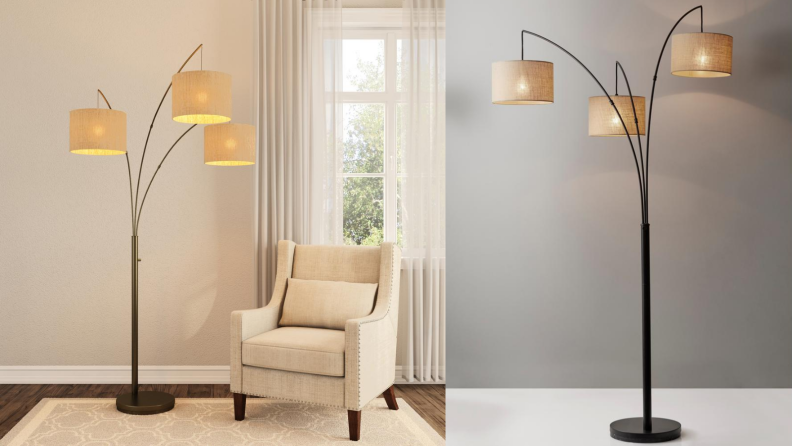 No matter how cozy your house might feel, if it's not well lit, you might wind up feeling like you're living in a cave. I can't stand doing battle with dimly lit spaces that don't get enough sunshine—but if that describes your current situation, never fear. A good floor lamp might be all it takes to render your living room usable.
This tri-headed lamp offers plenty of light with a grown up design that will set it apart from cheaper-looking alternatives. Pam, one reviewer, calls it "retro chic and fun," and notes that "the arms swing so you can arrange the lamps in any way that you like. The base is sturdy and heavy enough to easily support the 3 lamps. I had no difficulty assembling it." She goes on to say that the arms of the lamp were a bit high for her taste out of the box, but she was able to rearrange them to the height she preferred.
Get the Trinity 82 in. Antique Bronze Arc Lamp from Home Depot for $150
7. An oil diffuser because you deserve to live somewhere that smells good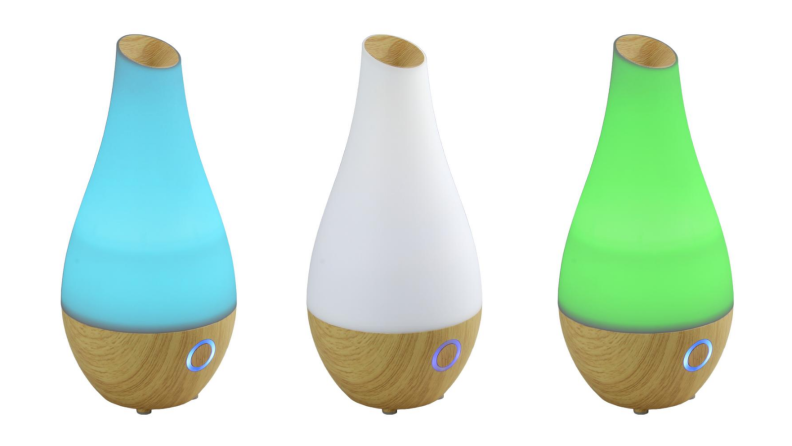 My oil diffuser has utterly changed my house. This is so true I actually have two now—one for the bedroom and one for the bathroom (shoutout to my two cats and their two stinky litter boxes). Diffusers are an easy way to get a little more control over the sensory experience of being home, and soothing scents can be especially nice in the evening, when you're trying to relax and wind down.
Buyer AndyB writes, "As somebody new to aromatherapy, I was excited to find something that was stylish and functional that would look nice in my bedroom. The changing lights add a nice effect. The one area where I'd knock it is that when taking off the cover to fill with water/oil, the parts feel a bit flimsy." I would agree with Andy that the plastic on this diffuser isn't the absolute strongest, so keep it somewhere it's not likely to be knocked down!
Get the 3.55 fl. oz. Ultrasonic Aroma Essential Oil Diffuser with Soothing Cool Mist and LED Features from Home Depot for $28.75
8. A neutral rug you can unroll in any space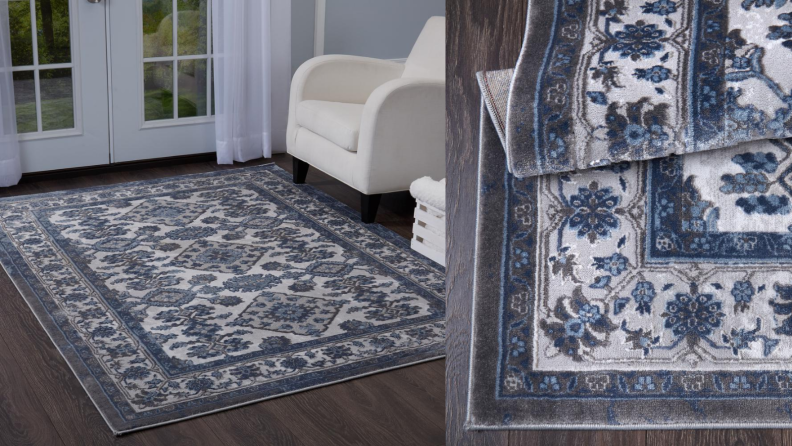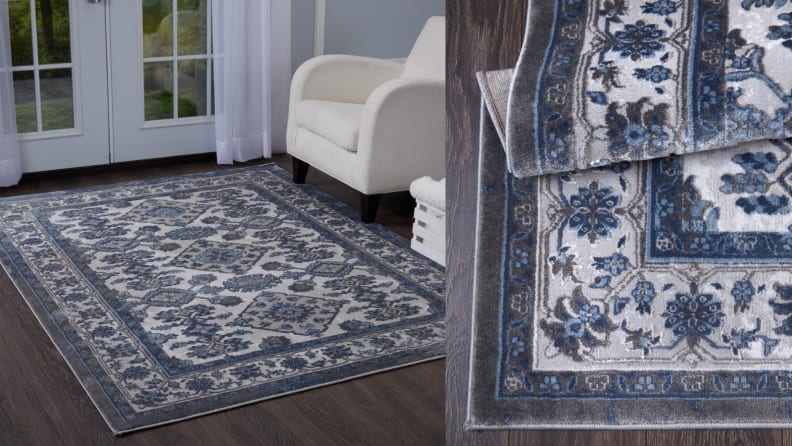 A nice rug instantly adds warmth and luxury to even the most minimal room. I'm a huge fan of classically patterned rugs like this one, which buyers love for both its neutral look and its stain resistance. Reviewer Mink says, "I like that it's not too bold or overly busy, and looks so nice. It really changed how I felt about the room. [....] I like the softness of the top, and the back isn't scratchy on my laminate wood floor." This is a great option both for warming up a hardwood floor and for layering over less attractive wall-to-wall carpeting.
Get the Bazaar Elegance Gray/Blue 8 ft. x 10 ft. Indoor Area Rug from Home Depot for $179
9. A faux fur blanket to bring out your inner Hollywood diva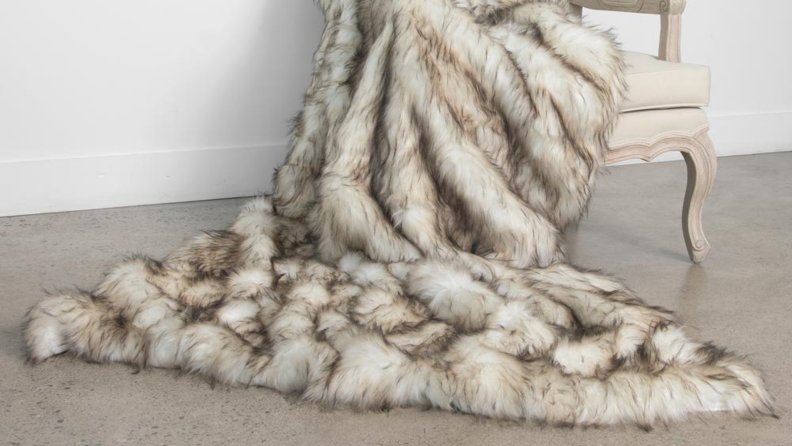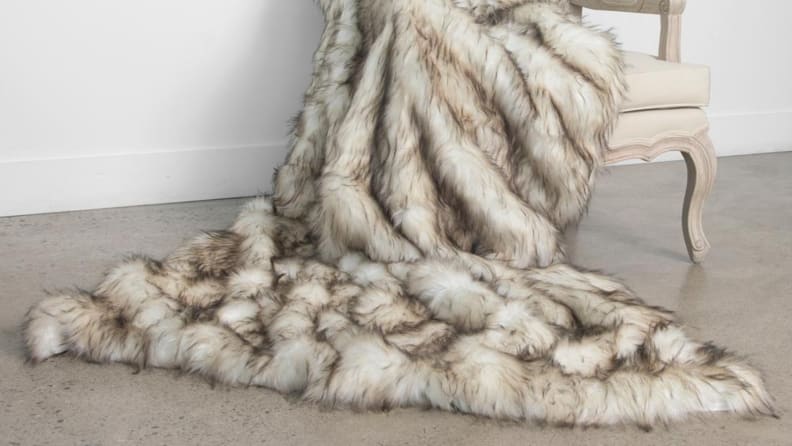 Snuggling up under an enormous, fluffy blanket is one of my all-time favorite indulgences. We're huge fans of weighted blankets in general, but if you're looking for something that screams Disney villain levels of indulgence, check out this super soft faux throw that will make watching TV on the couch feel like a special event. Reviews of this throw say its incredibly soft and feels lovely, but be careful—those long fibers can get staticky!
Get the Bleached Finn Faux Fur Throw 54In. x 36In. from Home Depot for $169.99
10. A set of velvet chairs to elevate the act of taking a video call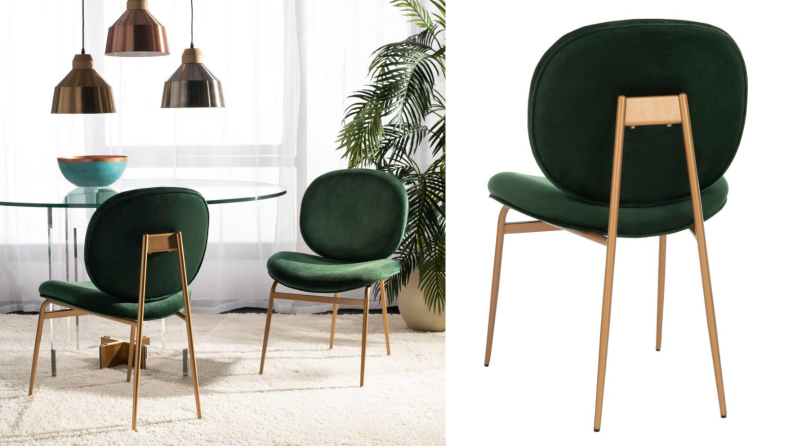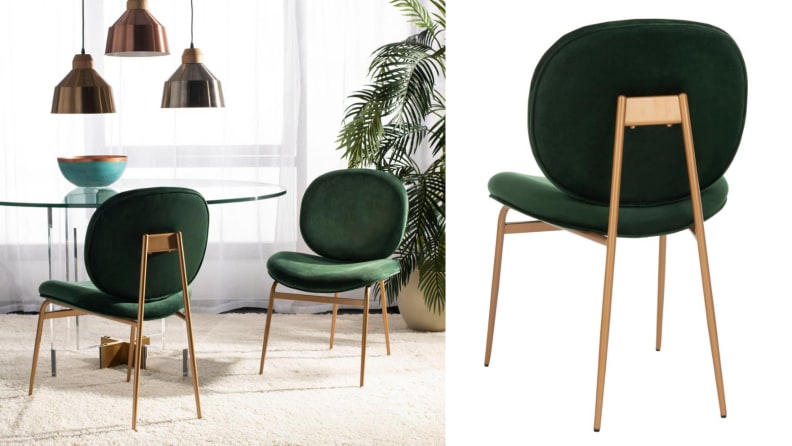 I can't be the only one who's a sucker for velvet upholstery. If the reviews of these gorgeous chairs are anything to go by, I'm not—buyers love the pop of vibrant color in their living spaces (green is my favorite, but this set also comes in slate blue and dusty pink). You could use these as seating at a side table, at a desk or vanity, or in a reading space.
Cordelia, one buyer, says these chairs are "very comfortable," with "good back support [...] though due to the thin legs, [they] don't slide easily across rug/carpet." Other reviews also say the chairs look beautiful in person, but don't be surprised if assembly takes a minute.
Get the Jordana Malachite Green/Gold Velvet Side Chair (Set of 2) from Home Depot for $394.18
11. A desk lamp to remind you that minimalism doesn't need to be boring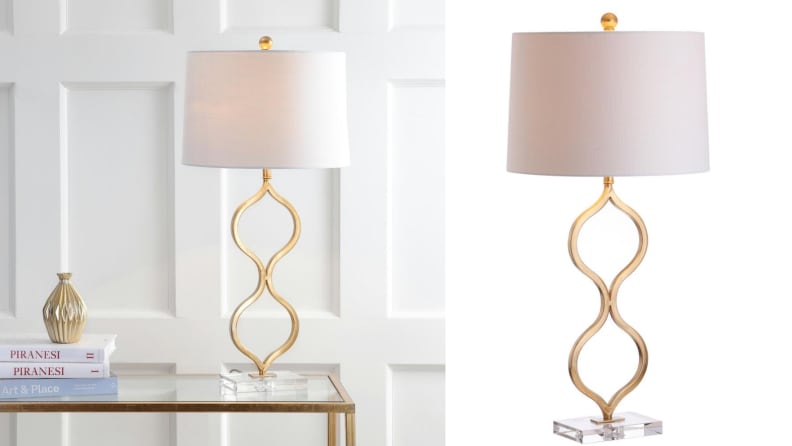 Once again, there's nothing more important than investing in decent light sources. I love that this lamp is fairly simple, not taking up too much space with a bulky base or demanding attention, but still manages to be unique and interesting looking. The modern design of the base means it matches perfectly with a simple white shade, which means the shade will be easily replaceable if it ever falls subject to wear and tear. Reviewers say it looks even better in person, and that the gold base nicely complements other metallic details around a room, like doorknobs and dresser handles.
Get the Levi 31.5 in. Gold Leaf Metal/Crystal Table Lamp from Home Depot for $65.64
12. A cotton tablecloth to help your kitchen double as a dining room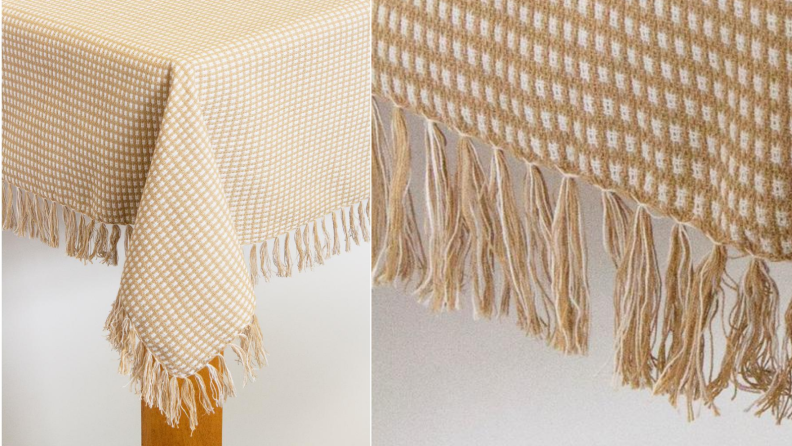 Now is a great time to invest in a tablecloth. Here are some benefits to using a tablecloth: 1) it makes every meal feel a little more homey; 2) if you use your kitchen table as a work space, it's a quick way to signify to yourself that you're transitioning from work mode to relaxation mode; 3) you'll be able to spruce up the table for the holidays this year!
NannaPatti writes, "I have purchased these in the past and found them to be just as good as another type I was buying. And these cost less than the other ones. Wash and dry without a problem. If there is any shrinking it's very little." Despite NannaPatti's reassurance, there is some disagreement amongst reviewers about whether or not the tablecloth shrinks substantially in the dryer. If you plan to heat dry, proceed with caution!
Get the Homespun Fringed 52 in. x 70 in Ecru 100% Cotton Tablecloth from Home Depot for $19.99
13. A set of fluffy pillows to tide you over until you can adopt another pet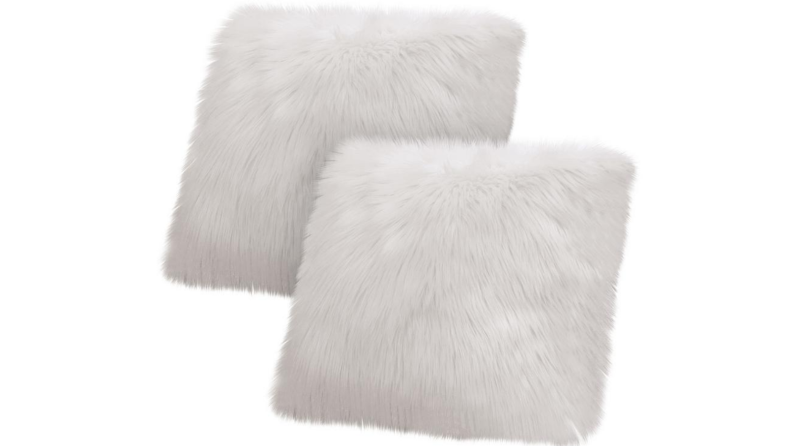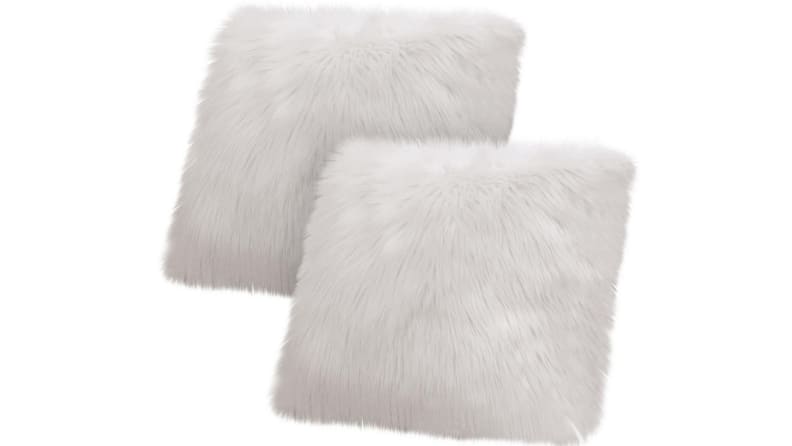 Maybe you're not ready to go full Cruella de Vil with a faux fur coat and blanket, but no matter your style, some nice cushy throw pillows can add softness and comfort to your bed or living room. Home Depot has lots of great throw pillows in stock, but in the spirit of warmth and coziness, I couldn't resist this soft, furry set. Reviewer KV writes that "Pillows are fluffy and comfortable, exactly as described," although many reviewers also mention that they didn't notice the fur was only on one side until after making the purchase.
Get the Faux-Fur Light Gray Solid Faux Fur Polyester 18 in. x 18 in. Throw Pillow (Set of 2) from Home Depot for $31.86
14. A pair of sheer curtains to introduce just a little bit of privacy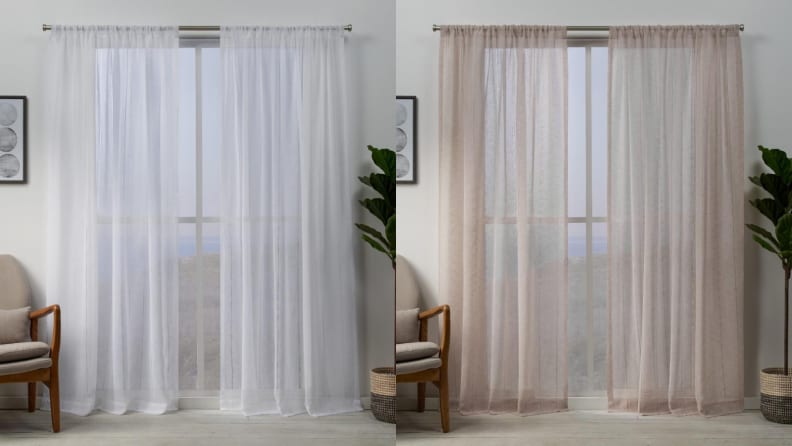 Working from home while your neighbors do the same? You probably already know the value of a set of curtains. This particular sheer set isn't going to block out the world, but it will add just a bit of an attractive boundary, without cutting out the sun. If you do want light-blocking drapes, you can either check out the many other great offerings on Home Depot, or add a panel under this set.
I love the airy appearance of sheer drapes, and how they make a room feel just a bit more lived-in. Kmom says, "I'm so pleased with these panels. They look elegant and expensive but seem sturdy and well made. They have a very earthy-linen look, kind of modern bohemian. But the hemstitch and texture is straight which makes them look clean, not sloppy."
Get the Hemstitch 54 in. W x 84 in. L Sheer Rod Pocket Top Curtain Panel in White (2 Panels) from Home Depot for $42.26
15. A pretty pouf to put your feet up in style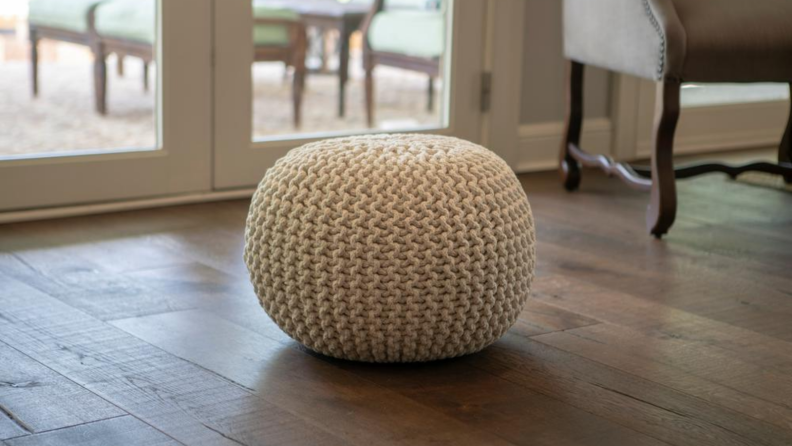 You know what they say: chairs are for squares! If you're looking to park it on something a bit more comfy and casual, look no further than this cute fiber ottoman. Not only is it versatile (you can put your feet on it too!), it's stylish and unobtrusive, so it goes with just about any kind of existing decor.
Reviewer Sarah says, "Very sturdy. Nice color—I would call it a beige with silver threads intertwining. Overall a good buy. A little small but you can't beat the price." It sounds like this pouf is pretty firm, so don't add it to your cart expecting a bean bag!
Lola Lurex Off-White Round Pouffe from Home Depot for $62.41
The product experts at Reviewed have all your shopping needs covered. Follow Reviewed on Facebook, Twitter, and Instagram for the latest deals, product reviews, and more.
Prices were accurate at the time this article was published but may change over time.