There's nothing more relaxing than cuddling under a heavy comforter or an electric blanket after a stressful day. If you need help unwinding, you should consider a weighted blanket. Simply put, a weighted blanket is a blanket with additional weights in it. Filled with either glass beads or plastic pellets, the gentle pressure from these blankets can have a calming effect. It essentially feels like you're being held or hugged.
There's a lot of weighted blankets out there in the netherverse, which is why narrowing it down can be a bit cumbersome. To help you find the best weighted blanket for your needs, we tested some of the top-rated products available today, and we found The Gravity Blanket (available at Gravity Blanket for $249.00) to be the best in terms of functionality, construction, and coziness. However, there are a number of other high-quality options you may want to consider as well.
These are the best weighted blankets we tested ranked, in order:
The Gravity Blanket
BlanQuil Chill
YnM Weighted Blanket
Tranquility Weighted Throw Blanket
LUNA Weighted Blanket
Quility Premium Adult Weighted Blanket & Removable Cover
BlanQuil Quilted Weighted Blanket
CuteKing Weighted Blanket
Advertisement - Continue Reading Below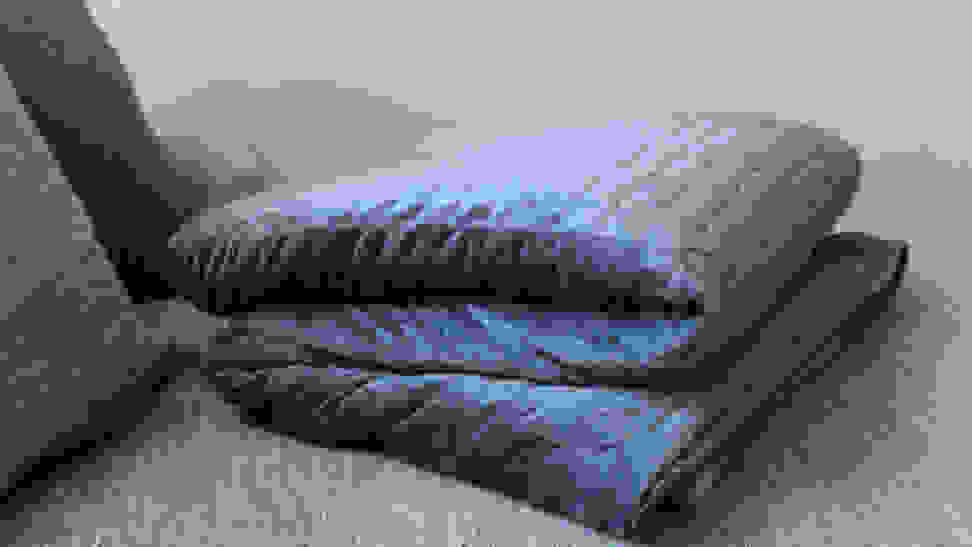 How We Tested
The Tester
I'm Camryn Rabideau, a freelance contributor here at Reviewed with a background in textile design. I've tested a number of different household linens to date, including sheets, comforters, and electric blankets, and I was particularly interested in making weighted blankets my next project. As someone with anxiety and who often has trouble sleeping, I was keen to see whether weighted blankets were a magical solution for both these common issues, as many users claim them to be.
The Tests
To test these weighted blankets, I used them in a variety of situations. I slept overnight with each one and took naps under them as well. (Yes, my job is very grueling). I also used each one around the house, draping it around my shoulders and relaxing with it on the couch.
In addition to these use tests, I evaluated each blanket for set-up, ease-of-use, construction, and care. If the blanket came with a cover, I judged how easy it was to put on and take off, and I also cleaned each one. I also considered the construction of the blankets, noting whether there were any seams unraveling and how durable and luxurious the fabric felt.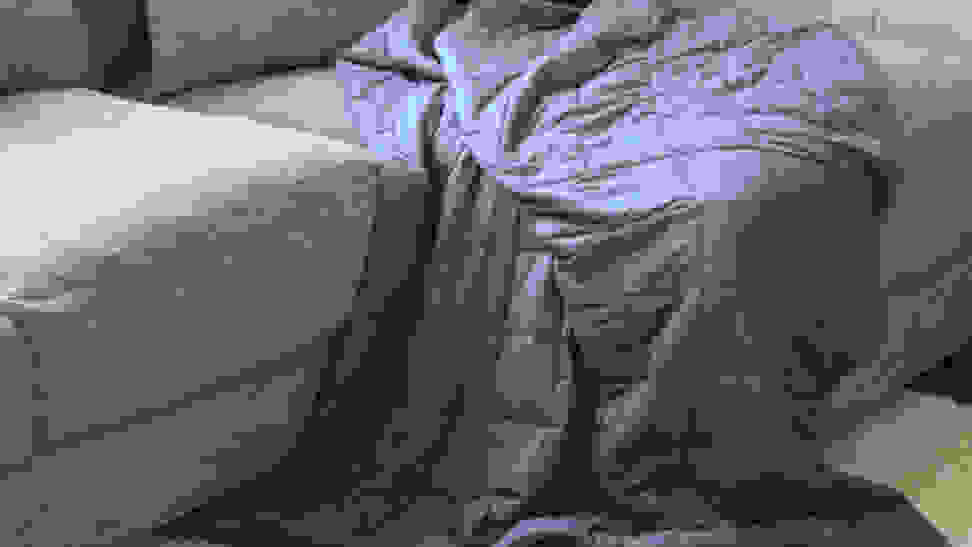 What Is A Weighted Blanket?
If you've never seen a weighted blanket, you might not know what to expect from one. Essentially, they're blankets filled with small beads (usually plastic or glass), which gives them extra weight and helps them conform to your body better. Most weighted blankets have a "boxed" appearance, as stitching helps to keep the beads evenly distributed across the entire surface.
Weighted blankets can vary in terms of fabric and size. Most are made for just one person to use and are roughly the size of a small throw blanket, but you can find larger options too. High-end weighted blankets often come with a removable cover that's soft to the touch and easy to clean while lower cost options typically provide you with a weighted sheet.
The Benefits Of Weighted Blankets
Weighted blankets provide what's called "deep touch pressure"—a firm, gentle squeezing similar to being hugged or held by another person. For many, this feeling is quite comforting and soothing, and some studies, including one in the Journal of Medical and Biological Engineering and one in the Journal of Occupational Therapy in Mental Health, have also shown deep touch pressure may help reduce anxiety.
Further, many people claim they sleep more soundly under a weighted blanket. According to a study in Psychology Today, some people with insomnia were able to fall asleep faster under the blanket's gentle weight. However, it's important to note that weighted blankets won't treat or cure these conditions—they're just a way to soothe your body and potentially mitigate some symptoms.
Personally, I found the blankets helped me fall asleep a little faster than normal, and it was definitely calming to unwind at the end of the day under the gentle weight—it's kind of like cuddling with another person. I can't say they did much to alleviate my anxiety, but that's just my personal experience.
How Heavy Should A Weighted Blanket Be?
One of the most common questions about weighted blankets is how to choose an appropriate weight. Most brands recommend using a weighted blanket that's around 10 percent of your body weight, but we found there's a bit of wiggle room with this guideline.
To get a better sense of an appropriate weight, I tested blankets that were 12, 15, 20, and 25 pounds. (My opinions on whether the blanket was too heavy or too light weren't factored into the overall rankings, as the ideal weight will vary from person to person). I weigh around 150, and I found both the 15- and 20-pound blankets to be cozy and easy to manage. When it came to sleeping overnight, I actually preferred the heavier feeling of the 20-pound blankets, which is about 13 percent of my body weight.
That said, the 12-pound blankets were entirely too light for me and the 25-pound blankets felt suffocating. Based on these experiences, we'd recommend sticking with a blanket that's 10-13 percent of your body weight.
Other Important Considerations
In addition to choosing an appropriate weight, you'll also want to consider warmth and cleaning when you're shopping for a weighted blanket. Thick blankets with plush covers tend to get quite warm during the night, so if you tend to sleep warm, you may want to consider a thinner blanket or one with some type of cooling technology.
Many weighted blankets can't go in the washing machine, so if you think you'll use your blanket frequently, it's probably better to opt for a model with a removable cover. This way, you can simply take the cover off to clean it and not have to worry about hand-washing a bulky 20-pound blanket.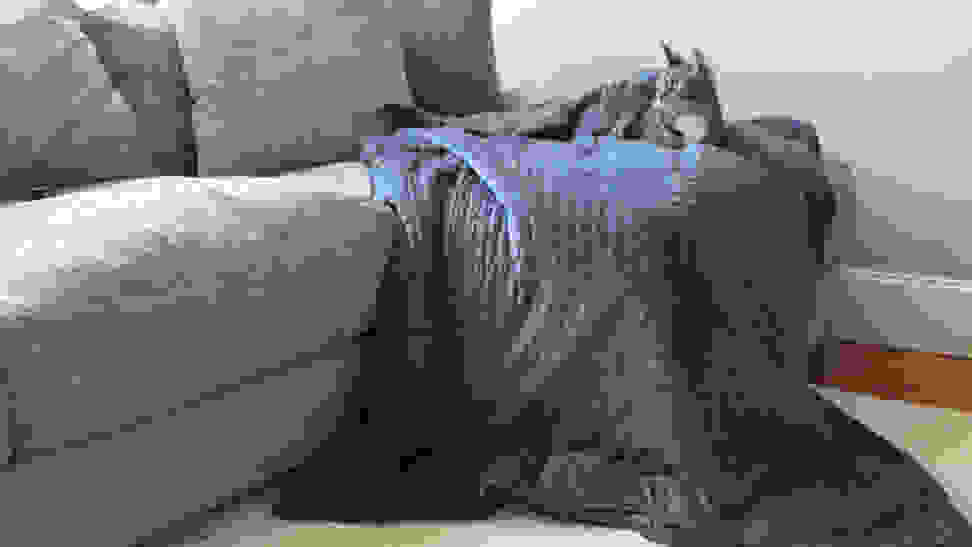 ---
Other Weighted Blankets We Tested
Other Articles You Might Enjoy
Advertisement - Continue Reading Below