Home & Garden
17 amazing fitness products with over 1,000 reviews on Amazon
Reviewers can't stop singing the praises of these get-fit products
Credit: Amazon
When it comes to fitness, there always seems to be a new fad around the corner: a contraption, supplement, or routine that promises results. Although it's exciting to try new things, nothing compares to the tried-and-true "this actually worked for me" fitness products that real people swear by, especially when they have cult followings among workout devotees.
These top-rated products, which are all available on Amazon, have those followings, with some boasting almost 8,000 reviews. Scroll through those buyer reviews and you'll find tons of unique stories about how these products have improved lives, from health benefits to better workouts to injury prevention and then some.
Over 1,000 people have been so pleased with their results that they took the time to write glowing reviews for each of these products.
If you're ready to step up your workout game, read on to find the perfect gear to help you smash through your goals.
1. Swim goggles that stay tight and won't fog up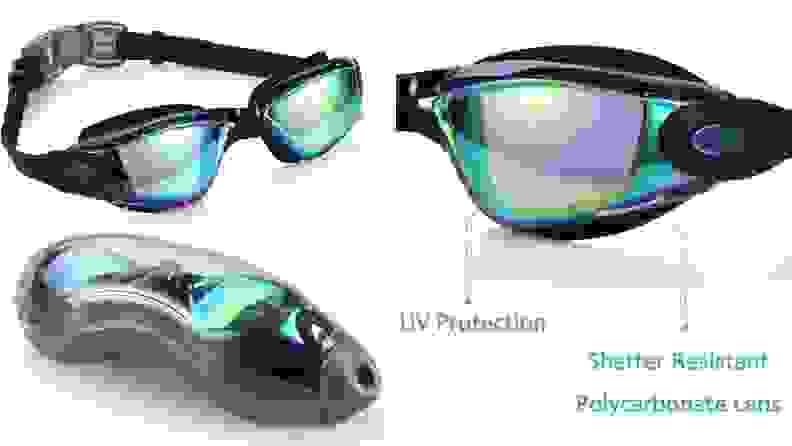 Reviews: 7,039
Rating: 4.4
With anti-fog inner surfaces, UV protection, tons of comfort, silicone material that prevents leaking, and cool, iridescent lenses, these swim goggles will be your secret weapon for triathlon training, swimming laps, or just playing in the pool.
Our favorite review: "I bought these for a Tough Mudder event, knowing I'd be jumping into ice-cold muddy water, and because I wear contacts, I needed good eye protection. I used a different brand last year and muddy water still got inside and I ended up losing a contact halfway through. These goggles were PERFECT. They kept out all water and mud and kept my vision clear throughout the event. They stayed secure and were very comfortable—worked better than I had expected. I'll definitely be keeping these and using them in future events!" – G
Get the Aegend Swim Goggles on Amazon for $12.99
2. A lightweight jump rope that prevents tangling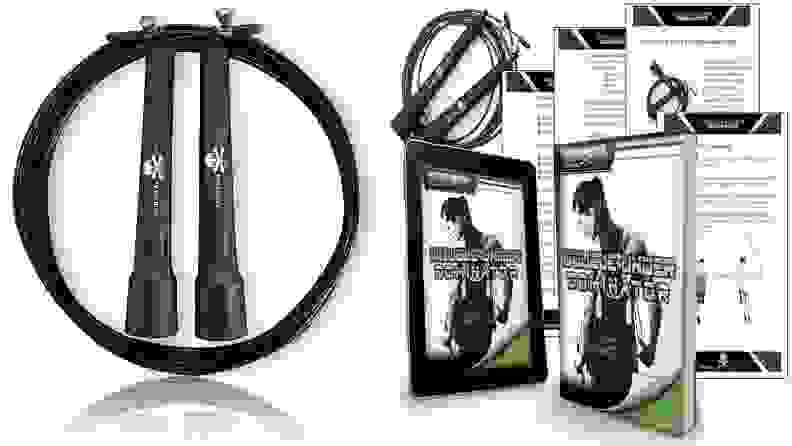 Reviews: 6,091
Rating: 4.2
From elementary school gym class and recess to boot camps and Crossfit classes, jump ropes have always been a standard piece of cardio equipment for a full-body workout. This particular jump rope is far from the one you used at the playground, made with a lightweight material that's built for speed and won't get tangled.
Our favorite review: "I am a mature adult who hadn't jumped rope in 60+ years, but a month ago I began taking a boot camp class at my gym and, surprisingly, discovered that one of the stations in the circuit involved jumping rope. The ropes that were laid out were flimsy at best, and I was upset that I did such a poor job while my much younger classmates handled it easily. The solution? Buy a jump rope and practice. ... I like the feel of the handles and the weight of the rope, and I'm getting pretty darn good at jumping rope! I keep it hanging over the door stop on my entry closet so it's within reach and acts as a good reminder to practice. I highly recommend this product!" – Carolyn S in SF
Get the Survival and Cross Jump Rope on Amazon for $10
3. A roll of KT Tape for pain-free workouts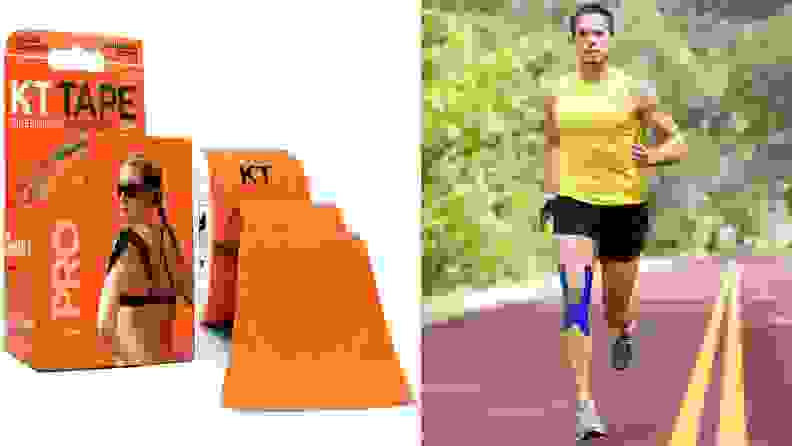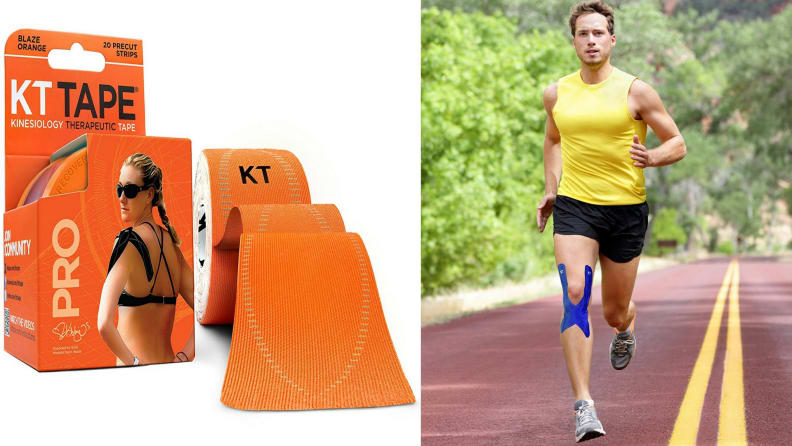 Reviews: 2,072
Rating: 4.2
It's not uncommon to see Olympians rocking some KT tape, and for good reason. The synthetic fabric with strong adhesive lessens pain from injury by providing tissue pressure and support for muscles, so you can stay in the game longer.
Our favorite review: "Extremely skeptical about using tape for my plantar fasciitis, but holy moly, I LOVE it! This tape works better than any other product I've tried. I have tried different gel wraps, nighttime braces to wear in my foot, stretches, heel wraps, and a handful of other products, but the KT Tape is my #1 go-to! It by no means cures my plantar fasciitis, but it makes running and working out less painful. If I'm not wearing the tape when I run or work out, I know that my workout will be cut short. I love this product and definitely recommend it to everyone!" – Hypoxic Unicorn
Get the KT TAPE PRO Kinesiology Sports Tape on Amazon for $13.05
4. A foam roller to loosen up the sore spots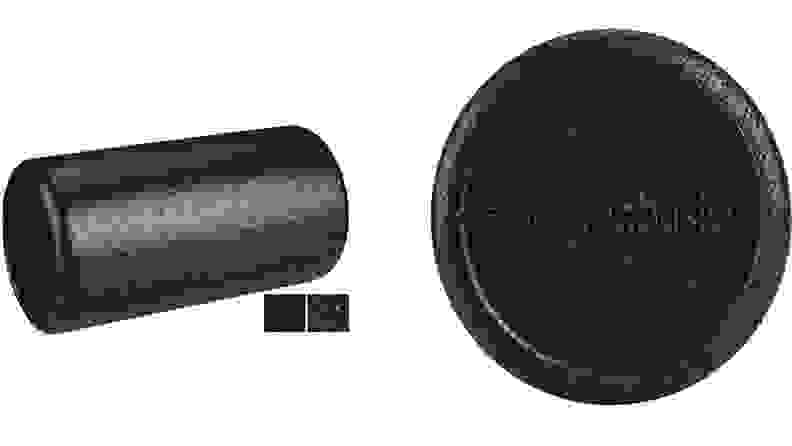 Reviews: 2,871
Rating: 4.6
A roller is another way to work out the kinks from injury, which translates into relaxed, loose muscles. This roller from Amazon Basics is a favorite for its "hurts so good" effectiveness.
Our favorite review: "Every Tuesday is my #LegDay, so Wednesdays are miserable. I'm delighted that Alexa bought me this foam roller. I selected the 36-inch variant; smaller ones would not support my oversized quads. After using this foam roller, my quads, hamstrings, and back (aka 'muscle shield') felt much better. It is a useful aid to my post-leg day recovery. This foam roller does not come with 'free instruction videos,' but there are plenty on YouTube." – yoursunny
Get the AmazonBasics High-Density Round Foam Roller on Amazon for $9.99
5. An insulated water bottle that actually stays cold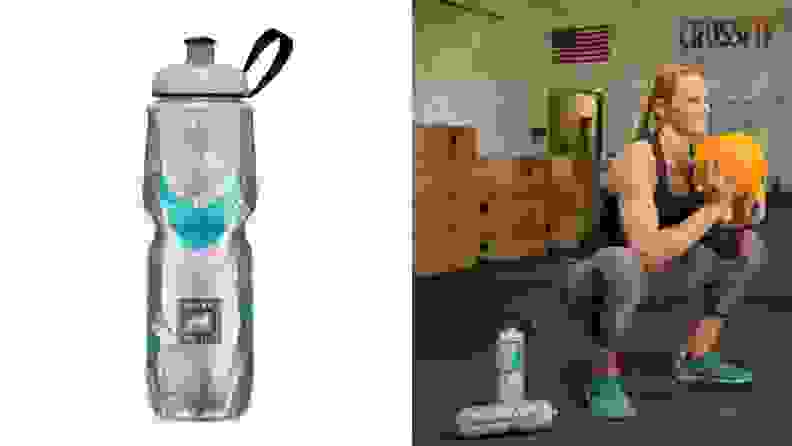 Reviews: 4,110
Rating: 4.1
With all the sweating you do during workouts, it's crucial to stay hydrated. That's where this high-quality, BPA-free water bottle comes in, featuring insulation that keeps liquids cold for a shockingly long time.
Our favorite review: "This Polar bottle works great for using during triathlons or long bike rides. It fit perfectly in my bottle cage on my bicycle and kept the liquid cold during my long bike rides (3 hours). I did also add ice to the bottle to make sure it stayed cold." – rhoni4
Get the Polar Bottle Insulated Water Bottle on Amazon for $9.93
6. A pair of no-show running socks that offer extra support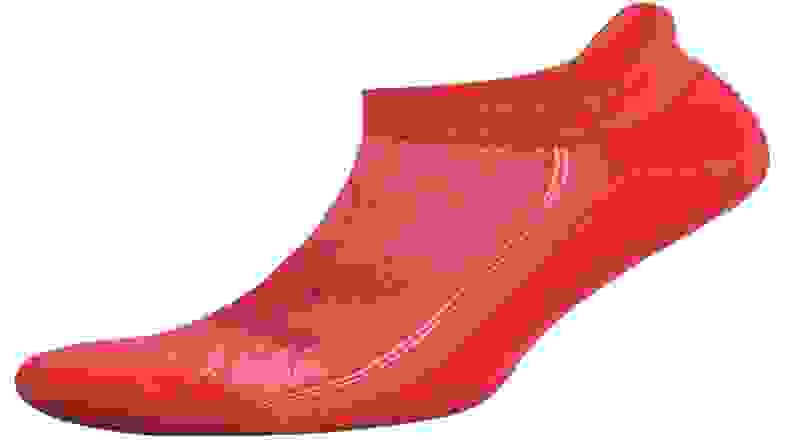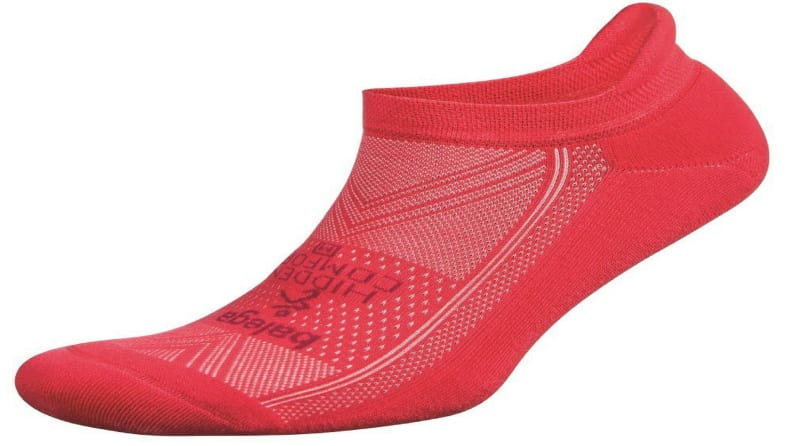 Reviews: 2,351
Rating: 4.6
Any runner will tell you that socks can make or break a workout. To save yourself from blisters and foot pain, purchase a pair from a cult company like Balega. These socks offer structure and ventilation so you can set some personal records.
Our favorite review: "I found Balega Hidden Comfort Running Socks a few years ago at a local specialty running store when I was custom-fit for a pair of rather expensive trainers. I will admit I was a running novice and never knew socks could make such a difference, but they truly can. In no time, the abrasions and resulting blisters from rough and ill-fitting socks were gone. These feel like I'm slipping my feet into soft little pillows. There's ample cushion under my foot and just enough on top. I'm completely happy and hope Balega never changes this sock." – Vegan Stephanie
Get the Balega Hidden Comfort No-Show Running Socks for Men and Women on Amazon for $13
7. A set of resistance bands so you can work out anytime, anywhere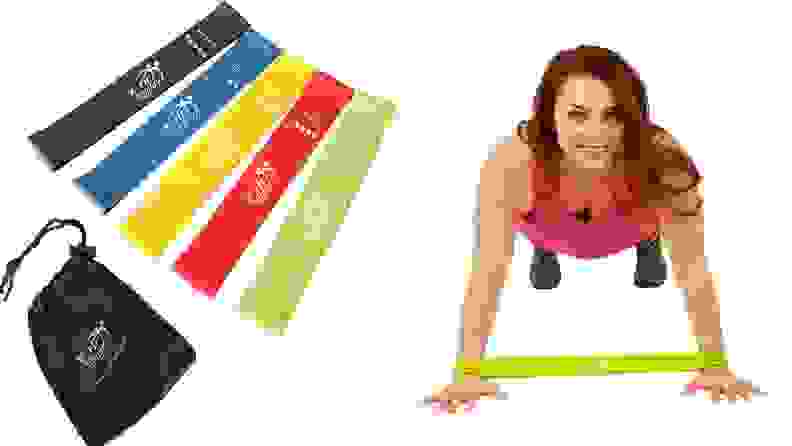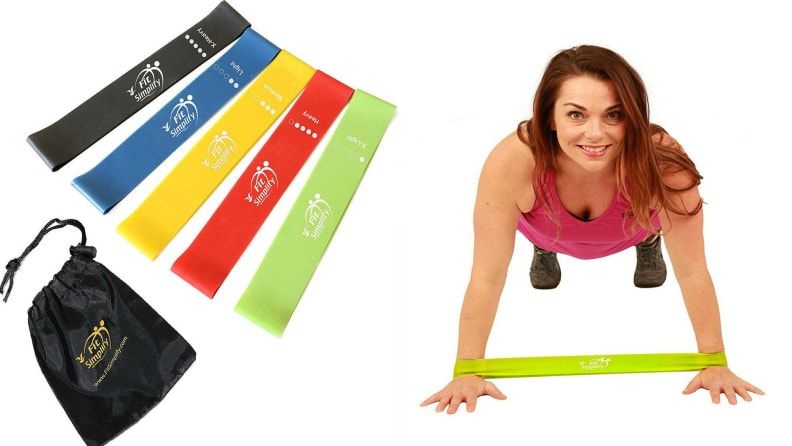 Reviews: 7,845
Rating: 4.4
With markings that range from "X-Light" to "X-Heavy," a workout guide, and access to online video routines, it's never been easier to get in shape with a resistance band workout.
Our favorite review: "Wow—this set is awesome! It's everything I need for a resistance training no matter where I am. Am I too lazy to head to the gym? No problem, I'll squeeze in a quick workout while I binge-watch. On the road? I'll throw the tiny travel pouch into my suitcase and stretch in my hotel room. This set is really convenient and even has a little booklet that I can keep in the travel pouch to remind me which exercises to do. Fit Simplify even provides you with a PDF of their book AND a list of videos to watch. I really think this set has replaced sliced bread as the greatest thing." – R&K
Get the Fit Simplify Resistance Loop Exercise Bands on Amazon for $10.95
8. A pair of beloved women's running shoes from a trusted brand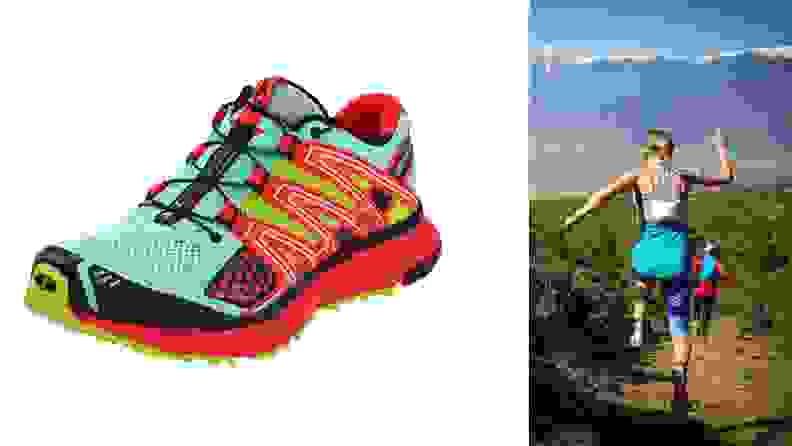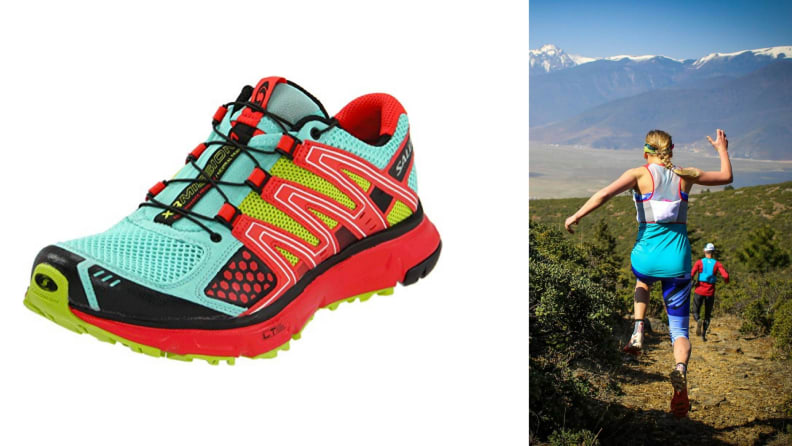 Reviews: 3,024
Rating: 4.5
Salomon has become a popular brand for running shoes in recent years and this style, the Women's XR Mission Running Shoe, is a real crowd-pleaser among Amazon shoppers. With details like breathable mesh, a foam foot bed, and a rugged sole that grips, you can go from the pavement to the trails in a flash.
Our favorite review: "I love these shoes and can't say enough positive things about them. They are true to color—no surprises here! They are just as bright as the picture shows. I wore these to work to break them in a few days before a long-distance run, and everyone was asking about them. ... There is a lot of cushion around the heel, and they stayed snug on my feet throughout the 9-mile race I ran. I never had to fix or adjust the shoe or laces, which was 99% of the reason why I chose these shoes. The tread is not as heavy as I expected for a trail running shoe, but I wear them on the road so they work well for me. You will be very satisfied with this pair of shoes." – Chrissy Green
Get the Salomon Women's XR Mission Running Shoe on Amazon Starting at $79.95
9. A bag of 'I'll never run out of these again' tennis balls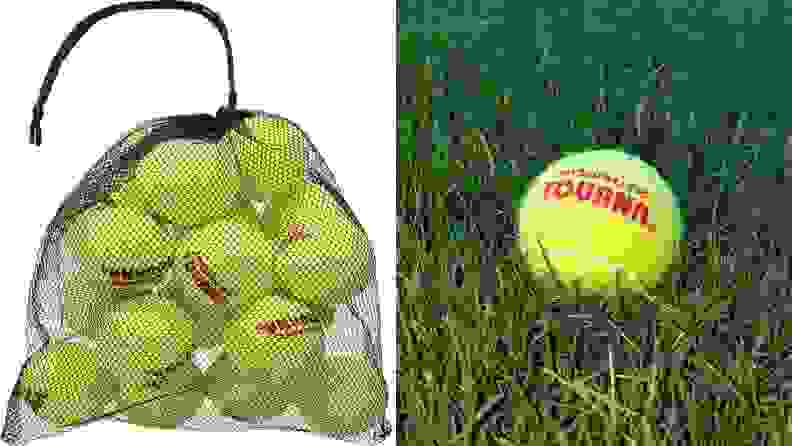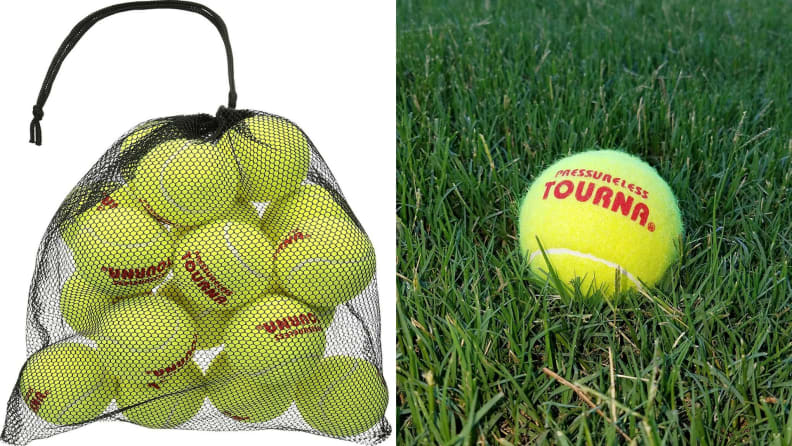 Reviews: 1,336
Rating: 4.0
If you're perpetually losing your tennis balls, this 18-ball bag was made for you—volley and lob to your heart's content. And the bonus? If you have a dog who can't get enough fetch time, he'll love these, too.
Our favorite review: "Great price for tennis balls. Our kids have recently wanted to learn tennis and I thought this was a great way to keep the balls and have enough that I don't have to chase the three from a can all over the place. I am not yet ready to buy a hopper unless the kids really like it and continue. So, this is a great buy for our needs!" – KateNBrad
Get the Tourna Mesh Carry Bag of 18 Tennis Balls on Amazon for $15.99
10. An ab roller that delivers a surprisingly effective workout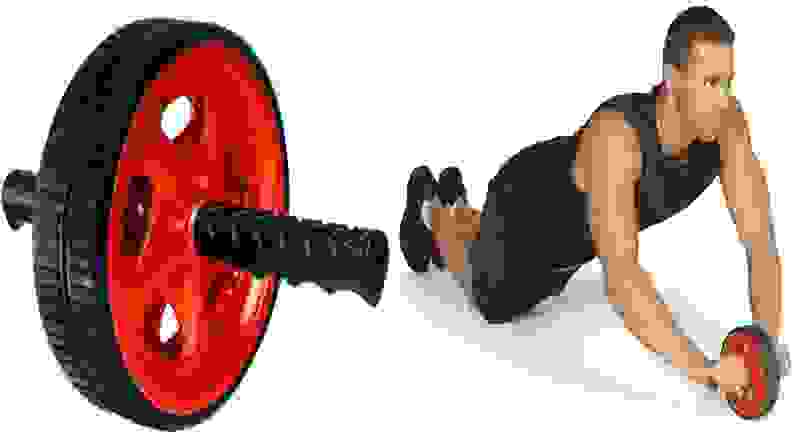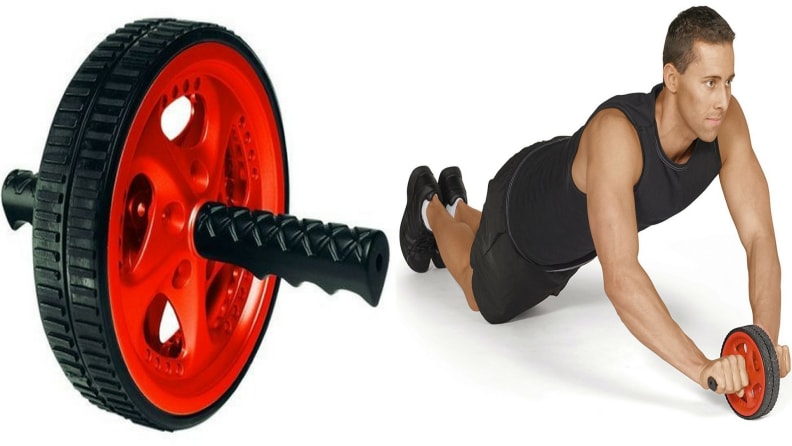 Reviews: 2,076
Rating: 4.4
Ab rollers have been around for some time, and while they tend to look overly simplistic, as reviewers attest, they really do work. If you work out at home, make this a part of your regular routine to get that flat stomach you've been pining for.
Our favorite review: "This ab wheel was really easy to assemble. I've been using this ab wheel for a couple of weeks now, and I can really feel and see a difference. My abs have become so much more toned and way stronger! At first I was surprised this ab wheel did not have any sort of resistance setting like the other ones, but it just made it more of a challenge and motivation for me to get better at it without having that helper. I do 4 sets of 10 twice a week. It really works. No joke. I always thought getting my abs stronger was hopeless with sit-ups and whatnot, but this ab wheel does the trick. You have to be really disciplined and consistent, but if you do 4 sets of 10 twice a week, YOU WILL SEE A DIFFERENCE!" – Anna
Get the Valeo Ab Roller Wheel on Amazon for $14.99
11. A sturdy yoga mat that comes in a variety of colors and patterns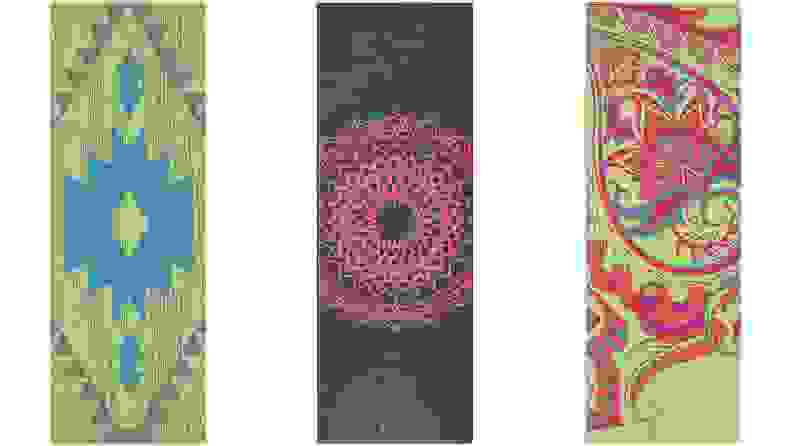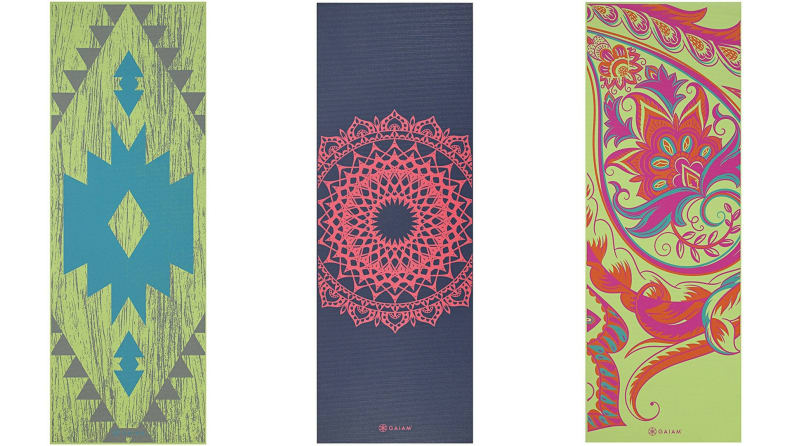 Reviews: 1,758
Rating: 4.1
No one wants a yoga mat that slips and slides during your practice. According to reviewers, this Gaiam mat stays in place, plus, it's available in plenty of punchy patterns and hues.
Our favorite review: "This mat is exactly what I wanted. The color is beautiful and very vivid. The mat isn't very thick, but it's thick enough to do your practice on the hard wood or outside in the grass. I have had this for about a year now and it has held together just fine. Honestly, this is probably one of my favorite mats that I have owned. It had a slight plastic-y smell when I first got it delivered, but spray a little essential oil or rose water over it and it disappears." – Alexandra Huelskamp
Get the Gaiam Print Yoga Mat on Amazon for $21.98
12. A standard, can't-go-wrong soccer ball from a classic brand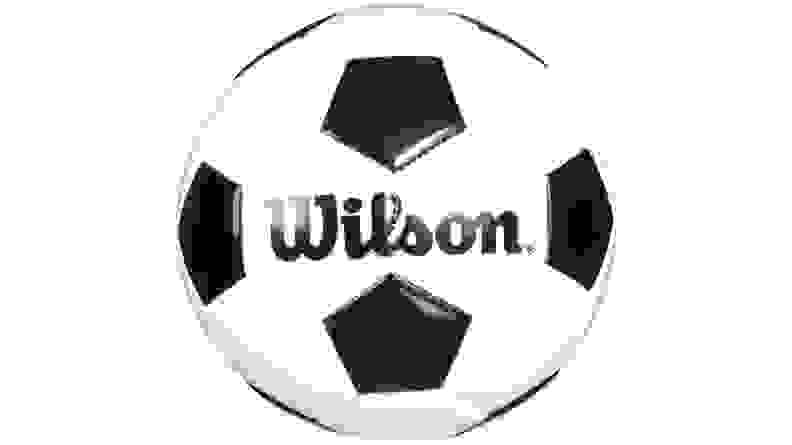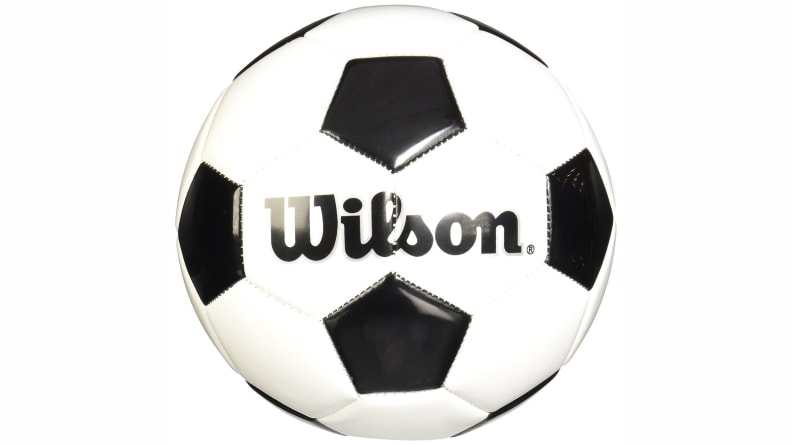 Reviews: 1,203
Rating: 4.5
If it works, don't fix it, right? This certainly applies to fitness equipment, like a classic soccer ball made by Wilson. Its synthetic leather and standard black-and-white appearance are as imperative to soccer as those announcers who shout "Gooooooooooal."
Our favorite review: "I ordered this for my 5-year-old son, because he wants to play soccer just like the guys on TV. This ball is a size 5, which is the exact same weight and size as a real game ball. It came fully pumped with air. It is made of leather and stitched—nice hard ball. Wilson is the best! And the price was right, too!" – Consumer01
Get the Wilson Traditional Soccer Ball on Amazon Starting at $8.99
13. A trampoline for fun, calorie-burning workouts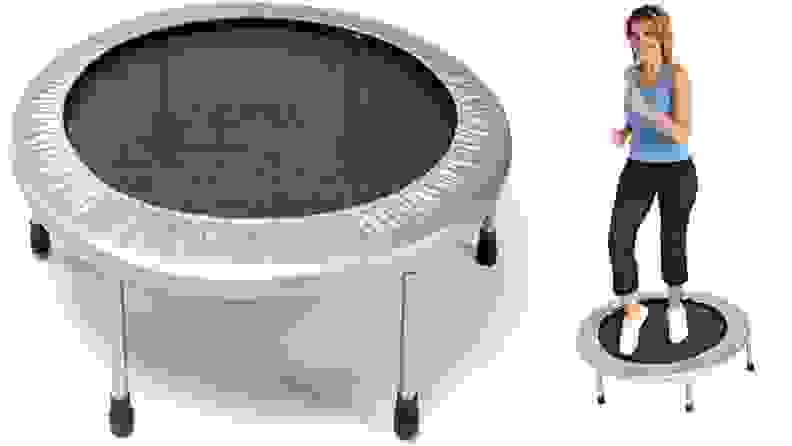 Reviews: 2,116
Rating: 4.1
You no doubt enjoyed jumping on a trampoline as a kid. Now you can enjoy it in adulthood, too, by making it a part of your workout. Run in place, do tuck jumps, and watch reruns of The Office at the same time. When you're finished, you can fold it up and put it away.
Our favorite review: "Awesome awesome awesome! Ten minutes a day on this, and you get your lymphatic system working, you get your blood flowing, good cardio workout, or warm-up! Perfect size and really strong. I totally recommend this to anyone!" – Carlos F.
Get the Stamina 36-Inch Folding Trampoline on Amazon for $45.95
14. The go-to swim cap for serious swimmers
Reviews: 1,906
Rating: 3.9
Speedo is the preferred brand of swimmers everywhere—the iconic silicone cap is perfect for doing laps or completing a lake swim. A Speedo cap can make you a bit more aerodynamic in the water if you're trying to improve your lap time. Plus, it helps keep your hair dry and free of chlorine. Pick your favorite color and jump on in.
Our favorite review: "Amazon informs me I purchased this same bright orange cap over 7 years ago. I swim 3 to 5 times per week—pools in winter, lakes, otherwise. Crunching the numbers, I've worn this cap well over 1,000 times, mostly for lake swimming. It's just now starting to show signs that its lifespan is up (a slight tear near the edge, to be exact). That's impressive durability, and one of the reasons I'm buying the exact same cap again. Another reason I love this cap is that it keeps my head warm in cold water. I like the orange-colored cap for maximum visibility to boats when open water swimming." – Joe Mooney
Get the Speedo Silicone Solid Swim Cap on Amazon for $11
15. A set of adjustable weights so you can tone up at home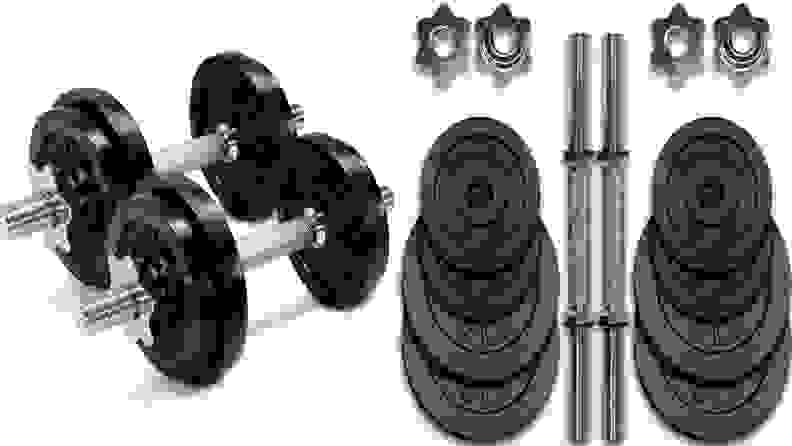 Reviews: 1,297
Rating: 4.4
Time and time again, people on Amazon fall in love with these weights. With several plates to choose from, you can customize the weights to your needs, with the lightest set going all the way up to 40 pounds per weight and the heaviest maxxing out at 200 pounds—just the thing to build a home gym. These weights are available with an assortment of weight ranges.
Our favorite review: "I was looking for a way to increase weight for my home gym in a space-efficient way and concerned about safety/quality as well. These are heavy-duty, standard gym quality, and locks are foolproof and solid. I bought extra plates to give me additional incremental flexibility. Have been using for about a month now, very pleased." – Jennifer P.
Get the Yes4All Adjustable Dumbbells on Amazon starting at $40.99
16. An exercise bike that folds for easy storage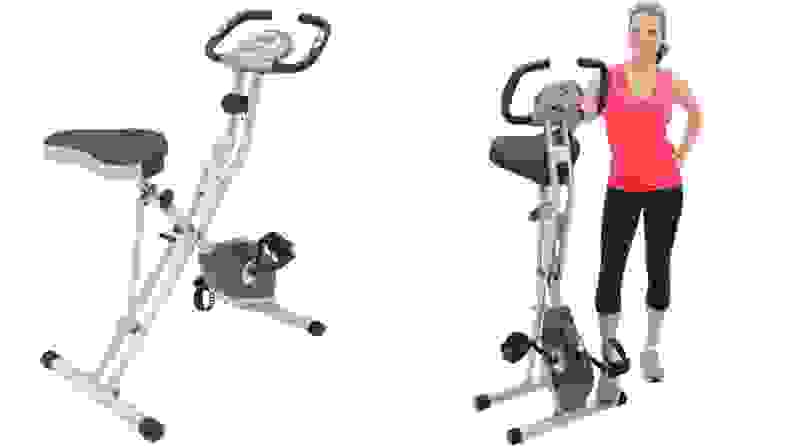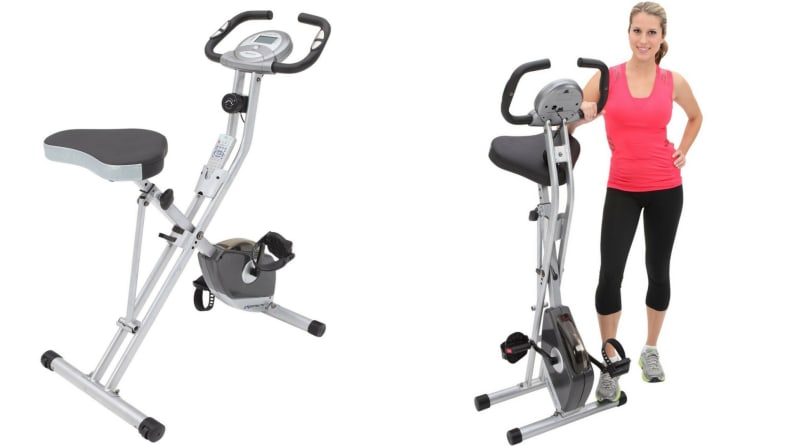 Reviews: 5,361
Rating: 4.3
If you can't take to the open road on your bike (it's snowing or raining or there's a DVD you want to watch), break out this at-home exercise bike instead. People say that it's comfortable, folds up painlessly, and has resistance options for a tougher workout.
Our favorite review: "I'm 100% happy with this bike! ... I set it up in my office (a tiny room), facing the computer, so I can watch Netflix while I spin. The ride is very smooth, I feel like I'm getting a good workout, and I like that the handlebars have sensors for your heart rate. I can also fold it and put it away in a closet if I ever need to. 10/10 would buy again." – Melissa Garrett
Get the Exerpeutic Folding Magnetic Upright Bike with Pulse on Amazon for $149
17. A compression sleeve that relieves knee pain
Reviews: 1,517
Rating: 4.6
Don't let knee pain force you to sit on the sidelines. Before throwing in the towel, wear this highly rated compression sleeve. Many reviewers say that it significantly decreases knee pain and allows them to finish their workouts.
Our favorite review: "Recently, I started to feel a lot of knee pain while running. The root cause of the pain appears to be using inadequate running shoes, but I purchased this knee brace to stem the pain. When I received this knee brace, I noticed positive results immediately. I felt the knee pain on Saturday and started using the brace on Monday. On Monday, I ran a little and on Tuesday, I played 2 straight hours of soccer without pain. It's early to say whether this will become a part of my day-to-day athletic activities (hopefully not), but for now this brace has helped save me from sitting on my couch in pain." – Tones
Get the SB SOX Compression Knee Brace for Knee Pain on Amazon for $10.95
Prices are accurate at the time of publication, but may change over time.