Home & Garden
20 cool kitchen tools you can buy from this design inspiration site
Deck out your kitchen with these awesome tools and accessories.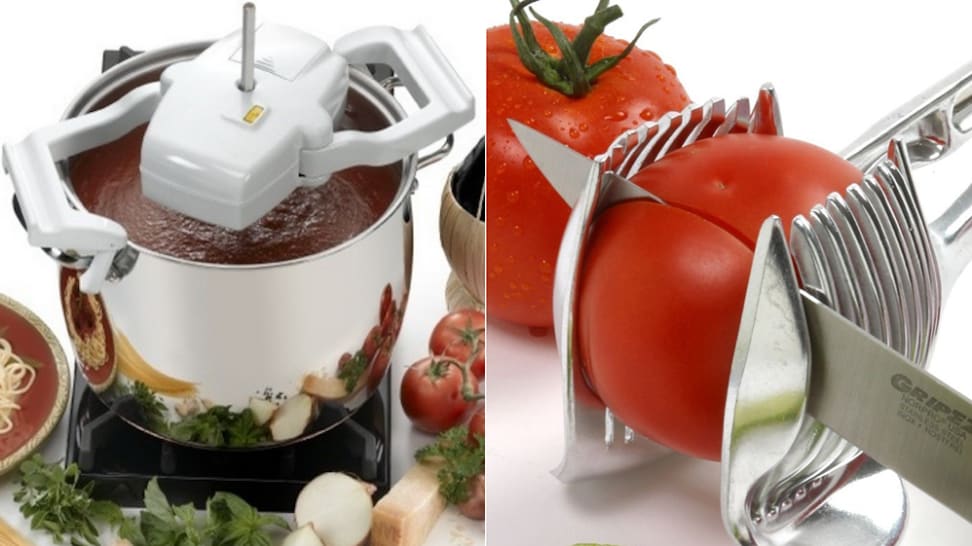 Credit: Houzz
I'm a firm believer that there's no such thing as "too many kitchen gadgets." I'm always on the hunt for cool new appliances, tools, accessories and decorations to add to my kitchen, and luckily for me (and you), Houzz offers all of the above.
In addition to its amazing pictures for interior inspiration, Houzz has a marketplace full of awesome household goods, including a large selection of kitchen gadgets. Here are 20 of our favorite kitchen accessories that you can buy from Houzz.
1. A gadget to help cut round veggies
It's practically impossible to cut tomatoes and onions without the vegetables slipping out of your hands. Keep your fingers safe from the knife with the Norpro Tomato Onion Holder, which lets you slice these veggies with ease and precision.
Get the Norpro Tomato Onion Holder from Houzz for $8.86
2. A container for storing hamburger patties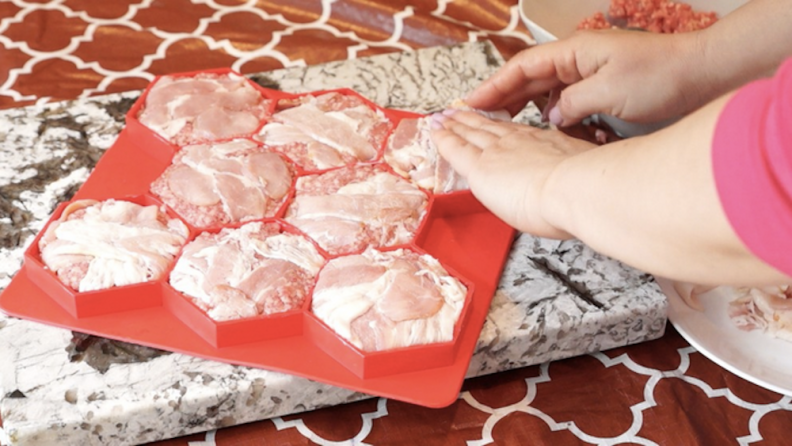 You can instantly shape and store ground beef with the Burger Press and Freezer Container. Simply put the meat in the container, close the lid, and pull out ready-to-cook patties when you need them.
Get the Burger Press and Freezer Container from Houzz for $29.99
3. A high-tech gadget to stir your sauce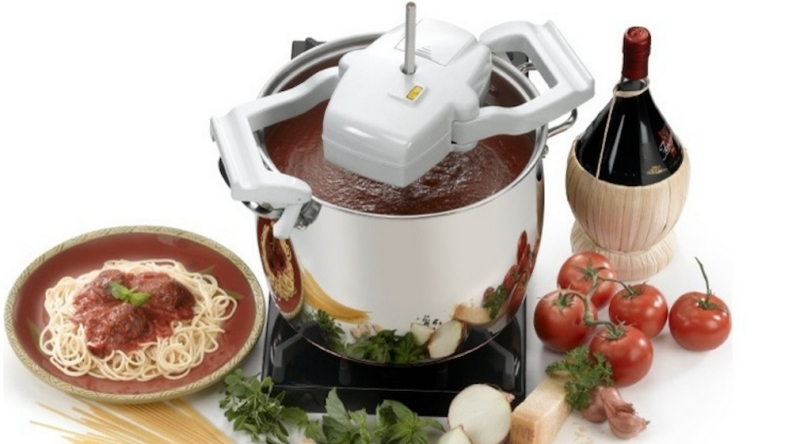 Whether you're making tomato sauce, preserves, or soup, this Gourmet Stirrer takes the task of stirring off your hands. Once you attach it to the pot, you can set it to intermittently or constantly stir the contents. It's perfect for when you want to take a well-deserved break.
Get the Ardente Gourmet Stirrer from Houzz for $59.95
4. A see-through toaster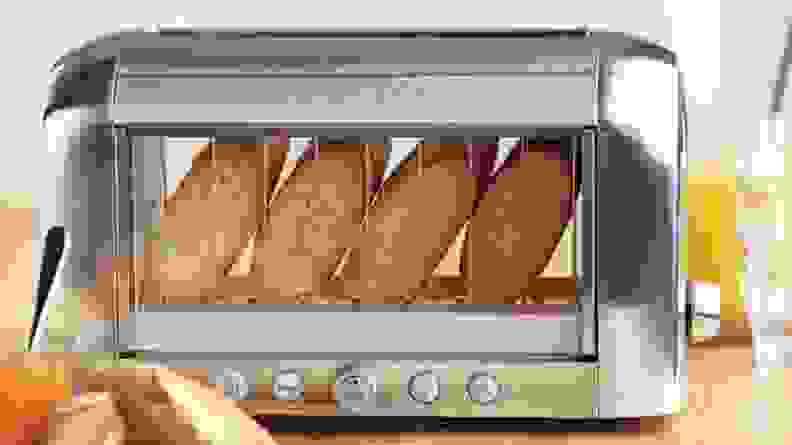 This gadget is just plain cool. With the Magimix by Robot-Coupe Vision Toaster, you can see your bread get crispy through two glass windows. Choose from four pre-programmed settings and eight toasting levels, then watch as your breakfast cooks!
Get the Magimix by Robot-Coupe Vision Toaster from Houzz for $249.95
5. A chic fish-scale cutting board
This cutting board is pretty enough to display on your wall when you're not using it. One side boasts a natural woodgrain for prepping food, while the other has a beautiful printed fish scale pattern.
Get the Hello Sayang Fish Scales Cutting Board from Houzz for $34.99
6. A cool gadget to dice your veggies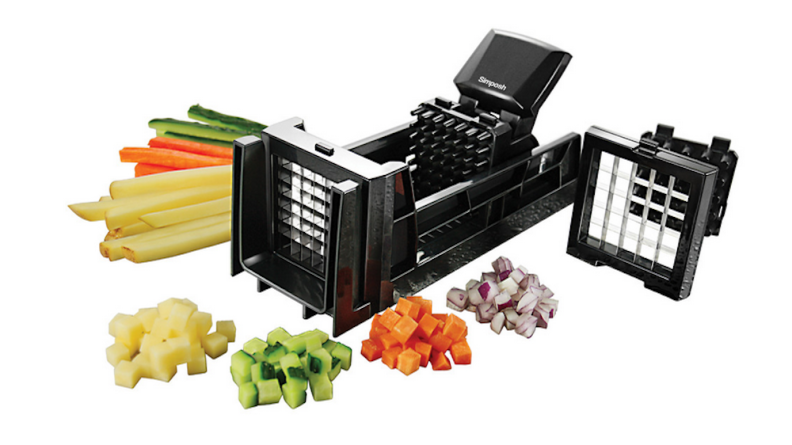 Chopping and dicing vegetables can be pretty time consuming, which is why this Easy Food Slicer, Dicer & French Fry Cutter is a life saver. Just put your ingredients into the gadget, press the handle, and you're done.
Get the Simposh Easy Food Slicer, Dicer & French Fry Cutter from Houzz for $29.99
7. A 3-in-1 slow cooker buffet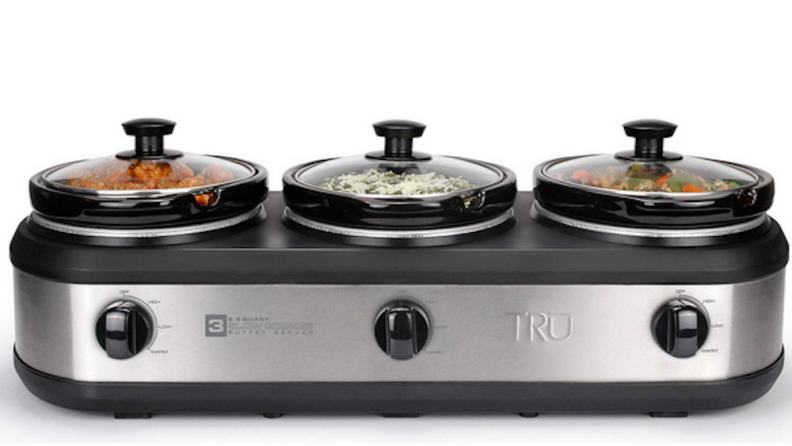 What's better than one slow cooker? Three slow cookers! The Tru Three Crock Buffet Slow Cooker has three 2 1/2-quart stoneware inserts that you can control separately, helping you prepare multiple dishes all at once.
Get the Tru Three Crock Buffet Slow Cooker from Houzz for $61
8. A portable air fryer for healthier food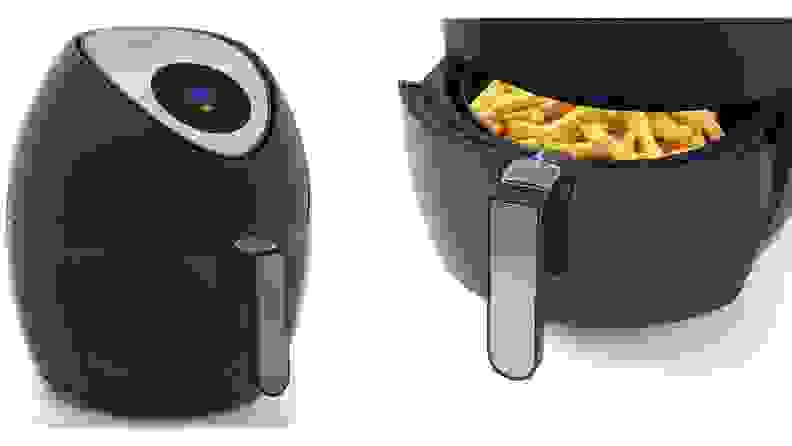 Fried food is so delicious, but it's also not exactly healthy. That's where the Della 1400W Portable Electric Air Fryer comes in—it gives you the great taste of fried food, without the added calories of oil. Not sure if it's right for you? Read this first.
Get the Della 1400W Portable Electric Air Fryer from Houzz for $79.97
9. An at-home bread maker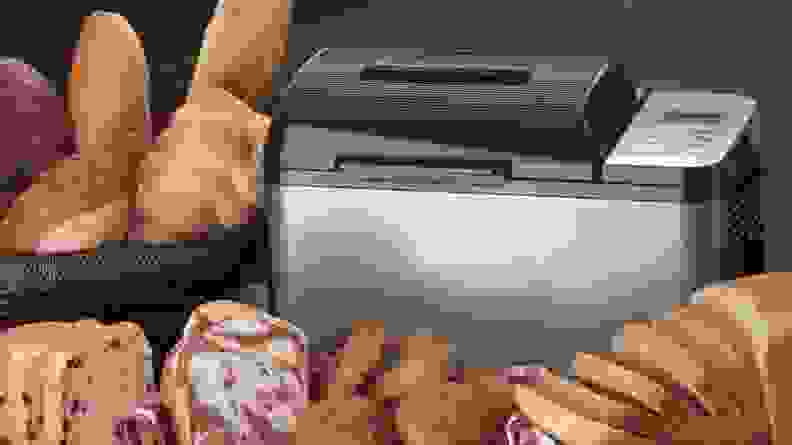 Turn your home into a bakery with the Zojirushi Virtuoso Breadmaker. You'll be able to make traditional-shaped 2-pound loaves of delicious bread without lifting a finger. It even has a setting for gluten-free bread!
Get the Zojirushi Virtuoso Breadmaker from Houzz for $299.99
10. An indoor s'mores machine and fondue maker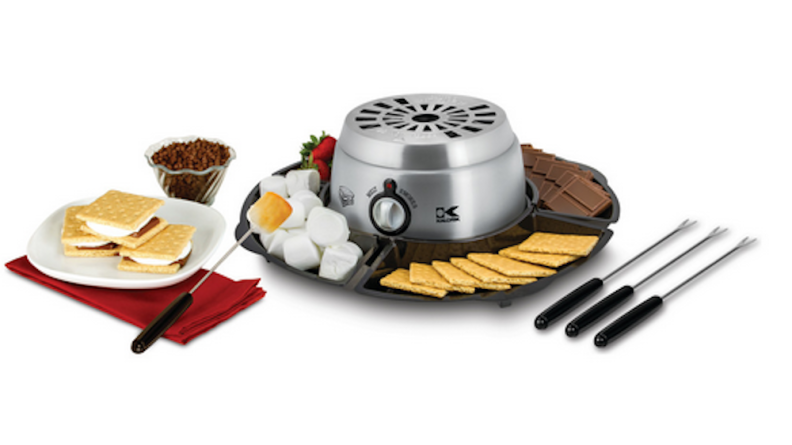 Don't miss out on summertime s'mores action just because you live in the city. You can make your own delicious treats with the Kalorik 2-in-1 S'mores Maker, which toasts your marshmallows and can even melt chocolate for a delicious fondue.
Get the Kalorik 2-in-1 S'mores Maker with Chocolate Fondue Feature from Houzz for $64.99
11. A press to make your own tortillas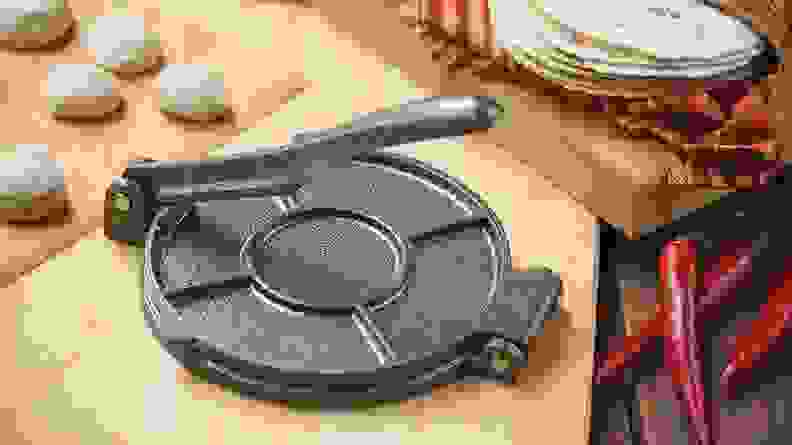 Ever wonder how tortillas are made? Now, you can whip up this delicious style of bread in your own home with a Cast Iron Tortilla Press—taco night will never be the same!
Get the Cast Iron Tortilla Press from Houzz for $31.99
12. A kit for homemade creme brulee
You'll feel like a professional pastry chef with the Chef's Tools Creme Brulee Set, which includes four ramekins and a torch with adjustable temperatures for the perfect dessert.
Get the Chef's Tools Creme Brulee Set from Houzz for $39.99
13. Sugar skull cookie cutters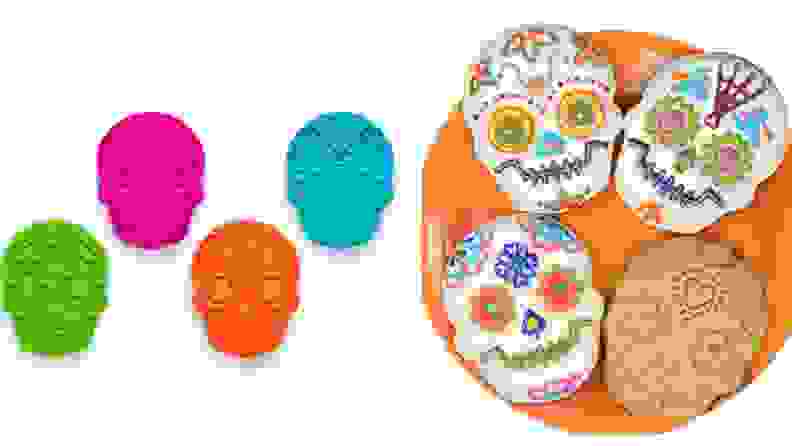 These elaborate sugar skull cookie cutters are perfect for Halloween, Day of the Dead, and just for fun You'll definitely impress your friends with these intricate cookie creations.
Get the Sweet Spirits Cookie Cutters from Houzz for $17.99
14. A rolling pin engraved with music notes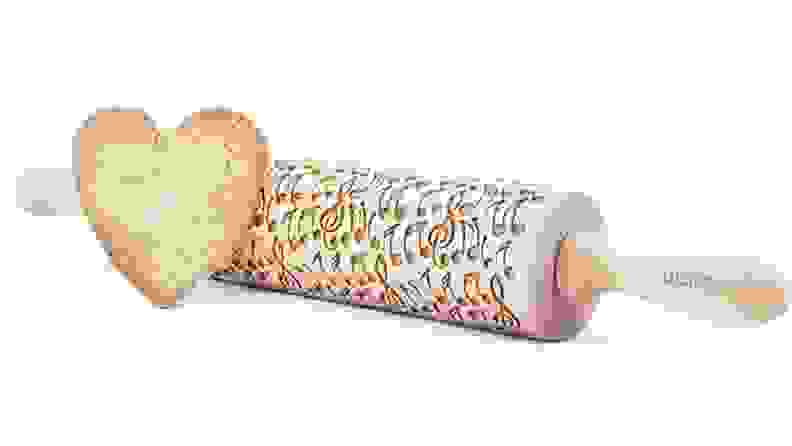 Sugar-cookie skulls not your style? Take boring sugar cookies to the next level with this engraved rolling pin. The barrel has an intricate musical note design, which creates a charming embossed design on your dough.
Get the Crazy Notes, Engraved Rolling Pin for Embossed Cookies from Houzz for $39.99
15. A 12-piece kit to make you a pasta pro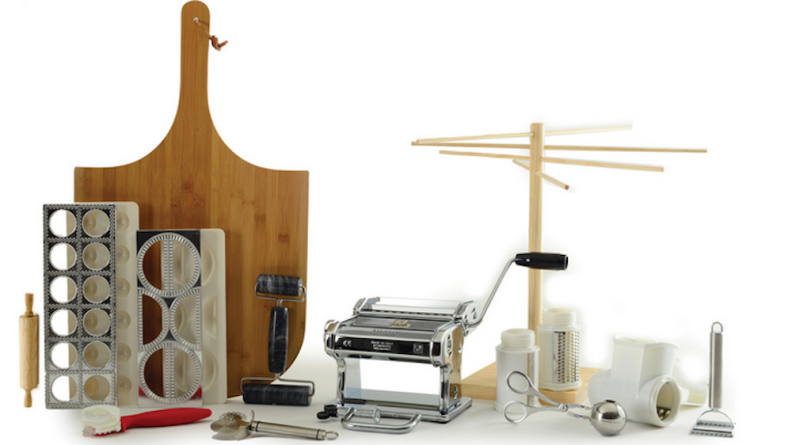 If you've ever wanted to make your own pasta, the Norpro Pasta Kit has everything you need to get started. You'll get a pasta machine, ravioli cutters, a pasta drying rack, and much more in this amazing kit.
Get the Norpro Pasta Kit, 12-Piece Set from Houzz for $185.99
16. A dual-zone wine and beer cooler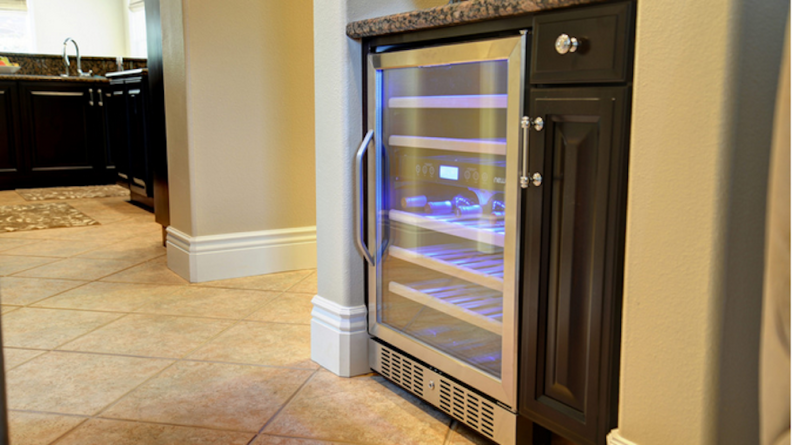 You'll be the coolest house on the block with this Dual-Zone Built-In Compressor Wine Cooler. It's a big investment, but worth it if you have a big collection of wine (or beer). It accommodates up to 46 bottles of wine in two separate temperature zones, so you'll never run out of perfectly chilled libations.
Get the Dual-Zone Built-In Compressor Wine Cooler from Houzz for $819
17. A novelty pizza cutter for DIY fanatics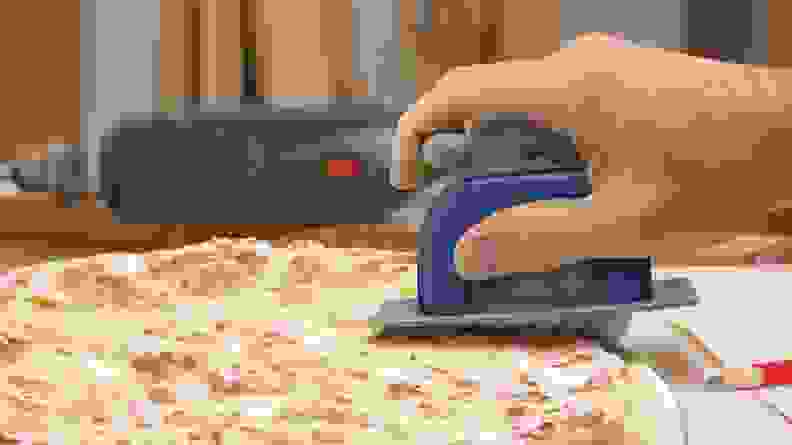 Why use a normal pizza cutter when you can have this cool saw-shaped pizza cutter instead?
Get the Pizza Boss Slicer from Houzz for $11.95
18. A smart cooking thermometer that syncs to your phone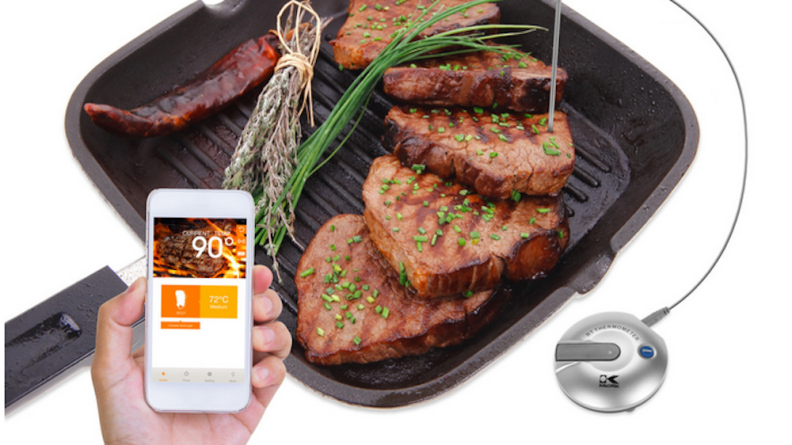 This smart gadget makes cooking meat a whole lot easier. Simply put the probe into your steak or other food, and it will send temperature updates to your smartphone so you'll know when your meal is cooked perfectly.
Get the Kalorik Cooking Thermometer from Houzz for $45.99
19. A sleek cheese slicer
Party prep will be a breeze with this chic stainless steel cheese slicer. Its sharp wire will cut through even the hardest cheese, and it folds up for easy storage.
Get the Blomus Froma Cheese Slicer from Houzz for $30.59
20. A gadget to reseal open bags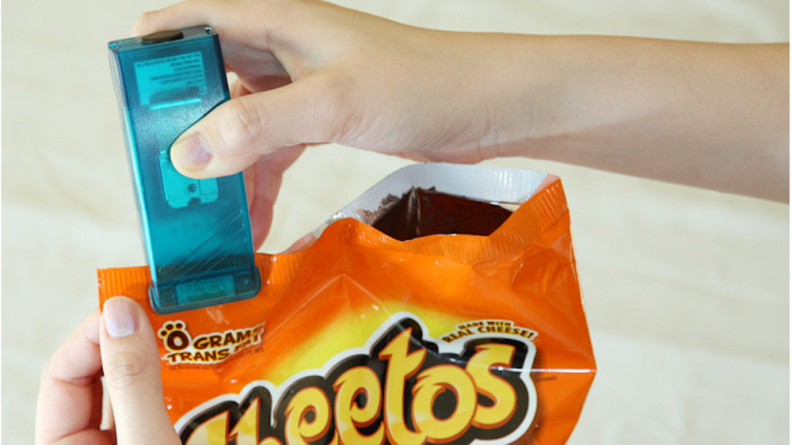 Want to keep your chips crispy for longer? The Keep Fresh Bag Re-Sealer can close up open bags of food, keeping the contents fresh for much longer than a regular old chip clip would.
Get the Keep Fresh Bag Re-Sealer, 2-Piece Set from Houzz for $24.69
Prices are accurate at the time of publication, but may change over time.